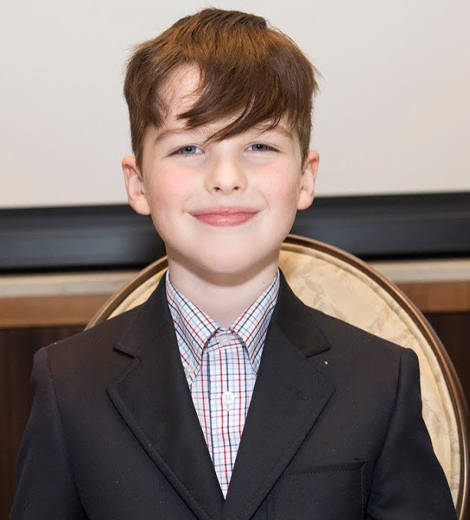 Iain Armitage | Biography 2021
Iain Armitage is an American child actor best known for his role of Sheldon Cooper in The Big Bang Theory's spinoff, 'Young Sheldon.' 
---
American child actor Iain Armitage is best known for his portrayal of Sheldon Cooper in The Big Bang Theory's spinoff, Young Sheldon.
He is also an admirer of live theatre; the buoyant theatre critic has attended many Broadway shows and has given theatrical reviews on his channel. 
Who is Iain Armitage?
Iain Armitage is a theatre critic and a child actor. At the age of 3, his mom recorded a video in which he thanked the American musical Hairspray's cast, and uploaded it on her social media. She also created his Youtube channel to upload his videos. 
After the video garnered attention, he started appearing in more "thank you" videos before making a real review of the play Waiting for Gadot in 2014.
In the 2016 'Tony Awards,' Armitage covered the red carpet and interviewed mega-celebrities. At the end of the ceremony, he was referenced in the opening number of the show.  
In addition to his passion for performing, Armitage has appeared on both big and small screens.
In 2017, he appeared on the bigger screen with Hollywood's popular names such as Nicole Kidman, Meryl Streep, and Reese Witherspoon in the HBO limited series Big Little Lies. He portrayed one of the main characters, Ziggy Champion, in the American drama. The same year he acted in the film The Glass Castle and the Netflix feature Our Soul at Night.
The year would also be the time when he gained popularity both nationally and internationally since he had started acting. The credit to the newfound reputation went to his performance as Sheldon Cooper in The Big Bang Theory's Prequel, Young Sheldon.
In 2020, he lent his voice to play Shaggy Rogers's character in the 2020's mystery-comedy movie, Scoob!
The following year, Armitage was nominated in the category 'Favourite Male TV Star; for his portrayal of Young Sheldon in 'Kid's Choice Award.'
How old is Iain Armitage?
Iain Armitage was born in Georgia, USA, on July 15, 2008, to Euan Morton and Lee Armitage.
His father, Euan, is a Scottish actor-singer recognized for his role as Boy George in the stage musical, Taboo, and King George, in another musical, Hamilton. His mother, Lee, is a theatre producer, and his grandfather; Richard Armitage was the Deputy Secretary of State under President George W. Bush between March 2001 and February 2005, and he was personally involved in the Valerie Plame affair controversy.
Since both of his parents had respective acting backgrounds, they named their child after English actor Sir Ian McKellen.
Theatre Critic
The child prodigy made a name for himself because of his theatrical reviews on his Youtube Channel. In 2011, he got the chance to watch the American musical Hairspray played at the Signature Theatre.
Since his babysitter was in the show, and the theatre was close to his house, he often visited the place. The musical was complex for a child to understand; however, Armitage admired the song and the dance. 
Later, he made an appreciation video to thank the cast for their performance. His mother uploaded the video in 2014, and Armitage came into the limelight. Eventually, he did his first real review by reviewing the play Waiting for Godot on March 14, 2014. 
After reviewing the play, he would review plays such as Beached, Gypsy, Hedwig, and The Angry Inch, Oklahoma, Whats the constitution mean to me, Mrs. Meryl, Beetlejuice, Be More Chill, Ms. Shailene, To kill a Mockingbird, and many more. 
His reviews would get immense recognition because of his attention to detail, language acquisition, and focus on the developmental processes.
'Tony Awards'
In 2016's 'Tony Awards,' he also attended the red carpet, where he interviewed and posted pictures with mega-celebrities. 
Attending Tony Awards was a dream come true for Armitage. When he was fours year old, he had written in his diary, "I wish that I was on the red carpet with my mama." 
Acting career
Abrams Artists Agency's agent Jamie Pillet first recognized Armitage from a video of his that his mother uploaded on her Facebook feed. The video that caught her attention was his performance of the difficult Sondheim song 'Finishing the Hat' from the musical Sunday in the Park with George.
"It's one of the most difficult Sondheim songs that there is out there...A lot of older actors can't even handle that type of material, and he pulled it off pretty flawlessly," Pillet says about his performance of the song.
Pillet eventually approached his mother, who initially declined the offer to sign up. But a few months later, the agent and Armitage's mother agreed to meet so that she could learn more about the theatrical world. Armitage attended the meeting with Pillet dressed up as the Phantom of the Opera. He adopted the dress theme because he had plans to watch the show.
According to Pillet, it only took Armitage a year and a half to get booked.
In 2017, He was cast as Ziggy Champion in the Emmy and Golden Globe-winning series Big Little Lies, which was based on the top-selling novel by Liane Moriarty.
"Before that his [audition] tapes were so good, even at that young age. I think he was, like, four at the time, but his tapes were incredible...And then Big Little Lies came around, and it all fell into place. It's been kind of nonstop ever since," she retrospects.
The same year, he guest-starred in an episode of Law & Order: Special Victims Unit, playing a young child who has been kidnapped. 
He would also appear in the Netflix Feature romantic drama film, Our Souls at Night alongside Jane Fonda and Robert Redford, American drama film I'm Not Here alongside J.K Simmons, and American Biographical drama film The Glass Castle.
'Young Sheldon'
Starring the buzziest sitcom of the year 2017, The Big Bang Theory spinoff Young Sheldon, Armitage played the kid version of Jim Parsons's sarcastic but socially awkward titular character, Sheldon Cooper—a genius theoretical physicist possessing an IQ of 187 and highly narcissistic traits— of Big Bang Theory.
The Big Bang Theory is produced by Chuck Lorre and Bill Prady that premiered on September 24, 2007, and ran for 12 seasons until 2019. Young Sheldon, a spinoff of CBS's long-running The Big Bang Theory, is the most-watched sitcom on network television. It stars Iain Armitage as the younger version of Jim Parsons' character from Big Bang Theory. Chuck Lorre Productions in collaboration with Warner Bros Television were executive produced by Lorre, Steven Molaro, Jim Parsons, Todd Spiewak, and Steve Holland.
Young Sheldon follows Sheldon (Iain Armitage of Big Little Lies) as he grows up in East Texas with his family and attends high school in 1989. The cast of Young Sheldon are; Mary, Sheldon's mother, who is played by Zoe Perry, who takes over the character from Laurie Metcalf, who played the actress's mother in the original series. Missy, Sheldon's twin sister, is played by Reagan Revord, and George Jr., Sheldon's older brother, is played by Montana Jordan. Annie Potts recently joined the cast as Meemaw, Sheldon's adoring grandmother.
Parsons came up with the concept for the prequel series and emailed it to Lorre. Lorre then enlisted the help of Steve Molaro, and the three of them pitched the concept to Warner Bros. Television president Peter Roth, with CBS Corp.
Before getting the major role, he wasn't a viewer of the science-themed comedy television series. However, he admired the work of Parson both on-screen and behind the scenes. Parson helped the young actor with some of his insights. "It is pretty lucky to get advice from the world's greatest Sheldon expert," Armitage shares.
Young Sheldon season Renewal and Syndication
The young prodigy recently appeared in season 4 of Young Sheldon on CBS and will continue to act in future seasons. Furthermore, The network has given the Big Bang Theory prequel, created by Chuck Lorre and showrunner Steve Molaro, a three-season renewal. The Iain Armitage-led single-camera sitcom will be renewed for a seventh season on the broadcast network, which will run from 2023 to 2024.
 Similarly, WarnerMedia announced on Monday that "Young Sheldon" would premiere in off-network television syndication in the fall of 2021. The comedy, which has already gone into cable syndication, will be broadcast in major markets via the Nexstar station network and has been cleared in more than 90% of the nation. The show will air Scoob
On May 20, 2020, Iain voiced the role of young Shaggy in the Scoob film. Iain Armitage and Mckenna Grace (The Haunting of Hill House) have joined the star-studded voice cast of Warner Bros.'s upcoming animated Scooby-Doo film named Scoob. Young Shaggy and Daphne were played by Armitage and Grace, respectively. Shaggy is a lonely, socially awkward character who is also funny and eccentric. Playing Shaggy was a good experience for Armitage because it allowed him to watch old episodes of Scooby-Doo! despite his busy schedule
One of the most fun parts of preparing for this role was getting to watch old episodes of Scooby-Doo! I don't get to watch a lot of tvs so this was a treat!; Armitage shared
NFL
Nickelodeon took over during the NFL game, teaming up with CBS to broadcast NFL Wild Card games, and Young Sheldon was seen demonstrating how different things work during the broadcast. Armitage appears at the bottom of the screen on at least two occasions to clarify the call while also providing his own commentary — in the case of the false start, an anecdote, and in the case of the offsides, just some classic Sheldon snark.
Pandemic 
During Pandemic, Armitage was filming the fourth season of Young Sheldon. However, the show was canceled after a member of the crew tested positive for COVID-19. The fourth season of the show began production on September 22 in Los Angeles. The season premiered on November 5, 2020, after filming was halted for a day in October due to a positive Covid test.
In an episode aptly titled A Sneeze, Detention, and Sissy Spacek, Armitage's sitcom had a scene about a pandemic in which Sheldon Cooper's world was thrown into turmoil as the flu hit the area, leaving him convinced that everyone was about to die..
The youngster wore a face mask and maintained a discreet distance from those around him, refusing to be in the same classroom as someone who sneezed.
Young Sheldon audiences couldn't get over the parallels between the episode and the current pandemic afflicting the world. The show had foreseen the virus's arrival.
Paw Patrol.
 Armitage will play Chase in the upcoming Paw Patrol film. The hit animated canine preschool series PAW Patrol will be brought to the big screen with a film directed by Cal Brunker. The Movie is the first of many feature films in production by Spin Master's Entertainment division, with an August 2021 release date.
 Net Worth
Iain Armitage has a net worth of $4 million, according to Celebritynetworth. According to TMZ, Armitage earned $US30,000 ($43,752) per episode in season one of Young Sheldon, and his salary was increased to $US31,200 ($45,502) in season two.
Interesting Facts
Iain Armitage has reached the doorstep of his teenage years, He is 12 years old as of March 2021.
Iain is considered smart or brilliant in real life and on-screen due to his work as a lead character in Young Sheldon at such a young age.
Nickole Jones, the hairstylist of Ian Armitage was a cancer-stricken 45-year-old who passed away on March 25, 2021