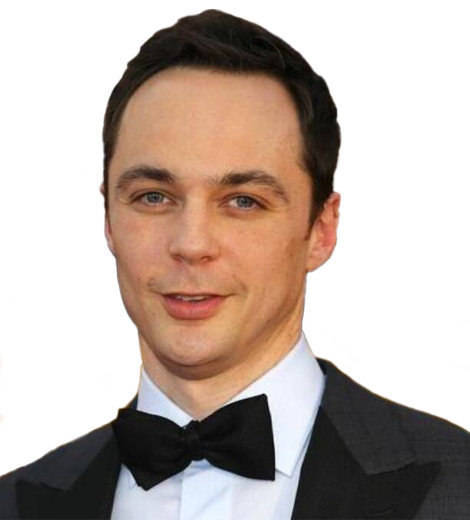 Quick Information
Full Name

James Joseph Parsons

Occupation

Actor

Nationality

American

Birthplace

Houston, Texas, USA

Born Year And Birthday

Mar 24, 1973

Age

48 Years, 2 Months
Sheldon Cooper From 'The Big Bang Theory'
Jim Parsons | Biography 2021
Parsons's first appearance as Sheldon Lee Cooper was in September 2007. He played the role of a genius who worked as a theoretical physicist in Caltech. His portrayal of the character would lead some of his fans to believe that Parsons was as genius as his character.
---
Quick Information
Full Name

James Joseph Parsons

Occupation

Actor

Nationality

American

Birthplace

Houston, Texas, USA

Birth Date

Mar 24, 1973

Age

48 Years, 2 Months
Jim Parsons is an American actor famous for portraying Sheldon Lee Cooper in CBS's comedy sitcom, The Big Bang Theory.
Who is Jim Parsons?
Starting his career in theatre, Jim Parsons completed his Master's degree in theatre from the University of San Diego. He ventured from stages to small screens before making it into the big screens of Hollywood.
Parson was the recipient of 'Primetime Emmy Awards for 'Outstanding Lead Actor in a Comedy Series' in 2010, 2011. 2013 and 2014 and 'Golden Globe Award' for 'Best Actor in a Television Series Musical or Comedy' in 2010. He received all of these awards for his role as Sheldon Lee Cooper on The Big Bang Theory. According to Forbes, Parsons was the world's highest-paid television actor with his estimated annual salary of $26.5 million in 2018.
Early Life and Education
Born on 24 March 1973 in Houston, Texas, to Milton Joseph Parsons Jr., the then president of a plumbing supply company, and Judy Ann Parsons-McKnight, a teacher, James Joseph Parsons grew up in Houston, Texas. He also has a sister, Julie Ann Parsons-Pruski.
Parsons showed a keen interest in performing arts in his early childhood when he began learning to play the piano. He also would eventually show the signs of a budding actor, as he would develop his own script and stage productions in his home.
At Klein Oak School, he took part and excelled in school productions. Later, Parsons attended the University of Houston, from where he graduated with a Bachelor of Arts in Theatre. As a young undergraduate scholar at the university, he took part in 17 plays in three years.
Later in 1999, he was enrolled in the University of San Diego. He was among the seven students who were accepted for a special two-year course in classical theater. The program was organized in collaboration with the Old Globe Theatre. But, Rick Seer, the Program Director, wondered if Parsons would fit into the program, "Jim is a very specific personality. He's thoroughly original, which is one reason he's been so successful. But we worried, 'Does that adapt itself to classical theater? Does that adapt itself to the kind of training that we're doing?' But we decided that he was so talented that we would give him a try and see how it worked out."
Parsons completed his Master Of Fine Arts degree from the University of San Diego in 2001.
Early Career
Parsons started his early career in New York City, where he worked in off-Broadway productions. Along with working in the theatre, he also started to make several television appearances, but all those appearances were minor roles. But in 2004, he got a part of Rob Holbrook in the American legal drama television series Judging Amy. He played this character for seven episodes. He worked as Casting Assistant and actor for the French movie Happy End in 2003. He also played some minor roles in films such as Garden State (2004) and School for Scoundrels (2006).
Later in 2006, his acting career began to blossom after meeting Chuck Lorre. Lorre was casting for his upcoming sitcom The Big Bang Theory when he first saw Parsons. In an interview with Toronto Stars, Lorre remarked that Parsons "nailed it from the moment he walked into the room. He nailed it so much, I had to ask him to come back and do it again, because I wasn't sure if he had simply gotten lucky."
'The Big Bang Theory' and Later Career
Parsons's first appearance as Sheldon Lee Cooper was in September 2007. He played the role of a genius who worked as a theoretical physicist in Caltech. His portrayal of the character would lead some of his fans to believe that Parsons was as genius as his character. Talking to Toronto Stars, he broke the hoax and said," People always want to know if I'm as smart as Sheldon, it's sweet that they feel compelled to ask. But sadly, no."
With guest stars such as Stephen Hawking, Neil deGrasse Tyson, Stan Lee, LeVar Burton, and Bill Gates making appearances in the show, the show got rave reviews because of its quick-witted dialogue delivery and talented casts who explore science, friendship, and relationships with humor. It grew to become one of the television's top-rated sitcoms. Although handling all the scientific terms and jargon was not easy for him, Parsons did it with so much grace and made it seem effortless.
On 16 May 2019, Parsons last appeared as Sheldon Lee Cooper in CBS's sitcom The Big Bang Theory. Despite the show running smoothly, his wish and scheduled decision with his husband were to end it as he wanted to move on from that role. On David Tennant Does a Podcast With ...," he shared, "I was exhausted, and I was really upset about one of our dogs was getting really at the end of his life around then," he said. "I'll never forget that walk around the park to let him go to the bathroom before we went for the commercial shoot. He just looked so bad, and I was so tired, and (my husband) Todd was like … 'we gotta go, we've scheduled this, they've fit everything around your schedule.' And I just started crying."
Parsons also used to get involved with other projects when he was on his production breaks from The Big Bang Theory. During such production breaks, he played the human version of the puppet Walter in The Muppets, which was produced in 2011. He also made an appearance in Zach Braff's dramatic comedy, Wish I Was Here in 2014. In 2015, he became a voiceover artist and lent his voice to the lovable alien, Oh, in the movie Home.
In 2015, Parsons played the role of Dr. Mathison in Kevin Greutert's dark thriller Vision. In 2016, he appeared as STG head engineer Paul Stafford in the Oscar-nominated American biographical drama, Hidden Figures, directed by Theodore Melfi. After the movie, he co-starred with Claire Danes for the indie drama A Kid Like Jake in 2018. Directed by Silas Howard and produced by himself, this movie was about parents being adaptive to having a transgender child.
In 2019, Parsons played the role of prosecuting attorney Larry Simpson in Joe Berlinger's crime drama film, Extremely Wicked, Shockingly Evil and Vile, which is based on the life of a serial killer Ted Bundy. In 2020, he played the role of Michael in Joe Mantello's The Boys in the Band.
Along with television series and movies, Parsons also used to portray theatre roles. He appeared in a revival of Larry Kramer's AIDS drama The Normal Heart in 2011. In 2014, Parson was cast along with Julia Roberts, Matt Bomer, and Mark Ruffalo for the television adaptation of The Normal Heart.
Parsons has also appeared on Broadway many times. In 2012, he appeared on Broadway for the first time in a revival of Harvey as Elwood P. Dowd. In 2015, he starred in the comedic play An Act of God in the titular role, Creator at the Great White Way. He became part of yet another celebrated Broadway production in 2018. This time it was for the role of Michael on The Boys in the Band, which was a revival of the 1968 play by Mart Crowley.
'Young Sheldon'
The character of Sheldon Lee Cooper received so much love from the viewer that a spin-off prequel had to be made about the character's childhood. Parsons became the executive producer and the narrator of the new show, Young Sheldon, which started broadcasting on 25 September 2017. Chuck Lorre, one of the creators of the original show, stated that the development of the new show was already under discussion. "The origins of Sheldon [Cooper] have been something we've been interested in writing about for a couple hundred episodes on Big Bang," he stated. "Last fall, Jim [Parsons] sent me an email discussing the possibility of taking it a step further and it just seemed like the best idea in the world." In the show, Iain Armitage plays a younger version of the boy genius Sheldon Lee Cooper.
Awards and achievements
Parsons received one of television's top honors, 'Emmy Award' for 'Outstanding Lead Actor in a Comedy Series' in 2010. He won this title for his iconic role of Sheldon Lee Cooper in the popular sitcom 'The Big Bang Theory. He later bagged three more 'EmmyAwards' for the same role in 2011, 2013 and 2014. He is also a recipient of the 'Golden Globe Award' for 'Best Actor in a 'Television Series Musical or Comedy' in 2010.
Parsons received a star on the 'Hollywood Walk of Fame' in 2015. According to Forbes, his estimated annual net worth was $26.5 million in 2018, making him the highest-paid television actor of that time.
Parsons' Personal life
Parsons has said that he had refrained from disclosing his sexuality out of a fear that his career may suffer. He also said to The Sun in 2007, a British tabloid newspaper, that it was not easy for an actor to be openly gay.
In an interview with the New York Times in 2012, Parsons explained how he broke his silence for the first time and admitted being gay. He said, "I was doing an interview [in 2012] the summer after I had been in The Normal Heart on Broadway. I was doing Harvey in New York, and I was interviewed by Patrick Healy of The New York Times. I can't remember the exact question, but he asked about something to the effect of, 'Was it more meaningful to be a part of The Normal Heart being gay?' I said yes. I remember leaving there going, well, I sort of just took the back door out, as it were. I remember thinking it was kind of poetically perfect."
After being open about his sexuality, Parsons believed that it would create a lot of buzzes. To his surprise, the news started to fade away very quickly, and things went back to how they were.
Marriage & Husband
Parsons married Todd Spiewak, a graphic designer, and an art director, on 13 May 2017 after 14 years. In his conversation with Daniel D'Addario for TIME magazine, he mentioned how his perception changed about gay marriage. He said, "I had an evolution on my feelings on gay marriage, in that I didn't logically see the importance of it. One of the things that changed my feelings on that was when I thought about, 'Oh my God, part of the reason you feel this way is because it was never a possibility and so you never dreamed about it.'" He further added, "it suddenly felt exciting to be a part of that and helping to change the world in your own personal, heartfelt way just by doing what you want to do."
Later after marriage, Parsons said that that marriage had not brought much of a change in his relationship with Spiewak. He remarked that he had never felt the pressure to get married during all that time he was with his partner. Instead, his relationship with Spiewak was going fine, and marriage was just a legal stamp to their relationship.
Fact-checking and Ethical Concerns
We assure our audience that we will remove any contents that are not accurate or according to formal reports and queries if they are justified. We commit to cover sensible issues responsibly through the principles of neutrality.
To report about any issues in our articles, please feel free to Contact Us. Our dedicated Editorial team verifies each of the articles published on the Biographyhost.