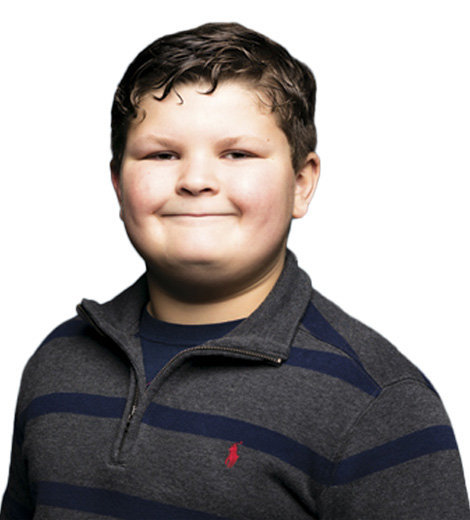 Cast Of 'Young Sheldon'
Wyatt McClure | Biography 2021
A young American child actor Wyatt McClure is well known for his recurring role as Billy Sparks in the CBS hit sitcom Young Sheldon.
---
American child actor Wyatt McClure is well known for his recurring role as Billy Sparks in the CBS hit sitcom Young Sheldon.
Who is Wyatt McClure?
A native of Cleveland, Ohio, Wyatt McClure, McClurie began his acting career at age six. He rose to fame after co-hosting the 2015 YouTube talk show Between 2 Phat Kids for two seasons. Later, he got a breakout television role as Billy Sparks in the 2017 hit television sitcom Young Sheldon.
Early Life
Born on 26 June 2008, in Cleveland, Ohio, United States, McClure enjoyed riding bikes and playing basketball while growing up. 
McClure developed a passion for entering the entertainment industry at a young age while watching cartoons. "I loved watching the cartoon The Backyardigans. I wanted to be a voice behind the characters or be able to make people laugh like they do," he recalled. 
He shared that his mother subsequently helped him to turn his passion into a profession. During an interview in November 2019, McClure said,"She was able to find someone who worked in Cleveland and I was cast in 2 movies in 2 months!"
Acting Career
McClure debuted in his acting career at age six in the black comedy thriller film Miss Meadows, with Katie Holmes in the lead role. He was added to the cast of the movie at the age of five in an uncredited role. 
In 2014, McClure also starred as Gabriel in the romance-drama film The Fault in Our Stars and Mr. Smark in the television series Reel Kids, making many hysterical moments.
Sharing an incident while doing his first film, McClure said, "I was really hot in the church I was filming in and they brought in air conditioners with long tubes. When no one was watching I crawled into it to cool down. They started to film and no one could find me because I was stuck in the tube!"
When he first started out, he was also unaware of the director's professional terminologies such as rolling, cut, and takes. He would yell the words during the takes. "I was only a little kid and it was funny at first for them but…. cost them time and money. I learned that I am an actor and only say my lines!"
In 2017, McClure portrayed the role of Henry in the thriller film Psychos. He was cast in the role of Pig Boy/Young Chunk in the horror-thriller film The Terror of Hallow's Eve in the same year.
In 2018, he appeared in an episode of the comedy television series Alex Inc as Angelo Pizza and the comedy television series Teachers (2016-19). That same year, he portrayed the role of a mean bully Ronnie in the thriller film Glass Jaw. 
The following year, he guest-starred as Jesus in the NBC comedy sitcom Superstore. 
During an interview in February 2020, McCurry stated that his acting coach Geoffrey Kennedy had been the biggest influence on his career. He said, 
"My acting coach Geoffrey Kennedy. He is always helping me and pushing me to be my best. I wouldn't be where I am today without him."
'Between 2 Phat Kids'
In 2015, McCurry began co-hosting the interview-style comedy talk show Between 2 Phat Kids alongside Brice Fisher. He was just seven years old at that time. He would try to mess with the guests, and Brice would continue interviewing while holding it together. They interviewed many actors including, Bill A. Jones, Josh Server, Alisa Reyes, Ava Cantrell, and Autumn Wendell. The talk show ran for two seasons.
McClure's work in the show won him the 'Young Entertainer Award' under the category 'Best Young Actor - Web Host Performer' in 2017. He was nominated for the same award a year earlier.
'Young Sheldon'
Being a big fan of Chuck Lorre's Big Bang Theory, McClure was excited to become a part of Lorre's new sitcom Young Sheldon, which featured Iaian Armitage in the lead role. He spent July through October in California, auditioning for roles and filming episodes of Young Sheldon. It was there he realized the auditioning was not as easy as he thought.
"I didn't realize how much work and dedication acting was," McClure continued, "I thought it was going to be super-duper easy. It opened a new world for me."
McClure disclosed that he went nervous while auditioning. Even the most jaded actors get anxious during auditions. But McClure used his own special "technique" to stay grounded. 
"I have a little technique that I use before I go in [to audition]," he said. "I rub my chest. It seems to calm me down," he added.
Finally, from over 100 actors who auditioned for Billy Sparks role, McClure was signed as Billy Sparks in 2017. He portrayed the role of a recurring character Billy Sparks who appeared as young Sheldon Cooper's neighbor and friend. At the start, he was a bully character but changed to a goofy and fun kid later in the show. The role became his breakthrough role which earned him massive popularity and fans.
Stand-up Career
In addition to his acting and hosting career, McClure has also shown off his comedy skills in different stand-up comedy shows. He has done stand-up at the Hollywood Improv and has collaborated with Comedy Playground. 
Did You Know?
Being an avid Cleveland sports fan, Wyatt loves Cleveland teams. "I'm pretty familiar with all the stats," he said in 2018. "I like the Cavaliers best and the Browns the least — the Browns are horrible," he added.
On having frequent credits as a bully, McClure disagreed by stating that he was soft-hearted in real life. He explained, "Because of my size, I do seem to be cast as a bully, but my personality always shows through. He added," I am anything but a bully. I think that I am super funny, comical, and have a soft heart." 
Fact-checking and Ethical Concerns
We assure our audience that we will remove any contents that are not accurate or according to formal reports and queries if they are justified. We commit to cover sensible issues responsibly through the principles of neutrality.
To report about any issues in our articles, please feel free to Contact Us. Our dedicated Editorial team verifies each of the articles published on the Biographyhost.