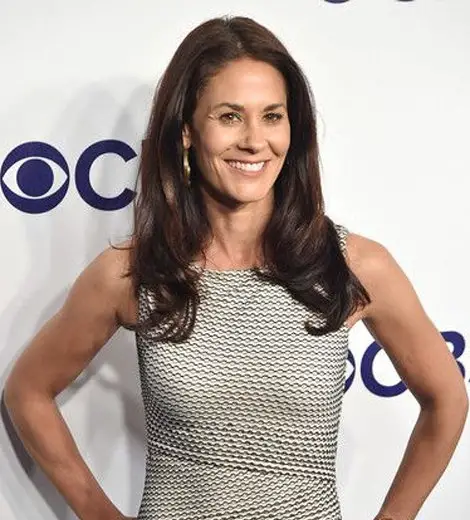 Quick Wiki
Full Name

Tracy Wolfson

Occupation

Sportscaster, NFL Reporter, Sports Announcer

Birth Date

Mar 17, 1975

Age

48 Years, 8 Months

Ethnicity

Jewish Heritage (exact ethnic background undisclosed)

Relationship Status

Married

Husband

David Reichel

Height

 5 feet 2 inches (1.57 m) tall

Children

3 sons (Dylan, Ari, and Evan)

Nationality

American

Birthplace

Undisclosed

Zodiac Sign

Pisces

Political Affiliation

Jewish

Mother

Josephine Wolfson

Father

Jerome Wolfson

Mother's Occupation

Art teacher

Father's Occupation

Consultancy firm owner

Education

Degree in communications from the University of Michigan

Net Worth

$ 5 million (reportedly), $1 million yearly income including salary

Awards

Five-time Emmy nominee

Unique Body Features

Mole (Right cheek, adjacent to nose)
American Sportscaster for CBS Sports
Tracy Wolfson | Biography
Previously worked for WZBN-TV and ESPN
Wolfson presently functions as the lead reporter for the NFL (National Football League) on CBS, covering Sunday games and AFC Wildcard, Divisional, and Championship games.
---
Tracy Wolfson is an experienced American sportscaster employed at CBS Sports.
Short Bio
Tracy Wolfson is a popular media figure in the sporting industry. She covers trending events and hot news prominently as a sideline reporter. Wolfson completed her degree in communications from the University of Michigan. During her senior year in 1997, she was involved with CBS and her first career job was that of a runner at Michigan. She was later handed the coverage opportunities in New York and Indianapolis because she impressed CBS personnel by doing "so much work" before graduation. To Times Union in 2016, she shared,
My job there was not only to pick up (Duke coach) Mike Krzyzewski and his wife, Mickie, from the airport and drive them around, but I got the cue the band during the championship game. I remember, it was "Simon Says ... Championship" (a line uttered by then-CBS analyst Billy Packer about Miles Simon), Arizona won, and I got to run out on to the court, and in my earpiece I'm hearing, "Get off the court! Get off the court!" I was like a fan covering it, it was so new to me."
After graduating, Wolfson went on to work for the WZBN-TV station as she wished to pursue a broadcasting career. She then worked as an agent for a year before taking sports-producing stints. She would then use her broad sports media experiences to create sample tapes, which helped her land an anchoring role in Trenton. "I was an agent for a year, I was a sports producer for a year, made a fake tape, sent it around the country, got one job in Trenton, N.J., and that's how I got my start," she disclosed. 
After nearly two years working at Trenton, she went on to work for Madison Square Garden (MSG) Network, and ESPN, in hosting and reporting roles. She then landed on CBS sports and has been fulfilling the same duties for over a decade and a half, specializing in taking important interviews after chaotic post-game moments.
"CBS was looking for a No. 2 reporter on college football, and they had my tape. Because I was there before and people remembered me, that definitely helped. It was between me and a few other women out there, and I got very fortunate to get the job," she shared.
She Has Diverse Sideline Reporting Experiences In NFL and Beyond
Wolfson is a reporter and host of CBS Sports. She is a four-time Emmy nominee in the sports broadcasting category for CBS Sports. Wolfson has covered sports and games ranging from auto racing, skiing, ice skating, gymnastics, track and field, and rodeo to football, basketball, and more for the network.
Wolfson presently functions as the lead reporter for the NFL (National Football League) on CBS, covering Sunday games and AFC Wildcard, Divisional, and Championship games. She also contributes as one of the anchors of the revolutionary all-female sports show We Need to Talk on CBS Sports. Furthermore, she is a lead reporter for NCAA Men's Basketball coverage by CBS, including the tournaments March Madness and the Final Four.
Previously, she also reported in the Super Bowls of 2018, 2015, and 2013, including its 2021 TV special. Besides, she served as a sideline reporter for the first season of Thursday Night Football, 2003 Army-Navy Game, 2004 and 2005 Vitalis Sun Bowl, and 2008 Brut Sun Bowl. Similarly, she was a lead sideline reporter for CBS's SEC Football package. In addition, she also covered the U.S. Open Tennis Championships in 2004 and 2005 for CBS.
Wolfson admitted in an interview with Times Union in 2016 that she got inspired by Michele Tafoya to become a sideline reporter.
Her Husband Is A Trader 
Since 2001, Wolfson has been married to her husband, David Reichel, a capital salesperson, and options trader. They exchanged wedding vows on New Year's Eve. Wolfson and Reichel met at the University of Michigan, but their relationship didn't start until they graduated.
Also on Tracy Wolfson

CBS's Sportscaster Tracy Wolfson' Has Stood Out As Veteran Sideline Reporter in NFL And Beyond Despite Criticisms
She credits her husband for her success in balancing her personal and professional responsibilities. To Times Union, she shares, "I'm so lucky. My husband (David Reichel) is as supportive as he can. He clears out his March for me. He understands. He tries to put off all the work dinners that he has. He knows it's going to be crunch time and there's a lot going on."
Her Sons and Family Are Her No.1 Priority 
The couple has three sons, Dylan, Ari, and Evan. The family of five resides in New Jersey. 
"My family is my real life, and being a mom is my number one priority," Wolfson said in an interview with Jewish Standard. "I have an amazing job, and I worked really hard to get where I am, and I love it, but I always say that when it doesn't work out for my family, that's when I'm out."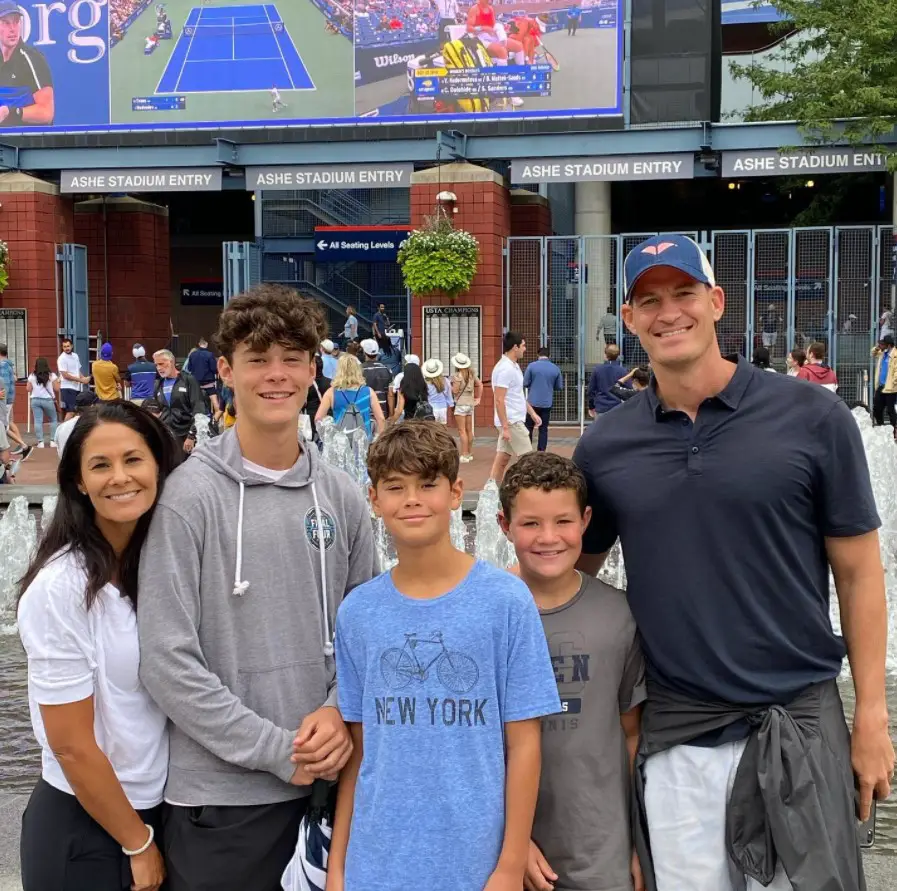 She also credits her sons for being equally understandable. "It's going to be a big juggling act, but my kids get it. They understand. This is what they've lived with for so long now, and, fortunately, that makes it a lot easier to go on the road. You know what, it really flies by. Before you know it, it's Final Four already, and I get some time off," she shares.
On her Instagram post on 12 September 2021, she wrote, "Couldn't think of a place you would rather be on your birthday! Wish I could be there to celebrate with you but I'll be watching! Happy Birthday to the best husband, father, and friend. You are incredible with what you do for our family. I'm so lucky."
Frequently Asked Questions
How Tall Is Tracy Wolfson?
CBS veteran sports announcer Tracy Wolfson stands at the height of approximately  5 feet 2 inches (1.57 m).
What is Tracy Wolfson's Net Worth & Salary?
According to TheList in 2021, Wolfson reportedly made $1 million in a year from salary and other revenue sources such as video games. The site marked her reported net worth at $5 million. 
How Old Is Tracy Wolfson?
Tracy Wolfson's age in April 2022 is 47 years. She was born in the United States on 17 March 1975 to a middle-class family. Her parents are Jerome, a consultancy firm owner, and Josephine Wolfson, an art teacher. 
Is Tracy Wolfson Jewish?
A sports reporter of American nationality, Wolfson's religious background, and ethnicity are Jewish; she can be seen supporting Jewish culture and traditions on her social media. Her family is also engaged with the Jewish Community Center in Tenafly, New Jersey. However, her exact Jewish ethnic background remains undisclosed as there are many ethnic divisions in Jews' racial identity.