Quick Wiki
Full Name

Tracy Wolfson

Ethnicity

Jewish Heritage (exact ethnic background undisclosed)

Birth Date

Mar 17, 1975

Age

48 Years, 6 Months

Occupation

NFL Reporter , Sports Announcer, Sideline Reporter

University

University of Michigan

Relationship Status

Married

Husband

David Reichel

Height

5 Feet 1 Inches (1.57m) tall

Children

3 sons (Dylan, Ari, and Evan)

Religious Affiliation

Jewish

Wedding Date

2001 (Exchanged wedding vows on New Year's eve
Five-time Emmy Nominated Announcer & NFL Reporter for CBS Sports
CBS's Sportscaster Tracy Wolfson' Has Stood Out As Veteran Sideline Reporter in NFL And Beyond Despite Criticisms
Previously worked for WZBN-TV, MSG Network, and ESPN
The 2019 Super Bowl 53 interview with Tom Brady is the staple of her career and the game. During the post-game interview, she tackled the crowd of reporters and caught the first reply from star Tom Brady of the New England Patriots.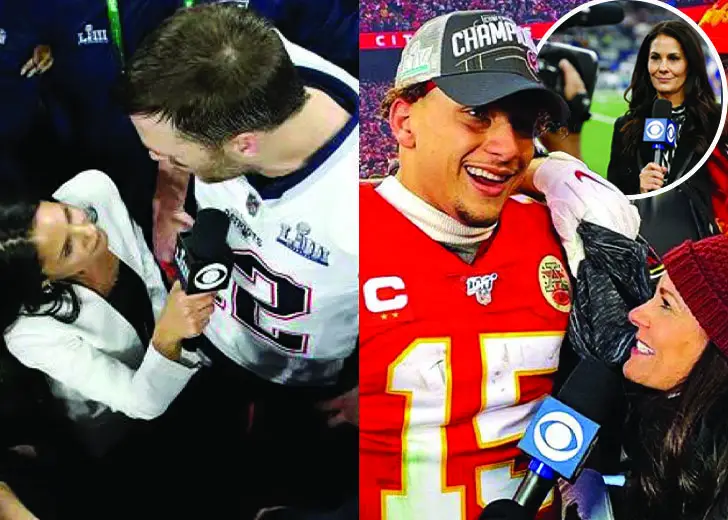 ---
In the American television industry, sports journalism has been filled with a majority of male reporters. On the pages, there are only a handful of female reporters who have installed their names into the hearts of sports enthusiasts and the numbers are even scarce in sideline reporting.  That's where Tracy Wolfson, an established NFL reporter, has been reporting for a long time. But did she have it all in a silver plate?
Wolfson did not come from a sports background. She was raised in suburban New York and went to the University of Michigan for a journalism degree. Since the age of seven, she has wanted to become a sports announcer. She watched veterans such as Ahmad Rashad, Willow Bay, Michele Tafoya, and Lesley Visser making sports headlines on television and got inspiration at a young age. 
After graduating, Wolfson did short and odd reporting on sports such as rodeos, auto racing, and snow skating as she was a researcher for CBS. But she wanted to be on camera, so she made a fake tape of herself reporting and bagged a reporter position in Trenton, New Jersey. In the next 15-plus years of her professional journey, she stood for long hours, took leaps, and generated impactful interviews in chaotic post-game scenarios. For her, the journey to becoming CBS's lead sports reporter has been without shortcuts.
Also on Tracy Wolfson
But still, female sideline sports reporters are not seen as actual reporters by many. Even veteran Lesley Visser couldn't resist saying in an interview that the occupation had become a "female dumping ground" in the modern world in which female reporters are just limited to asking a couple of questions. In addition, she also commented that the proclaimed 2013 ESPN documentary Let Them Wear Towels showed a dark side of women's struggles in sports journalism in the 70s and 80s.
As for Wolfson, she respects her friend and mentor Visser's perspective but relies on her passion for sideline reporting to keep going ahead in her career. "It's a matter of preference. I get asked all the time would I like to one day move into the booth. My answer is, "No." I love my role of researching stories, being front and center, close to the action, and reading and reacting to what's happening on the field or on the court. I'm a sideline reporter because I love the role not because I'm a woman and it was my only avenue into sports coming out of school," she shared to SportsBroadcastJournal in 2021.
Furthermore, Wolfson also had to make strong decisions and changes that she perceived as lessons and not struggles. For instance, she admitted that the question she asked the tennis player Lleyton Hewitt after the 2005 US Open was irrational and typically not something the audience wanted to hear. After which, she learned to direct the questions to something fans would like to know about rather than the blatant reality of the game. 
And Wolfson succeeded. After the 2005 US open, she made rational changes in her interview styling in her upcoming hundreds of interviews. And prominently, the 2022 mid-game segment with North Carolina Coach Hubert Davis went viral right after it aired. Davis answered her question with such an enthusiastic and heartfelt attitude that it became the highlight of the game. 
Nevertheless, the 2019 Super Bowl 53 interview with Tom Brady is the staple of her career and the game. During the post-game interview, she tackled the crowd of reporters and caught the first reply from star Tom Brady of the New England Patriots. 
In 2019, after the Patriots won the game against Los Angeles Rams, tens of reporters swarmed Brady to get exclusive interviews. While beside him was Wolfson, who is also 5 feet and 1 inch tall, caught Brady's jersey with one hand and the mic with another to not lose track of him in the crowd. Subsequently, she waited for three minutes when Brady was congratulated and wished by his coaches. 
"The circle forms around you. I'm small and I just kind of held onto Tom and the microphone and just sort of waited and waited patiently," she later said. 
Her CBS producers had lost sight of her during those minutes as she was lost among the crowd. But when she got the first words from Brady, she became the talk of the town. From fans to sports commentators, all praised her persistence and recalled her popping right at the moment as one of the most interesting parts of Super Bowl 53. 
Reminiscing on the moment and the passion for her job, Wolfson told the New York Post, "It was awesome. It was definitely a struggle. I joked that the game was an offensive struggle, so it was only appropriate that the winning interview was a struggle, too. That's kind of why you do this job. I embrace it and I love it."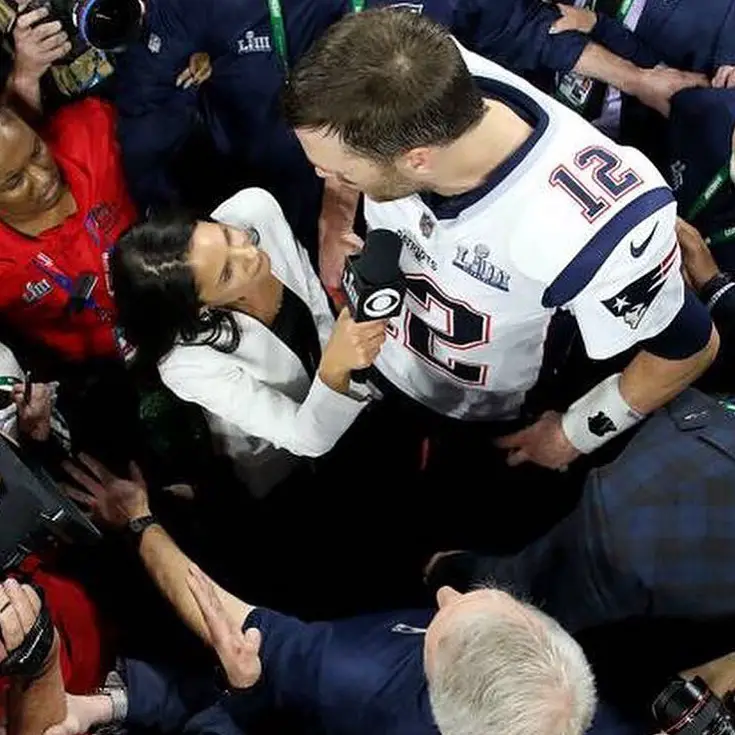 Later, Wolfson revealed that her husband and children were also present in that game and were almost trampled by the crowd. Still, it definitely was an eventful night in her professional and personal life as she could once again convey to her family that she functions not for the network, the coach, or the players but for the watchers.
She elaborates that football fans are not only limited to sports enthusiasts but also college students, followed by the traditional sports lovers who are passionate about their teams winning. She got used to sports tradition growing up in the western region and adoring the climate and fraternity of the south. 
Her fighter nature comes from her nearly a decade-long experience covering college sports. Before she was promoted to NFL, she covered the Southeastern Conference (SEC) for CBS as a sideline reporter. She considered those days as one of the best seasons in football games.
Also Read About - Wynn Everett - Doom Patrol, Height & Husband
It is Wolfson's passion and love for sports tradition that has convinced many including her husband and three sons to brace her everyday battles. She credits her husband and children for understanding her occupation's struggles and hopes they, remain beside her, making the balance possible. On her Instagram, she usually posts snaps of her vacation and fun days out with her family and conveys that those moments are always precious.