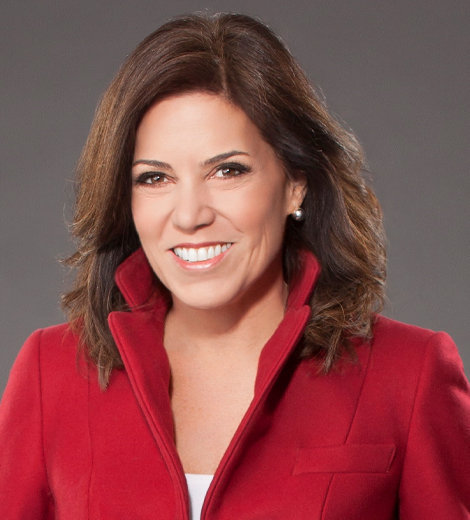 Quick Wiki
Full Name

Michele Joan Tafoya

Occupation

Sportscaster, Host

Nationality

American

Birthplace

Manhattan Beach, California, USA

Birth Date

Dec 17, 1964

Age

58 Years, 9 Months

Ethnicity

Hispanic

Height

5 Feet 7 Inches

Net Worth

$2 Million
Former Sideline Reporter of NBC's 'Sunday Night Football'
Michele Tafoya | Biography
Previously worked as a sportscaster at ESPN & CBS
Tafoya also hosted NBA as a sideline reporter for ESPN and ABC from 2002 to 2008. Similarly, she was recruited as a WCCO Radio afternoon drive host from 2009 to 2012. After that, she joined NBC as a Sunday Night Football sideline reporter in 2011. As an NBC sports journalist, she won four 'Emmy Awards' for 'Outstanding Sports Personality - Sports Reporter' before finally leaving the network in February 2022.
---
Michele Joan Tafoya is an American sportscaster who has served stints at reputed sports outlets such as ESPN & CBS.
Who Is Michele Joan Tafoya?
Michele Joan Tafoya is a popular figure in the sporting industry. She is a mass communication graduate from the University of California, Berkeley (1988). Later, Tafoya earned her master's degree in business administration from the University of Southern California in 1991.
Tafoya joined CBS in 1994 as an anchor and reporter. She contributed to NCAA on CBS as a sideline reporter till 1999. Simultaneously, Tafoya worked as a late-night host for the Winter Olympics in 1998, and the same year, she was a CBS sideline reporter for the NFL.
When she was a sideline reporter at CBS, Tracy Wolfson got inspired by her to become a sportscaster like her. Wolfson admitted in an interview with Times Union in March 2016 that she looked up to Tafoya, and she thought, that's what she wants to do, that's who she wants to be. Wolfson is now a successful sportscaster for CBS Sports.
After spending six years at CBS, Tafoya joined ESPN & ABC Sports in January 2000. While there, from 2000 to 2003, Tafoya was a College Football sideline reporter at ESPN. Similarly, between 2002 to 2003, she worked as a Monday Night Countdown reporter, and from 2004 to 2011, she served as a Monday Night Football sideline reporter at the network. 
Tafoya also hosted NBA as a sideline reporter for ESPN and ABC from 2002 to 2008. Similarly, she was recruited as a WCCO Radio afternoon drive host from 2009 to 2012. After that, she joined NBC as a Sunday Night Football sideline reporter in 2011. As an NBC sports journalist, she won four 'Emmy Awards' for 'Outstanding Sports Personality - Sports Reporter' before finally leaving the network in February 2022.
How Old Is Michele Joan Tafoya?
Tafoya was born in Manhattan Beach, California, on 17 December 1964. She is 57 years old as of April 2022.
She was born to Wilma and Orlando, and she has one brother and three sisters. 
Why Did Michele Tafoya Leave KQRS?
Tafoya started working at the KQRS radio station in September 2016. However, she later exited from the job because the station was "revamping the program with an approach in which she would have played a lesser role."
Additionally, Tafoya also stated a familial reason in an interview with the Minneapolis Star-Tribune on why she left the station. "I'd love to get my mornings back with my kids. I do the show from my house and I can hear them in the kitchen laughing with their dad. It's a reminder that I'm missing so much," she conveyed.
She Missed Several Games Before Leaving NBC Sports
Tafoya made headlines in December 2021 after missing three games in a row. In a 14 December 2021 news story, the New York Post's Andrew Marchand reported that Tafoya took off from her work after Thanksgiving and the first two Sundays of December. According to the Post, the three games she had taken off were not coincidentally bad-weather sites of Baltimore, Seattle, and Green Bay because she would also miss the Packers-Vikings game in Green Bay on 2 January 2022. 
Tafoya's absence from her work led to speculation that NBC fired her for controversial comments and opinions she shared about COVID-19 and Colin Kapernick in early November 2021 during her appearances on ABC's The View.
However, an NBC spokesperson insisted that the speculation about her absence was false. In a statement, NBC described Tafoya's absence as "bye weeks" that were already in place before the 2021 season, and she would be returning to the sidelines that weekend. 
The Post reported that Tafoya would leave Sunday Night Football as a sideline reporter following the 2021 season. NBC declined to comment on the matter, but a source told the tabloid that the decision to step away from the field was Tafoya's. The Post further mentioned that NBC's Super Bowl in February 2022 in Los Angeles would be Tafoya's final time on the sideline.
What Did Tafoya Say On 'The View'?
Tafoya appeared as a guest co-host on The View on 2 November and 3 November 2021 and made some controversial statements on the program.
She compared COVID-19 with the flu (which the Centers for Disease Control and Prevention urges are two different things) and stated the "flu kills people," which was not well received. She also opposed the idea of COVID mandates and vaccinations. 
Furthermore, Tafoya made a handful of questionable statements about former San Francisco 49ers quarterback Colin Kaepernick, who famously remained a free agent after protesting racial injustice and police brutality during his 2016 season by refusing to stand for the U.S. national anthem. Tafoya countered the idea that Kaepernick was not on an NFL roster because of kneeling for the anthem. She also criticized Kaepernick's Netflix series, Colin in Black & White, for likening the NFL to slavery. The free-agent suggests the NFL Draft combine instills a 'power dynamic' between football coaches and African-American players in his Netflix series.
Additionally, Tafoya debated with the show's co-host Whoopi Goldberg about the critical race theory in colleges. Tafoya disagreed with the idea of teaching students critical race theory and argued that one's "character" and "value" matter. The two further discussed racial progression in the U.S. Goldberg said that the color of skin had mattered to people for years, while Tafoya stated that they could change the situation.
What Did Michele Tafoya Say About Leaving 'Sunday Night Football'?
On 11 January 2022, NBC confirmed in a press release that Tafoya would work the final NBC Sunday Night Football game at Super Bowl LVI on 13 February 2022. In the press release, Tafoya also officially announced her departure from NBC Sports. 
"My time with NBC Sports has been the most satisfying of my career. I've had the good fortune of collaborating with a team that is amongst the best at what they do, and the support I've received in this position has been unparalleled," Tafoya shared about her experience working at NBC Sports. 
She further revealed that she had been considering other areas she would like to explore both personally and professionally. "I couldn't ignore that little voice anymore after what we have all endured over the last few years. There's no better way to walk away from covering the NFL than with one more Super Bowl!" she added.
Just a day after her final reporting from Super Bowl LVI, she disclosed in an interview with Richard Dietsch of The Athletic on 14 February 2022 that she concluded her sports reporting career to get involved in politics. The same day, she announced that she would be joining Minnesota Republican gubernatorial candidate Kendall Qualls' political campaign as a co-chair.
However, she explained that she had been considering the career change for quite some time. She gave NBC her notice three years before, but her friend and Sunday Night Football's executive producer Fred Gaudelli wanted her to stay through the Super Bowl LVI. 
"In fact, in the COVID year of 2020, I was only supposed to work half those games. Then COVID started and I looked at the scheduling and the potential for all the reschedules and stuff that could go wrong, I said, 'Look, Fred, just count me in for the whole season, I don't want to make your life any more complicated than it is. I'll work.' So, this is all my decision," she said.
Tafoya further stated that her colleagues always told her she could stay as long as she wanted, but she decided that she had to make her move while she had the energy to do other things, and she did not want to wait.
She got to a point where she wanted other things more important to her than sports. "This is not to say that sports isn't an important field, that my job isn't an important job. But in my position, I was not as free to be as vocal about world events that I'm concerned about," she explained. 
Tafoya further elaborated during her appearance on Tucker Carlson Tonight on 16 February 2022 that she wanted to change her career to give back to America. She said she had been waking up every day with a palpable pull at her gut that her side, her view, and her middle ground moderate viewpoint were not being represented to the rest of the world. Her realization urged her to do something more than just banging it out on Twitter or Instagram every day. She ultimately entered politics.
According to Tafoya, she got inspired to pursue politics after seeing her friends' fear of getting into political conversations. She considered it the terrifying thing that people are afraid to talk about.
What Is Michele Tafoya's Net Worth and Salary?
According to Celebrity Net Worth, Michele Tafoya has amassed a net worth of $2 million as of 2021. Similarly, she has an annual salary of $200 thousand, owing to her sportscasting career path.
Who Is Michele Tafoya Married To? 
Tafoya is married to her husband, Mark Vandersall, whom she met while working as a radio host in 1993. The couple exchanged wedding vows in 2000.
Her husband is a sports enthusiast like her and was named the 1989 all football conference player for Robbinsdale Armstrong High School in Plymouth, Minnesota. Vandersall continued to play baseball at the University of Minnesota and was named the freshman All-American pitcher by Japanese sports equipment and sportswear company Mizuno.
Vandersall stepped back from the sports after graduating with a finance degree. He currently works as a private wealth advisor with Ameriprise Financial Services in Edina, Minnesota.
Do Michele Tafoya And Mark Vandersall Have Children?
Tafoya and her husband together have two children, a son named Tyler and an adopted daughter named Olivia. However, they had difficulty conceiving children.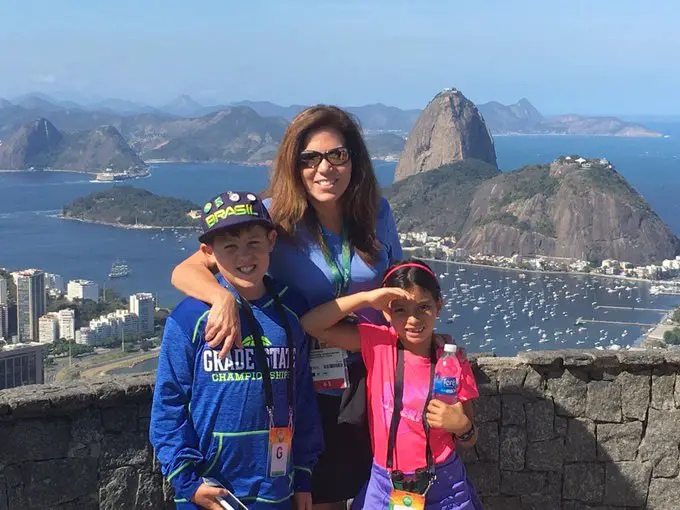 In an interview with Modern Mom in March 2011, Tafoya said she was 35 when she got married and she knew her "window for childbearing was closing." So, she tried to conceive a child right after her marriage, but she experienced multiple miscarriages. 
Tafoya later detailed her miscarriages during an interview with Artful Living in January 2018. She shared that she took her first miscarriage normally, believing that "everyone has one now and then." After her second miscarriage, she apologized to her husband because she felt responsible for it. 
"I'm seven years older than he is, so I felt like my age was a factor. And it was — the science will tell you. There are biological reasons for it, and it's as simple as that," Tafoya explained.
After two miscarriages, the couple pursued invitro-fertilization, and she became pregnant with twins. But unfortunately, she also lost those. 
Tafoya shared that she and her husband were losing hope after losing their four babies to miscarriage. They did another round of invitro-fertilization, but they did not get any good embryos.
The couple then started investigating donor eggs, but fortunately, she became pregnant naturally. She then gave birth to their son Tyler in 2005, just before she turned 41 years old.
Tafoya told Modern Mom that her struggle to have children changed her priorities, and having her son made her want to travel less. So she quit her role as the lead sideline reporter on the NBA on ABC when her son turned two years old. The couple struggled to have another child after the birth of their son, and they adopted their daughter from Columbia, South America, in 2009. Tafoya said her family became complete after adoption.