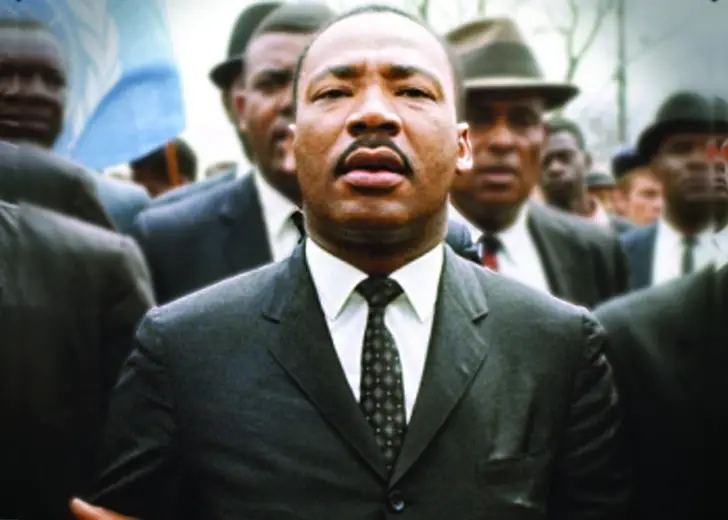 Quick Wiki
Full Name

Dr. Martin Luther King Jr.

Nickname

Martin Luther King

Birth Date

Jan 15, 1929

Age

94 Years, 8 Months

Death Date

1968-04-04

Place Of Death

Memphis, Tennessee, USA

Ethnicity

African-American

Nationality

American

Birthplace

Atlanta, Georgia, USA

Zodiac Sign

Capricorn

Religious Affiliation

Christian

Occupation

Baptist Minister & Civil Rights Leader

Mother

Alberta Williams King

Father

Martin Luther King Sr.

Mother's Occupation

School Teacher

Father's Occupation

Pastor

Relationship Status

Married

Wife

Coretta Scott King

Awards

Nobel Peace Prize 1964
Powerful Instigator of Civil Rights Movement of the 1960s
Martin Luther King Jr. | Biography
Founder of Southern Christian Leadership Conference (SCLC)
After that, King became an avid advocate of attaining racial equity in public spaces. He and his fellow ministers established the Southern Christian Leadership Conference (SCLC), an organization founded to give fresh leadership to the then-burgeoning civil rights movement. He was chosen president of the SCLC in 1957. 
---
Martin Luther King, Jr. is a civil rights icon who spearheaded the effort to eliminate segregation and combat discrimination in the United States via peaceful protest in the mid-1950s
Who is Martin Luther King Jr.?
Martin Luther King Jr. is a prominent Civil Rights activist and Baptist Minister who had elemental influence in lifting the segregation laws in America. His 'I have a Dream' speech is considered a historical moment in the Black Rights Movement of the 1960s. 
King was born on 15 January 1929 in Atlanta, Georgia. His father, Martin Luther King Sr., was a pastor, and his mother, Alberta Williams King, was a school teacher. He grew up in a middle-class family where he watched his parents fight against racial prejudices.
He was an exemplary student in school. He joined Morehouse College to study Medicine and law at just 15 years old. After that, in 1948, he received a fellowship at the Pennsylvania Crozer Theological Seminary for a Bachelor of Divinity Degree. After that, he entered the Boston college for a Doctorate (Ph.D.) in Systematic Theology. 
While studying in Boston, he met a young singer from Alabama, Coretta Scott. They went on to get married in 1953 and got settled in Montgomery, Alabama. They had four children; Yolanda Denise, Martin Luther III, Dexter Scott, and Bernice Albertine.
Martin Luther King Day
In 1955 he was asked to be an executive member of the National Association for the Advancement of Colored People (NAAP), which was then leading the Montgomery Bus Boycott. The movement was initiated to abolish racial segregation in the local buses in the city.
It lasted for 382 days when the bus corporation suffered a severe financial crisis. Subsequently, in 1956 the supreme court gave a decision declaring that white and black people should ride buses without any discrimination. The racial segregation in public buses was verdict as unconstitutional. 
After that, King became an avid advocate of attaining racial equity in public spaces. He and his fellow ministers established the Southern Christian Leadership Conference (SCLC), an organization founded to give fresh leadership to the then-burgeoning civil rights movement. He was chosen president of the SCLC in 1957. 
King instigated a non-violence approach to protests and marches against the racial foundation and borrowed Christian ideologies. He was influenced by the activism of Mahatma Gandhi in the Indian Civil Movement. 
Between 1957 and 1968, King traveled almost six million miles and spoke over two thousand times, inspiring black activism. He appeared wherever there was injustice, protest, or action; in the meantime, he produced five books and several articles.
During these years, he spearheaded a major demonstration in Birmingham, Alabama, that drew worldwide attention, establishing what he called a coalition of conscience. His influential composition from Alabama, 'Letter from a Birmingham Jail,' was a Negro revolution manifesto that gave black people the right to equally vote. And he was in charge of organizing voter registration efforts in Alabama. 
Also Read About - Carra Patterson - Age, Acting, Pregnant & Bio
Followed by that, he led a peaceful march of 250,000 people to Washington, D.C., where he delivered his 'I Have a Dream' speech. It became one of the legendary remarks in the twentieth century and had a tremendous impact on the national conscience. And throughout his journey, he was detained up to twenty times and beaten at least four times.
In 1964, King was only 35 years old when he became the youngest man to receive a 'Nobel Peace Prize.' After winning, he donated the prize money of $54,123 to agencies supporting the civil rights movement.
President Ronald Reagan signed legislation in 1983 to establish a federal holiday to commemorate King for his commitment to equal rights and justice for all. As a result, Martin Luther King Day was observed for the first time on 20 January 1986. And in 2000, 20 January was declared a federal holiday in all 50 states. 
Martin Luther King and Malcolm X
King and Malcolm X were prominent leaders of the Civil Rights Movement. They both had idealistic views of equality, but Malcolm advocated for Black Nationalism. In addition to that, their differences were also seen in their approach to gaining black equality. 
King had instigated the non-violent values of Gandi, as his protest and marches were without any use of weapons or violence. At the same time, Malcolm pursued that violence should be used in times of self-defense. Malcolm often criticized King, and his attacks intensified when the Alabama protest led to the death of four young African American girls. 
King and Malcolm met for the first time on 26 March 1965 in Washington D.C., the same year Malcolm was assassinated. 
Who killed Martin Luther King?
On Wednesday, 3 April 1968, King landed in Tennessee to prepare for a march in support of striking Memphis sanitation workers the following Monday. King walked out onto the balcony of room 306 to chat with SCLC associates standing in the parking lot below as he prepared to depart the Lorraine Motel for supper at the house of a Memphis preacher. 
A single shot from an assassin inflicted significant wounds to the bottom right part of his face. Aides from the SCLC raced to him. Others on the balcony pointed across the street to the back of a boarding home on South Main Street, where the gunfire appeared to have come from. At 7:05 p.m., an ambulance took King to St. Joseph's Hospital, where physicians pronounced him dead.
The news of King's killing sparked widespread racial unrest, resulting in more than 40 deaths and substantial property damage in over 100 American cities. James Earl Ray, a 40-year-old fugitive, confessed to the killing and was sentenced to 99 years in jail.
During King's funeral, a tape recording of King speaking about how he wanted to be remembered after his death was played. It said, "I'd like somebody to recall that day that Martin Luther King, Jr., sought to give his life helping others."
Wife and Children
King and Coretta Scott King had four children Martin Luther King III, Dexter, Yolanda, and Bernice. Unfortunately, Coretta passed away in 2006, and all her children outlived her. 
Yolanda was the eldest child. She was born on 17 November 1955. She is well-known for her creative and entertainment pursuits and her public speaking. Then, King III, the second child and oldest son, was born on 23 October 1957. He also became a civil rights and human rights advocate. 
Then, Dexter, the second son and third child was born on 30 January 1961. When his father was murdered, he was seven years old. He has been an animal rights activist since the 1980s.
And Bernice, the youngest child, was born on 28 March 1963. She, like her father, is an American preacher. She was just five years old when her father was murdered in 1968.