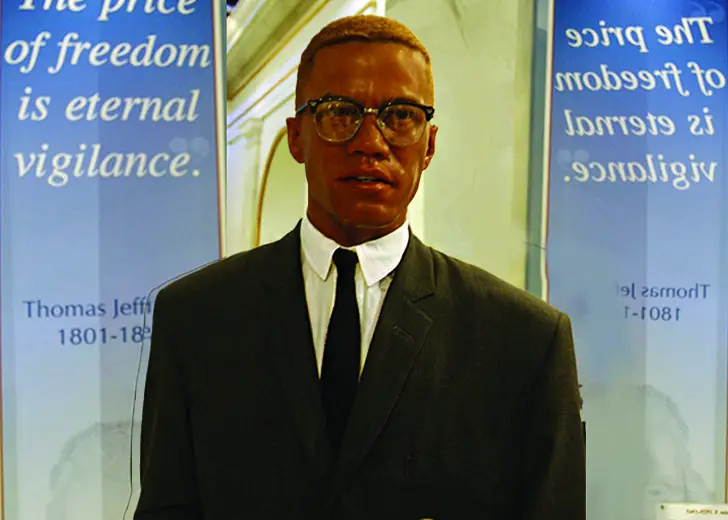 Quick Wiki
Full Name

Malcolm Little | Islamic Name - el-Hajj Malik el-Shabazz

Nickname

Malcolm X

Birth Date

May 19, 1925

Death Date

1965-02-21

Place Of Death

Audubon Ballroom. , New York, USA

Ethnicity

Muslim African-American

Nationality

American

Birthplace

Omaha, Nebraska, USA

Zodiac Sign

Taurus

Religious Affiliation

Islam (Later converted to Sunni Muslim)

Occupation

Minister, preacher & Civil Rights Advocate

Political Affiliation

Nation of Islam (NOI)

Family background

Followers of Marcus Garvey

Mother's Occupation

Recording Secretary for Marcus Garvey

Father's Occupation

Baptist Minister

Relationship Status

Married

Wife

Betty Shabazz

Children

Six Daughters

Ideological Affiliation/Affinity

Black Nationalism

Members of

Nation of Islam, Muslim Mosque, Inc (MMI) & Organization of Afro-American Unity (OAAU).
Powerful Leader of 1960s American Civil Rights Movement
Malcolm X | Biography
Malcolm also firmly believed in those values and began preaching for NOI. He was one of the best orators in the community, and he was soon appointed as a minister at Mosque 7 in Harlem. He inspired African-Americans with the innate knowledge that white culture deliberately attempted to prevent their race from gaining political, economic, and social success.
---
The Civil Rights activist who supported Black Nationalism ideologies of the Nation of Islam, Malcolm X, is a prominent figure of the 1960s movement alongside Dr. Martin Luther King Jr. 
Who is Malcolm X?
Malcolm X, real name Malcolm Little, was a revolutionary civil rights activist and a leader of the Nation of Islam (NOI). He was a supporter of Black Nationalism and one of the disciples of the Islamic prophet Elijah Muhammad. 
Malcolm was born on 19 May 1925 in Omaha, Nebraska. His parents were followers of political activist Marcus Garvey. His mother worked as a recording secretary for Garvey, and his father was a Baptist Minister who also advocated for Garvey. He was fourth among eight children. 
When Malcolm was only four years old, his family had to forcefully move to Lansing, Michigan, from Nebraska. They were chased by the racially charged white supremacist group Ku Klux Klan, which targeted African Americans. They had to go through the same troubles from a similar group called the Black Legionaries in Michigan. Then, when Malcolm was only six years old, his father's body was found on the trolley tracks near their town. 
The local authorities ruled his father's death as an accident, after which his mother went through a mental breakdown. Not long after that, she was admitted to a mental institution. Then, he and his siblings were sent to foster homes to be taken care of by other family members. 
Malcolm came to know about the Nation of Islam (NOI) and the preachings of Elijah Muhammad when he was in prison. He was sent to 10 years imprisonment for larceny in 1946 at 21 years of age. So, in prison itself, he studied the prophecies of Muhammad, and when he got paroled in 1954, he joined the Nation of Islam. 
Malcolm X Day
After joining the NOI, Malcolm adopted Malcolm X instead of Malcolm Little, as he and NOI believed that the last names of African-Americans were a representation of their enslavement. 
NOI and Muhammad's ideologies focused on Black nationalism. They believed that the white and black people would never be able to live together due to their history of enslavement, racial segregation, and stigmatization of people of color. So they imagined a territory with only Black people. 
Malcolm also firmly believed in those values and began preaching for NOI. He was one of the best orators in the community, and he was soon appointed as a minister at Mosque 7 in Harlem. He inspired African-Americans with the innate knowledge that white culture deliberately attempted to prevent their race from gaining political, economic, and social success.
Gradually Muhammad also assigned him to create additional mosques in areas like Detroit, Michigan, and Harlem, New York. Whereas Malcolm used the power of newspaper articles, radio, and television to spread the NOI's message across the United States. 
Malcolm became a leading agent of NOI in bringing new members and making bold statements in the media. His influence fueled the Civil Rights Movement of the 1960s. In addition to that, his delivery and NOI's prophecy challenged Martin Luther King Jr.'s advocacy for a non-violent approach to the ongoing movement. 
However, later on, he resigned from the NOI in 1964. Then in the later years of his life, he dropped the preachings of Black Nationalism, and his contribution to the voice of Black Muslims, the Civil Rights Movement of the 1960s, played a prominent role in attaining the goal of equality in America. 
Therefore, in 2015 the state of Illinois began celebrating 19 May, his birthday, as a public holiday of Malcolm X Day. Then in 2019, the state of Michigan also initiated publicly honoring Malcolm X Day. And subsequently, the Council of Islamic Organizations of Greater Chicago (CIOGC) has been working to make Malcolm X Day a Federal holiday.     
Denzel Washington and Malcolm X
Malcolm wrote and published multiple books during his life, including collections of his speeches. But the collaborative autobiography 'The Autobiography of Malcolm X' written with human rights advocate Alex Haley, and published in 1965, is still one of the best sellers. 
A few years after his death, the production mogul 20th Century Fox announced the initiation of a movie based on Malcolm X and his achievements. Eventually, the film titled Malcolm X was released in 1992 with actor Denzel Washinton as Malcolm X. 
It was directed by Spike Lee and co-written by Arnold Pearl, Spike Lee, and Alex Haley, largely based on the 1965 autobiography.  
The movie garnered immense popularity and influence among youths as well as 20th Century fashion. Malcolm X's glasses manufactured by American Opticals became a sensational piece. And the movie even got nominated for 'Best   Costume Design' alongside Washington for 'Best Actor' at the 1993 'Academy Awards.'  
Malcolm X and Anti-Semitism
During the 1960s Civil Rights Movement, more than one race was an issue widely advocated. For example, Dr. Martin Lurther King made statements aligned with Jewish Americans' racial support. At the same time, Malcolm X diverted the mistrust Jewish people showed during the movement.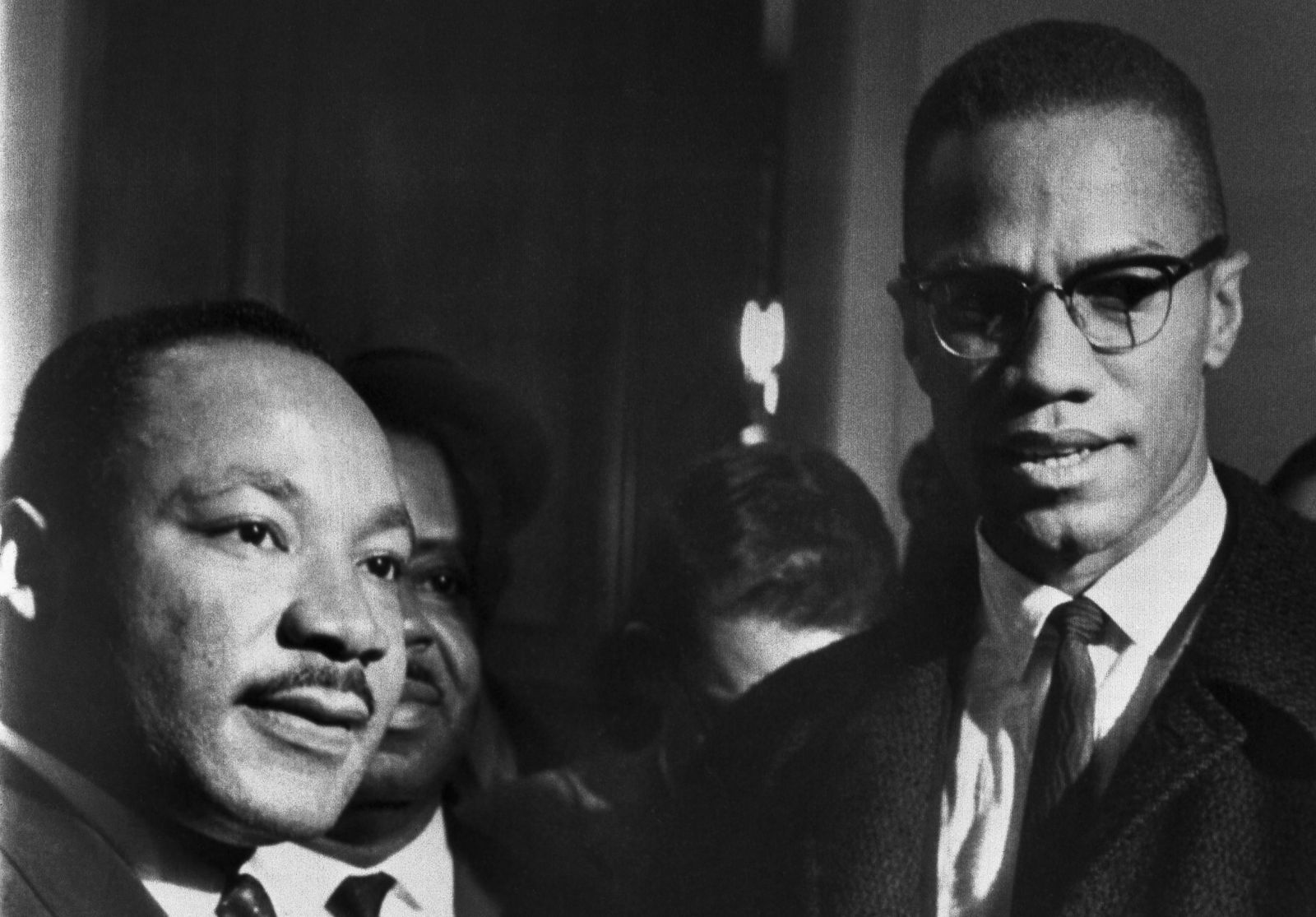 Malcolm mentioned that Jewish called themselves white liberals and carefully led or participated in the Black rights movement in his autobiography. And at the same time, they were hypocrites who saw the benefit of Jews from the hate of black people. 
He explained in his book, "So many Jews actually were hypocrites in their claim to be friends of the American black man. I gave the Jew credit for being among all other whites the most active, and the most vocal, financial, 'leader' and 'liberal' in the Negro civil rights movement. But at the same time I knew that the Jew played these roles for a very careful strategic reason: the more prejudice in America could be focused upon the Negro, then the more the white Gentiles' prejudice would keep diverted off the Jew."
At the same time, there were instances recorded in the history of America where he did not tolerate anti-semitic remarks during his lecture. 
On 26 February 1990, Richard Sanders Rosenthal wrote to the New York Times, reminiscing a moment of the 1963 Waye State University Lecture, organized by the Young Socialists Club. The writer mentioned that a Black man from the audience made an anti-semitic comment toward the moderator, who had a Jewish name. After the observation, Malcolm X, who was the speaker of the lecture, answered on behalf of the moderator. 
Rosenthal recalled, "I suspect our moderator today is Jewish and I won't put him in the position of silencing you. So I will. Now shut up and sit down."
Also Read About - Alice Paul - Women's Suffrage & Woodrow Wilson - Biography
Day of Assassination
Before leaving the Nation of Islam, Malcolm had a personal fallout with the prophet Muhammad. In 1963 witness statements surfaced that claimed that Muhammad was having covert affairs with up to six women within the Nation of Islam organization and produced children from those relationships. 
Among other Islamic values, NOI advocated for celibacy before marriage. Malcolm had faith in and endorsed those preachings, which shattered after Muhammad asked his assistance to silence the claims.   
Followed by that, during one of his public talks, Malcolm commented on President John F. Kennedy's assassination against the orders of the NOI. Then Muhammad silenced him for 90 days, but their relationship was already dismayed. He left the association in March 1964. 
Subsequently, he went on a pilgrimage to Mecca, Saudi Arabia, which changed his direction of devotion. He transformed into Sunni Muslim and changed his name to el-Hajj Malik el-Shabazz. He then established Muslim Mosque, Inc (MMI) and the Organization of Afro-American Unity (OAAU).
But by then, he had become an enemy figure to NOI and the government. As a result, he was targeted for assassination multiple times and went out only with security. Then on the day of his speech on 21 February 1965, he directed his security officers not to do the regular security checks at the entry to the Audubon Ballroom. 
These searches of rallygoers had been a longtime practice of the NOI and one that Malcolm had first continued after he quit the group. However, by January 1965, he had put an end to them, though he kept a personal security detail. 
There were 400 individuals in attendance for Malcolm's address. He entered the stage to begin his speech, but there appeared to be a disagreement among the audience members. When his security team attempted to calm the commotion, an individual ran onto the scene, approached Malcolm, and shot him. Then two other individuals went on to the stage and shot as well. Malcolm was shot 21 times in all.
Suspects, Conviction, and 2021 Exoneration
Talmadge Hayer, also known as Mujahid Abdul Halim, was shot in the leg by a bodyguard and arrested by crowd members as he attempted to flee before police arrived. Norman Butler, Muhammad Abdul Aziz, and Thomas Johnson, known as Khalil Islam, the other two suspects, were caught a week later after witnesses identified them as the other gunman. They both were famous Harlem NOI members. 
However, both Islam and Aziz maintained their innocence during the subsequent trial. Reports claimed that Halim acknowledged being a part of the plot to murder Malcolm but claimed that Islam and Aziz were not engaged. Hayer did not mention any more suspects during the trial.
Also, allegedly, there was no indication that Aziz or Islam was involved in the crime. Aziz even had an alibi for the time of the murder: he was at home recuperating after injuring his leg; during the trial, a doctor who had treated him testified. Nevertheless, all three men were found guilty and condemned to life in jail in 1966.
Later in 1977 and 1978, Halim filed two affidavits in which he maintained that Aziz and Islam were not engaged in the assassination. However, Halim did name four individuals of the NOI's Newark chapter who began plotting Malcolm X's assassination in May 1964. But, the inquiry against these guys was never pursued by law enforcement, and the matter was never reopened.
Eventually, Aziz was released on parole in 1985. Islam was released from prison in 1989 and died in 2009. Halim was released in 2010. But in 2021, after nearly two years of re-investigation 2021, Aziz and Islam, who had maintained their innocence were exonerated (Islam posthumously) on Thursday.
Ilyasah Shabazz
Malcolm and Betty had six children, all daughters. Eldest Attallah, followed by Qubilah, Ilyasah, Gamilah Lumumba and twins Malaak and Malikah. Attallah went on to become a producer, writer, and diplomat. She was the only sibling with vivid memories of her father's assassination as, at that time, she was in grade school. 
Next, sister Qubilah was charged with an assassination plot against the NOI prophet Louis Farrakhan. But she was pardoned from trial and prison after accepting her role in the action. Followed by, Gamilah and Ilyasah established the Malcolm X Legacy. While Ilyasah also became an academic and co-chairperson of the Malcolm X and Dr. Betty Shabazz Memorial and Educational Center. 
Their youngest twin sisters, Malaak and Malikah, were born months after Malcolm's assassination. Malaak was found guilty of identity theft and fraud in 2011 and sent to prison for five years. And Malikah was found dead at her Brooklyn home in November 2021.