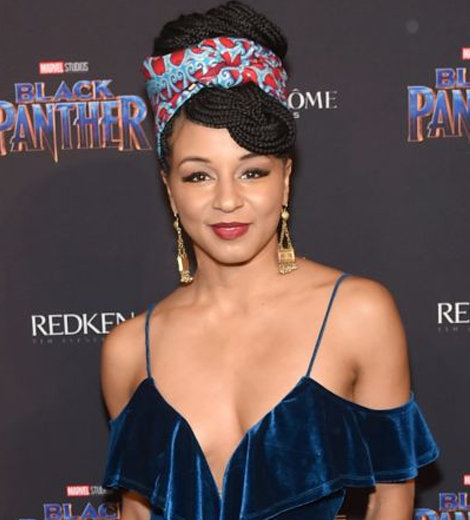 Quick Wiki
Full Name

Carra Patterson

Occupation

Actress

Nationality

American

Birthplace

USA

Zodiac Sign

Aquarius

Birth Date

January 31

Did You Know?

Her parents were teenagers when they gave birth to her.

Height

5 Feet 6 Inches

Ethnicity

Black-American

Net Worth

9 Million USD (Wiki.ng)

Husband

Rufin Prentiss

Relationship Status

Married

Wedding Date

2019-05-18

University

New York University's Tisch School of the Arts'
Actress of Disney+ Series 'Turner & Hooch'
Carra Patterson | Biography
Shaun Of The Series 'The Arrangement' from 2017 to 2018
Patterson has been cast in the Netflix film 'Rustin', expected to release in 2022. She is expected to play the role of Coretta Scott King. The movie was produced by Higher Ground Productions, founded by former President Barack Obama and his wife, Michelle. 'Rustin' tells the story of a late civil rights activist, Bayard Rustin, who helped organize the 1963 March on Washington where the influential Martin Luther King Jr. gave the 'I Have a Dream' speech.  
---
Carra Patterson is an actress well known for her appearance in the movie Straight Outta Compton (2015), and TV series Bloodline (2016), and The Arrangement (2017-2018).
Short Bio
Cara Patterson is an American producer and actress born on 31 January in Saint Petersburg, Florida, the United States. She debuted her acting career in the late 2000s and made a breakthrough after playing Eazy-E's wife Tomica Woods in the 2015 biographical musical crime drama film Straight Outta Compton. 
She later notably appeared as Shaun in the drama television series The Arrangement. And also as a consulting producer of the 2020 horror short film The Mark.
Her Parents Gave Birth To Her When They Were Teenagers
Patterson was born when her parents were only in their teenage years. As per his Linkedin bio, her father, Roderick "Sir Rod" Patterson, is now an international motivational speaker, entertainer, author, and songwriter. However, the name of his mother has not been made public.
Patterson revealed in an interview with Broadway World in January 2015 that her mother was only 16 years old when she was born. 
In another interview with a fashion-industry trade journal called WWD in January 2017, she shared that she spent many of her early years in college growing up since her mother would take her and her brother to college in the nineties. "I spent a lot of time on the campus of Florida A&M University in Tallahassee, so that's like home to me," she said.
Her High School Drama Teacher Inspired Her Into Acting
After spending a decade of her childhood years in Florida, Patterson moved to Atlanta, Georgia, with her family at the age of 11. She then attended Camp Creek Middle School and graduated from Eagle's Landing High School. 
During her high school years, Patterson watched a performance of Ntozake Shange's debut and most acclaimed theater piece, For Colored Girls Who Have Considered Suicide When the Rainbow Is Enuf. 
Sharing her experience watching the theater piece with The Atlanta Journal-Constitution Newspaper in July 2021, she said, "It opened my eyes. I didn't know there was such material that gave voice to such strong Black women. I hadn't seen a play before." 
She said she would do monologues from that play, and her high school drama teacher Tammy Staten Daniels would enter her in monologue competitions throughout high school.
She Caught The Acting Bug While At College
After completing high school, Patterson attended Georgia State University as a freshman and continued to pursue acting. 
She told Georgia State Magazine in 2021 that she daydreamed about becoming a movie star while she was an undergrad at Georgia State University. However, she thought she just needed to get to New York or Los Angeles and didn't think she needed a degree to be an actor. 
"I got blinded by the Hollywood lights as an undergrad. I wasn't that great a student. I was expecting my big break. I'd skip classes and go on open calls," she told The Atlanta Journal-Constitution.
She even became Miss Georgia State in 2005, stating that she went to every audition she could find. However, she says she found herself in her senior year and had not been discovered until that time. Therefore, she teamed up with seven other Georgia State students and fellow actors and put together a showcase of performances to grab the attention of Atlanta's casting directors, agents, and managers. 
Also Read About - Thaddea Graham - The Irregulars, Parents, Bio
In the showcase, Patterson acted and directed in the short play Goodnight, written by one of her mentors and associate professor emeritus in the College of the Arts, Dr. Shirlene Holmes.
Her performance caught the attention of Alliance Theatre casting director Jody Feldman, which got her cast for Tarell Alvin McCraney's play In the Red and Brown Water, which premiered in 2008 at Alliance Theatre.
After that, she auditioned for and got accepted into New York University's Tisch School of the Arts' Master of Fine Arts (MFA).
She Has Appeared In Many Theater Productions
While pursuing MFA, Patterson made her Broadway debut in Manhattan Theatre Club's acclaimed production of Wit in 2012, alongside Sex and the City star Cynthia Nixon. 
According to Georgia State University Magazine, her Broadway debut "proved to be her entrée to showbiz," but Patterson does not consider it her success. 
"The expectation of being an overnight success is an illusion that celebrity culture often perpetuates. I had to redefine what success meant to me, commit to the artistic journey and release any unrealistic expectations," she said.
The stage actress went on to perform in several other theater productions. She has appeared in the Off-Broadway production of Teenage Dick, Measure for Measure at Public Theater, Significant Other, Little Children Dream of God at Roundabout Theatre, Luck of the Irish at Lincoln Center3, and Richard III at Epic Theater. 
She also has appeared in the regional productions of Ceremonies in Dark Old Men and The Wiz at True Colors Theatre. 
Furthermore, Patterson originated the character Rena in the 'Tony Award'-winning production of August Wilson's play Jitney, which premiered in 2017.
She Did Minor Roles In Movies and TV Shows In Her Early Career
Patterson debuted her on-screen acting career in 2008 with the TV series Somebodies, where she played the role of Brooke Bellamy. However, she only appeared in one episode. Then, in 2010, she appeared in the movie Why Did I Get Married Too? 
The following year, she was featured in the short film Out There as Kelly. Also, she appeared in two TV series, Blue Bloods and The Good Wife, in 2014.
Her First Big Break Came With 'Straight Outta Compton'
In addition, Patterson played Tomica Woods-Wright, girlfriend of rap legend Eric Wright, a.k.a. Eazy-E, in the 2015 movie Straight Outta Compton. The movie follows the 1980s rap group NWA, who rises from the rough streets of Compton in Los Angeles and revolutionizes Hip Hop culture with their music and stories about life in the hood. 
From 2017 to 2018, she starred in the drama TV series The Arrangement as Shaun for 20 episodes as a series regular. Other TV series of Patterson include Instinct (2019), Prodigal Son (2019), How To Make Love to a Black Woman (2020) as well as Lovecraft Country (2020).
Besides TV series, she has also been featured in several movies like How to Tell You're a Douchebag (2016), Ambition's Debt (2017), and The Snakes (2021).
'Turner and Hooch' Is Her First Comedy Project
On 26 February 2020, Disney announced that Patterson would be cast on Disney+ reboot TV series Turner and Hooch, the sequel to the 1989 film of the same name. However, the show was canceled after the first season, running for 12 episodes from July to October 2021.
The show cast included Josh Peck from Drake & Josh as US Marshal Scott Turner Jr, the son of the original Scott Turner played by Tom Hanks. 
The show follows a detective, Scott Turner, who solves crime with his oversized dog named Hooch. Moreover, Patterson plays the role of Jessica Baxter, the police partner to Scott Turner, in the series.
Patterson admitted to The Atlanta Journal in July 2021 that Turner and Hooch was her first comedy, and she was excited to be doing a comedic role. She also said that bringing back the film in TV form was fun, and the creative team incorporated the heart, action, romance, and comedy of the timeless movie in the series.
She Filmed 'Turner and Hooch' During Her Pregnancy
Patterson was pregnant during the production of the Turner and Hooch series. Fortunately, she says the production team incorporated pregnancy into the script instead of hiding it. 
However, she says it was not easy for her to shoot during pregnancy. "Since this is the first time I'm having a child, I didn't know how hard pregnancy was. Physically, it was exhausting. My back was always sore," she said. She also expressed respect for her mother, who was pregnant four times.
She Will Play The Role Of Martin Luther King Jr.'s Wife In Upcoming Movie 'Rustin'
Patterson has been cast in Rustin-Netflix film, expected to release in 2022. She is scheduled to play the role of Coretta Scott King. 
The movie was produced by Higher Ground Productions, founded by former President Barack Obama and his wife, Michelle. Rustin tells the story of a late civil rights activist, Bayard Rustin, who helped organize the 1963 March on Washington, where the influential Martin Luther King Jr. gave the 'I Have a Dream' speech.
The film is directed by George C. Wolfe, who also co-wrote the movie with Dustin Lance Black. The film stars Aml Ameen as Martin Luther King Jr. and Patterson as his wife, author, activist, and civil rights leader Coretta Scott King. 
Other cast members of the film include four-time Emmy nominee and The Shield actress CCH Pounder, Ma Rainey's Black Bottom actor Michael Potts, Legion star Bill Irwin, and Fear the Walking Dead actor Gus Halper.
Her Husband Rufin Prentiss Is Also An Actor
Patterson married her husband, Rufin Prentiss, an actor, on 18 May 2019.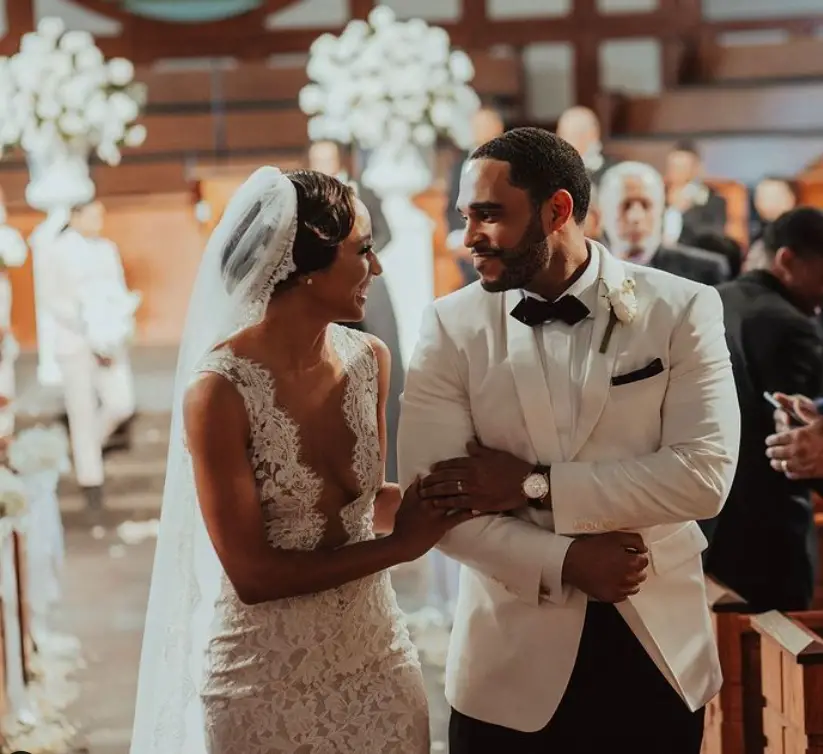 Prentiss shared in an Instagram post that they began dating after performing in a Shakespeare play together. They have also co-starred in TV series like Elementary and The Arrangement. His other TV series credits included Madam Secretary, Power, Level Up Norge, The Good Fight, SEAL Team, and Insecure.
She Is A Mother
The couple has a daughter named Cressida Makari Prentiss, born on 25 December 2020. Moreover, she was shooting Turner and Hooch when she was pregnant.
In addition to that, her husband, Prentiss, also shared a photo of their baby on Instagram. According to his caption, Cressidia means gold and is one of Shakespeare's leading women.
Cressida turned one on Christmas Day of 2021. A few days later, the couple shared a lovely video of their daughter on Instagram, wishing her first birthday in the caption.
She Is The Alumni Association 40 Under 40 Honoree
The Georgia State Alumni Association honored Patterson as one of the most influential graduates under the age of 40 in 2020. In addition, the Association honored her for her work in the community. She works in New York's couple of nonprofit groups that introduce young people to creative activities like acting, writing, and directing for the stage.