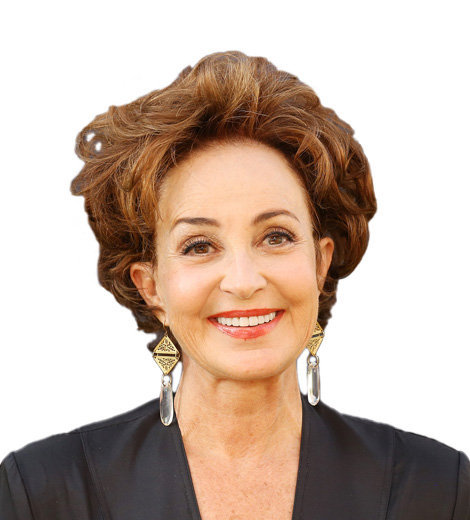 Quick Information
Full Name

Annie Potts

Occupation

Actress

Nationality

America

Birthplace

Tennessee, USA

Born Year And Birthday

October 28, 1952
Voice of Bo Peep
Annie Potts | Biography 2021
Potts won the hearts of numerous audiences as Mary Jo Shively on the CBS' sitcom 'Designing Women' (1986-1993), portraying one among the four women running a designing firm in Atlanta.
---
Quick Information
Full Name

Annie Potts

Occupation

Actress

Nationality

America

Birthplace

Tennessee, USA

Birth Date

October 28, 1952
Annie Potts is an American theater, television, and film actress. She is popularly known for her roles in the 1984 blockbuster film Ghostbusters, CBS sitcom Designing Women, and the animated film Toy Story.
Who is Annie Potts?
Annie Potts developed an interest in acting at the age of 12 and performed in local theaters. After graduating in 1973, she set out her acting career by appearing in the 1977 television movie Black Market Baby. The following year, Potts made a big-screen debut in the adventure comedy film Corvette Summer, for which she garnered a 'Golden Globe Award' nomination. Then she made her breakthrough performance in the 1984 supernatural blockbuster film Ghostbusters, which landed her to star in another hit film, Pretty in Pink, in 1986. Potts then got the famous role in the CBS long-running sitcom Designing Women. Her other notable works include television series such as Love & War, Any Day Now, and Young Sheldon.
Early Life and Education
Annie Potts, in full, Annie Hampton Potts, was born on October 28, 1952, in Nashville, Tennessee, United States. She was born as the youngest of the three daughters to Powell Grissette and Dorothy Potts. Her father served the United States Air Force during World War II as a pilot and flight instructor and rose to the rank of major who later prospered as a businessman.
Raised in Franklin, Kentucky, Potts developed an interest in stage and film at an early age. At 12, she attended a drama camp in North Carolina, and one of the counselors, Sylvia Bernard, cast her as the lead in the camp production of Heidi and told her, "You have a light."
Potts recalled, "Nobody had ever told me I was good at anything. It was, like, that's what I'm going to do, then!" After returning home from camp, she started reading every single play available at her local library.
A year later, when she was 13, Potts was cast at a community theater Piccolo Playhouse where she performed in productions of The Curious Savage and The Fantasticks. "That's where I was first able to practice my art," she recalled.
After completing high school, Potts attended a private women's college Stephens College in Columbia, Missouri, where she graduated with a Bachelor of Fine Arts in theater in 1973.
Early Career
Potts began her stage career in the early 1970s at the Globe Playhouse in West Hollywood, where she appeared in the productions of Cymbeline and The Merchant of Venice.
Television
Before debuting on the big screen, she appeared as Linda Cleary in the 1977 television movie Black Market Baby and as Helene in the comedy television series Busting Loose. She also appeared in an episode of the television series Family in 1978. The next year, she starred in the lead role as Flatbed Annie in the comedy-drama television movie Flatbed Annie & Sweetiepie: Lady Truckers. That year, she also appeared in an episode of the television series Visions. In 1980, she appeared in the short-lived comedy sitcom Goodtime Girls, portraying the role of Edith Bedelmeyer, a young woman who shared an attic apartment with three other women during World War II. In 1982, she appeared in the television movie Something So Right and Romance Theatre series Bayou Romance.
Hollywood Career
Potts made her way to Hollywood, debuting in the 1978 adventure comedy film Corvette Summer. She earned critical attention on her Hollywood debut as she received a 'Golden Globe' nomination for her role. Potts also appeared in the drama film King of the Gypsies as Persa the same year. In 1981, she portrayed a breakout role in the Canadian comedy film Heartaches as Bonnie Howard. Her breakthrough performance as sassy secretary Janine Melnitz in the 1984 blockbuster supernatural comedy film Ghostbusters gained her the same role in the 1989 sequel Ghostbusters II. She also voiced for the Ghostbusters video game released in 2009.
The same year, she starred in the role of Amy Grady in the erotic thriller film Crimes of Passion. She portrayed another prominent role as Iona in the 1986 teen romantic comedy-drama film Pretty in Pink.
Her exceptional acting work begot her string of films for the next several years. She appeared in films such as Jumpin' Jack Flash (1986), The Man Who Fell to Earth (1987), Pass the Ammo (1988), Who's Harry Crumb? (1989), Texasville (1990), and Breaking the Rules (1992).
Potts' next significant role came in 1995 when she was cast as the voice of Bo Peep in the Pixar animated comedy film Toy Story. She later voiced the same character in the sequel Toy Story 2 in 1999 and Toy Story 4 in 2019.
'Designing Women'
While regularly acting in both films and on television shows, Potts landed the role of Mary Jo Shively on the long-running CBS television sitcom Designing Women in 1986. The sitcom ran for 163 episodes and seven seasons from September 1986 to May 1993. With a seven-year stint as one among the four women who run a design firm at Atlanta, Potts won the hearts of numerous audiences.
More Television Works
Immediately after Designing Women went off the air, Potts landed the role of Dana Palladino in the romantic comedy television sitcom Love & War, aired on CBS from 1992 to 1995. In 1996, she portrayed the role of an inner-city schoolteacher in the acclaimed but short-lived television series Dangerous Minds. Her other notable role was Mary Elizabeth 'M.E.' Sims in the television drama series Any Day Now, aired on Lifetime Television from 1998 to 2002.
Her additional noteworthy television works included the 2003 film Defending Our Kids: The Julie Posey Story, the 2008 Lifetime drama telefilm Queen Sized, the 2010 romantic comedy miniseries Marry Me, the 2011 comedy-drama anthology film Five, the 2012 comedy-drama series GCB, the 2012 film The Music Teacher, and the family drama series The Fosters (2013-2018).
'Young Sheldon'
In 2017, Potts joined the cast of highly anticipated Young Sheldon, a spin-off series of the CBS sitcom The Big Bang Theory (2007). She appeared regularly as one of the main cast members Meemaw, young Sheldon Cooper's foul-mouthed, hard-drinking grandmother. Her character in the series has been described as a woman who is very supportive of her grandson and his unique gifts.
Theatre
Potts, who started her career in theater, returned to the theater and made her Broadway debut in 2009 in the 'Tony Award'-winning black comedy God of Carnage. In 2014, she spent several months on Broadway, starring the role of Berth in the revival of the musical Pippin. Potts also appeared in the productions of The Vagina Monologues, Diva, Love Letters, Charley's Aunt, A Little Night Music, and The Effect of Gamma Rays on Man-in-the-Moon Marigolds. She received wide acclaim for her performance as a distraught wife dealing with her husband's suicide in Aftermath.
Awards and Recognitions
For her role in Heartaches (1981), Potts won the 'Genie Award' for 'Best Performance by a Foreign Actress' in 1982. In 2020, she won the 'EDA Female Focus Award' for 'Best Animated Female' for her voice acting as Bo Peep in Toy Story 4 (2019).
In addition, she garnered several award nominations for her notable roles in both television and films. She was nominated for 'Golden Globe Award' for her role in Corvette Summer (1978) in 1979, 'Primetime Emmy Award' for playing Dana Palladino in Love & War (1992) in 1994, 'Critics Choice Award' for her role in Young Sheldon (2017) in 2019, 'OFTA Television Award' for her roles in Any Day Now (1998) in 1999, Queen Sized (2008) in 2008, and again for Young Sheldon in 2020. She also received the 'Q Award' nomination for her acting role in Designing Women (1986) in 1989, Dangerous Minds (1996) in 1997, and Any Day Now (1998) in 1999. Furthermore, she was nominated for 'Screen Actors Guild Award' for her performance in Any Day Now (1998) in 1999 and 2000, and 'WAFCA Award' for her voice performance in Toy Story 4 (2019) in the same year.
Personal Life
Hitherto, Potts has been married four times, and she has three children with two husbands. Her first marriage was at 20 with her college lover Steven Hartley in 1973. She divorced Hartley in 1978 and married television actor Greg Antonacci the same year. Her second marriage lasted only for two years which ended in divorce in 1980. Then she married the second unit director and producer Scott Senechal in 1981, with whom she had a son named Clay. Her third marriage also ended in 1989. Fourthly, she wedded television producer and director James Hayman in 1990. They together have two sons, Harry and James.
Fact-checking and Ethical Concerns
We assure our audience that we will remove any contents that are not accurate or according to formal reports and queries if they are justified. We commit to cover sensible issues responsibly through the principles of neutrality.
To report about any issues in our articles, please feel free to Contact Us. Our dedicated Editorial team verifies each of the articles published on the Biographyhost.