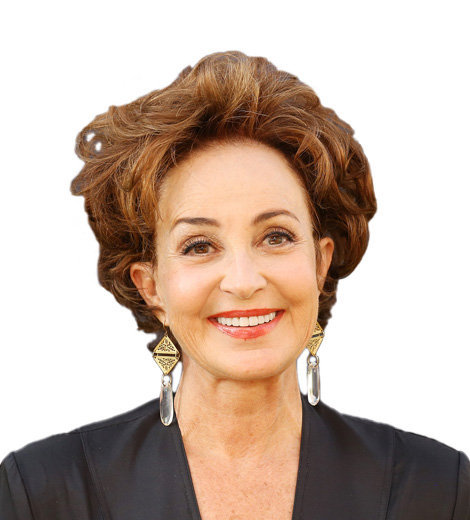 Quick Wiki
Full Name

Annie Potts

Occupation

Actress

Nationality

America

Birthplace

Tennessee, USA

Birth Date

Oct 28, 1952

Age

70 Years, 10 Months
Voice of Bo Peep in the American Animated Comedy Movie 'Toy Story'
Annie Potts | Biography 2021
Wife of Television Producer and Director James Hayman
Potts will be returning as Janine Melnitz in the Ghostbusters' upcoming sequel 'Ghostbusters: Afterlife.' Talking on her return to the new sequel of the Ghostbusters franchise, Potts joked about her old age. In the 2019 interview with Entertainment Tonight, she humorously said, "I'm so old. I could have forgotten that I was in it. I feel like 'oh my gold was I in that!'"
---
American actress Annie Potts is popularly known for her roles in the 1984 blockbuster film Ghostbusters, CBS sitcom Designing Women, and the animated film Toy Story. 
Who is Annie Potts?
 American theater, television, and film actress Annie Potts developed an interest in acting at the age of 12 and performed in local theaters. After graduating in 1973, she set out her acting career by appearing in the 1977 television movie Black Market Baby. The following year, Potts made a big-screen debut in the adventure comedy film Corvette Summer. She later garnered a 'Golden Globe Award' nomination for her portrayal of Vanessa in the movie. 
Then she made her breakthrough performance in the 1984 supernatural blockbuster film Ghostbusters. In 1986, she later landed in another hit film, Pretty in Pink, in 1986. 
In the same year, Potts then got the famous role of Mary Jo Shively in the CBS long-running sitcom Designing Women. She would later go on to act in television series such as Any Day Now (1998-2002) and Young Sheldon (2017-2021).
How Old is Annie Potts?
Annie Hampton Potts was born on 28 October 1952 in Nashville, Tennessee, United States. She was born as the youngest of the three daughters to Powell Grissette and Dorothy Potts. Her father served the United States Air Force during World War II as a pilot and flight instructor and rose to the rank of major. He later prospered as a businessman.
Growing Up in a Recognized Family
Potts experienced a sense of popularity since her childhood. Recalling her childhood, she said, "I grew up in a very small town in Kentucky. 5,000 people. Everybody knew everybody. My father was a very prominent businessman, and everybody knew him and my father. So I grew up in a place where everybody recognized me. That's sort of what being famous is like. It's being a recognized person, and I've been a recognized person my whole life. I just act like they know my parents."
Raised in Franklin, Kentucky, Potts developed an interest in stage and film at an early age. At 12, she attended a drama camp in North Carolina, and one of the counselors, Sylvia Bernard, cast her as the lead in the camp production of Heidi. 
Potts recalled, "Nobody had ever told me I was good at anything. It was, like, that's what I'm going to do, then!" After returning home from camp, she started reading every single play available at her local library.
A year later, she was 13 when she got cast at a community theater Piccolo Playhouse where she performed in productions of The Curious Savage and The Fantasticks. "That's where I was first able to practice my art," she shared.
After completing her high school, Potts attended a private women's college Stephens College in Columbia, Missouri, where she graduated with a Bachelor of Fine Arts in theater in 1973.
Early Career
Potts began her stage career in the early 1970s at the Globe Playhouse in West Hollywood, where she appeared in the productions of Cymbeline and The Merchant of Venice. 
Television
Before debuting on the big screen, she appeared as Linda Cleary in the 1977 television movie Black Market Baby and Helene in the comedy television series Busting Loose. She also appeared in an episode of the television series Family in 1978. The following year, she starred in the lead role as Flatbed Annie in the comedy-drama television movie Flatbed Annie & Sweetiepie: Lady Truckers. That year, she also appeared in an episode of the television series Visions. In 1980, she appeared in the short-lived comedy sitcom Goodtime Girls, portraying Edith Bedelmeyer, a young woman who shared an attic apartment with three other women during World War II. In 1982, she appeared in the television movie Something So Right and Romance Theatre series Bayou Romance. 
Hollywood Career
Potts made her way to Hollywood with her debut in the 1978 adventure comedy film Corvette Summer. The debut earned her critical attention and won her a 'Golden Globe' nomination. Potts also appeared in the drama film King of the Gypsies as Persa the same year. In 1981, she portrayed a breakout role in the Canadian comedy film Heartaches as Bonnie Howard. Her breakthrough performance as sassy secretary Janine Melnitz in the 1984 blockbuster supernatural comedy film Ghostbusters gained her the same role in the 1989 sequel Ghostbusters II. She also voiced for the Ghostbusters video game released in 2009. 
In 1984, Potts also starred in the role of Amy Grady in the erotic thriller film Crimes of Passion. She portrayed another prominent role as Iona in the 1986 teen romantic comedy-drama film Pretty in Pink. In the romantic comedy film, Iona works at the record store called TRAX as a manager of Andie, played by Molly Ringwald. At first, the part of Iona was offered to actress Anjelica Huston, but Houston turned down the offer, and the part went to Potts.
Her exceptional acting work begot her string of films for the next several years. She appeared in films such as Jumpin' Jack Flash (1986), The Man Who Fell to Earth (1987), Pass the Ammo (1988), Who's Harry Crumb? (1989), Texasville (1990), and Breaking the Rules (1992).
Potts' next significant role came in 1995 when she was cast as the voice of Bo Peep in the Pixar animated comedy film Toy Story. She later voiced the same character in the sequel Toy Story 2 in 1999 and Toy Story 4 in 2019.
'Ghostbusters' (1984)
Potts had a minor but unforgettable role in Ivan Reitman's Ghostbusters. She appeared as Janine Melnitz, a receptionist and secretary for the Ghostbusters team. Melnitz's line "Ghostbusters, whaddaya want?" would get famous among the fans.
Before appearing as sassy Janine Melnitz on screen, she had landed in New York to portray her part in the Ghostbusters film. As soon as she arrived on the set for the first day of shooting, film director Ivan Reitman rushed her into the scene. She had promptly worn a coat and put on a pair of glasses. To her dismay, her character ended up wearing glasses throughout the filming. She recalled, "I had just gotten to New York and went down to the set to meet everybody. All of a sudden, Ivan said, "Oh, great, you're here, we'll just put you in the scene." I was in my street clothes so I grabbed a coat out of wardrobe and pulled the glasses off the dresser's face and put them on. Regrettably, I was stuck with those prescription glasses for the rest of the shoot. She would give them to me right before a scene."
It was the script that garnered the attention of Potts towards Ghostbuster. "Ghostbusters is sort of a standalone," she said. "When I first go that script, I thought 'This is so unique. There's never been anything like this.' And I think that's been the staying power of it. It's still fresh. I can't say that there were any copycats. For Sigourney [Weaver], I know she had the Alien movies come out, and there were a bunch of those. But the only thing I think is in that vein is Galaxy Quest, which is one of my favorite movies. It was so unique that there just wasn't a way to tap that vein much."
In Ghostbusters, Potts co-starred with the improvisational comedians with acting backgrounds. Sharing how other fellow actors used to improvise, she said, "Rick [Moranis] brought a lot to it. I think he pretty much invented a completely different character from what was written." She continued, "And I'm not sure Bill [Murray] ever read the script. Maybe he gently looked at a page or two. But Bill just comes to play."
She further explained that she preferred script over improv, but she also got influenced by improvisation while working in the movie. She said, "I had never been a part of an improve troupe. I did take some improv classes in school, but I didn't like it. I always just wanted a real good script, and in fact, the script for Ghostbuster was fabulous. So when people started playing around with it, I was like 'What are you doing? The words are fine. Just say the words.' But it's their craft that they were always kind of keeping it fresh. So that was a bit of a learning curve for me, but they were very open to change."
On the film's 30th anniversary, Potts later shared that she had the best time working with Harold Ramis, who played the character Egon Spengler, in the original Ghostbusters film. She elaborated, "[He was] so sweet. Because most of [the cast] had come from improvisation, everything was in flux and alive. And the part where he comes out from under the secretary's desk and they have this little love thing, that happened in the moment and it was fun to work that way."
'Ghostbusters II'
In 1989, Potts reprised her role as Janine Melnitz in the Ghostbusters II. Her role was developed more in the sequel of the original Ghostbusters. In the first sequel, she became the love interest of Louis Tully, played by Rick Moranis.
'Ghostbusters' (2016) 
Potts had a cameo in the 2016 reboot of the Ghostbusters franchise, directed by Paul Feig. In the film's reboot, she returned as a hotel desk clerk and appeared, speaking out her popular line from the original Ghostbusters film, "Ghostbusters, whaddaya want?"
'Ghostbusters: Afterlife' (2021)
Potts will be returning as Janine Melnitz in the Ghostbusters' upcoming sequel Ghostbusters: Afterlife. Talking on her return to the new sequel of Ghostbusters films, Potts joked about her old age. In the 2019 interview with Entertainment Tonight, she humorously said, "I'm so old. I could have forgotten that I was in it. I feel like 'oh my gold was I in that!'"
She also said that the new Ghostbusters film would be well-received by audiences like its original films. She said, "I think what I can say is I think that it will be beloved. I think people are just going to go crazy for it because Jason Reitman found a wonderful approach for it. Just wonderful. I can't wait. We've just finished it, so I haven't seen anything yet, but I can't wait."
Directed by Jason Reitman, Ghostbusters: Afterlife is scheduled to be released on 11 November 2021 in the United States. The film was originally planned for release on 10 July 2020, but it was rescheduled three times due to the COVID pandemic.
'Toy Story'
When Potts was offered to lend her voice in the 1995 computer-animated feature film Toy Story, she was not interested in being a part of the film at first. In an interview with Deadline in December 2019, she recalled, "I love to tell the story how my agent had called and said, 'They're interested in you for this project, and it's the first fully computer-animated feature film.' I was like, 'I don't even know what you just said. What would that be?' Anyway, he said, 'Well, they sent along some of their shorts so you can look at the work and understand it.' I was like, 'Okay, great.' But I was busy and had a lot of children and was working and I forgot to look."'
Her agent also sent her three boxes to remind her to think about the project. She also neglected to see those boxes, but one afternoon when her three-year-old son opened the boxes and watched them all day. She added, "I watched the first three little shorts. I was so blown away, I called my agent immediately and said, "Yes, yes. Please. I want to be a part of this." I didn't care what it was. I didn't even know what the role was."
She then landed the role of the porcelain shepherdess doll and main character Sheriff Woody's love interest named Bo Peep—the character would later become one of the career-defining roles. The beloved Pixar film also received a 'Special Achievement Academy Award' in 1996.
Later, she reprised the role of Bo Peep in its 1999 sequel Toy Story 2. She failed to appear in the film's third installment Toy Story 3 but returned in the new sequel Toy Story 4, in 2019.
On Playing in 'Toy Story'
According to Potts, the Toy Story films endured for many years because people can relate to the story of Toy Story. She explained, "Because it's awesome! [laughs] It's just effin' awesome. They get so much right. Everybody relates to that. And doesn't every child – don't you want to feel that, those things that you invest your love in are equally as invested in you? That is a wonderful thing to find out in love. It's just a win-win. And of course, they make you laugh so hard and they make you sob. I mean, how great is that? Isn't that why we go to the movies?"
'Toy Story 4'
In November 2014, Potts was invited to reprise her role as Bo Peep in the fourth installment of the Toy Story films. However, she was unaware of how significant her role would be until she saw the film's screening in 2019. In the movie, her character evolves into a leading action hero who rescues Woody and rules the toy box. 
Acting without Scripts
She did not know how big her role would become, also because she worked on the project without scripts. According to Potts, lines were given daily and without any clue about how the character would develop. Explaining how she approached the role, she elaborated, "We never saw a script for any of them. You just go in and they give you the lines of the day and go through them one-by-one and tell you a little bit. In the beginning, they're just pencil drawings. Then, as it goes along, they're able to show you more increasingly defined pictograms, and then they start to animate. It's sort of like archaeology. You just dig, dig, dig until you uncover the temple. It's like, "Oh, wow. Look at that." It's such granular work in the beginning." She continued, "They always had the most wonderful people directing and involved. There's always a room full of people there telling you how your hair and your hand is going to move in this scene. They're very granularly interested. It takes hundreds of human hours to make a frame of those films. I worked on Toy Story 4 for 4.5 years. The Pixar folks have been on it way longer than that. But you're always in the best hands, and the proof is in that pudding."
'Arlo The Alligator'
In 2021, Potts voiced the sweet old lady Edmee in the animated musical movie Arlo the Alligator Boy, which premiered on Netflix on 16 April 2021. During her interview with Netflix Life in April 2021, she shared that she was enthralled to work on the project in which her son had been involved. She explained, "My oldest, dearest, beloved son [Clay Senechal] is the co-writer of Arlo the Alligator Boy. I waited about 38 years to act in one of his pieces. So of course, I didn't even ask what the character was. I just said, "Yes, I want to be in that."
Further sharing the movie carries an empowering message, she said, "I think that it's a wonderful piece for the times, because it speaks to being different and what that means, and being accepted and finding joy through that and joy in life. I think that it's a lovely piece for the times in that way." She continued, "I think it's wonderfully charming, and I'm so glad that it's going to series too, because I think that the characters will be loved and embraced. I think people will want to see more of them. I'm hoping that the birthday song that I sing is going to become a classic; I can tell you it was one of the hardest things I've ever had to memorize."
'Designing Women'
While he was regularly acting in both films and television shows, Potts landed the role of Mary Jo Shively in the long-running CBS television sitcom Designing Women in 1986. The sitcom ran for 163 episodes and seven seasons from September 1986 to May 1993. Potts played one among the four women who run a design firm in Atlanta in a seven-year stint in the show. 
More Television Works
Immediately after Designing Women went off the air, Potts landed the role of Dana Palladino in the romantic comedy television sitcom Love & War, aired on CBS from 1992 to 1995. In 1996, she portrayed the role of an inner-city schoolteacher in the acclaimed but short-lived television series Dangerous Minds. Her other notable role was Mary Elizabeth 'M.E.' Sims in the television drama series Any Day Now, aired on Lifetime Television from 1998 to 2002.
She would later work on television shows such as the 2003 film Defending Our Kids: The Julie Posey Story, the 2008 Lifetime drama telefilm Queen Sized, the 2010 romantic comedy miniseries Marry Me, the 2011 comedy-drama anthology film Five, the 2012 comedy-drama series GCB, the 2012 film The Music Teacher, and the family drama series The Fosters (2013-2018).
'Young Sheldon'
In 2017, Potts joined the cast of highly anticipated Young Sheldon, a spin-off series of the CBS sitcom The Big Bang Theory (2007). She appeared regularly as one of the main cast members, Meemaw, young Sheldon Cooper's foul-mouthed, hard-drinking grandmother. Her character in the series has been described as a woman who is very supportive of her grandson and his unique gifts. 
In the series, Iaian Armitage players young Sheldon Cooper and Jim Parson played the adult Sheldon.
Designing Masks for Politicos Amid Pandemic
Following the production pause of Young Sheldon, Potts got involved in producing handmade masks early in the COVID pandemic. She made the masks in collaboration with sewing partner Paige Peter. Later, her handmade masks were delivered to prominent politicians whom they reached out through Peter's political connections. For example, one of her handmade floral-print masks was donned by House Speaker Nancy Pelosi during her weekly news conference after Joe Biden's inauguration.
Theatre
Potts, who started her career in theater, returned to the theater and made her Broadway debut in 2009 in the 'Tony Award'-winning black comedy God of Carnage. In 2014, she spent several months on Broadway, starring the role of Berth in the revival of the musical Pippin. Potts also appeared in the productions of The Vagina Monologues, Diva, Love Letters, Charley's Aunt, A Little Night Music, and The Effect of Gamma Rays on Man-in-the-Moon Marigolds. In addition, she received wide acclaim for her performance as a distraught wife dealing with her husband's suicide in Aftermath.
Awards and Recognitions
For her role in Heartaches (1981), Potts won the 'Genie Award' for 'Best Performance by a Foreign Actress' in 1982. In 2020, she won the 'EDA Female Focus Award' for 'Best Animated Female' as Bo Peep in Toy Story 4 (2019).
In addition, she has garnered several award nominations for her notable roles in both television and films. She was nominated for 'Golden Globe Award' for her role in Corvette Summer (1978) in 1979, 'Primetime Emmy Award' for playing Dana Palladino on Love & War in 1994, 'Critics Choice Award' for her role on Young Sheldon (2017) in 2019, 'OFTA Television Award' for her roles in TV credits a such as  Any Day Now (1998) in 1999, Queen Sized (2008) in 2008, and Young Sheldon in 2020. She also received the 'Q Award' nomination for her acting role on Designing Women in 1989, Dangerous Minds in 1997, and Any Day Now (1998) in 1999. Furthermore, she was nominated for the 'Screen Actors Guild Award' for her performance on Any Day Now (1998) in 1999 and 2000 and the 'WAFCA Award' for her voice performance in Toy Story 4 (2019) in the same year.
Spouse
Potts has been married four times, and she has three children. Her first marriage was at 20 with her college lover Steven Hartley in 1973. Shortly after their marriage, when she was 21, she and her husband Hartley got in a severe car accident. The accident took Harley's leg while Potts had multiple fractures, including breakage of one bone below her waist that resulted in traumatic arthritis throughout her life.
She divorced Hartley in 1978 and married television actor Greg Antonacci the same year. Her second marriage lasted only for two years and ended in divorce in 1980. Then she married the second unit director and producer Scott Senechal in 1981, with whom she had a son named Clay. Her third marriage also ended in 1989. Fourthly, she wedded television producer and director James Hayman in 1990. They together have two sons, Harry and James.
Did You Know?
According to Celebritynetworth, her estimated net worth is $8 million dollars.