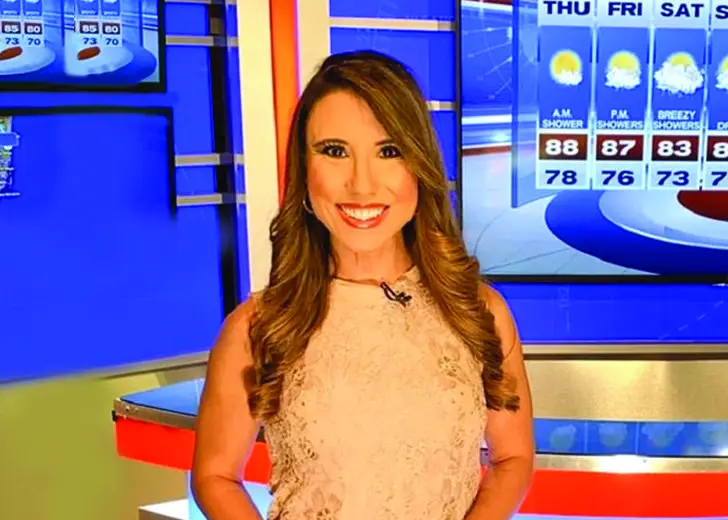 Quick Wiki
Full Name

Vivian Gonzalez

Birth Date

Mar 23, 1982

Age

41 Years, 8 Months

Nationality

American

Birthplace

Miami, Florida

Occupation

Morning Meteorologist at WSVN 7

Sister

Lilian Gonzalez

University

Florida International University

Education

Bachelors of Arts in Geography

Relationship Status

Married

Husband

Jorge Hernandez

Husband's Profession Underwriting Manager at Insurance Company
Wedding Date

24 April 2010

Height

Undisclosed
Morning Meteorologist at WSVN 7
Vivian Gonzalez | Biography
Weather Anchor and Meteorologist
Vivian Gonzalez is a professional meteorologist and TV weather anchor. She has mainly gained fame as the Morning Meteorologist on WSVN 7.
---
Vivian Gonzalez is a famous media personality best known as the weather anchor and Morning Meteorologist of the WSVN 7 channel.
Who is Vivian Gonzalez?
Vivian Gonzalez is a professional meteorologist and TV weather anchor. She has mainly gained fame as the Morning Meteorologist on WSVN 7.
Gonzalez was born on 23 March 1983 in Miami, Florida. She has not revealed her early life information in the media and has also kept her parents' details undisclosed.
She completed her high schooling in Miami at Monsignor Edward Pace High School regarding education. After that, she studied Geography at Florida International University and graduated in 2005. At the same university, she also learned to speak Spanish.
Furthermore, Gonzalez is also an alumnus of the Mississippi State University. From there, she earned her Bachelor in Geosciences degree.
Her Channel 7/ WSVN Career
Gonzalez first joined Channel 7 or 7News in 2005. As of now, she has spent over 17 years as the weather producer and meteorologist of the network.
Channel 7 initially hired Gonzalez in 2005 as their weather producer for the South Florida area. At that time, several hurricanes had directly impacted the area. Thus, her geographical background and knowledge came in handy in tracking the hurricanes and every other natural calamity.
Gonzalez's hard work soon paid off, and she received a promotion as the weather anchor for the Saturday edition of Today in Florida in 2007. Her primary task in the position was to make Florida people aware of the rapidly changing weather in the area.
Later in November 2012, she again earned her career's most prominent promotion as the Morning Meteorologist of the channel. Gonzalez has ever since held the position for around a decade.
At WSVN, Gonzalez earns an annual salary amounting to $99 thousand. Thanks to her hefty earnings, her 2020 net worth was estimated to be around $300 thousand.
She is Married to Jorge Hernandez
The famous American meteorologist has been tied to her husband Jorge Hernandez for over 11 years. The couple had their wedding on 24 April 2010 and have been together ever since. Moreover, in less than a week, i.e., on 24 April 2022, the couple will add one more year to their relationship.
Unlike Gonzalez, a media personality, her husband Hernandez belongs to a completely different profession. He is an underwriting manager at a recognized insurance company in Florida named Federal National Insurance Company.
During their 11 years of marriage, Gonzalez and Hernandez have welcomed a beautiful baby girl, Emma, into their lives. Emma was born on 23 March 2017 and is five years old.
Gonzalez regularly posts pictures of her daughter and husband on social media. Lately, she uploaded a beautiful family photo on her Instagram handle @viviangonzalez7 on the occasion of the new year 2022 on the 1st of January.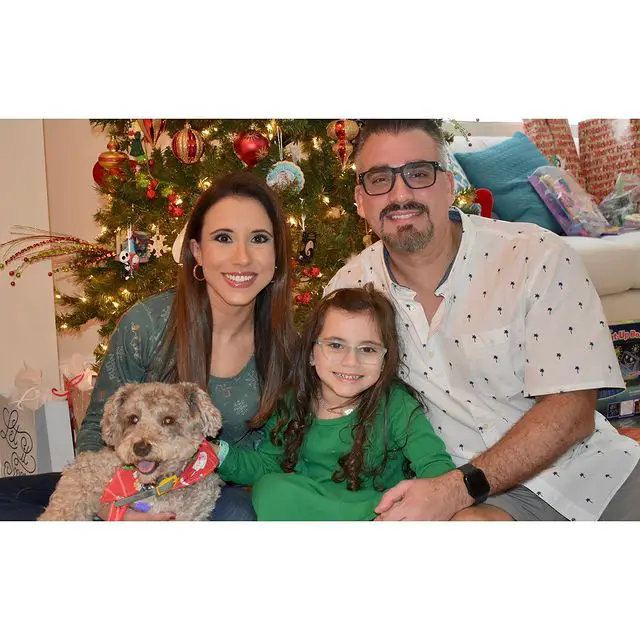 She Has a Twin Sister
Although Gonzalez has not disclosed her parents' details yet, she has a twin sibling named Lilian. Again, she has not shared any information about her sister, but she keeps posting her images on social media.
There is a beautiful picture of the twin sisters on Gonzalez's Twitter. She uploaded the image on 23 March 2015, on the occasion of both their 32nd birthdays. The irony being Gonzalez's daughter Emma also observes her birthday on the same day.