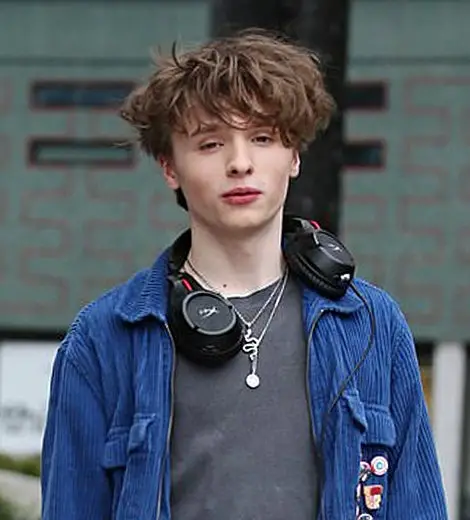 Quick Wiki
Full Name

Ty Peter Tennant

Occupation

Actor

Nationality

British

Birthplace

England

Birth Date

Mar 27, 2002

Age

21 Years, 2 Months

Nickname

Born as Ty Peter Martin-Moffett

Zodiac Sign

Aries

First On-screen Debut

'The Five(ish) Doctors Reboot' in 2013

Did You Know?

His mother gave birth to him when she was only 16 years old.

Family background

Acting Background

First Titular Role

'Tolkien' in 2019

Mother's Occupation

Actress

Father

David Tennant

Mother

Georgina Tennant

Brother

Wilfred Tennant,

Sisters

Doris Tennant, Birdie Tennant, Olive Tennant

Height

5 Feet 10 Inches

Ethnicity

American

Net Worth

Not Disclosed

Girlfriend

Not Disclosed

Relationship Status

Not Disclosed

Father's Occupation

Screen Writer, Director & Producer
Tom Gresham in the Fox TV Series 'War of the Worlds'
Ty Tennant | Biography
Played a cameo role in the TV series 'Around the World in 80 Days' in 2021
David Tennant adopted Ty on 21 March 2012, before marrying Ty's mother, Georgia. However, after their marriage, he changed his name to Ty Peter Tennant and removed his biological father's surname. Recently, Ty and David's relationship has transitioned from parental to work colleagues. The father-son duo appeared on the 2021 BBC TV series 'Around The World in 80 Days.'
---
Ty Tennant is a young actor recently seen as a gang leader in the BBC series Around the World in 80 Days (2021). He is the adoptive son of English award-winning actor David Tennant.
Who is Ty Tennant?
Ty Tennant is an English actor and TV personality. He began his acting career at the age of 11 with the TV movie The Five(ish) Doctors Reboot in 2013. He then had a gap of around six years before landing his second acting work in the 2019 film Tolkien.
Ty later gained prominence as Tom Gresham from the Fox TV series War of the Worlds. From 2019 to 2021, he appeared in 16 episodes of the series.
Lately, he appeared with a cameo role in the TV series Around the World in 80 Days in 2021. His other notable TV appearances include TV shows like Casualty (2019) and Doom Patrol (2021).
David Tennant Adopted Him in 2011
Ty Peter Tennant was born on 27 March 2002 in England. He is the son of famous actress Georgia Tennant and the adoptive son of actor David Tennant.
Ty took birth to his mother, Georgia Tennant, from her previous marriage. She was only 16 years old when she gave birth to him. She also disclosed on her Instagram that she used to breastfeed Ty while she was in college. 
His birth name was Ty Peter Martin-Moffett which his mother later changed to Ty Peter Moffet. 
David Tennant adopted Ty on 21 March 2012, before marrying Ty's mother, Georgia. However, after their marriage, he again changed his name to Ty Peter Tennant and removed his biological father's surname.
He has four step-siblings from his mother's second marriage, three sisters, Olive Tennant, Doris Tennant, Birdie Tennant, and one brother Wilfred Tennant. His half-sister Olive Tennant is also an actress best known for her appearance in the 2021 film Belfast.
Biological and Adoptive Father
Ty's biological father's information is not available on authentic internet sites. However, his stepfather David Tennant, is an award-winning actor, producer, and director.
David Tennant was born in Bathgate, Scotland, the UK, on 18 April 1971. He has spent around three and half decades of his life in the film and TV industry. 
Beginning in 1988 with a minor role as Neil McDonald in the TV series Dramarama, he has acted in over 150 TV series and films. His most notable works are in Takin' Over the Asylum (1994 TV series), Duck Patrol (1998 TV series), Terri McIntyre (2003 TV series), Doctor Who: Dreamland (2009 TV series), How To Train Your Dragon (2010 Film), Tree Fu Tom (2012-2013 TV series), Dragon: Race to the Edge (2015-2018 TV series), DuckTales (2017-2021 TV series), etc.
As an actor, David has won 40 awards and has received 36 award nominations. Lately, in 2021, he won the 'Broadcasting Press Guild Award' in the 'Best Actor' category for his roles in Des (2020 TV series) and Staged (2020 TV series).
Working With Father
Recently, Ty and David's relationship has transitioned from parental to work colleagues. The father-son duo appeared on the 2021 BBC TV series Around The World in 80 Days.
As per the December 2021 reports from metro.co.uk, David described his first experience working with his son Ty as weird. "Suddenly you're on set and having to interact in a slightly different way – and it's a mixture of kind of parental pride and worry, I suppose," he said.
David further added, "But actually, the truth is that he's so professional and assured and at home on set that I just really loved it...'And he gets to attack me with a baseball bat, which he was thrilled [about]!"
Besides working together, Ty and David have also appeared together at several events. On 29 January 2020, Ty shared a picture of the duo ready to attend the National Television Awards on ITV.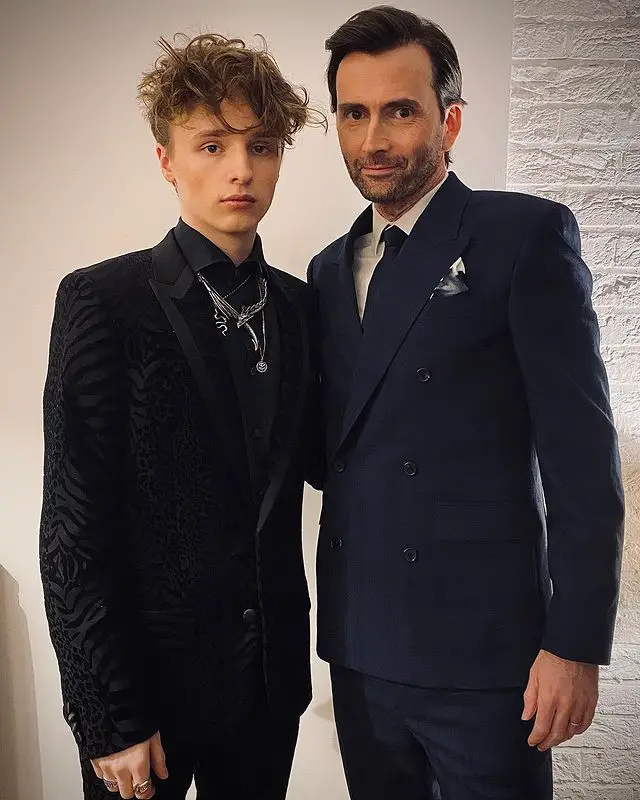 He May Have A Girlfriend
Authentic websites do not have any information on Ty's past and present relationship details. He also does not speak much about his personal life in the media. 
Moreover, his social media does not feature any substantial pictures that relate to him being in a relationship with a girlfriend. However, some sites have claimed that he is in a private relationship with the TikTok star Lola Andrea as he has posted a couple of pictures with her on his Instagram.   
Nevertheless, the information has not been authenticated by both Ty and Andrea.