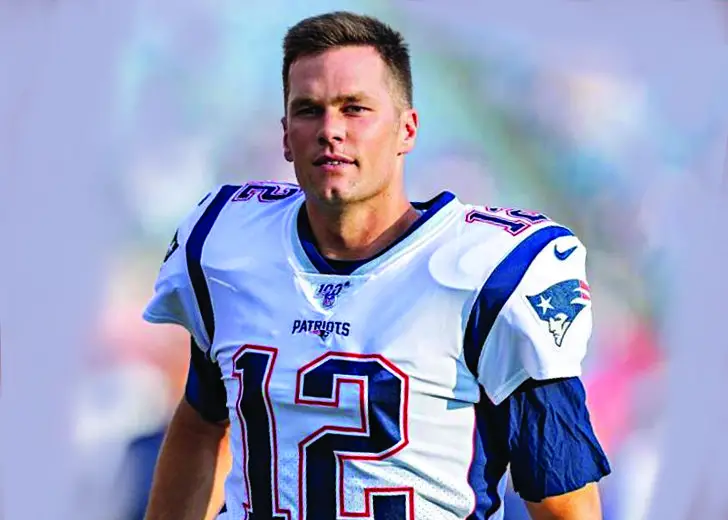 Quick Wiki
Full Name

Thomas Edward Patrick Brady Jr.

Nickname

Tom Brady

Birth Date

Aug 03, 1977

Age

45 Years, 10 Months

Nationality

American

Birthplace

San Mateo, California

Occupation

American Football QB

First Job

New England Patriots

Mother

Galynn Patricia

Father

Thomas Brady Sr.

Sisters

Maureen, Julie, and Nancy

Siblings

3

High School

Junipero Serra High School

University

University of Michigan

Relationship Status

Married

Wife

Gisele Bundchen

Wedding Date

2009

Height

6 feet 4 inches

Net Worth

200 Million Dollars
Former QB of New England Patriots
Tom Brady | Biography
Tampa Bay Buccaneers' Quarterback
Brady began playing football during his high school days at Junipero Serra High School. He later played for the University of Michigan's football team Michigan Wolverines. He graduated from the same university with a Bachelor of Science in Business and General Studies in 1999.
---
Tom Brady is a renowned professional American footballer. He represented the NFL team New England Patriots for 20 years from 2000 to 2019 and currently plays with Tampa Bay Buccaneers.
Who is Tom Brady, and What Team is Tom Brady on?
Tom Brady is one of the greatest American Football quarterbacks, born on 3 August 1977 in San Mateo, California, USA. He currently represents the Florida-based NFL (National Football League) team Tampa Bay Buccaneers.
Brady began playing football during his high school days at Junipero Serra High School. He later played for the University of Michigan's football team Michigan Wolverines. He graduated from the same university with a Bachelor of Science in Business and General Studies in 1999.
Coming out of college, Brady started his professional career with the NFL team New England Patriots. The Patriots drafted him in the sixth round of the NFL Draft in 2000. Moreover, he was the 199th overall pick in the draft.
From 2000 to 2019, Brady played with the Patriots for nearly two decades. He was widely considered one of the most accomplished quarterbacks in American football history during his time there. He has won several individual awards, including five Super Bowl MVPs and three NFL MVPs. Moreover, he won six Super Bowl titles while playing with the Patriots.
Brady's contract with the New England Patriots ended in mid-March 2020, after which he joined his current team Tampa Bay Buccaneers. He signed a two-year contract with the Buccaneers worth approximately $50 million guaranteed and incentives up to $4.5 million each year.
With the Buccaneers, Brady won his career's seventh Super Bowl Titles. Moreover, he is the only player to win as many Super Bowls and the only second quarterback to win the Super Bowl with two different teams.
Also Read: Joe Burrow - Age, Parents, Jersey, Injury, Girlfriend - Biography
Tom Brady's Premature Retirement
The greatest QB of American football, Brady, announced his retirement from the game on 1 February 2022. However, as per NBC News' March 2022 report, his retirement days only lasted around 40 days as he decided to get back on the field with Tampa Bay Buccaneers.
Brady reversed his decision saying that he could not take the retirement odds of being in the stands as a spectator. He confirmed the news of returning to the field via a Tweet on 14 March 2022. His Tweet read,
"These past two months I've realized my place is still on the field and not in the stands. That time will come. But it's not now. I love my teammates, and I love my supportive family. They make it all possible. I'm coming back for my 23rd season in Tampa. Unfinished business LFG."
On Brady's premature retirement, his father, Tom Brady Sr., blamed the sports media for his hasty decision to retire from the game. According to his father, the media announced his retirement even before confirming it. During his interview on the Greeny podcast on 15 March 2022, Tom Brady Sr. said,
"They were announcing his retirement before he even retired. You know, the media made the news. He was not ready to make any decision and didn't make any decision, but [Adam] Schefter and [Jeff] Darlington stated it as fact. You know, he hadn't made any decision on that."
Brady Revealed His Secrets of his Top Notch Health Condition
At 44 years old, Brady is still going strong in his professional career and is still one of the best, if not the best, American football quarterbacks. In an interview with Men's Health in January 2021, he revealed his secrets to his high-performance level on the field at such an age.
Brady follows a strict diet with a high intake of fluid, green veggies, and alkalizing foods. He also follows a tough training routine to maintain his fitness in order to compete with the young guns on the football field. 
Brady's Business and Charity
Brady is the owner of several businesses and runs multiple charity foundations. His non-profit organization TB12 Foundation is dedicated to providing health and wellness resources to aspiring athletes to help them excel in sports and their lives.
The Buccaneers quarterback was also part of several charities during the Covid pandemic. As part of the All-In Challenge started in April 2020 in the USA, he helped raise a whopping $100 million sum for different charitable organizations. He auctioned off several vintage football kits for the challenge, including his first worn jersey and under armor cleats.
Besides non-profit foundations, Brady has a clothing line named after himself, an NFT Trading platform, a sports apparel business called TB12 Sports, etc. The income from all his companies and his decades-long football career has made him one of the richest athletes in the world. According to Forbes, his annual salary in 2021 was $74 million, and he has a net worth of over $200 million.
'South Park'
South Park is an animated sitcom series on Comedy Central. It is most popular among adults for its satirical and surreal touches of humor, dark comedy, and profanity. The series began airing in 1997 and is currently in its 25th season.
Brady first appeared in the animated comedy series in its 16th season in 2012. The show had invited him for the episode, Sarcastaball, as one of the sports celebrities. Later, he also made appearances in season 17 in 2013, season 19 in 2015, and season 23 in 2019.
Brady is married to a Brazilian Supermodel.
The Buccaneers QB married the Brazilian Supermodel Gisele Bundchen in 2009. Besides being a model, she is also a social activist and businesswoman with a net worth amounting to $400 million, which is much higher than her husband's.
From 13 years of marriage, Brady and his wife Gisele had two children, Vivian Lake and Benjamin. He also has an elder son, John Edward Thomas Moynahan, from his ex-relationship with actress Bridget Moynahan. Moynahan is best known for her appearances in the CBS series Blue Bloods.
On the Family Day occasion, Brady shared a family picture on his Instagram handle @tombrady on 21 June 2021. The photo features his wife, Gisele, and all his three children.