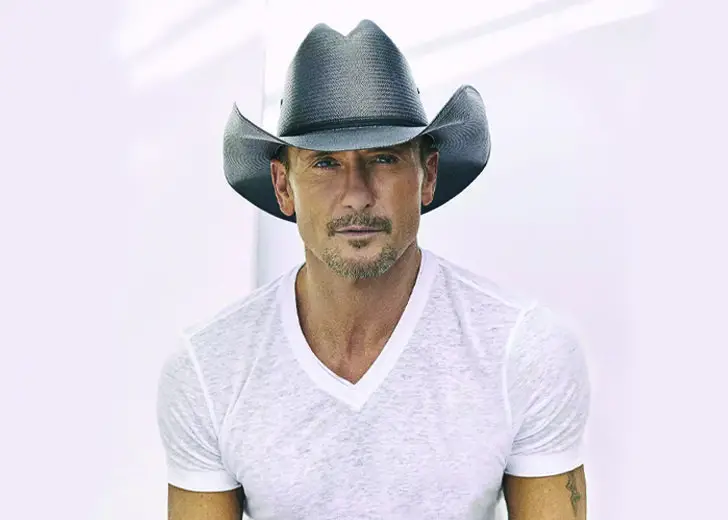 Quick Wiki
Full Name

Samuel Timothy Smith

Nickname

Tim McGraw

Birth Date

May 01, 1967

Age

56 Years, 4 Months

Nationality

Amercian

Birthplace

Delhi, LA

Occupation

Singer, Actor

Father

Tug McGraw

Wife

Faith Hill

Net Worth

$165 Million (Celebrity Net Worth)

Children

Three
American Singer And Actor Who Has Won Three 'Grammy Awards.'
Tim McGraw | Biography
McGraw wrote the popular single 'It's Your Love' with his then-girlfriend and current wife Faith Hill
Samuel Timothy Smith is an American country music singer and actor who has won three 'Grammy Awards.'
---
Who is Tim McGraw?
Samuel Timothy Smith, better known as Tim McGraw, is a singer, songwriter, and actor born on 1 May 1967 in Delhi, LA. 
McGraw was raised by a single mother. He was 11 when he learned his father was Tug McGraw, a well-known professional baseball pitcher.
Taylor Swift Released Her First Single After Being Inspired By McGraw
McGraw taught himself to play guitar in college before dropping out and moving to Nashville in 1989. McGraw's debut single, 'What Room Was the Holiday In,' was released in 1991.
McGraw's debut album, released in 1993, was a commercial flop. However, his second album, Not a Moment Too Soon, was a tremendous success.
The first single from his second album, 'Indian Outlaw,' was widely panned for what some saw as demeaning caricatures of Native Americans. However, despite the refusal of some radio stations to play the song, it reached the country's Top Ten and even made it into the pop Top 20.
All I Want, his third album, surpassed the country charts, made the pop Top Five, and sold over two million copies. 1997 saw the release of the singer's fourth studio album, Everywhere. It also topped the country charts, reaching No. 2 on the Billboard 200 with 4 million copies sold.
McGraw's subsequent albums included Let It Go (2007), Southern Voice (2009), and Emotional Traffic (2012). His album Sundown Heaven Town was released in 2014, and Damn Country Music was released in 2015. 
Then, in 2017, McGraw and his wife, Faith Hill, released a collection of duets, 'The Rest of Our Life.' His 15th studio album, Here on Earth, was released in 2020.
Besides, popular singer Taylor Swift debuted her single after being inspired by McGraw. The single was titled 'Tim McGraw,' released on 19 June 2006, from her eponymous freshman album.
'Tim McGraw' was written by Liz Rose and Swift while she was still in high school. According to The Booth, Swift said, "The idea for this song came to me in math class."
She also said, "The concept for this song hit me because I was dating a guy who moved away, and it was going to be over for us. So I started thinking of things that I knew would remind him of me." Swift continued, "The first thing that came to mind was that my favorite song is by Tim McGraw."
On the other hand, McGraw was surprised that he was the reference for the single. He said, "I didn't know if I should feel honored or just old." 
He added, "But I found out she was about 14 and in math class when she wrote that, which made me feel better. She was pretty nervous when we first met, but it was fine. I told her I appreciated it. It's cool to have a song written about you, especially by a teenager. I didn't think any teenagers even knew who I was."
Also Read: Enisa Nikaj - Age, Husband, Net Worth, Songs 
McGraw Is Also An Actor
Besides McGraw's music career, he is also an actor and has appeared in several movies, including Friday Night Lights (2004), The Blind Side (2009), Country Strong (2010), Tomorrowland (2015), and The Shack (2017). 
In addition to that, McGraw was featured in the TV series 1883 (2021), a western drama prequel to the hit show Yellowstone, alongside his wife and Sam Elliott.
McGraw Worked With His Wife To Release The Single 'It's Your Love'
McGraw collaborated with his then-girlfriend and current wife Faith Hill for his hit single 'It's Your Love.' The song spent around six weeks at the top of Billboard's Hot Country Songs chart, and it was McGraw's and Hill's first Billboard Hot 100 top ten hits.
McGraw got married to Faith Hill on 6 October 1996. The couple share three children, Audrey, Gracie, and Maggie.
On 20 April 2022, Hill shared a post on Instagram on the 25th anniversary of "It's Your Love." She captioned the post, "I can't believe it's been 25 years since Tim released the single "It's Your Love." This was the very first duet we released, and it spent 6 weeks at #1 on the charts."