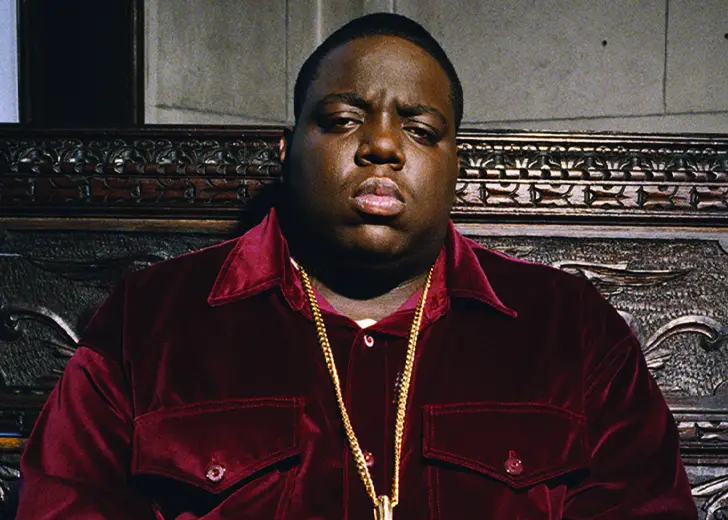 Quick Wiki
Full Name

Christopher George Latore Wallace

Nickname

The Notorious B.I.G.

Birth Date

1972-05-21

Death Date

1997-03-09

Age At Death

24

Place Of Death

Los Angeles

Ethnicity

Jamaican-American

Nationality

American

Birthplace

Brooklyn, New York, USA

Occupation

Late American Rapper and Singer

Mother

Loretta Wallace

Father

George Latore

Height

6 Feet 2 Inches

Net Worth

10 Million Dollars
Late American Rapper and Singer
The Notorious Big | Biography
Hip Hop Musician and Singer
The Notorious B.I.G., also famous as Biggie, was one of the greatest American gangsta rappers. Moreover, people primarily remember him as the singer of the 1990s smash hit, 'Big Poppa.'
---
Who is The Notorious BIG?
The Notorious Big was the stage name used by the late American rapper and musician Christopher George Latore Wallace. He was best known for his artful storytelling raps and rhymes. Moreover, the music industry hailed him and fellow rapper Tupac Shakur as one of the most influential and greatest musicians.
Wallace took birth in Brooklyn, New York, on 21 May 1972. He was born to his Jamaican immigrant father, George Latore, a politician and welder, and his mother, Loretta, a school teacher. When he was only two years old, his parents separated. Thus, his mother single-handedly raised him in the Bed-Stuy area and Clinton Hill, Brooklyn.
Growing up in the Bed-Stuy area in the 1980s turned out to be a curse for Wallace. His mother had enrolled him into Queen of All Saints Middle School. Although he was a brilliant student and hit mostly A's in subjects like Maths and English, he got into drug dealing at only 12 years of age.
After middle school, Wallace attended Brooklyn's Bishop Loughlin Memorial High School. However, he later transferred from there to join George Westinghouse Career and Technical Education High School. Alongside his studies, Wallace also continued with his drug-dealing lifestyle. By the age of 16, he was already making 2,000 dollars a week from drug dealing and had also started carrying guns.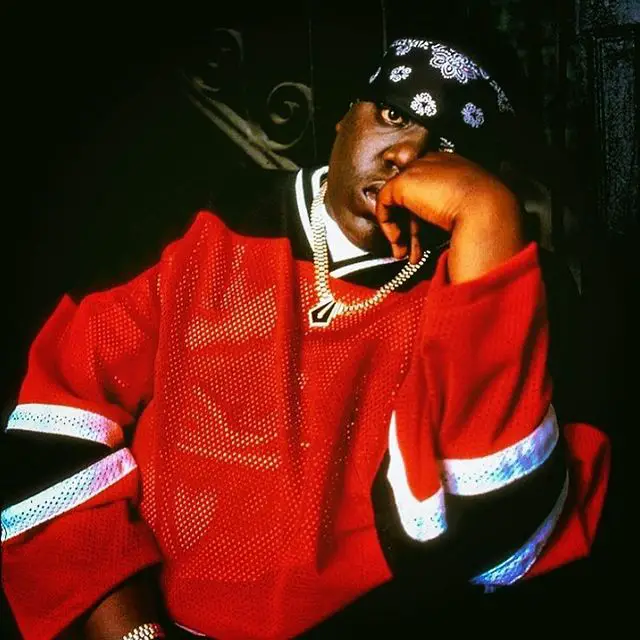 Also Read: Jaycee Shakur - Tupac's Death, Age, Daughter
He Began His Music Journey As a Freestyle Rapper
Around the same time, Wallace had also begun participating in freestyle rapping contests on the streets. He often performed with several local groups, which helped him gain popularity among gangsta rap/music fans. Furthermore, after winning different rap battles, he convinced himself to consider singing and rapping as his future career.
At 17 years of age, Wallace dropped out of high school to pursue music. However, he was arrested for drug dealing when he went to North Carolina to visit his friends. At that time, his mother bailed him out by paying a hefty bond of 25 thousand dollars. After that, he switched fully to music and rapping and promised his mother to let go of the drug dealer lifestyle.
Wallace then started spending time with his rapper friend Chico Delvico and began producing demo music tapes with him. He recorded his first demo tape, 'Microphone Murderer' under the artist name 'Quest.' His music soon caught the attention of various big names in the industry, including Sean Combs, aka Puff Daddy, Uptown Records' talent scout.
Combs soon signed Wallace under the Uptown Record Label. However, shortly after signing Wallace, Combs left Uptown and launched his own label named Bad Boy. The same day he formed his new label, he signed Wallace as his first client.
In April 1993, Wallace released his debut solo track, 'Party and Bullshit.' The song was used as the soundtrack for the 1993 movie, Who's The Man.
Are Biggie and Notorious Big the Same?
Wallace initially took the stage with the nickname Quest. However, Sean Combs suggested the name did not go with his gangsta rapping and personality. They then together came up with the stage name Biggie Smalls. But the name 'Biggie Smalls' was already taken by a rapper from another record label company.
As a result, Wallace and Combs worked for another suitable stage name and settled with 'The Notorious B.I.G.' His six feet two inches height and heavyweight structure perfectly complimented his nickname. Although he had to give up on his previously decided nickname, 'Biggie Smalls,' he continued using just Biggie as his alternative name for the rest of his career.
He Created Four Studio Albums
On 13 September 1994, Wallace launched his debut studio album, Ready to Die. The album consisted of smash hit tracks like 'Big Poppa' and 'Juicy.' Moreover, his track 'Big Poppa' made it to the Top Ten list of Pop and R&B Charts and achieved platinum sales.
Additionally, Ready to Die received four Platinum Certifications and reached the No.13 spot on the Billboard 200 Chart. It quickly turned Wallace into a sensation in the hip-hop music industry. 
After the smashing success of his debut studio album, Wallace started working on his second album, Life After Death. However, two weeks before its launch, an unidentified shooter shot him to death in the streets of Los Angeles on 8 March 1997.
After his death, his record producer Sean Combs posthumously released his second album, Life After Death, on 25 March 1997. The album topped the Billboard 100 list and also received Diamond Certification from RIAA in 2000.
Furthermore, Bad Boy Record Label posthumously released two more of Wallace's albums. The third album, No Way Out, was released in mid-1997, and they launched the fourth album, Born Again, in December 1999.