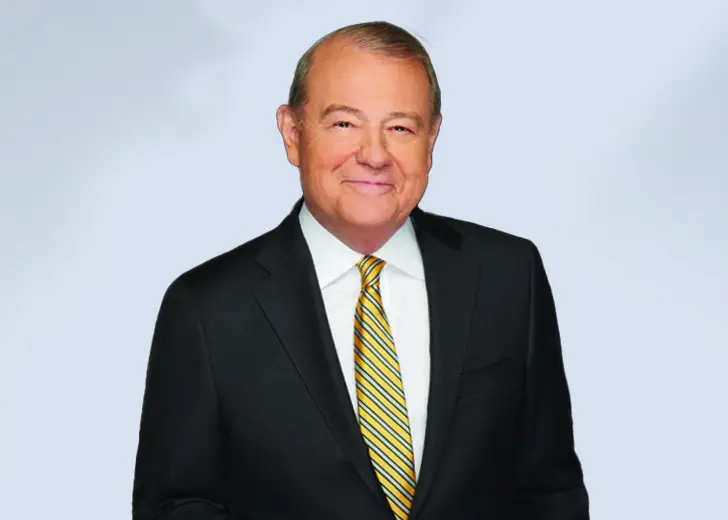 Quick Wiki
Full Name

Stuart A. Varney

Nickname

Stuart Varney

Birth Date

Jul 07, 1949

Age

74 Years, 4 Months

Nationality

British-American

Birthplace

Derbyshire, England

Orignally

British

Zodiac Sign

Cancers

Occupation

Journalist

University

London School of Economics

Relationship Status

Divorced

Wife

Deborah Varney (1992-2014)

Net Worth

$10 Million ($3 Million Annual Salary)
Host of FOX News 'My Take with Stuart Varney'
Stuart Varney | Biography
Financial Reporter For CNN
Stuart Varney is a British journalist and financial reporter for FOX News and CNN. 
---
Who is Stuart Varney?
Stuart Varney was born on 7 July 1949 in Derbyshire, England. He graduated from the London School of Economics. 
He began his broadcast journalism career as a business anchor for San Francisco's KEMO-TV. He joined Fox News in January 2004 as a business contributor on various programming, including Your World with Neil Cavuto. Then in 2007, he joined the FOX Business Network (FBN) and began anchoring the highest-rated market program on television, Varney & Co. (weekdays 9 AM-12 PM/ET).
In addition, Varney occasionally appears as a guest host for Your World and the programs on the Cost of Freedom business block. Since joining FNC's business team, he has contributed to other network weekday and weekend business programming, including Bulls & Bears, Cavuto on Business, and Cashin' In. 
Furthermore, Varney hosts My Take with Stuart Varney on FOX Nation, where he shares his take on the country's most pressing economic concerns. Also, he hosts FBN Prime's American Built, an hour-long series highlighting individuals who work to keep our infrastructure in working shape. 
Besides, Varney hosted CNBC's Wall Street Journal Editorial Board alongside Stuart Varney. In addition, he was a co-anchor of CNN's Moneyline News Hour. At the same time, he was a founding member of CNN's business reporting team in 1980 and hosted numerous financial programs for the network, including Your Money, Business Day, and Business Asia. His coverage and analysis of the 1987 stock market meltdown helped CNN win a 'Peabody Award' for 'Excellence in Journalism.' 
Wife, Children, and Cheating Allegation
Varney married Deborah, now his ex-wife, from 1992 to 2014. They met at a pub and married a year later in a small ceremony. 
They remained married for 21 years until Deborah filed for divorce in 2014. She alleged that alleging over nine-year-long infidelity with a Floridan woman Jennifer F Shibley. She also claimed that Varney spent hundreds of thousands of dollars on his mistress and took her on vacations to Hawaii, Hong Kong, Singapore, and Macau.
Also Read About - Marie Harf - Married, Husband, Baby, Fox News Analyst, Today
In her divorce statement, Debroah added that while she was confronting Varney regarding his mistress, he said that he was not in love with her. "When I was with you, I did not think about her, and when I was with her, I did not think about you," she claimed he replied. 
Therefore, she reasoned that he cheated on her, not because of love but because he could do it, as reported by The Sun. 
In addition, they have six children altogether, four boys and two girls. Angela, one of their daughters, is following in her father's footsteps in the field of broadcast journalism. She worked as a Fox News Associate for the summer in 2017 and gave a weather report on Fox & Friends Friday morning alongside meteorologist Janice Dean.
During one of his broadcasts, he proudly shared that his daughter was not only presenting weather news but also aiming to another genre. "By the way, she's doing the financial news on Monday morning," he proudly confessed.  
Stuart Varney's Net Worth
According to celebrity net worth, Varney holds an accumulated wealth of $10 million while he receives an annual salary of $3 million.