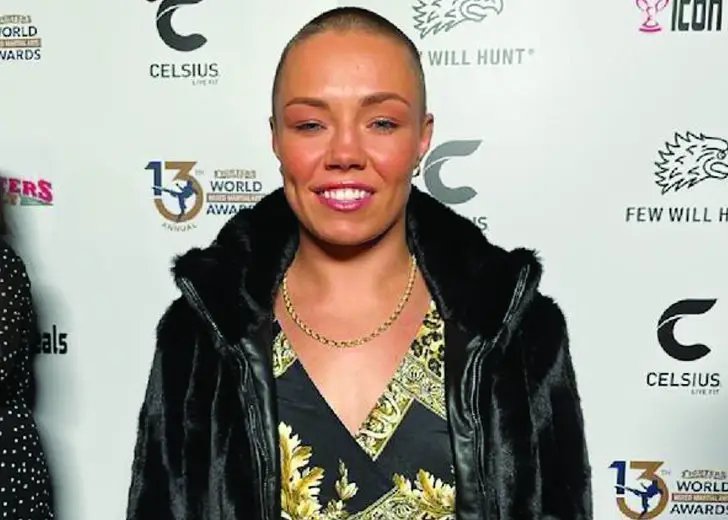 Quick Wiki
Full Name

Rose Gertrude Namajunas

Nickname

Rose Namajunas

Birth Date

Jun 29, 1992

Age

31 Years, 5 Months

Ethnicity

Lithuanian Descent

Nationality

American

Birthplace

Milwaukee, Wisconsin, USA

Zodiac Sign

Taurus

Occupation

UFC Fighter

Relationship Status

Engaged

Husband

Pat Barry

Net Worth

Not Disclosed
UFC Strawweight Fighter
Rose Namajunas | Biography
Trained in Taekwondo, Karate & Jiu-Jitsu
Rose Namajunas is a professional MMA fighter and finalist of The Ultimate Fighter (UFC) 20th season. 
---
Who is Rose Namajunas?
Rose Gertrude Namajunas was born on 29 June 1992 in Milwaukee, Wisconsin, to Lithuanian parents. She was trained in Taekwondo, Karate, and Jiu-Jitsu as a child, and before turning professional, she worked with coach Duke Roufus. 
She made her amateur level fighting in 2010 and her professional debut in the Invicta Fighting Championship in 2013. The same year she joined The Ultimate Fighter as the first strawweight fighter. Unfortunately, she landed a finalist position losing in the last round. However, she won the UFC on Fox 24 in 2017.
Namajunas has won over half of the games with submission throughout her career. At the same time, she won the rest by knockouts and decisions. 
Also Read About - Jon Anik - Networth, Age, 209 Tattoo, ESPN & UFC
Getting Rid of Her Long Hair
Namajunas had maintained long hair during the initial part of her career. However, in 2015, she dropped the look and went bald, unlike other female fighters. 
On her Instagram, she informed that she decided to cut her long hair because of training hindrance. Later in an interview, Namajunas explained that throughout her life, she was confused and derailed with taking care of her hair. But as she got older, she did not want to deal with them, and cutting the long hair felt like dropping her past. 
"[It's] Just years and years of playing in sports, not just fighting, hair's been growing up, and being a tomboy growing up and not really wanting to have to do my hair. I don't even know how to do [my hair]. I just had to put a whole bunch of products in it. I just want to be able to wake up in the morning and feel pretty and not have to do a whole bunch of cr*p [to my hair]. It is definitely like shedding my past, being psychologically mean of my hair as well as physically, and just ripping it out," Namajunas confessed, reported by Sportskeeda. 
Husband Pat Barry
Namajunas is engaged to former UFC heavyweight fighter and martial arts practitioner Pat Barry. They initially met at a gym, where Barry fell in love with her and decided to pursue her. 
In an interview Barry confessed that they have different years counted as the duration of their relationship, "I say we've been dating for more than five years, but she says two or three years. We were apparently together a lot longer than I was aware of."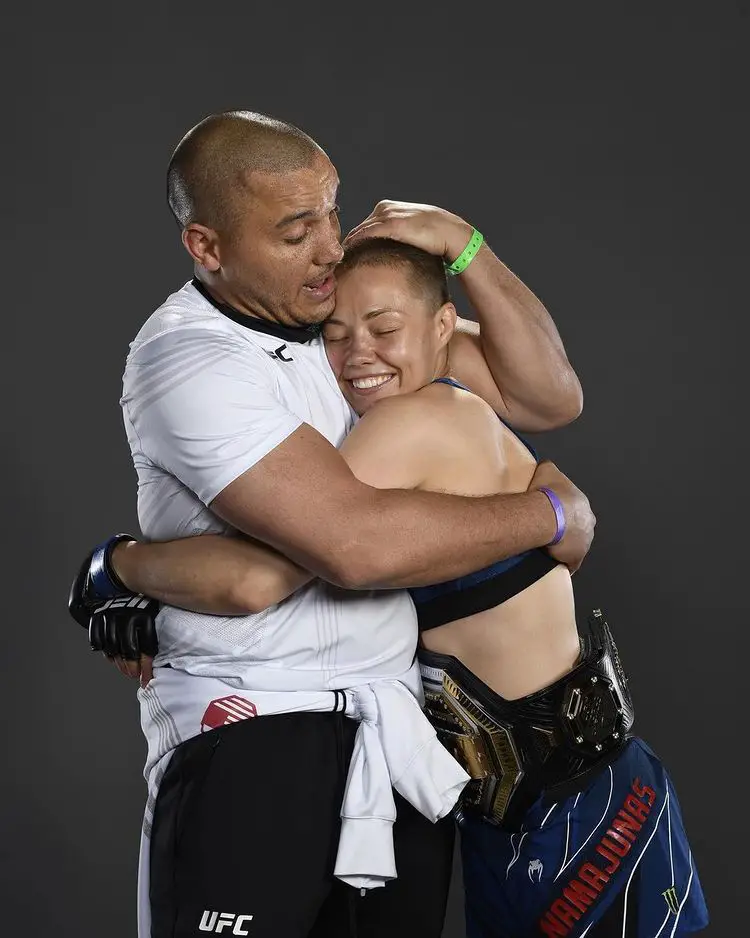 In addition, Barry made the professional decision to support her as a personal secretary. Since 2013, he sidelined his career to help and care for her. 
Namajunas said in an MMA Fighting interview that he fully believed in her potential and decided to help her pursue her talent. 
Besides, during the peak of his career, Barry had addiction issues with alcohol and prescription drugs. The couple confessed on a podcast that his addiction took a hit and distracted him from his championships. They said it also created a break in their relationship. Nevertheless, they decided to stay together when Barry started working on getting back to his feet.