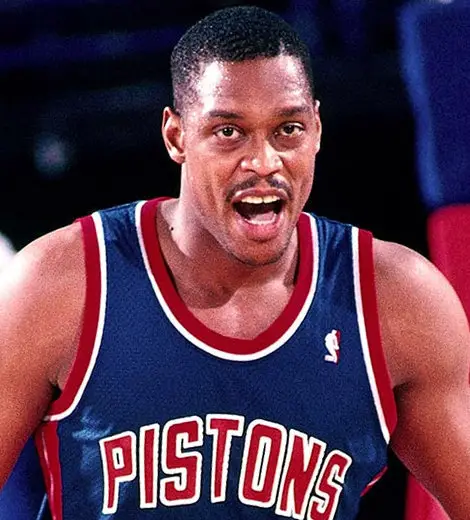 Quick Wiki
Full Name

Derrick Allen Mahorn

Nickname

Rick Mahorn

Occupation

Former professional basketball player, Analyst, Host

Nationality

American

Birthplace

Hartford, Connecticut, USA

Birth Date

Sep 21, 1958

Age

63 Years, 4 Months
Former Professional NBA Basketball Player
Rick Mahorn | Biography
Dubbed as the "Baddest Bad Boy of them All" by Piston announcer George Blaha in 1989
During his NBA career, Mahorn played five seasons with the Detroit Pistons, six seasons with the Washington Wizards, four seasons with the Brooklyn Nets, and three seasons with the Philadelphia 76ers. However, he won his only NBA championship in 1989 with the Pistons.
---
Derrick Allen Mahorn is a former professional NBA basketball player who played for the Washington Bullets, Detroit Pistons, and Philadelphia 76ers as a power forward and center.
Who is Rick Mahorn?
Derrick Allen Mahorn is a former American NBA player born on 21 September 1958 in Hartford, Connecticut, USA. As of December 2021, he is 63 years old. 
Mahorn attended Hampton University and was a part of the college basketball squad. He was a three-time NCAA Division II champion, an NAIA All-American, and held 18 school records.
Mahorn was noted for his physical style and was a member of the late 1980s Detroit Pistons teams known as The Bad Boys. He was also called the "Baddest Bad Boy of them All" by Piston announcer George Blaha and won his only NBA title with the Pistons in 1989.
NBA Career & Bio
Mahorn started his NBA career by playing for the Washington Bullets in 1980. After playing for five years, he left the team in 1985. He then joined the Detroit Pistons in the same year and played for the next five seasons. With Pistons, he won his only NBA championship in 1989. The same year, he left the Detroit Pistons.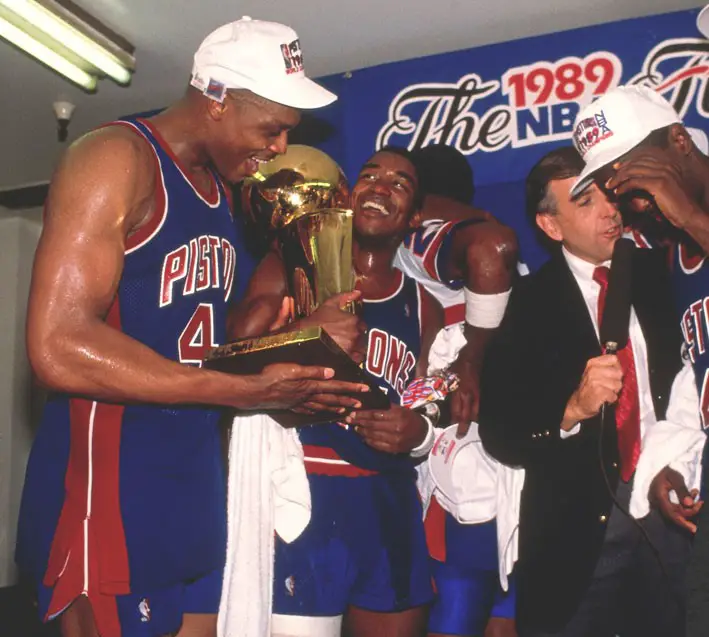 Mahorn was selected in the 1989 NBA expansion draft just days after winning the '89 trophy. However, the teams could only protect eight players from being drafted. After being chosen by the new Minnesota Timberwolves, Pistons' general manager Jack McCloskey attempted to trade him back. 
However, Mahorn never played for the Timberwolves despite being released by Detroit. Instead, he was traded to the Philadelphia 76ers in 1989, teaming up with Charles Barkley. Mahorn then spent four seasons with the New Jersey Nets from 1992 to 1996 before returning to the Pistons in 1996 until 1998. Following a second run with the 76ers, he retired after the 1999 season.
Mahorn started his coaching career with Rockford Lightning the same year he retired. The following year, he left the team and went on to work as an assistant coach in Atlanta Hawks until 2002.
Moreover, Mahorn served as a color commentator for Pistons radio broadcasts and as an assistant coach for the WNBA's Detroit Shock from 2005 to 2009 under former colleague Bill Laimbeer.
Subsequently, he became the Detroit Shock's head coach and later the BIG3's Trilogy's head coach, guiding the team to the first BIG3 Championship in 2017. Mahorn is the only person in history to have won championships in the NBA, WNBA, and BIG3.
Today
Mahorn presently works as an on-air analyst for the Detroit Pistons and a co-host/analyst on SiriusXM NBA Radio. 
He is also a college basketball analyst for Compass Sports radio. In addition, he is the Michigan brand ambassador for DraftKings sports betting.
Wife
Mahorn is married to his wife, Donyale. They have six children, including two sons and four daughters. He also won the title of 'Hartford Celebrity Dad' in 1999.
He attributes his children's successful upbringing to his wife. "If you're going to be a professional athlete and have a family, you have to have a strong mate. My wife, Donyale, is the Father of the Year in this situation. The father and the mother. In some ways, the best time of the year for her is when the season ends when she doesn't have to do both jobs," Mahorn said.
Net Worth
According to Celebrity Net Worth, Mahorn has a net worth of $4 million as of 2021. Mahorn's primary source of income was through his career as a professional basketball player until 1999. Then, however, he switched his career from a professional basketball player to an analyst.