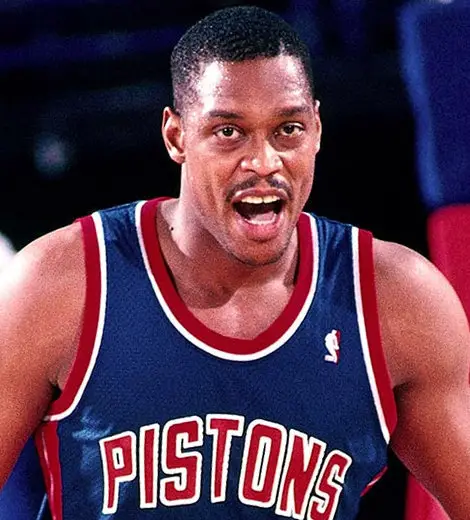 Quick Wiki
Full Name

Derrick Allen Mahorn

Nickname

Rick Mahorn

Occupation

Former professional basketball player, Analyst, Host

Nationality

American

Birthplace

Hartford, Connecticut, USA

Birth Date

Sep 21, 1958

Age

65 Years, 2 Months

Height

6 feet 8 inches (2.08 m)

Weight 109 kgs
Ethnicity

African-American

Net Worth

$4 million

Wife

Donyale Mahorn

Relationship Status

Married

Education

Graduated

University

Hampton University

Zodiac Sign

Virgo
Former Professional NBA Basketball Player
Rick Mahorn | Biography
Dubbed as the "Baddest Bad Boy of them All" by Piston announcer George Blaha in 1989
During his NBA career, Mahorn played five seasons with the Detroit Pistons, six seasons with the Washington Wizards, four seasons with the Brooklyn Nets, and three seasons with the Philadelphia 76ers. However, he won his only NBA championship in 1989 with the Pistons.
---
Derrick Allen Mahorn is a former professional NBA basketball player who played for the Washington Bullets, Detroit Pistons, and Philadelphia 76ers as a power forward and center.
What is Rick Mahorn's Net Worth?
Derrick Allen Mahorn is a former American NBA player who has a net worth of  $4 million (Celebrity Net Worth) as of 2022. He has amassed this wealth through his professional basketball playing and coaching careers. In addition, he is also a radio show host and sports expert.
Mahorn was born on 21 September 1958 in Hartford, Connecticut, USA. He was a three-time NCAA Division II champion, an NAIA All-American, and held 18 school records.
Mahorn was noted for his physical style and was a member of the late 1980s Detroit Pistons teams known as The Bad Boys.
Mahorn Won His Only NBA

Championship 

with Pistons in 1989

Mahorn started his NBA career after being selected in the second round (35th overall) by the Washington Bullets in 1980. After playing for five years, he left the team in 1985. He then joined the Detroit Pistons in the same year and played for the next five seasons. With Pistons, he won his only NBA championship in 1989. The same year, he left the Detroit Pistons.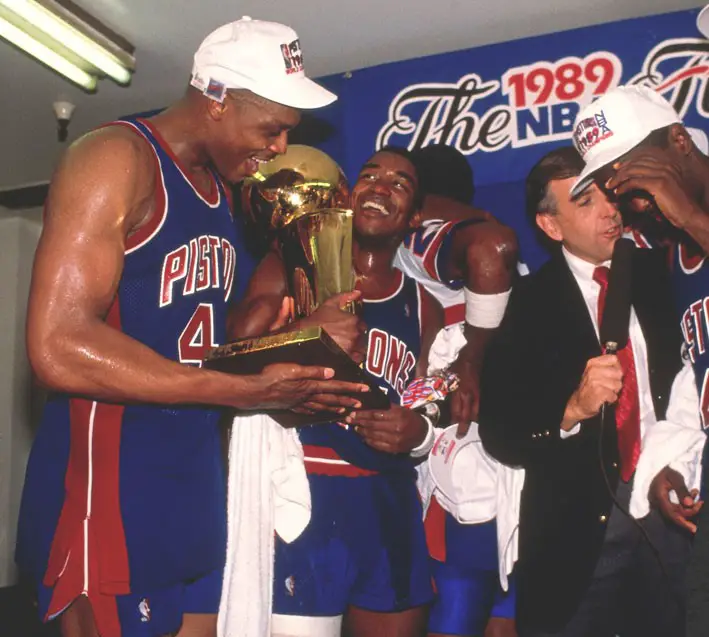 Mahorn Rejoined Pistons in 1996 and Retired in 1999
Mahorn was selected in the 1989 NBA expansion draft just days after winning the '89 trophy. However, the teams could only protect eight players from being drafted. After being chosen by the new Minnesota Timberwolves, Pistons' general manager Jack McCloskey attempted to trade him back. 
However, Mahorn never played for the Timberwolves, despite being released by Detroit. Instead, he was traded to the Philadelphia 76ers in 1989, teaming up with Charles Barkley. Mahorn then spent four seasons with the New Jersey Nets from 1992 to 1996.
Mahorn then returned to the Pistons in 1996, the year where his salary was reported to be around $400,000, according to WDIV-TV. However, he left Pistons in 1998. Following a second run with the 76ers, he retired after the 1999 season.
Also Read: Steve Francis - Net Worth, Now, Height, Bio & Salary
After Retiring, Mahorn Pursued Coaching and Commentary
Mahorn started his coaching career with Rockford Lightning the same year he retired. The following year, he left the team and went on to work as an assistant coach in Atlanta Hawks until 2002.
Mahorn served as a color commentator for Pistons radio broadcasts and as an assistant coach for the WNBA's Detroit Shock from 2005 to 2009 under former colleague Bill Laimbeer. The pair led the Shock to two WNBA titles in 2006 and 2008.
Subsequently, he became the Detroit Shock's head coach and later the BIG3's Trilogy's head coach, guiding the team to the first BIG3 Championship in 2017. Mahorn is the only person in history to have won championships in the NBA, WNBA, and BIG3.
What Is Rick Mahorn Doing Now?
Today, Mahorn works as an on-air analyst for the Detroit Pistons and a co-host/analyst on SiriusXM NBA Radio. 
He is also a college basketball analyst for Compass Sports radio. In addition, he is the Michigan brand ambassador for DraftKings sports betting.
Mahorn also has an official merch selling "Bad Boys" t-shirts, hoodies, and other accessories. Moreover, he also runs a big man & guard skills development program called Bigman Camp.
Mahorn was Known as the Baddest Piston Star
Mahorn was called the "Baddest Bad Boy of them All" by Piston announcer George Blaha. In 1989, he won his sole NBA championship as a member of the Bad Boys in his fourth season with Pistons. 
Mahorn was a member of a Pistons squad popular for its aggressiveness, which bordered on the dirty play, with Laimbeer and Rodman. Mahorn used his physical presence and intimidation to help the team.
On the other hand, Laimbeer was regarded as one of the NBA's dirtiest players, and Rodman gained attention to himself by his outrageous antics, aggression, and rebounding skills.
Rick Mahorn Credits his Children's Upbringing to his Wife 
Mahorn is married to Donyale Mahorn, with whom he has six kids, two sons, and four daughters. Mahorn won the title of 'Hartford Celebrity Dad' in 1999. However, there is no information about the couple's wedding date.
He attributes his children's successful upbringing to his wife. "If you're going to be a professional athlete and have a family, you have to have a strong mate. My wife, Donyale, is the Father of the Year in this situation. The father and the mother. In some ways, the best time of the year for her is when the season ends when she doesn't have to do both jobs," Mahorn said in one of his old interviews.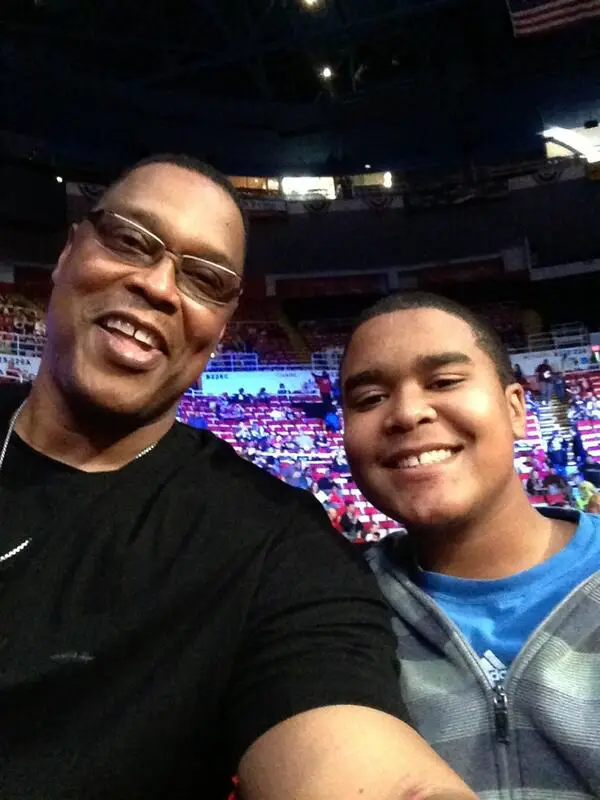 Family Inspired Him to Get a Degree
Mahorn finished his degree at Hampton University in 2015, 35 years after leaving for the NBA. 
He only hopes his mother, who died in 1993, could be there with him. Her encouragement motivated Mahorn to complete the last 12 credit hours required for his liberal arts degree.
In 2015, Mahorn mentioned that her mother inspired him to graduate in an interview with NBA. He said, "She started it. She was 16 when she had my older brother." He added, "But she wanted to graduate high school. She went to night school and she graduated six months before he did. It was inspiring to me."
It wasn't until Mahorn's children entered college that Alice Mahorn, his mother's encouragement, motivated him to continue what he started at Hampton.
Filed Bankruptcy in 2010
Mahorn opted to invest and finance in multiple properties in the Detroit metro region after getting a position as Piston's radio commentator.
Unfortunately, his investments collapsed when Motor City's economy collapsed in the late 2000s, forcing him into bankruptcy. Mahorn entered bankruptcy in 2010 with more than $500,000 in obligations. 
He and his wife barely have $1,101 to their names and even had to sell Mahorn's championship ring to assist cover expenditures, demonstrating the financial difficulties he faced.
Moreover, paperwork revealed that Mahorn owed $55 in late fees to a local library.