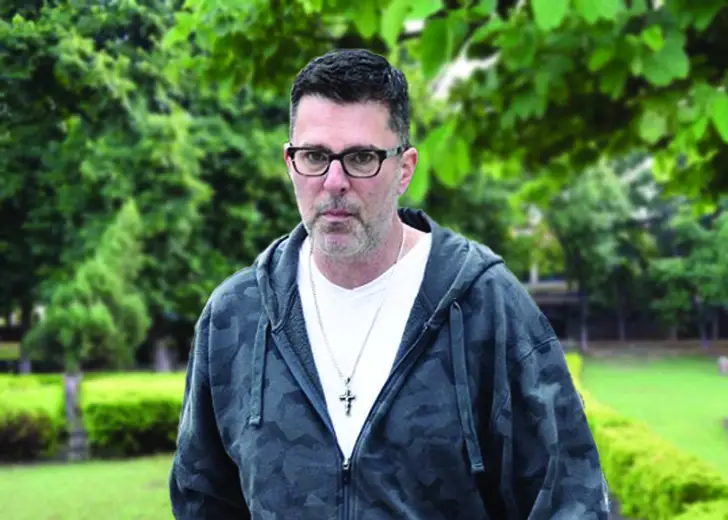 Quick Wiki
Full Name

Paul Cerrito

Birth Date

Not Disclosed

Nationality

American

Occupation

Businessman

Relationship Status

Married

Wife

Yasmine Bleeth

Wedding Date

2002

Net Worth

Not Disclosed ($2 Million - Wife's)
Husband Of Yasmin Bleeth
Paul Cerrito | Biography
Formerly Owned Strip Clubs
Paul Cerrito is the husband of actress and model Yasmine Bleeth. 
---
Who is Paul Cerrito?
Paul Cerrito met The Baywatch actress Yasmin Bleeth in 1997 at a rehab. His initial years and path to addiction have not been revealed. However, the Daily Mail reported that he once owned strip clubs and operated businesses.
He married Bleeth on 25 August 2002, only a couple of years after knowing each other. 
Besides that, Cerrito made headlines in 2017 when he claimed he was suing Disney after reportedly injuring himself while filming a show at his family home by stumbling over equipment. 
He alleged that he was permanently disabled after damaging his back in the fall and sustained a spinal injury due to the event, which occurred when he was recuperating from a fall at a grocery shop. In addition to Disney, he was also suing the business he first fell after sliding in a pool of water in December. 
And as a result, the Daily Mail reported that he was using a walker at his house because of the original fall, alleging he received additional injuries after tripping over Disney's equipment.
Wife Yasmin Bleeth
Yasmine Amanda Bleeth was born on 14 June 1968 in New York City. Carina, her mother, was a model, and Philip, her father, was a business owner. When she was just ten months age, she made her debut in a commercial for Johnson & Johnson's No More Tears baby shampoo. And she attended the United Nations International School in New York.
She made her official debut in the 1983 movie Baba!, and she went on to act in the series Ryan's Hope, One Life to Live, and the movie A Face to Die For, among others. 
Also Read About - Jordan Warkol - Voice, Now, Age & Froggy
But her signature performance came with the 1993 series Baywatch where she played the role of Caroline Holden. She gained immense popularity and stardom from the show. Then, in 1997, she was fired from the show after a series of misbehavior and her uncontrolled cocaine dependency. 
After Baywatch, she appeared on a couple of projects, but she also enrolled in a rehabilitation center where she met Cerrito. In an interview, she talked about the intensity of their relationship, which made her fall in love and marries, "They say you shouldn't get into any relationship in the first year of sobriety — especially with someone in the program, but Paul and I fell in love immediately."
However, Bleeth was arrested in Michigan in 2001 after driving onto an interstate median strip. In her handbag, police discovered four syringes carrying a liquid form of cocaine and cocaine residues. And after getting a warrant to search her hotel room, they uncovered drug paraphernalia and cocaine.
Two months after the incident, she accepted a plea deal and pled guilty to driving while intoxicated and possessing less than 25 grams of cocaine, earning a sentence of two years probation and 100 hours of community service.
Subsequently, she also wrote a personal article in the April 2003 issue of Glamour Magazine, entitled 'Back from My Drugs Hell.' In the piece, she talked about the aid drugs were providing her and her upcoming life choices where she would live avoiding the drug completely. 
In addition, Bleeth is an advocate of cancer awareness as she lost her mother to breast cancer. 
As of now 2022, Bleeth and Cerrito are together without any children. She also appeared in the 2021 film Whack the Don as Lola and is set to appear in the movie Beautiful Evil as Baroness. 
Net Worth
Although Cerrito's estimated worth has not been disclosed, his wife, Bleeth, holds an accumulated wealth of $2 million, as per celebrity net worth.