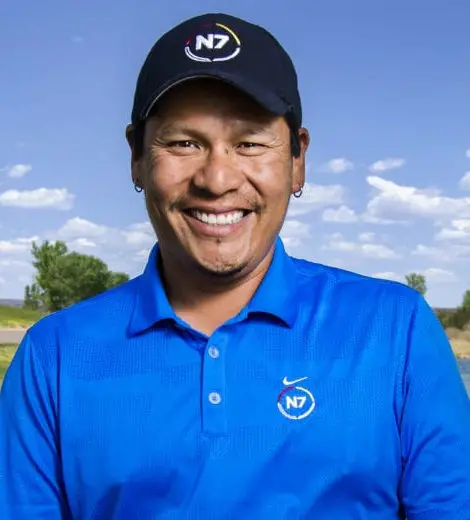 Quick Wiki
Full Name

Notah Ryan Begay III

Occupation

Sports Ananlyst, Former Professional Golfer

Nationality

American

Birthplace

New Mexico, USA

Birth Date

Sep 14, 1972

Age

50 Years, 8 Months

Zodiac Sign

Virgo

Height

5 Feet 10 Inches (1.778 Meters)

Net Worth

$5 million to $10 million
Analyst at Golf Channel, NBC
Notah Begay | Biography
During his high school years, Notah Begay III was the No. 2 golfer in the nation
In 2010, Begay made his Golf Channel debut and joined NBC Sports Group full-time in 2013. Eventually, he began working as an on-course reporter for Golf Channel, and NBC Sports' PGA Tour live tournament coverage.
---
Notah Ryan Begay III is an analyst at Golf Channel and NBC.
Short Bio
Notah Begay III is a Native American professional golfer. He was born on 14 September 1972 in Albuquerque, New Mexico, and is half Navajo and half Pueblo. He is the third generation in his family to be named Notah Begay. Notah Begay I defended the country during World War I, and Notah Begay II also fought for his country.
He Achieved Athletic Success At A Young Age
Begay's love for golf began at the young age of six. Later, he competed in American Junior Golf Association (AJGA) events from 1987 to 1989 as a junior golfer. In 1987, he was named a Rolex Junior All-American after winning two AJGA tournaments at the Southwestern Junior and the Meridian Junior Classic. 
During high school, Begay played different sports. He led his basketball team to back-to-back state championships in New Mexico and earned all-state honors in basketball and soccer. 
Begay began his career in golf professionally in High School itself. During his high school years, he was an All-American in golf and the No. 2 golfer in the nation. He was also voted New Mexico's high school athlete of the year in his senior year of high school.
He Made A Stanford Coach Believe He Was Extraordinary
Though Begay was a talented athlete, he was not a top student. In 2001, his father, Notah II, told Stanford Magazine that when Begay started getting recruited by Stanford, Begay's friends believed that he would never get in. However, Begay took it as a challenge and became determined to go to Stanford. "To make good on his vow, Begay started going to school an hour early and staying late to work with an English teacher on improving his verbal skills for the sats," said Notah II. He ultimately landed a spot at Stanford.
Begay's recruitment to play college golf at Stanford came from his performance during the high school basketball game instead of golf. Stanford coach Wally Goodwin never saw Begay hit a golf ball before he signed him, but he did see Begay lead the Academy basketball team to the state championship as a shooting guard.
"We won the state championship and then he's like, well, if this kid's half as good as he is on the basketball court, I want him on my golf team," Begay told Golf Magazine in June 2021. The former Stanford coach Goodwin also said to Stanford Magazine back in 2001 that he quickly realized that Begay was extraordinary in leadership and fight and determination.
Begay competed with and tried to beat teammates such as Tiger Woods, Casey Martin, Brad Lanning, Steve Burdick, and Will Yanagisawa during his college days.
He was a letter winner in 1991, 1992, 1994, and 1995. He also earned All-America honors in 1992, 1994, and 1995. In addition, he was a third-team All-American in 1992 and a member of the National Championship Team in 1994.
Begay led the Stanford Men's Golf Team to the national championship as a first-team All-American in 1994. He finished his collegiate career with a stroke average of 72.6. His lowest score win came during the 1994 NCAA championships when he shot a 62 and finished one stroke shy of the school record held by Woods. 
He graduated with a degree in Economics from Stanford University in 1994.
His Professional Journey Started In 1995
After graduation, Begay subsequently turned professional in 1995 and joined the Professional Golfers' Association (PGA) Tour in 1999. He eventually collected six victories. Some of his victories include four on the PGA Tour, where he earned a top-20 world ranking. He also became one of the few golfers to shoot 59 in the second round of the Nike Tour Dominion Open in 1998. 
In 1999, Begay won two tournaments on the US tour as a rookie. During the tournament, he drained a 22-foot birdie putt to beat Mark Calcavecchia on the final hole. 
Begay is one of only three players (Woods and Phil Mickelson are the others) to win twice in his first two years on the Tour and the first man to notch back-to-back tournament victories. In 2000, he placed in the top 10 in four PGA events. Additionally, he was also a member of a U.S. Walker Cup team and a US Presidents Cup team, where he partnered with former Stanford standout Tiger Woods. By 2001, Begay's career winnings had already exceeded $2 million.
In 2009, Begay was named one of Golf Magazine's Innovators of the Year. In addition, the Institute for International Sports named him one of the Top 100 Sports Educators in the world. 
In 2010, Begay made his Golf Channel debut and joined NBC Sports Group full-time in 2013. Eventually, he began working as an on-course reporter for Golf Channel and NBC Sports' PGA Tour live tournament coverage. 
He also works as an analyst for Golf Central Live From programming airing on-site from the game's biggest events. Additionally, Begay often works as an analyst on Golf Channel's Golf Central and is a contributor to Golf Channel's coverage of the NCAA Golf Championships.
In 2014, Begay was inducted into the Stanford Athletics Hall of Fame for actively working to benefit Native American causes since his graduation from Stanford.
Also Read: Sam Burns - Professional American Golfer
He Is The Founder Of Notah Begay III Junior Golf National Championship
In 2019, Begay founded the Notah Begay III Junior Golf National Championship (NB3 JGNC). It provides playing opportunities for all junior golfers between the ages of eight and eighteen to compete in the open competition, leading them to become one of the best junior golfers in the world. 
The NB3 JGNC Series consists of a two-stage qualifying process whereby players qualify by playing in an 18-hole Local or 36-hole Regional tournament. When they qualify, they are invited to the 54-hole National Championship, which is featured on GOLF Channel during a two-hour broadcast in December each year. The entirety of the series covers more than 40 states across the continental United States.
Golfers who participate in an NB3 Local Qualifier compete in one of the eight divisions, divided by player's age group and gender. The NB3 JGNC offers Qualifying Spots by Division such as Boys 16-18, Girls 16-18, Boys 14-15, Girls 14-15, Boys 12-13, Girls 12-13, Boys 10-11, and Girls 10-11.
In 2021, Piedra Vista High School's senior Quinn Yost won the NB3 JGNC at the Koasati Pines at Coushatta Golf Course in Kinder, Louisiana, beating out more than 50 golfers in his age group. Yost won the three-day tournament with a final score of 12-under par. 
In 2022, players who qualify through the available spots will move onto the NB3 Regional Qualifier on 23-24 July at Loomis Trail Golf Club in Washington State.
He Is Going To Be The First Native American To Lead The Junior President's Cup Golf Team
The Junior Presidents Cup is a junior team golf competition between the United States and the International team from around the world, excluding Europe. It was developed to provide the world's top non-European juniors an opportunity to compete with an international team and showcase the global reach of junior golf. 
Launched by the PGA Tour in partnership with the American Junior Golf Association in 2017, it features 12 of the world's top junior boys from each team aged 19 or younger competing for the junior championship.
On 30 March 2022, the Presidents Cup and the American Junior Golf Association announced the return of the Junior Presidents Cup with Begay and South Africa's Tim Clark as the captains of the U.S. and International Teams, respectively.
Begay is the first Native American to receive such a designation in the history of golf and the PGA Tour. As a player it was special to represent my country at the Presidents Cup, so to now be asked to captain the junior team is truly an honor," Begay said. "This event is a wonderful chance to showcase the next generation of stars at golf's highest level. Every one of these kids wants to play on TOUR, so my goal is to be a resource for them not only in preparation for their matches but also as they look toward a future in the professional game."
The third Junior Presidents Cup will be contested on 19-20 September 2022 at Myers Park Country Club in Charlotte, North Carolina. During the two-day tournament, the teams will compete in six Four-Ball and Foursomes matches on the first day, followed by 12 Singles matches on the second day. 
The U.S. Junior Team defeated the International Team by 13-11 in the second edition of the Junior Presidents Cup. It was held in 2019 at the Royal Melbourne Golf Club in Melbourne, Australia, where The United States' Justin Leonard led the U.S. Team, and Australia's Stuart Appleby led the International Team.
The first edition also witnessed the victory of the U.S. Team with a 14-10 record. It was held in 2017 at the Plainfield Club in Edison, New Jersey, where David Toms led the U.S. Team, and South Africa's Trevor Immelman led the International Team.
Members of each team qualify through a ranking system. In 2022, ten members of the U.S. Team will be selected based on the Rolex AJGA Rankings, and ten members of the International Team will be chosen based on the World Amateur Golf Ranking on 19 August. 
Begay and Clark will select the 11th player for their respective teams. Meanwhile, the 12th spot will be awarded to the best player based on the Rolex AJGA Rankings for the U.S. Team and the World Amateur Golf Ranking for the International Team on 8 September 2022.
How Much Money Does Notah Begay Make?
Begay's exact net worth is unknown. However, his career earnings are in the millions. As per PGA Tour, Begay's total career earnings in the 2022 season are $5,207,339. The PGA Tour has ranked him 349th based on the money he earned as a player during his career on the PGA Tour. His lifetime friend Tiger Woods ranks first in the statistics with the highest career earnings of $129,895,206.
He Had Been Sentenced For Drunken Driving Offenses
Begay has been registered twice for a drunken-driving conviction. The first conviction was in Arizona. Due to his first conviction, he was locked up in jail for a week, which made him miss the Florida circuit in March. 
The second conviction was when he came out from an Albuquerque saloon and got in his car, which made him lurch into an expensive Jaguar in a car-park fender-bender. When the police arrived, Begay was registered for a blood/alcohol content of 0.21, which was twice the legal limit. 
He Is A Married Man
Despite many rumors, Begay is not gay. He is married to Apryl. The couple tied the knot in November 2005. Begay wished his wife during her 40th birthday on Twitter. The couple together has three children.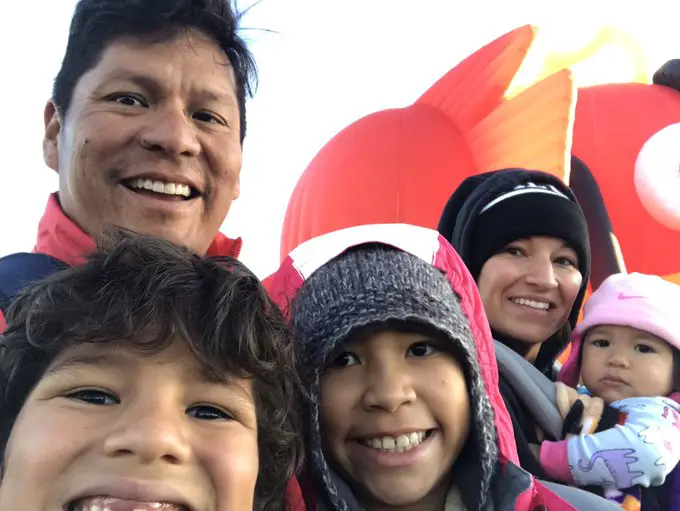 The family lives in his hometown, Albuquerque, New Mexico, in a modest adobe-style house at the foot of the Sandia Mountains. They two make appearances and are often seen enjoying the basketball game at his old high school.