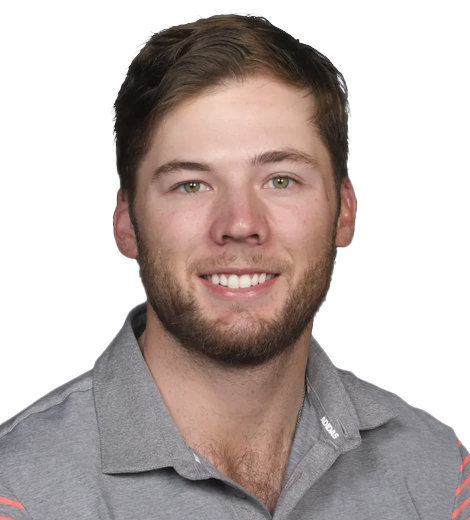 Quick Wiki
Full Name

Sam Holland Burns

Occupation

Professional Golfer

Nationality

American

Birthplace

Shreveport, Louisiana, USA

Birth Date

Jul 23, 1996

Age

27 Years, 2 Months
Professional American Golfer
Sam Burns | Biography
He Has One Victory on the PGA Tour, the Valspar Championship in 2021.
Sam Burns debuted on PGA Tour debut as a professional in October 2017 at the Sanderson Farms Championship. After finishing T43, he competed in the Shriners Hospital for Children Open a week later and finished T20. Burns received guaranteed starts in the first 12 Web.com Tour events of the 2018 season by completing T10 in the final stage of the Web.com Tour Qualifying Tournament.
---
Sam Holland Burns is an American golf professional winning in the 2021 Valspar Championship, a tournament on the famous PGA Tour. The player has two notable wins, one PGA Tour win and one Web.com tour win.
Who Is Sam Burns?
Sam Burns is an American professional golf player. Burns established 76 careers in the PGA Tour then, at 24, defeated Keegan Bradley at the Valspar Championship, claiming his first PGA Tour win. In 2018, he was paired with Tiger Woods in the last round of the Honda Classic, and he defeated Woods by two strokes in the day.
Besides playing golf, watching American football, swimming, and hunting, Burns is also passionate about charities helping those with Juvenile Diabetes, type 2 diabetes, as his best friend is also a patient of it.
Early Life and Education
Sam Burns was born on 23 July 1996 in Shreveport, Louisiana, to mother Beth and father, Todd Burns. He has two elder siblings, Chase and Tori. His parents met while they were both attending Louisiana Tech University. Born to a very enthusiastic family about football, his father and brother were collegiate football players, and his mother enjoyed Friday night lights. Burns also showed enthusiasm towards football and played it but until middle school. Around his middle school years, he grew focused on golf rather than football. 
Under the tutelage of his brother Chase, Sam hit his first-ever golf swing in the spring of 2001 in his residence's backyard. He knocked the ball straight 70 yards in the air with a sweet 5-yard draw. Burns was just four years old then. But after continuous swings with the same performance, Chase was confident that his brother would be a golf phenomenon if he pursued it. "The golf gods have blessed little Sam," Chase and Todd had the same thought.
Burns' mother, on the other hand, was determined to build a football family. He was about to be an eighth-grader when he informed his mother regarding his decision to quit football. She wasn't surprised because she was well aware of how Burns could play golf. Instead, she believed her son was good at anything he tried and stood firm on golf, being one of his passing phases. 
When Burns was young, his mother was rigid in making him a football player. Just so he wouldn't quit right away, she even promised to put green in the yards to play a season more. To get the green in the yards, Burns played that season. The mother and son duo enjoyed their one last season of the fall Friday nights. However, after that, Burns walked the way to golf. 
Until Burns was 15 years old, his older brother Chase remained as his swing coach. All Chase wanted was to keep Burns adjusted to the swings he did on his first day because that was his strength. He wanted Burns to be comfortable with his swings to the point he could duplicate them repeatedly with no fail. Chase even ended things with Burns' new swing coach when he saw the coach changing his biggest strength, i.e., his original swings. 
Regarding his education, Burns went to Calvary Baptist Academy and then Louisiana State University (LSU). 
Early Career
During his prep time at Calvary Baptist Academy, Burns helped the varsity team win the first of five straight state championships in golf. In 2014, he was labeled AJGA Rolex Junior Player of the Year for his remarkable performance. Burns was a collegiate golf player at Louisiana State University. There, he achieved four victories in 15 collegiate tournaments during his sophomore season; his scoring average of 70.05 broke the school's single. He was named All-American, an honorific title presented to outstanding athletes in a specific sport competing at collegiate or secondary school settings. He was also honored with NCAA Division I Jack Nicklaus National Player of the Year for the 2016-17 season. 
In addition to this, Burns also played in the 2017 Arnold Palmer Cup team representing the USA team, and even won it. He even qualified for the PGA Tour's 2017 Barbasol Championship as an amateur, where he finished T6. 
Professional Career
Burns debuted on PGA Tour debut as a professional in October 2017 at the Sanderson Farms Championship. After finishing T43, he competed in the Shriners Hospital for Children Open a week later and finished T20. Burns received guaranteed starts in the first 12 Web.com Tour events of the 2018 season by completing T10 in the final stage of the Web.com Tour Qualifying Tournament. In February 2018, he finished T2 at the Colombia Championship. Burns also finished T7 at the Honda Classic with Tiger Woods as his final-round playing partner. This earned him a spot in the Valspar Championship, where he finished T12. He won his first professional title on the Web.com Tour at the 2018 Savannah Golf Championship, where he birdied the final three holes to defeat Roberto Castro by a stroke. At the end of the 2018 Web.com Tour season, he earned a spot on the PGA Tour.
Burns has been a player in the PGA Tour since the beginning of the 2018–19 season. In February 2021, he finished solo third at the Genesis Invitational, one shot out of a playoff with Tony Finau and Max Homa, with Homa ultimately winning. Burns won the Valspar Championship in May, his first PGA Tour victory. Burns won by three strokes over Keegan Bradley, who shot a final-round 68.
PGA Tour 2021
Burns carried a dream of winning on the PGA tour from a very young age. Finally, he actualized his dream by winning the 2021 Valspar Championship, a PGA Tour professional golf tournament held annually on the Copperhead Course at Innisbrook Resort and Golf Club in Palm Harbor, Florida, northwest of Tampa. It was his 76th career on the PGA Tour.
Burns had enough birdies on Innisbrook's Copperhead Course to finish with a 3-under 68 and a 72-hole total of 17-under 267 in his 76th Tour appearance. Burns and Bradley pulled away from the group on a winning day early on Sunday afternoon, and a Burns birdie on 11 matched the duo at 17 under. On 12, they both made pars, but on 13, everything changed. Bradley made double bogey on the 182-yard par-3 by hitting his tee shot into the water short of the green. Burns made par on the 14th hole before birdieing the 15th to grab a three-shot lead. On 15, Bradley had an opportunity to take advantage of a Burns error, but he missed his four-footer for par and couldn't earn a stroke. Instead, he rolled in an 18-footer for birdie to extend his lead to four in the 16th hole. Burns bogeyed the 18th, but he still beat Bradley by three strokes. Bradley ended up being the sole runner-up.
Bradley's misfortune water ball on 13 gave Burns a two-shot lead and vital momentum, which rode to his first Tour win. Upon this error and his first win, Burn said in an interview, "It was definitely a fortunate break. Sometimes I think it's just, you got to have a couple of those to win. And that was one of them."
Personal Life
After dating for four years, Sam Burns and Caroline Campbell, the couple got married in 2019. Campbell was Burns's first valentine when they were just five years old. However, they didn't date until high school. Things spiced up after Burns joined LSU as a freshman and Campbell was a sophomore there then. "And you know, I hope that we'll have many years together and grow old together and get to enjoy a lot of fun things together," he said in one of his interviews.