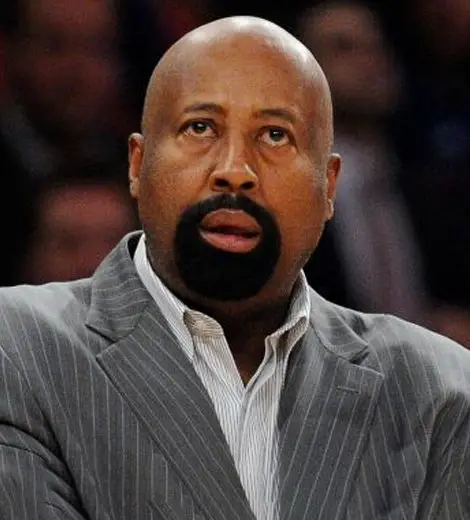 Quick Wiki
Full Name

Mike Woodson

Occupation

Basketball Coach, Former NBA Player

Nationality

American

Birthplace

Indianapolis, U.S.A

Birth Date

Mar 24, 1958

Age

65 Years, 8 Months

Nickname

Woody

Zodiac Sign

Aries

Religious Affiliation

Christianity

Did You Know?

Both of his daughters are professional volleyball players.

Wife

LaQuita Howard

Father

Chester Woodson

Mother

Odessa Woodson

Height

6 feet 5 inches (1.96m)

Weight 195lbs (85kgs)
Ethnicity

African-American

Net Worth

Undisclosed

Relationship Status

Married

Education

Graduated

University

Indiana University
Basketball Coach of the Indiana Hoosiers Men's Team
Mike Woodson | Biography
Former Head Coach of New York Knicks
Woodson and Indiana have reached an agreement on a six-year contract worth $3 million per year. The team signed him in early 2021 in replacement of Archie Miller. His buyout was set at 100% of his remaining contract for the first four years and 50% of his guaranteed compensation for the final two. According to the contract, he would also get bonus incentives in certain specific situations such as $100,000 if the team secures the Top 3 of the B1G, $85,000 for a Sweet 16 appearance, and $100,000 if the team's achieved  APR (Academic Progress Rate) score above 950.
---
Michael Dean Woodson is a head coach of the Indiana Hoosiers men's team.
Who is Mike Woodson?
Mike Dean Woodson was born on 24 March 1958 in Indianapolis. Woodson is an American basketball coach and former professional basketball player who served three seasons as an assistant coach for the Milwaukee Bucks from 1996 to 1999.
He also worked for the Detroit Pistons from 2003 to 2004 and helped win an NBA Championship under head coach Larry Brown.
Woodson took over as the head coach of the Atlanta Hawks for the 2004–05 season. For the first time in eight years, he led the Hawks to the playoffs in 2007–08. Woodson has led the Hawks to the Eastern Conference Semifinals in each of the previous two seasons.
Woodson was hired as an assistant coach by the New York Knicks on 29 August 2011, under head coach Mike D'Antoni. Following D'Antoni's resignation on 14 March 2012, Woodson was named interim head coach.
After two and a half seasons as head coach of the New York Knicks, Woodson and his entire coaching staff were fired on 21 April 2014.
Also Read: Jimbo Fisher - Age, Wife, Son, Net Worth, Bio, Salary
The Los Angeles Clippers proclaimed Woodson's hiring as an assistant coach on 29 September 2014. However, he left the team in 2018. Then, from 2020 to 2021, Woodson worked for the New York Knicks as an assistant. 
Woodson was drafted in the 1980 NBA draft by the New York Knicks. He starred for the New York Knicks for two years before being traded to the New Jersey Nets.
Later, he was traded from the New Jersey Nets to the Kansas City Kings. Woodson retired from his playing career in 1990 after playing in the NBA for ten years.
As the Coach of the Indiana Hoosiers
Woodson is currently the coach of the Indiana Hoosiers. He was interviewed in the last week of the regular season in 2022, with a home game against Rutgers. 
During the interview, Woodson discussed various topics, including Hoosiers point guard Xavier Johnson's continued improvement, the advantages of having Rob Phinisee back, and more.
In March 2021, Woodson took part in an interview with play-by-play voice Don Fischer, which aired on the IU basketball Facebook page.
Woodson began by stating that returning to Indiana was his ultimate coaching goal. He said, "I think I've accomplished everything I've ever wanted to accomplish in basketball and this is the final straw for me."
Woodson's major concern at the time was persuading Indiana players in the transfer portal to remain in Bloomington. He stated he attempted to arrange meetings with both players and their parents.
Woodson also discussed playing a modern game with a spaced floor and players who can play multiple positions during his introductory press conference. When he was coaching the Atlanta Hawks, Woodson admitted he didn't believe in the three-point shot at first. 
However, he switched his coaching philosophy to be more centered on taking a high volume of 3-pointers when he coached the New York Knicks and Carmelo Anthony.
He Has Two Daughters With His Wife
Woodson is married to Terri LaQuita Howard. The couple has two daughters, Mariah аnd Alexis, who attended the Woodward Academy.
Terri gave birth to their first daughter, Alexis Onea, on 16 October 1989 in Atlanta and welcomed their second daughter, Mariah Kayla, on 6 May 1991.
Unlike Woodson, his daughters are volleyball players at Georgia Tech.
Woodson and his wife Terri are seen together in several events together. For example, they appeared together at the 2016 Woodson Gala at 1OAK in the Mirage Las Vegas.
He Shares Picture with His Family on Social Media
On 2 January 2020, Woodson shared a photo with his wife on Instagram after spending the new year's night together. "We had such a great time bringing in the New Year with incredible friends. Cannot wait to see what 202O has in store for each of you," he captioned it.
Similarly, Woodson and his wife, Terri, celebrated their anniversary on 9 August 2019. He also posted a picture on Instagram on occasion and wrote, "Look at us celebrating our anniversary- plus enjoying the Pumps event. Woody looks good/ phenomenal for someone that shoots 74 on the golf course that would be his anniversary wish. Granted."
Likewise, Terri shared a family photo on her Twitter account on 26 December 2017. She captioned the photo, "The King and his Court! Merry Christmas to all from the Woodsons."

A Multi-million Dollar Contract & Salary
According to the Saturday Tradition, Woodson and Indiana have agreed on a six-year contract worth $3 million per year. The team signed him in early 2021 in replacement of Archie Miller.
Woodson's buyout was set at 100% of his remaining contract for the first four years and 50% of his guaranteed compensation for the final two. 
According to a memorandum of understanding released in 2021 by the school, Woodson received a six-year contract worth an $18 million deal to turn Indiana University around. In addition, the contract's performance bonuses could raise the deal's value to approximately $20 million.
The school will pay $550,000 of Woodson's $3 million annual salaries, with the remaining $2.45 million coming from supplemental compensation, including a yearly marketing and promotional income.
He Will be the Big Ten's Third-highest Paid Coach Next Season
Next season, Woodson will be the Big Ten's third-highest paid coach, trailing Michigan State's Tom Izzo ($6.63 million) and Illinois' Brad Underwood ($3.8 million). Moreover, Iowa coach Fran McCaffery signed a new contract that will pay Woodson $2.9 million in the coming season, rising to $3 million in 2022-23 and $3.3 million in 2023-24.
The contract includes bonuses for Woodson such as: 
$250,000 for winning the NCAA championship $175,000 for reaching the NCAA title game
$125,000 for winning a Big Ten regular-season title
$125,000 for reaching the Final Four, $100,000 for finishing in the Top Three in the Big Ten
$50,000 for winning Big Ten Coach of the Year and $50,000 for either AP, $50,000 for winning the Big Ten Tournament
$50,000 for reaching the Elite Eight, $35,000 for earning the Sweet 16, $25,000 for reaching the NCAA Tournament, and others.
Moreover, the contract involves a $100,000 academic incentive if the team achieves a calculated multi-year APR of 950 or above on 30 June of each contract year.
Other benefits include $10,000 in Adidas product orders, $50,000 in moving expenses, a courtesy car, family travel for away games, priority level season tickets, membership to the school's Pfau Golf Course, etc.
If Woodson resigned before 31 March 2024, he would have to pay a $3 million buyout. Woodson's buyout after that date is $500,000. 
On the other hand, if Woodson is fired without cause before 1 April 2025, the university must pay him 100% of his remaining base salary until the end of the contract. And, if Woodson is fired after 1 April 2025, his pay is reduced to 50% of the remaining contract value.
His Second Session with the New York Knicks
Woodson joined New York Knicks as an assistant in 2011 and took over for Mike D'Antoni in March 2012. Before being fired in April 2014, he coached 188 regular-season games for the Knicks, winning 109 of them.
He has the third greatest winning percentage (.580) and the seventh most victories (109-79) in team history. He guided the squad to a 54-28 record and its first Atlantic Division title since the 1993-94 season in 2012-13. The 54 victories were the highest by a Knicks club since the 1996-97 season when they reached the Eastern Conference Semifinals for the very first time since 2000.
In June 2020, SNY's Ian Begley and Danny Abriano mentioned that Woodson is one of the candidates the Knicks will interview for the head coach position.
In an interview with Ian Begley in 2020, Woodson said, "The bottom line is I'm happy as hell to get another opportunity to interview for this job." He added, "I couldn't be happier. When I left there, I thought one day, hopefully, I'll get a shot at coming back. And this is the shot. I'm ecstatic."
Woodson also spoke to Marc Berman of the New York Post and said, "I don't want to hide the fact I'd love to be back." He continued, "I'd like to finish what I started. At the end of the day, you want to come to New York, based on my body of work there. I want it to be mutual. I want them to want me. I hope they call me."
Woodson is the last coach to guide the franchise to the playoffs (2012-2013). Woodson mentioned, "I did my job when I was here. We won games. The fan base was engaged. I walked out of the Garden many nights thinking that the fans were proud and excited about what we were doing. Am I capable of coming back to New York and helping them build a winning team again? I feel confident in that, I absolutely do."
Later, in September 2020, he was hired as the assistant coach for the New York Knicks.