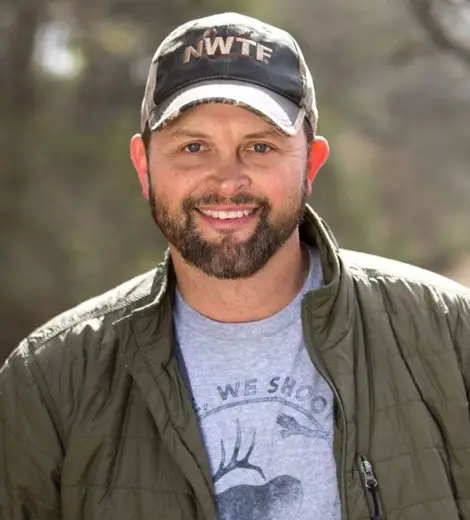 Quick Wiki
Full Name

Michael Waddell

Occupation

Outdoor Hunter

Nationality

American

Birthplace

Booger Bottom, Georgia, USA

Birth Date

May 07, 1973

Age

50 Years, 6 Months

Zodiac Sign

Taurus

Wife

Christie Waddell

Height

5 Feet 10 Inches

Net Worth

$500 Thousand (celebritynetworth)

Relationship Status

Married
Co-Host Of 'Realtree Road Trips'
Michael Waddell | Biography
Professional Bone Collector
Furthermore, Realtree started their hunting show, 'Realtree Road Trips,' in 2002 with Waddell as one of the main casts. The show showcased the hunter's life behind the camera and their real-time hunting experience. It became an instant hit on the Outdoor Channel. Moreover, in 2005, 2007, and 2008, it was named 'Fan Favorite Hunting Show.' It also won several 'Golden Moose Awards.'
---
Michael Waddell is a turkey calling champion and renowned TV personality best known for his on-screen hunting skills. He also appeared on the American Outdoor Channel's reality show, Realtree Road Trips.
Who is Michael Waddell?
Michael Waddell is a hunter who was 11 years old when he killed his first whitetail buck, which won him a local contest. He began chasing turkeys about the same time, but initially, neither he nor his father had any experience hunting them.
Waddell started his TV career in 1994 as a crew member of the Realtree shows. Before that, he worked as a full-time air-conditioner mechanic. In addition, he spent his weekends participating in turkey calling competitions and won several of them.
He landed a job in TV when Bill Jordan, creator of Realtree, approached him during one of the turkey-calling contests. Waddell had won many of those competitions, and Bill Jordan had heard of him via several of Realtree's pro personnel. Bill was later introduced to him during a turkey-calling tournament in Perry, Georgia, which he won in 1994.
Bill ended up putting him on Realtree's hunting advisory staff after they met. Realtree later asked him to lead an outdoor writer's search. He subsequently began carrying a camera with him on other Realtree hunts.
Bill permitted him to go turkey hunting and provide calling suggestions on the films because of his history in turkey-calling competitions. He spent more and more time in front of the camera as time went on until he was a regular in the Monster Bucks films.
Realtree's production firm expanded rapidly at the time, and they needed someone who could travel, operate a camera, and learn to edit. As a result, Waddell was the right person for the job.
Also Read About - Remi Warren - Wife, 'Apex Predator,' Age & Wiki
Realtree started their hunting show, Realtree Road Trips, in 2002 with Waddell as one of the main casts. It showcased the hunter's life behind the camera and their real-time hunting experience and became an instant hit on the Outdoor Channel. Moreover, in 2005, 2007, and 2008, it was named 'Fan Favorite Hunting Show.' It also won several 'Golden Moose Awards.'
Besides Realtree Road Trips, Waddell hosted his own show, Bone Collector, on Outdoor Channel in 2009. In addition, he is the official spokesperson of Outdoor Channel and the National Wild Turkey Federation.
Age and Family Bio
Michael Waddell took birth on 7 May 1973. Born and raised in Booger Bottom, Georgia, USA, he developed a passion for hunting from an early age. 
Talking about his early life with syracuse.com in March 2019, he said, "I'm country as a chicken coop. I grew up in the south. I'm a redneck and I love to hunt."
Waddell's parents had always welcomed foster children, and they adopted Jessica, the first child who came to live with them. So Waddell got closer than ever to his father and sister when his mother died when he was 16 and found sanctuary in Booger Bottom's hardwoods and rolling hills.
He has not revealed any information on his mother and siblings. However, he has brought up his father, Edwin Waddell, in several interviews and media appearances. His father is as passionate as him about hunting and still goes out for it as much as possible. Moreover, his father helps him host the Outdoor Channel's show, Bone Collector.
Hunting
In an interview with Realtree in 2018, Wadell explained that they usually get up before dawn when he and his squad go hunting. The camera crew begins photographing each event first thing in the morning when filming.
They'll spend three to five hours on the stand, depending on the situation and the time of year. Then they'll return to camp, have lunch, set up frames, and decide what approach they'll utilize next. After that, they'll then return to the deer stand. When the deer are most active during the rut, they may spend the whole day in the stand. 
When asked about which one game species Waddell would hunt for the rest of his life if he could only hunt one in the same interview, he said, "I love the camaraderie and the strategy involved in hunting turkeys. I also enjoy learning about the language of the wild turkey. Not only does a hunter have to learn to talk turkey, but he also has to become a good hunter and woodsman in order to take these smart birds."
Podcast
In 2021, Waddell appeared on an episode of Tom Rowland Podcast where he shared insightful things about life and success.
He mentioned in the podcast that Booger Bottom is where he learned to hunt and fish. Waddell further explained, "That's where I learned about life. Obviously, that's where you, you know, you go park and in high school, and first trying to figure out you got full drive on a truck."
He added, "It was where you heard a Turkey gobble from the side of the road or a little Creek that you went fishing in and a little pond that you would slip in to go try to catch a bass or, you know, a mess of bluegill. And so, with that, for me, I think why booger bottom and, and the country boy thing means so much to me."
Wife
Waddell's wife's name is Christie Waddell. Although he has not disclosed their wedding date and dating life details, he regularly posts her images on his Instagram handle @officialbonecollector. The couple has five children.
Waddell and his wife, Christie, celebrated their anniversary on 1 February 2020. He also tweeted on occasion and wrote, "Today we celebrate the best decision you ever made! Happy Anniversary babe. I love you!"
On 12 May 2019, Waddell shared a post on Twitter, wishing his wife mother's day. He captioned the post, "Happy Mother's Day to my wife @waddyswife. We would all starve, live in a mess & be ten time wilder, crazy & Motley without you. But of all things you give us., we thank you for you un wavering, unconditional love!"
Like her husband, Christie is also an avid hunter. And recently, on 22 October 2021, she shot her life's biggest buck. Moreover, Waddell took to his Instagram and shared Christie's achievement with his 536K followers.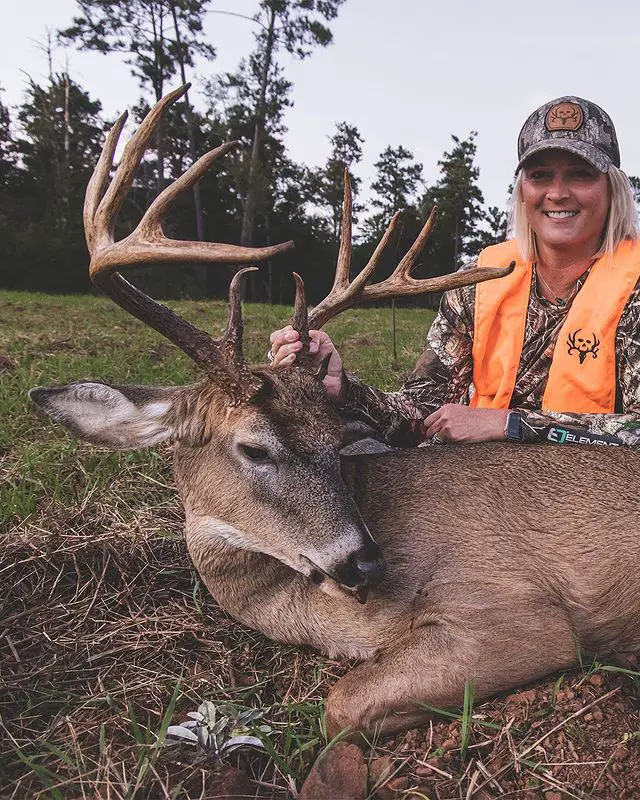 Besides hunting together, Waddell and his wife co-own a kids' clothing line named Bc Raskulls. It mainly features kids' camouflage clothing for hunting purposes. They sell it on the brand's official website, www.bcraskulls.com.
Family
There is not much information about Waddell's family. However, in his self-titled michaelwaddell.com, he mentioned, "I'm blessed with a loving, healthy family."
Waddell was also featured in a YouTube video uploaded by Realtree, where he explained how his family inspired him to be himself and keep walking the path he's on. 
Kids
Waddell shares five kids with his wife, Christie.
On 22 March 2020, Waddell shared a post on Twitter after hunting down a turkey with his father and sons and wrote, "34 years I've never missed opening day of GA turkey season with my Daddy, Paw Paw Waddell. We both getting older & love watching my boys get after them!"
Waddell also shared another post of her daughter hunting her first deer with a bow in Booger Bottom on 13 December 2020. 
He captioned the post, "My daughter Addie did it! She got her 1st deer with a bow in Booger Bottom! Her Paw Paw & Saysa were the best guides on earth. So proud of the sweet girl! Way to Addie! Perfect shot!"
Divorce Rumors
In 2017, there were rumors of Waddell and his wife Christie getting a divorce. The story circulated, claiming that his second marriage ended because he had an affair with the wife of his producer/friend. 
It also said that Waddell and his first wife's relationship ended because he was having an affair with his future second wife. 
However, those claims have not been authenticated, and there has been no official information about Waddell and Christie's divorce.
Net Worth
As of 2021, Waddell's exact net worth, according to celebritynetworth.com, is $500 thousand. His primary income sources are his TV ventures and kids' clothing line.