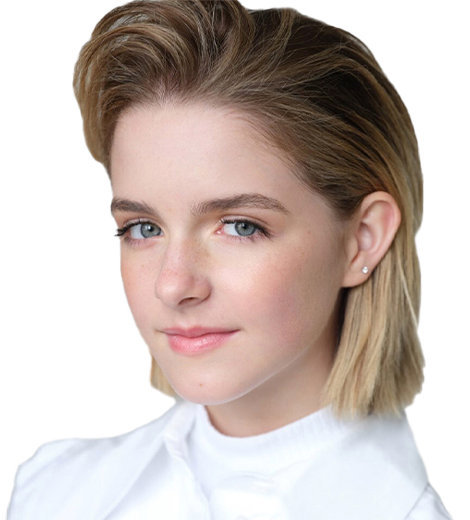 Quick Wiki
Full Name

Mckenna Grace

Occupation

Actress, Voiceover Actress

Nationality

American

Birthplace

Texas, USA

Birth Date

Jun 25, 2006

Age

17 Years, 5 Months

Did You Know?

Grace is a vegetarian.
American Teenage Actress
Mckenna Grace | Biography
Known For Movies Like 'Gifted' and 'Troop Zero'
In the 2017 film 'Gifted,' she played Mary Adler when she was ten years old. She played a 7-year-old math genius who got mixed up in a custody fight between her uncle and grandmother. In the film, Chris Evans played Mckenna's uncle. Mckenna realized, when learning about Mary that she could relate to the character. They not only like math, but they both enjoy playing piano and singing as well.
---
Mckenna Grace is a well-known American actress best known for her role in the film Gifted.
Who Is Mckenna Grace?
Mckenna Grace made her television debut as the sassy younger sister of series star Cole Jensen in the Disney XD series Crash & Bernstein (2012-14). The actress appeared in The Young and the Restless from 2013 to 2015. She has also featured in films including The Angry Birds Movie, Independence Day: Resurgence, and television series like Young Sheldon, Designated Survivor, and Once Upon a Time.
She also played the role of Mary Adler, a 7-year-old math genius, in the 2017 film Gifted. She was also featured in the 2019 American comedy-drama Troop Zero as a girl who wants to record her voice in NASA's Golden Record. Most recently, she appeared in Universal's animated film Spirit Untamed in May 2021. In addition, Mckenna Grace appeared on The Handmaid's Story on 28 April 2021, with the first three episodes available for fans on Hulu. 
Early Life
Grace was born in Texas on 25 June 2006. She always wanted to be an actress. A local YMCA advert and inspiration from a Shirley Temple film series is all it took for the North Texas native to beg her mother to be in the spotlight as an actress. "I just begged her until it got annoying," McKenna shared. "She put me into acting classes and it kind of went from there."
Early Career
Before making her big-screen debut, she acted in commercials for Nintendo, GoldieBlox, and other brands. Then, in 2012, she made her big-screen debut with the series Crash & Bernstein. She played the sassy younger sister of series star Cole Jensen and his puppet best friend. She quickly settled into a seemingly never-ending string of juvenile guest roles in the daytime and prime-time series, including a recurring role in The Young and the Restless from 2013 to 2015.
She then had recurring roles on many shows, including Once Upon a Time, where Grace played the teen version of Jennifer Morrison's Emma Swan, and Designated Survivor, where she co-starred as the youngest daughter of Kiefer Sutherland's American president. She also voiced on The Angry Birds Movie in 2016 and starred in Independence Day: Resurgence the same year.
'Gifted'
In the 2017 film Gifted, she played Mary Adler when she was ten years old. She played a 7-year-old math genius who got mixed up in a custody fight between her uncle and grandmother. In the film, Chris Evans played the role of Mckenna's uncle. Mckenna realized, when learning about Mary, that she could relate to the character. They not only like math, but they both enjoy playing piano and singing as well.
During a two-month film shot in Georgia, Mckenna's love of song helped her connection with Evans. In this film, the character of Evans struggles to keep his niece from being sent to live with his stringent mathematician, who wants Mary. Talking about her connection with Chris Evans, she shared, "We had an immediate connection. On the shoot and off the shoot, we were always singing." 
'Troop Zero'
In the 2019 American comedy-drama Troop Zero, she played a young girl, Christmas. Her character wants to record her voice in NASA's Golden Record, which is sent to space in the hope of aliens' discovery. She was glad to work in the 1977 movie because she loved that period. Grace explained, "The 70s is already my favorite era. I really like the music and the movies. I really love the 70s already, so it was fun to get to shoot in a time period that I love. I already knew a bit, but it's good getting to learn more because I do love the 70s".
'Young Sheldon'
She was first seen in the second episode of the second season, 'A Rival Prodigy and Sir Isaac Neutron,' where Sheldon's envy was fuelled by Paige's intelligence and her attention from Dr. Sturgis (Wallace Shawn). She appeared again in an episode titled 'Carbon Dating and a Stuffed Raccoon,' where she attended a museum lecture on carbon dating and encountered Sheldon (played by Iain Armitage), all of whom were bored with the class. In Young Sheldon's story, she punched Sheldon in the face for talking about his divorced parents in a bible trivia quiz.
Grace's roles have also included portraying the younger version of another actor or the next generation of a cast from a well-known film. For example, in the spin-off/prequel Young Sheldon, she played Paige Swanson, a rival child prodigy that Sheldon befriends.
'The HandMaid's Tale'
On 28 April 2021, Mckenna Grace made her debut on The Handmaid's Story, with Hulu releasing the first three episodes for fans. Grace's character, Mrs. Keyes, is a sharply intelligent adolescent wife of a much older Commander who comfortably runs her farm and household. Mrs. Keyes has a rebellious, subversive streak, and on the outside, she appears calm and religious, but she is tormented, even insane, on the inside.
The Handmaid's Tale is set in Gilead, a totalitarian state in what was once the United States. The state is governed by a fundamentalist government that regards women as state property, and the country is beset by natural calamities and a low birth rate.
'Fuller House'
From 2016 until 2020, Mckenna Grace played Rose Harbenberger in eight episodes of Fuller House. Jeff Franklin developed, and executive produced Fuller House, a Netflix spin-off series based on the classic ABC family sitcom Full House (1987-1995). 
Fuller House follows D.J. Tanner-Fuller, played by actress Candace Cameron Bure, a newly divorced mother of three children: a 13-year-old called Jackson (played by Michael Campion), a 7-year-old named Max (played by Elias Harger), and a newborn baby boy named Tommy (Fox and Dashiell Messitt). Tanner-Fuller, a single mother, juggles her full-time profession by providing for her children's basic needs. To help Tanner-Fuller cope with the occurrences, her sister offers to shift in with her child.
In the series, Grace's character as Rose is the designated love interest of Max, the second son of DJ Tanner-Fuller.
'Annabelle Comes Home' 
Annabelle Comes home (2019) is a horror movie following the Conjuring Universe franchise. Desperate to prevent the possessed doll Annabelle from causing more devastation, demonologists Ed and Lorraine Warren transport the doll to their closed relics room, where she is safely placed behind sanctified glass and blessed by a priest in Annabelle Comes Home. However, one fateful night, Annabelle wakes the evil spirits in the room, who all turn their attention on Judy, Mary Ellen, and Katie Sarife, their new targets.
Grace played Judy, Madison Iseman played Judy's babysitter Mary Ellen, and Katie Sarife played Judy's troublesome companion Daniela in Annabelle Comes Home. The film is the third spin-off of the lucrative Conjuring Universe series, seeing Ed and Lorraine Warren reprise their roles as paranormal investigators, which they have been doing since its first installment. 
Her Role
Grace talked to The Indian Express in 2019 about her role and how she got the part. "My character has powers kind of like her mom; she can see visions, and I think she is a little insecure about it, because it's very frightening, seeing all these images in her head. Or maybe they're not just in her head," she said. "She is also dealing with being a little ostracised at school as the community is just now getting a sense of what her parents do via their work being written up in the local newspapers. She feels a bit like an outcast because kids at school tease her or don't want to be her friend," Grace added.
Grace was offered the part while at cheerleading practice and had to take a break. However, she was both prepared and thrilled about the obstacles that the film would present.
'Malignant' 
Malignant by James Wan was released on 10 September 2021. This horror movie follows Madison, a young lady who is horrified by images of strangers being murdered. However, she later resolves to track down the victims and save them.
Actress Annabelle Wallis portrayed the protagonist character Madison/Emily May in the movie. The movie begins with the sequence of pregnant Madison arriving at her residence after not feeling well. Reaching home, she and her violent husband get into a confrontation, and he shoves her against a wall. As a result, Madison sustains a concussion, and the movie's plot unveils. 
Grace portrayed the younger version of Madison in the movie.
Upcoming Projects
Just Beyond, a new Disney+ series based on R. L. Stine's Goosebumps and Fear Street, is her upcoming movie. The Disney+ series will premiere in October 2021. Also, she will appear as one of the new members of the rebooted Ghostbusters squad in Sony's Ghostbusters: Afterlife in November.
Grace is also slated to feature in a few additional projects, namely Crater, which will premiere in 2022, and Perfect, where she would portray the role of Strug. As of September 2021, the former project is in post-production, while the latter is in pre-production.
'Crater'
Mckenna Grace is all set to star in the Disney Plus film Crater. The movie is written by John Griffin and directed by Kyle Patrick Alvarez. Disney's live-action team would also be in the director's chair, and its production is expected to begin in the spring of 2021, for which Shawn Levy and Dan Levine from 21 Laps Entertainment are responsible. The picture was initially built at 20th Century Fox, with Levy taking over the director's responsibility, but Levy opted to focus on producing duties as the production gained pace.
Crater, set on a lunar colony, follows the evolution of its protagonist from childhood to maturity. After his (protagonist) father dies, a child growing up in a lunar mining colony goes on a journey with his four best friends to explore a strange crater before being permanently moved to another planet. Grace will portray one of the best friends in this project.
'Perfect' 
Mckenna Grace is scheduled to star in Olivia Wilde and Searchlight's project Perfect. Its filming is scheduled to begin in 2022, and the film will chronicle the actual tale of gymnast Strug's triumph against the odds to win Team USA's first gold medal at the 1996 Olympics. The picture is adapted from the book 'Landing On My Feet, A Diary Of Dreams' penned by Strug and John P. Lopez.
Strug was acclaimed as an American hero after completing her last vault on a seriously damaged ankle at the Atlanta games, snatching triumph from the brink of defeat. She instantly became a national sensation and even got the opportunity to meet former President Bill Clinton. Following that, she was featured on several talk programs and also on the cover of Sports Illustrated.
According to IMDb, Thomasin McKenzie will play Kerri Strug in the film, while Grace will portray Strug. However, the roles' clarity is still to be unraveled.
Awards and Recognition 
In 2017, the young actress received two 'Phoenix Film Critics Society Awards' for breakthrough performance and best performance by a youth for her role in Gifted and an HCA Award for Next Generation of Hollywood in 2020. She was also nominated for a 'Women Film Critics Circle Award' for Best Young Actress in 2017, an 'OFTA Film Award' for Best Youth Performance in 2018, and a 'Critics Choice Award' for Best Young Actor/Actress in 2018 for her performance in Gifted.
Furthermore, Grace was nominated for the 2021 'Emmy Awards' for her performance as young wife Mrs. Keyes in The Handmaid's Tale, making her the youngest ever candidate in the category of Guest Actor in a drama series.
Interesting Facts
Grace previously appeared in a PETA ad to raise awareness about the risks of leaving pets in hot vehicles. She aspires to help animals besides her acting profession. "I want to be an animal activist," Grace told CW33 in 2017. "They make us feel better, come and lick us whenever we feel sad, and they make us happy so I don't think that we should hurt them," she added. She also has two puppies, Marshmallow and Baby Unicorn.
Moreover, Grace is a vegetarian, and she revealed why she adopted the diet in a 2016 interview with PETA. "I became a vegetarian because I felt really bad for the animals," the young actress said. "[They] are very sweet, and I don't think that they deserve to be tortured. If you have a dog at home or a cat, they're your friends, they aren't your food."