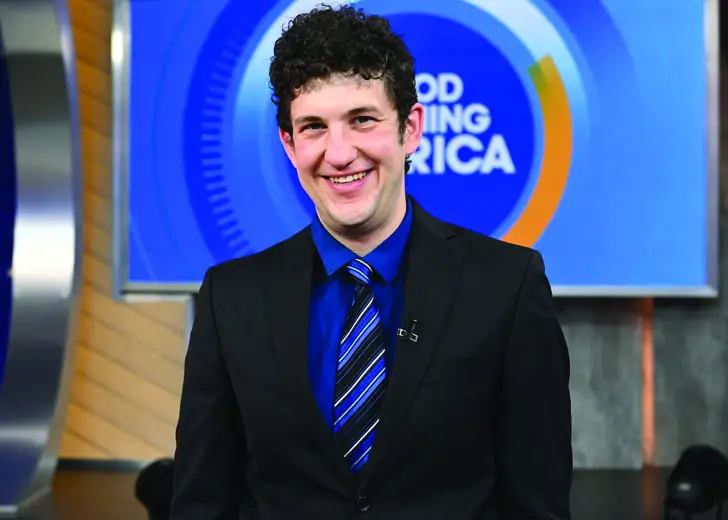 Quick Wiki
Full Name

Matthew Benjamin Amodio

Nickname

Matt Amodio

Birth Date

Dec 04, 1990

Age

32 Years, 9 Months

Ethnicity

White

Nationality

American

Birthplace

Medina, Ohio, USA

Zodiac Sign

Sagittarius

Occupation

Reality TV personality

University

Ohio State University

Relationship Status

Undisclosed

Wife

Undisclosed
Cast of Game Show 'Jeopardy!'
Matt Amodio | Biography
Won 38 consecutive games on Jeopardy! in 2021
Matt Amodio is a reality TV star who became known after his record-breaking stint on 'Jeopardy!'
---
Where is Matt Amodio Today?
Matt Amodio is a reality TV star born on 4 December 1990 in Medina, OH. He went to Medina High School, where he graduated as class valedictorian in 2009. 
Amodio earned a Bachelor of Science with Honors in Actuarial Science from the Department of Mathematics at Ohio State University in 2012, as well as a master's degree in Statistics. In 2017, he also received a Master of Science (MS) in Artificial Intelligence from the University of Wisconsin - Madison. 
Amodio then graduated from Yale University with a Ph.D. in Computer Science. He also worked for NSA contractor Booz Allen Hamilton from January 2014 to July 2015 after graduating from The Ohio State University.
'Jeopardy!'
Amodio rose to prominence following his record-breaking appearance on Jeopardy! He achieved a 38-day streak that ended with $1,518,601 in winnings. 
He became the third player in Jeopardy! history to earn more than a million dollars on the long-running quiz show's standard-format episodes. He has established himself alongside the best rivals of all time, James Holzhauer and Ken Jennings.
Amodio averaged $39,963 per win, second only to James Holzhauer's $76,944 total. He advanced as the first seed in the following Tournament of Champions during season 37. 
Throughout his run, he correctly answered 1,299 clues—54.6 percent of all clues given. However, Amodio was ultimately defeated by actor Jonathan Fisher in his 39th and final game, amassing an eleven-game-winning run.
Amodio is known for consistently beginning his comments with "What's" rather than altering the interrogative pronoun to match the reply. He picked this technique because of Jeopardy! rules allow any question with the correct answer to be used.

A candidate must successfully pass a test created by the production team as the first stage in the audition process in order to compete on Jeopardy! His father continuously urged Amodio to take the online exam. Amodio was given the opportunity to personally audition for the program after taking the online exam twice. The producers take into account the potential contestant's personality in addition to the test results; Amodio was worried that, as an introvert, he would not be fascinating enough for the show.
After veteran presenter Alex Trebek passed away in November 2020, as a result, guest hosts oversaw the program throughout the interim, which is when Amodio's winning run occurred. Amodio's run included programs with LeVar Burton, Joe Buck, David Faber, and Robin Roberts as hosts. 
Also Read: Tom Skerritt - Age, Wife, Children, Height, Spouse, & Bio
Mike Richards was appointed as the show's permanent host on 11 August 2021, but he only served for one taping day (during the first week of season 38), after which Mayim Bialik took over. Ken Jennings and Bialik alternated as hosts for the remainder of season 38, but Amodio's reign ended before Jennings' formal tenure as host because he served as the show's first host during the interim. Like Jeopardy! Amodio recorded his 39 episodes on nine different days (three on his first day, five episodes on each production day),
Amodio's Twitter handle, @AmodioMatt, contains information about his Jeopardy victory, his time on the show, the charity he supported, and forthcoming promotional activities. He now has more than 58,000 followers as of August 2022.
Does Matt Amodio Have a Wife?
Amodio's past has been covered in the media; however, it is unclear whether he has been romantically pursued. He hasn't mentioned his personal life and appears to be single.