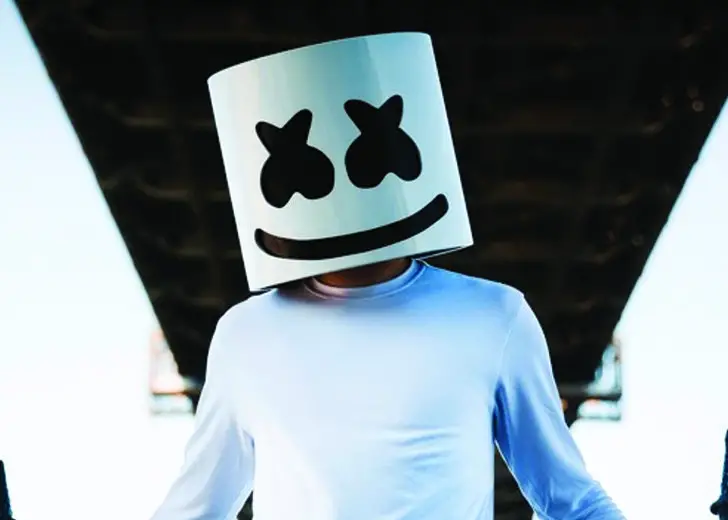 Quick Wiki
Full Name

Christopher Comstock

Nickname

Marshmello

Birth Date

May 19, 1992

Age

31 Years, 4 Months

Nationality

American

Birthplace

Philadelphia, PA

Zodiac Sign

Taurus

Occupation

DJ, Music Producer

Net Worth

$50 million (Celebrity Net Worth)
DJ And Electronic Music Producer
Marshmello | Biography
Producer and co-writer of the song 'Friends'
Marshmello is an American electronic music producer and DJ
---
Who is Marshmello?
Christopher Comstock, known professionally as Marshmello, was born on 19 May 1992 in Philadelphia, PA. He's a Philadelphia native but later relocated to Los Angeles, California. 
He has worked with a variety of musicians, including Bastille, Khalid, and Selena Gomez. Marshmello is dubbed from the marshmallow-shaped bespoke white helmet he wears in music videos and public engagements.
He originally rose to prominence in early 2015, when he began releasing original songs to SoundCloud. In March 2015, Marshmello released his first song, 'WaVeZ,' as an original mix on SoundCloud.Later that year, after releasing many remixes of prominent DJs' tracks, he caught the notice of DJ Skrillex, who uploaded Comstock's tune 'Find Me' on his own SoundCloud profile. After that, Comstock went on to play at venues and festivals like Pier 94 in New York and Miami Music Week.
The following year, he dropped his debut album, Joytime, containing ten songs. In 2018, Marshmello collaborated with popular British singer Anne-Marie. The duo released 'Friends' as the fifth single from Anne-Marie's studio album Speak Your Mind.
In an interview with Billboard in 2018, Anne-Marie talked about how she ended up collaborating with Marshmallow. She said, "It wasn't until he was in London last year and I was like, "I'm going to go to the studio and say, 'Thanks for doing that remix.'" It wasn't even meant to be a session. While he was there, he brought his laptop out and started playing some riffs he had done recently."
In the same interview, she was also asked if she got to see him without the mask. She replied saying, "He wears the mask. It must be made really well. I think over time he wore it less and less, but at the start he wore it."
Marshmello released his second album, Joytime II, in 2018 and his third album, Joytime III, in 2019. Finally, after two years, he released his album, Shockwave, which was nominated for a 'Grammy.'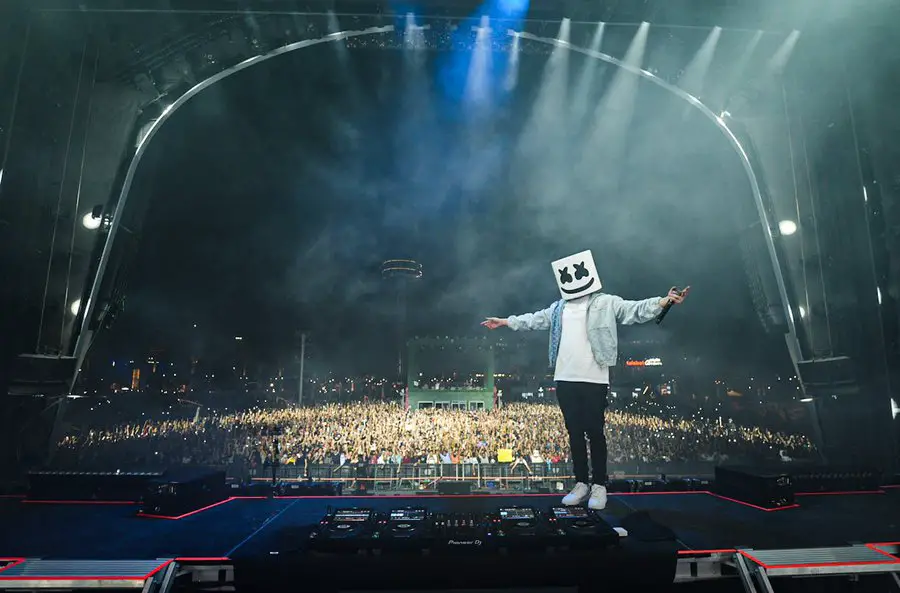 Also Read: Doug Rasheed - Age, Net Worth, Wife, Net Worth & Chaka Khan
Marshmello Revealed As Christopher Comstock
During an interview with Katie Couric of Yahoo in 2015, Skrillex's phone rang. Couric stated, "It's Chris." Skrillex replied, "Oh, Marshmello," before taking up the phone and placing Marshmello on speaker. The encounter sparked speculation about the identity of the masked newcomer, who had only begun distributing songs online for free three months before. 
Marshmello is thought to be an alias of Chris Comstock, better known as Dotcom, a DJ-producer on the same management roster as Marshmello, according to social media investigators and EDM fans. 
Marshmello's identity was also discovered thanks to BMI, a music royalties management company where Marshmello is listed as a songwriter and performer. Because nicknames and real identities are linked with BMI's public database, searching for Marshmello or Comstock by his legal name yielded the same results.
Marshmello's identity has been a long-standing mystery in the EDM community. Many of the clues can be traced back to social media.
In 2016, Twitter users uploaded photographs of Comstock's leg tattoo and Marshmello wearing ripped jeans with the same tattoo. Others pieced together pictures of his hands and neck to draw comparisons.
However, Marshmello has backed away from the face reveal. He instead joked on social media in 2015, saying, "My name is Chris…short for Christmas came early. "
In a video interview published in June 2017, Marshmello, who avoids talking to the media, was asked if he would ever expose himself. He responded with two thumbs down.
Two months after the interaction, he tweeted, "I don't take my helmet off because I don't want or need fame. I'm genuinely trying to create something positive for people to connect with."
What is Marshmello's Net Worth?
According to Celebrity Net Worth, Marshmello has a $50 million net worth which he has garnered from his successful musical career and worldwide concerts.