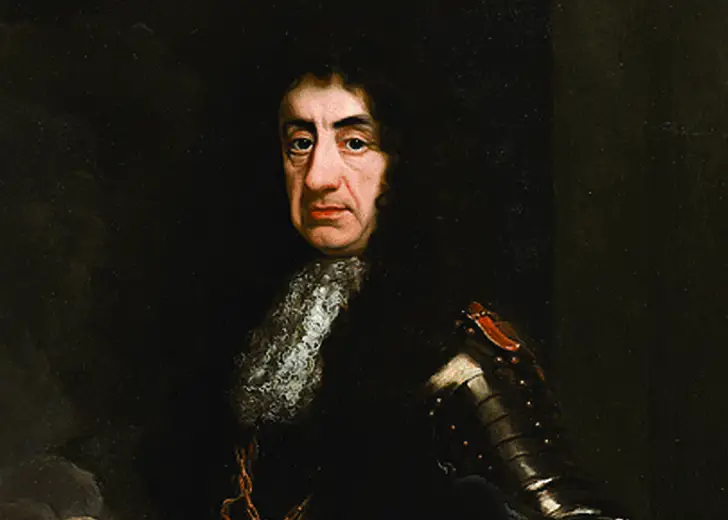 Quick Wiki
Full Name

Charles II

Nickname

The Merry Monarch

Birth Date

May 29, 1630

Death Date

1685-02-06

Place Of Death

Whitehall Palace, London, England

Nationality

British

Birthplace

St. James's Palace, London

Religious Affiliation

Protestant

Occupation

King of England, Ireland & Scotland

Mother

Henrietta Maria of France

Father

King Charles I

Relationship Status

Marrled

Wife

Mary to the Protestant Prince William of Orange
King Of England, ireland & Scotland from 1660 to 1685
King Charles II | Biography
Prince of Wales
Charles II was the King of Scotland from 1649 until 1651. Then, he became the King of England, Ireland, and Scotland after the restoration of the Monarchy in 1660, until his demise in 1685.
---
Who was King Charles II?
Charles II, also known as The Merry Monarch, was born on 29 May 1630 in London. He was the firstborn of King Charles I of England and Queen Henrietta Maria.
A civil war to overthrow the monarchial rule from England broke out when he was only 12 years old. So, he was banished to live with his relatives in Europe during his younger years. He returned when the parliamentary general Oliver Cromwell died, and then he became the King of Great Britain and Ireland from 1660 to 1685. His monarchical period is recognized in English history as the Restoration period.
The monarch's political flexibility and understanding of men empowered him to guide his nation through the intricacies of religious struggle amidst Catholics, Dissenters, and Anglicans. 
The agreement by which Charles II became King of England 
Charles was in the Netherlands when he heard about his father's execution on 30 January 1949 at Whitehall in London. The defeat of the Royalists in the war gave birth to a period known as the Interregnum. The interregnum was ruled by English Parliament under the leadership of Cromwell. And Cromwell had asserted that any declarations of Charles being bestowed with the crown were unlawful in England and Ireland.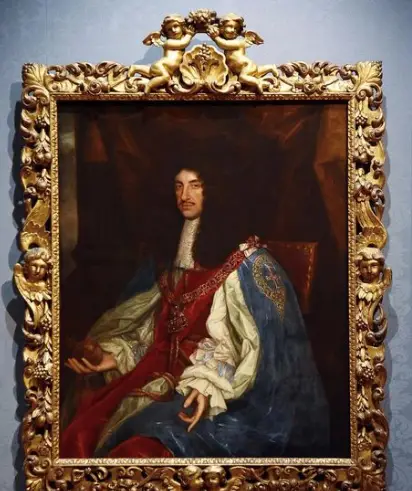 Shortly after Charles' father's execution, he was offered to assume the throne of Scotland with the condition of signing up to the Scottish Covenant. He signed the covenant and was crowned on 1 January 1651. Later the Scottish Covenant led Charles to become the King of England. 
Nevertheless, in Scotland, Charles found the necessary support to initiate a challenge to Cromwell. However, he couldn't taste victory at the Battle of Worcester in 1651, and it is believed that he hid in an oak tree to escape in disguise. This defeat resulted in the nation becoming a virtual dictatorship led by Cromwell.
Also Read About - Rudolf I of Germany - Biography Host
Charles Was Crowned As A King 
On 8 May 1660, he was declared King by the Parliament and crowned at Westminster Abbey on 23 April 1661. His reign faced a great amount of change and upheaval.
Charles' supporters attempted to wipe out all the apparent residue of the Parliamentary period and dated the documents. Charles, who was believed to be inclined towards Catholicism, strived to establish religious tolerance throughout the country but was confronted with a hostile parliament. Eventually, he was forced to approve and sign the Clarendon Code, which restored the Church of England as it had been under his father's rule.
The two significant historical events during his reign were the 1665 plague and the Great Fire of London in 1666. This resulted in a major restoration of the city.
The King dissolved Parliament on 24 January 1679 after a dispute erupted following his dealings with France. Also, because of his efforts to be an autocrat. This was a period of anti-Catholic sentiment and witch-hunts. Charles ruled the country without a parliament until his death.
Wife and Mistresses
Charles tied his knot with his niece Mary to the Protestant William of Orange in 1677. One other reason to marry his own niece was to reform his own Protestant credentials. 
In addition to that, Charles had children from several mistresses. He also instigated the title Duke of Clevedon for one of his offspring from mistress Barbara Villiers. Nevertheless, he did not have any children from his own wife. Charles II passed away on 6 February 1685 in London after getting hit by a stroke.