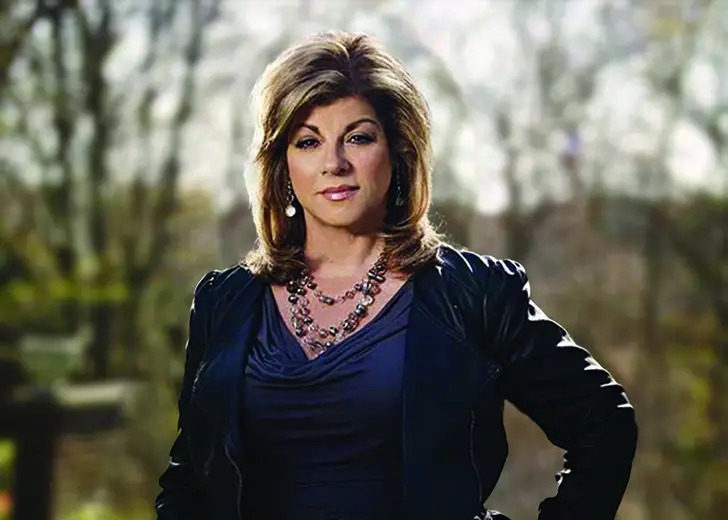 Quick Wiki
Full Name

Kim Russo

Nationality

American

Occupation

Certified American Psychic Medium

University

University of Houston

Relationship Status

Married

Husband

Anthony

Height

Undisclosed

Net Worth

Undisclosed
Certified American Psychic Medium
Kim Russo | Biography
Psychic Medium and TV Host
Kim Russo is an American psychic also popularly known as Kim the Happy Medium. Moreover, people also recognize her as the host of the TV show "The Haunting Of" (2012-2016).
---
Who is Kim Russo?
Kim Russo is one of the most sought-after Psychic mediums in all of America. This is because she has the unique paranormal gift which enables her to see and speak to the spirits and become their voices. Moreover, because of her supernatural abilities, she is popularly known to her fans and followers as Kim the Happy Medium.
Russo has not disclosed her birthday to the public. Thus, authentic internet sites do not hold any information about her age. However, she has shared several details of her childhood during interviews and TV appearances.
Reportedly, Russo started having visions of random spirits at a very young age. She frequently experienced the unearthly presence in her bedroom, road, and school. Such experiences initially scared her as she did not know what was happening and what the spirits wanted. But, after Russo started communicating with them, she eventually became comfortable.
As a self-taught psychic, Russo has faced several skeptical reactions from the public regarding her psychic ability. However, she has proved herself on several occasions during interviews on TV and in the media. She also holds certification for being a medium from The Forever Family Foundation in the year 2005. After that, in 2011, she was again recognized by The Windbridge Institute for Applied Research in Human Potential.
She is Also a TV Host and Author
Besides being a professional psychic, Russo has also established herself as a host and presenter on TV. She first ventured on TV in 2010 as part of the documentary series, Psychic Kids: Children of the Paranormal. It followed her most prominent on-screen work as the host of the TV series The Haunting Of. From 2012 to 2016, she hosted a total of 62 episodes of the show.
Similarly, Russo's other notable TV appearances are in series like Psychic Intervention (2014), The Real (2015), Entertainment Tonight (2016), etc. Most recently, she also appeared in one of the episodes of the American talk show Access Hollywood in 2020.
As an author, Russo released her first book titled 'The Happy Medium' in 2016. It debuted on Amazon at the no. 1 spot in the category of spiritual books. After that, she published her second book, 'Your Soul Purpose: Learn How to Access the Light Within' in 2019.
Is Kim Russo Married?
Russo has been married to her husband Anthony for a long time. She has not given out the exact date of her wedding. However, as per her official page kimthehappymedium.com, she and her husband have already completed 33 years together.
From her marriage to Anthony, Russo is the mother of three adult children, all sons. She regularly uploads family pictures, and pictures of her sons on her Instagram handle @kimrussomedium. 
On 28 September 2020, she shared a photo featuring herself with her sons on the occasion of National Son's Day. Alongside the picture, she wrote, "Happy National Son's Day to my handsome guys. I love you all so much. Feeling very blessed."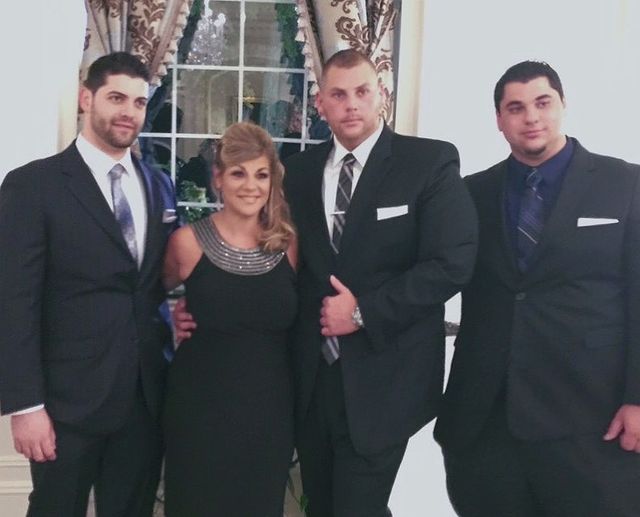 Her Net Worth and Salary in 2022
As of 2022, authentic websites are yet to publish Russo's total net worth figures. However, she has worked as a professional psychic all of her life, communicating with the other worldly spirits. In addition, she has spent over 12 years as a TV host and presenter. Thus, her primary money sources are her TV career and career as a medium.