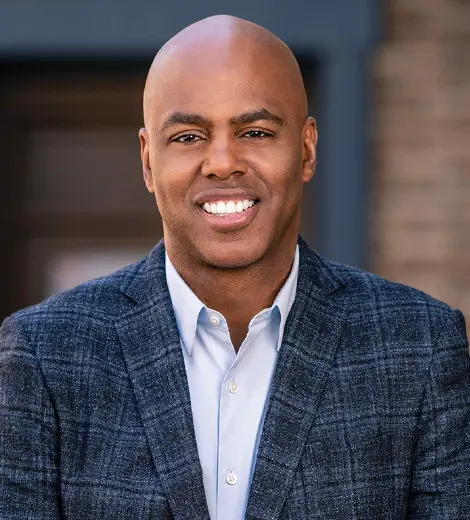 Quick Wiki
Full Name

Kevin Timothy Frazier

Occupation

Anchor, Host, Reporter, Sportscaster

Nationality

American

Birthplace

Maryland, USA

Birth Date

May 20, 1964

Age

59 Years, 6 Months
Co-host of 'Entertainment Tonight'
Kevin Frazier | Biography
Founder of Urban Entertainment News Website HipHollywood
Fraizer was the first television journalist to interview Mariah Carey after her impromptu wedding to Nick Cannon. Before joining 'Entertainment Tonight,' Fraizer served as a host of ESPN's 'SportsCenter,' 'NBA Shoot Around,' and 'Fastbreak Tuesday.'
---
Kevin Timothy Frazier, popularly known as Kevin Frazier, is a co-host of Entertainment Tonight. 
Who is Kevin Frazier?
Kevin Frazier is a Sportscaster. After becoming the host of many ESPN and FSN NBA programs, he gained popularity. He has also made appearances on America's Next Top Model and Flavor of Love: Charm School. Frazier is also the co-host of Entertainment Tonight. He is also the founder and owner of the popular urban entertainment website HipHollywood.
Early Life
Born on 20 May 1964 in Maryland, USA, Kevin Timothy Frazier was raised in Maryland. Frazier went to Hammond High School. Later, he graduated from Morgan State University with a Bachelor in Arts, Communications, in the year 1989.
Frazier also began his sports career as an assistant basketball coach at Morgan State University's alma mater in Baltimore. After his graduation, he worked as a sports reporter for WXIX-TV in Cincinnati, Ohio. Eventually, he also worked for WBFF-Tv in Baltimore, Maryland, and WCBD-TV in Charleston, South Carolina. 
Career
Frazier gained fame after hosting a number of ESPN and FSN NBA programs. He also worked as a correspondent for Entertainment Tonight. 
Initially, he began his professional career as an anchor for Fox Sports Network. Eventually, he moved to ESPN, where he served as the host of Sports Center and hosted many NBA-focused shows. 
In 2004, he began working as a correspondent for Entertainment Tonight. Likewise, he also occasionally hosted the Daily Entertainment news program. In 2008, he founded the popular website, HipHollywood. He later collaborated with omg! Insider, which was previously known as The Insider, in which he used to work as a co-host in the year 2011. 
Frazier has also worked as the lead anchor for college basketball coverage on FX and Fox Sports Net. 
Besides sports, Frazier also worked as a host and anchor when he made appearances on programs such as America's Next Top Model and Hell's Kitchen.
Likewise, he also covered the 2009 U.S. Open with Lindsay Davenport, in which he acted as a tennis correspondent with the Los Angeles Studio. There, the two hosted Breakfast at the Open. 
He also hosted and produced segments for Ford Mother Company's 'Freedom Sister' events. Freedom's Sisters is a dynamic, interactive exhibition that highlighted and honored 20 remarkable African American women who made significant contributions to expand the rights and privileges of all Americans. 
Fraizer was the first television journalist to interview Mariah Carey after her impromptu wedding to Nick Cannon.
Before joining Entertainment Tonight, Fraizer served as a host of ESPN's SportsCenter, NBA Shoot Around, and Fastbreak Tuesday.
He has also been associated as a forum guest on Jim Rome Is Burning, a sports conversation and opinion show hosted by Jim Rome. In addition, Frazier has also made appearances on American Idol. 
Kevin Frazier is also an actor and producer known for movies such as Rat Race, released in 2001. He has also acted and produced films such as Girls Trip in 2017 and Juwanna Mann in 2002. 
He also hosted the pre-game show for College Football Saturday. In addition, he covered all major sports events as a reporter on National Sports Report, including the NBA Finals and the NCAA Men's Basketball Final Four. 
In the past, Frazier has not always been in the spotlight and also served as a sideline reporter on the NFL on FOX telecasts and as the host of the pre-game shows for NFL on FOX and "NHL on FOX.
Kevin is an active member of Los Angele's inner-city community, where he has taught a media course at Dorsey High School. 
In September 2011, Frazier was appointed as the lead studio anchor for College Football on FX and Fox Sports Net. He was paired with the analyst Marcus Allen for the 2011 season. 
Founder of HipHollywood
Frazier founded an online website for urban entertainment news in 2008 named HipHollywood, which has worked as a content partner for The Insider and ET Online. The website offers news, pop culture information, photos, and interviews with many celebrities. 
Divorce and Current Wife
Previously, Kevin was first married to Andrea Frazier. The two have a son together, Tony Frazier. Unfortunately, the marriage ended in divorce. 
Eventually, Kevin met Yasmin Cader, a federal public defender. The pair have been married since 25 November 2006. 
The couple got married over the Thanksgiving weekend in Malibu. The wedding was also attended by Kevin's son, Tony. 
Kevin and Yasmin have two songs together. They welcomed their first child, Shane Frazier, on 5 February 2007. They became parents to their second son, Reece Cader Frazier, on 5 July 2010. 
Net Worth and Salary
According to celebrity net worth, Frazier has a net worth of $2 Million with an annual salary of $500 thousand.