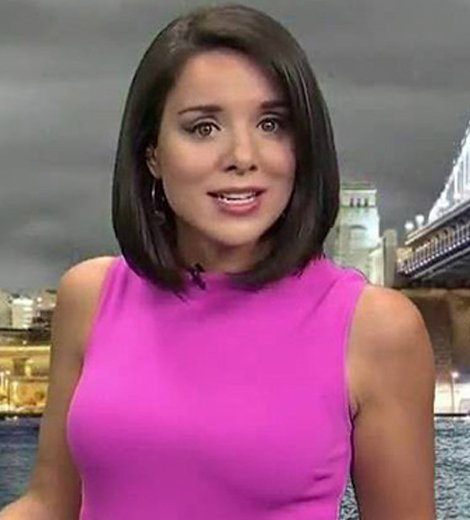 Quick Wiki
Full Name

Kate Bilo

Occupation

Weather Journalist

Nationality

American

Birthplace

Phoenixville, USA

Birth Date

Jun 20, 1986

Age

36 Years, 11 Months

Zodiac Sign

Gemini

Height

5 Feet 4 Inches

Net Worth

Estimated Average Salary of $77,592 as a Chief Meteorologist at CBS3

Husband

Scott Eby

Relationship Status

Married

Wedding Date

31 August 2007

Education

Bachelor of Science degree in Spanish and International Business & Bachelor of Science in Geosciences and Meteorology

University

Penn State University (2003) & Mississippi State University (2010)
Chief Meteorologist Of CBS3
Kate Bilo | Biography
Guest-Host Of CBS's 'Daytime Emmy Award' nominated Talk Show 'THE TALK'
Bilo has three children, Leo, Anders, and Solenne, with Scott Eby. During her second pregnancy, a man from Pennsylvania threatened her via Twitter. He allegedly said he'd kill her in front of her son Leo. However, that person was eventually apprehended and sentenced to five years in prison.
---
Kate Bilo is a well-known weather forecaster and currently the chief meteorologist for CBS3.
Who Is Kate Bilo?
Kate Bilo is an American weather forecaster born on 20 June 1986 in Phoenixville. She graduated from Penn State University in 2003 with a Bachelor of Science degree in Spanish and International Business. 
However, Bilo was dissatisfied with her degree because it wasn't what she had hoped for in the first place. So she opted to pursue a different degree that corresponded to her passion in weather and later joined Mississippi State University, where she earned a Bachelor of Science in Geosciences and Meteorology.
As a result, Bilo holds two undergraduate degrees. She once said that she would construct weather forecast charts based on weather forecasts on television and in newspapers after the classes, which developed her passion as a forecaster.
Bilo joined the CBS 3 and The CW Philly Eyewitness News weather team in October 2010. Moreover, she also worked as a meteorologist at AccuWeather in State College, Pennsylvania, in 2004. During her time with AccuWeather, she forecasted TV and radio for various clients, including FOX News, CNBC, ABC News Now, and several local stations.
In addition to that, she had also worked for the Bloomberg Television Network as the main morning weather anchor. Furthermore, Bilo has guest-hosted CBS's 'Daytime Emmy Award' nominated talk show THE TALK.
Also Read About - Lisa Villegas - Age, Fox Q 13, & Husband
Is Kate Bilo married?
Bilo married Scott Eby, a software engineer, on 31 August 2007. She posted her wedding photo with Eby in 2012 with the caption "Five years ago right now." However, the pair are not fond of taking pictures and posting them on social media often.
Bilo's husband Eby is a software engineer who first worked at Sikorsky from January 2009 to January 2013. Then he went on to work at McKean Defense for more than six years as a senior software engineer from January 2012 to September 2018. Then, in October 2018, he joined Comcast and has worked there since.
Moreover, the couple has three children named Leo, born in 2010, Anders, born in 2012, and Solenne, born in 2017. Bilo also mentioned that it is hard to maintain a work-family balance since she has three kids.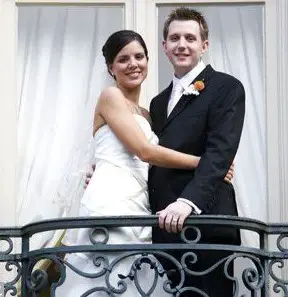 Third Baby (Is Kate Bilo Pregnant again?) 
Bilo has three children, Leo, Anders, and Solenne, with Scott Eby. During her second pregnancy, a man from Pennsylvania threatened her via Twitter. 
She posted a photo of her baby bump with her 2nd child, Anders, on Facebook, "My very last picture with this belly! I'm in the hospital - baby's coming TONIGHT!"
Ironically, Bilo didn't realize that she was pregnant with her third child, Solenne, and thought her belly was huge. However, her third baby, Solenne Marit Elisabeth, was born on 31 May 2017, and the news was announced through Bilo's Facebook account.
Mother
Bilo lost her mother, Marti, to lung cancer. She put her job on hold to return to Phoenixville to be with her mother after becoming ill shortly when she was pregnant with her son Anders.
On 5 February 2021, Bilo shared a photo in honor of her mother on the occasion of World Cancer Day on Instagram. She captioned the post, "On this #WorldCancerDay, I remember my own cancer hero - my beautiful strong mom who fought with all her might to stay on earth long enough to meet her grandson. Funding for prevention, early detection, and advanced treatments is so important."
In 2015, Bilo said that "To me, it was the best nine months and the worst nine months of my life." Moreover, she also explained, "She passed away when my son was two weeks old. It was the hardest period of my life and hopefully the hardest thing I'll ever have to endure in my life."
Besides, Bilo also wished her father a happy birthday on Instagram on 7 June 2021 and wrote, "Happy 67th birthday to my Dad! You've been cool from the beginning and keeping it cool year after year! Love you!"
Bilo Found Weight Loss Difficult After Her Third Baby
Compared to her previous pregnancy, Bilo mentioned that she found it difficult to lose weight after her third child.
On 22 February 2018, Bilo shared a post on Facebook explaining the problem. She wrote, "It has surprised me how hard it's been to lose the baby weight this time around. Whether it's my age, my postpartum health issues, or just having zero convenient time for self-care with three young kids and a full time job, I was expecting it to melt off, and it just... hasn't."
Bilo continued on another paragraph and said that the simple changes she could make when she was 25-30 are no longer simple. However, she was still nursing, which she indicated she was quite pleased with despite a very difficult start. Moreover, Bilo mentioned that limiting calories doesn't work well for her when feeding a kid.
Bilo added, "But I'm tired of feeling out of shape and all my great work clothes not fitting! Today's weather motivated me to lace up my running shoes and grind out 3 slow, excruciating miles. I've stocked up on healthy, real food and made the pic below (of me when I was the strongest and healthiest I've ever been) my phone background to keep me motivated."
However, in 2018, Bilo lost a lot of weight due to postpartum health issues brought on by parenting her two kids and providing so much attention to her youngest child. She realized she had to act after this incident and the earlier pulmonary embolism she had had. Bilo also used her social media sites to spread information about maintaining good health.
Bilo later posted about her weight loss on Facebook on 7 March 2020, saying that the dress she bought two months ago had become baggy for her. She captioned, "confession time: last time I wore this dress it was so tight that the back seam popped now, 2 months later, it's baggy!"
Death Threats
During her second pregnancy, Bilo was the target of a serious death threat for an unspecified reason. A Lansdowne man named Justine Vernot sent threatening tweets to Kate Bilo via Twitter, saying he would kill her in front of her son Leo. Bilo was expecting her second child at the time.
The man threatened to murder her in front of her sons. Kate and her husband took safety precautions against the man right away and were later apprehended and sentenced to five years in federal prison.
Bilo was also the Victim of Pulmonary Embolism
Bilo was hospitalized for several months in 2017 after doctors discovered she had multiple blood clots in her lungs. As a result, she was diagnosed with pulmonary embolism. Fortunately, she recovered from her illness.
Bilo also spoke with CBS News about her recovery process. She shared details about her condition on her Facebook page and also used the platform to spread awareness about the illness, as her mother's cause of death in 2019 was from lung cancer.
What is Kate Bilo's Salary and Net Worth?
In 2004, Bilo began her professional career with AccuWeather in State College after graduating from Penn State University. She forecasted for several AccuWeather clients, including FOX News, CNBC, ABC News Now, and many local stations on TV and radio during her time there.
She joined Bloomberg Television Network in 2010 as the main morning weather anchor after six years with Accuweather. Bilo then joined the CBS3 team as a chief meteorologist for the Eyewitness News weather team in October 2010.
According to Hollywoodmask, Bilo earns an estimated average salary of $77,592 in her post as a chief meteorologist at CBS3. However, her net worth hasn't been disclosed yet.