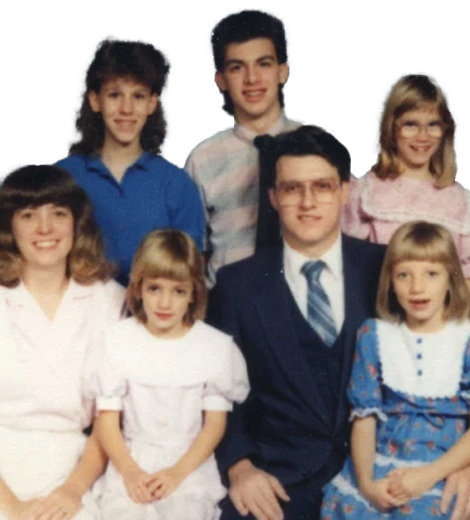 Quick Wiki
Full Name

Jeff Pelley

Occupation

Former Computer Consultant

Nationality

American

Birth Date

Dec 10, 1971

Age

51 Years, 6 Months
Quotes
"I loved my family dearly and I have lived my life trying to pattern my life after my father. I would not, I could not and I did not do this."
Convict of the 1989 "The Prom Night Murders" Case
Jeff Pelley | Biography
CounterClock released a podcast on the 1989 "The Prom Night Murders" on the 32nd anniversary of the tragedy
Jeff Pelley was initially considered a prime suspect in connection with the murder of his father, stepmother, and two stepsisters, and was discharged from the case due to a lack of evidence. The case was reopened by the new prosecutor in 2006, and Jeff was arrested. He was convicted and was sentenced to 160 years in prison.
---
Jeff Pelley is known for "The Prom Night Murders." He was convicted in 2006 for killing his four family members in 1989, and he is still trying to prove himself innocent.
Who is Jeff Pelley?
Jeff Pelley was only 17 years old when his father Bob Pelley, stepmother Dawn, and young stepsisters Janel and Jolene were brutally killed at their home in Lakeville, Indiana, in 1989. Taking into account the events that happened before the murder — when Jeff's father grounded him and not allowed him to attend the prom and after prom activities — Jeff was initially suspected of killing his father and surviving witnesses. But with the lack of evidence, the case was declined in 1989. But a new prosecutor reopened the case in 2002. Jeff was then convicted of the four murders in 2006 and sentenced to 160 years in prison. Jeff is still fighting to prove himself innocent. His biological sister, Jacque, has also been supporting Jeff for his release.
Early Bio and Family
Jeff Pelley was born on 10 December 1971 to Pastor Bob Pelley and his first wife Ava, a.k.a. Joy. He grew up with his parents and a younger sister named Jacque. The Pelley family relocated to Cape Coral, Florida, in 1980, where Jeff's father, Bob, landed a job in computer programming. While growing up, Jeff and his sister were taught a strong Christian faith by their parents. 
Unfortunately, in February 1985, Jeff lost his mother Joy due to skin cancer. Later, Bob met Dawn, a widowed mother at 28, with three young daughters Jessica, Janel, and Jolene. By November 1985, Bob married Dawn and Jeff got a stepmother and three stepsisters. The big family lived in Florida for some time and then moved to Lakeville in 1986. At Lakeville, Bob served as reverend at the Olive Branch United Brethren Church, which had around 40 to 50 members.
Education and Career
Jeff attended LaVille Jr-Sr High School in Lakeville, Indiana. After completing high school, he relocated to Florida and built a successful career in a computer hardware company. He worked as a computer consultant at a multinational technology company called International Business Machines Corporation (IBM) before being arrested in 2002.
Family Murder
On 30 April 1989, when Bob did not show up for the church, one of his parishioners, David Hathaway, went to the parsonage to check on him. David knocked several times but got no response. The doors were locked, which was unusual for the small town of Lakeville. Then with a spare key, he and two other people entered the house and saw a devastating scene. Four members of the Pelley family: Bob (38), Dawn (32), Janel (8), and Jolene (6), were shot to death. Bob was found dead in the hallway, and police discovered Dawn and her two youngest daughters dead in the basement. The remaining three children of the family were not at home. Jessica (9) slept over at her friend's house, and Jacque (13) was at a nearby college visiting friends. Jeff, who was 17 years then, was with his friends in an after-prom activity at an amusement park called Great America in the Chicago area.
Declared Convict
Police did not found enough evidence, but Jeff was considered a primary suspect. Upon interrogation, it was discovered that Bob had grounded Jeff before prom for stealing CDs and money from the house. Jeff was also not allowed to go to the prom and after-prom activities. The police then theorized that Jeff might have been angry over the grounding and killed his father, stepmother, and stepsisters to leave no witnesses to his crime. Due to lack of evidence, prosecutors declined to charge him at that time. He then went to Florida, worked at IBM, got married to a woman, and had one son.
Reopening the case
In 2002, a new prosecutor reopened the murder case and filed charges against Jeff. Authorities arrested him at Los Angeles International Airport on his way home from a business trip. The case went to trial in 2006. There was no murder weapon, forensic evidence, or confession, but prosecutors put forth a theory based on the timeline of the events from the night before the murders. After multiple statements and intense deliberations, the jury convicted Jeff of four counts of murder in 2006. Soon, he was sentenced to 160 years in prison.
"I loved my family dearly and I have lived my life trying to pattern my life after my father. I would not, I could not and I did not do this," Jeff said through tears at his 2006 sentencing. 
Jeff's lawyers appealed the conviction, and the Indiana Supreme Court upheld the appeal in 2009. 
Status of the Case Today
After the appeals, Jeff's lawyer, Frances Watson, filed a petition for post-conviction relief. However, his case is still on even after more than three decades of the murders. Watson went to court on 25 June 2021 for a status conference to ask the judge to grant a new evidentiary hearing hoping that would lead to a new trial.
Where Is Jeff Pelley Today?
On the status hearing on 8 September 2021, a next hearing date of 14 March  2022, was scheduled to review fresh evidence that his murder convictions violate the constitution.
Pelley, according to prison records, is now 49 years old and is being imprisoned at the Indiana State Prison in Michigan City, where his earliest release date is 2082.
Podcast
On 29 April 2021, Audiochunk's true-crime podcast, CounterClock, released a podcast, reexamining the murder case of 1989 "Prom Night Murders" on the 32nd anniversary of the tragedy. The podcast's host and producer, Delia D'Ambra, investigated the case for a year, visiting people familiar with the case and pouring over 6,000 documents. CounterClock released 20 episodes about the case, all at once on 29 April.
Siblings' View on the Case
In the 2019 memoir called 'I Am Jessica,' Jeff's stepsister Jessica recounted that Jeff used to hate and bully her when they lived together after Bob married her widowed mother, Dawn. In her book, she also hinted that she thinks Jeff murdered the family members.
However, Jeff's biological sister Jacque believes that Jeff is innocent. She also created a website called Justice for Jeff as an effort to help free Jeff.