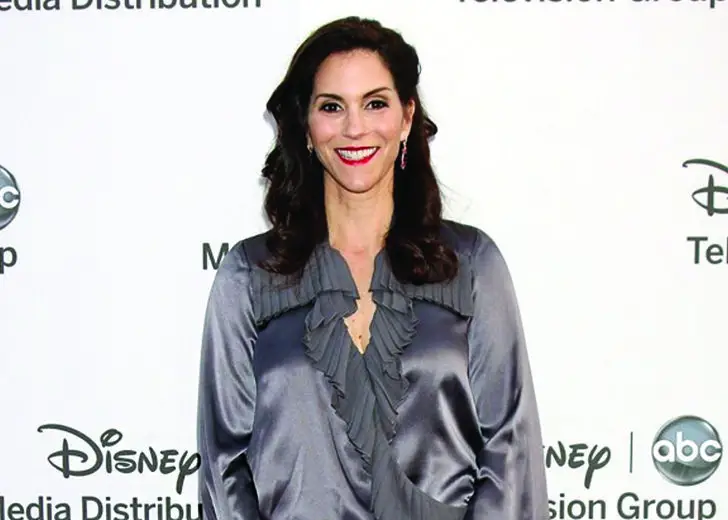 Quick Wiki
Full Name

Jami Gertz

Birth Date

Oct 28, 1965

Age

57 Years, 11 Months

Nationality

American

Birthplace

Chicago, Illinois, USA

Zodiac Sign

Scorpio, Businesswoman

Occupation

Actress

Relationship Status

Married

Husband

Tony Ressler

Husband's Profession Financer
Net Worth

$3 million

Did You Know?

Her husband runs an asset of $136 billion under Ares Management and his other ventures
Face of NFL team The Hawks
Jami Gertz | Biography
Appeared in movies like 'The Lost Boys' & 'Twister'
Jami Gertz is an American actress turned businesswoman who is now the face of the NFL team The Hawks. 
---
Who is Jami Gertz?
Jami Gertz was born on 28 October 1965 in Chicago, Illinois. She was raised in a Jewish household, where she had to take leave from school activities for cultural festivities. She spent her childhood in the Glenview suburb alongside two brothers. 
Gertz began acting in 1981 when she landed a minor role in the movie On the Right Track. Then in 1982, she was Muffy Tepperman in the series Square Pegs. She went on to be involved in several projects from 1980 to the 1990s. Among them, her career-defining ones were the 1987 film The Lost Boys, followed by the 1996 Twister and the 2002 sitcom Still Standing. 
Further, her latest appearances include the role of Dr. Nina Pomerantz on ER, a guest role in the NBC Show This Is Us, and Debbie Weaver on The Neighbours. 
Getting Married to Billionaire Husband Tony Ressler
In the mid-80s, Gertz's career had already gained momentum from her role in The Lost Boys. Then her publicist introduced her to financer Anthony Ressler. They were at a dinner party hosted by him at his LA home. After the dinner, he asked her out for brunch the next day by parading her dressing room with roses.
Ressler was also Jewish like her, so they instantly connected. They dated for two years and married in 1989, later having three sons, Oliver, Nick, and Theo. 
Ressler co-founded Apollo Global Management in 1990, a private equity firm; later, in 1997, he established another financial institution, Ares Management. Subsequently, Ressler was also a member of investment committees managed by Ares Private Equity Group and Ares Real Estate. 
He had accumulated significant worth from his financial adventures when he met Gertz. He was working at the infamous Drexel Burnham Lambert Banking Firm. But Gertz was making more money from her fame when they got married. Many speculated that she got married to him for money, but later, to Hollywood Reporter, she revealed that it was not a typical 'billionaire love story.'
Gertz shared, "Everyone thinks I married a rich guy. But I made more money — way more money — than Tony when I met him. I paid for our first house. I paid for our first vacation. I married him because I fell in love with him."
"He was a nice guy with a job. Which is what any Jewish girl from Glenview would want. It would have been nice if it was a doctor or a lawyer, but a banker was OK, too," she added. 
Ressler also owns a majority shares of the NBA team Atlanta Hawks while holds a minority stake in the Milwaukee Brewers Baseball. Ressler and Gertz were also known to be the most generous couple when they donated millions to the Cedars-Sinai Medical Center and the Los Angeles County Museum of Art.  
Also Read: Margaret Josephs - Macbeth, Housewives, Family, Kids & RHONJ
How much does Jami Gertz make a Year?
According to celebrity net worth, Gertz has a net worth of $3 million. At the same time, her husband runs an asset of $136 billion under Ares Management and his other ventures. 
Gertz's yearly wealth fluctuates according to her acting projects and NBA profits. In 2010 she also established a production company when she wanted to slow her acting career but still be involved in films.