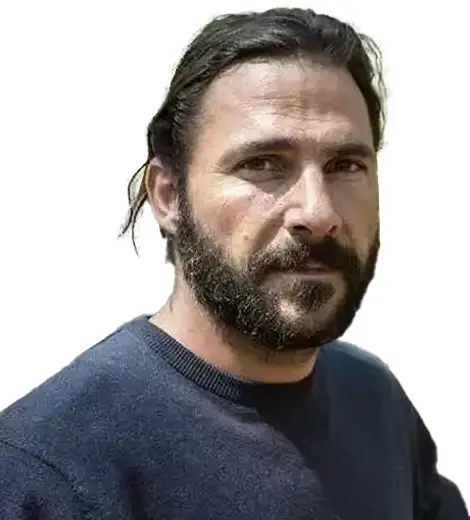 Quick Wiki
Full Name

Hazen Audel

Occupation

Former Jungle Guide, Formal High School Teacher, Survival Instructor

Nationality

American

Birthplace

Washington, D.C., USA

Birth Date

Jan 25, 1974

Age

47 Years, 10 Months
Quotes
"What I have learned from travelling is that even the most unassuming person can be the one to show you the very most. You have to be very open to appreciating the best of what any person brings to the table."
Survival Instructor, Host of 'Survive the Tribe,' 'Primal Survivor'
Hazen Audel | Biography
Audel helped co-found The Wild Classroom in 2003 for adventure education of teachers and students
After the success of 'Survive the Tribe,' Hazen Audel started hosting the Nat Geo documentary series 'Primal Survivor.' He traveled to some of the most rural locations of the world and survives by learning techniques from indigenous people. The series premiered on 21 January 2016 and is successfully running in its sixth season on Disney+.
---
Hazen Audel is an American survival instructor and television presenter best known for his television documentary series, 'Primal Survivor.'
Who is Hazen Audel?
Hazen Audel is a former jungle guide and educator. In 2014, he hosted his first documentary television series, Survive the Tribe, on National Geographic. He then came to prominence as a television presenter of National Geographic Channel's documentary series Primal Survivor. The series has been running successfully since 2016.
Early Life and Education
Hazen Audel was born on 25 January 1974 in Spokane, Washington, to a Kootenai and Salish Native American family. He also has Greek ancestry.
Audel was fascinated by bugs and snakes from his childhood. He said, "As a kid, I always had tin cans full of bugs and snakes and frogs, and they'd get loose in the house. My mom and dad always supported my love and passion for nature and let me be me." 
His love for nature led him to study biology after graduating from Lewis and Clark High School. He earned his Bachelor of Science in Biology from Western Washington University, Bellingham, Washington. Audel also studied Botany and Zoology at Eastern Washington University and Northwest Indian College. Later, he graduated with a Master's degree in Biology, Ethnobotany, Tropical Ecology, and Art from the University of Hawaii at Manoa, Honolulu, Hawaii. He also obtained a Master's degree in Teaching.
First Adventure Trip
A nature lover since an early age, Audel embarked on his first adventure trip after graduating from high school. Nineteen-year-old Audel sold his bikes and aquariums and mowed lawns to save money to buy a ticket to Ecuador. He wanted to go to the jungle, so he went the farthest he could go by road and dropped off at the end of the road. Audel then made the journey to the rainforest and set up camp alongside a remote river. He tried catching fish for him to survive. 
Audel planned to stay in the jungle for about three weeks until his 50-pound bag of rice and fishing run dry. But he stayed for over eight months after the native indigenous people noticed him and invited him to live with them. They also taught him the techniques and locations for fishing. He returned to the same village for several years and continued to learn about the self-sustained lifestyle of those indigenous people. The lifestyle he learned in the jungle became his way of living for the rest of his life.
Career
After gaining experience from his first adventure trip, Audel began working as a jungle guide in 1993. In 1998, he went for a remote stint in the rainforest of Irian Jaya, Indonesia, and carried out independent biology and ethnobotany research that unwittingly tested his survival skills. 
Later, he started teaching Art and Biology at Ferris High School. He also made frequent visits to Ecuador and other remote jungles of the world during his teaching career. He taught as a high school teacher for 11 years. 
During that time, Audel helped co-found The Wild Classroom in 2003 with his fellow biologist and independent filmmaker, Rob Nelson. The Wild Classroom is a non-profit online web series founded to carry out adventure education for teachers and students through natural history educational videos and inspire them to follow a lifestyle based on nature and science. According to Audel, they initially called their videos the Wild Classroom, which later became Untamed Science.
Audel left teaching in 2012 after he got an opportunity to run a television show for National Geographic.
Television Shows
In July 2014, Audel appeared in his first television show, Survive the Tribe, which aired on National Geographic Channel for six episodes. He presented the show from the world's most inhospitable locations, including Kenyan bush, Ecuadorian Amazon, Kalahari Desert, and frozen Arctic Canada. 
Audel told the Spokesman website in 2014 that the show allowed him to live his wildest dreams. He said he lived in the dirt with the San Bushmen of the Kalahari for two weeks and was incredibly happy at the time. "I was dehydrated, sunburned and stressed inside and out, but if I were a millionaire I'd be spending my money to do this," he claimed. 
In 2019, Audel hosted another six-part documentary series Ultimate Survival WWII, exploring the world to relive some of the most extraordinary wilderness survival stories from World War II.
'Primal Survivor'
After Survive the Tribe, Audel started hosting National Geographic's documentary series Primal Survivor. He traveled to some of the most rural locations of the world and survives by learning techniques from indigenous people. The series premiered on 21 January 2016 and is successfully running in its sixth season on Disney+.
Additional Works
Audel is also a skilled artist. He has crafted sculptures, jewelry, and architectural artwork.
Personal Life
Audel told Dailymail in July 2014 that his last relationship lasted for six years. He said, "I loved being crazy in love. The problem was, it was crazy - it had an uncanny resemblance to Fatal Attraction!" 
He later shared that he needs a woman who loves camping, enjoys getting dirty, and is a good person for herself and others. However, not much information was available about his current relationship status.