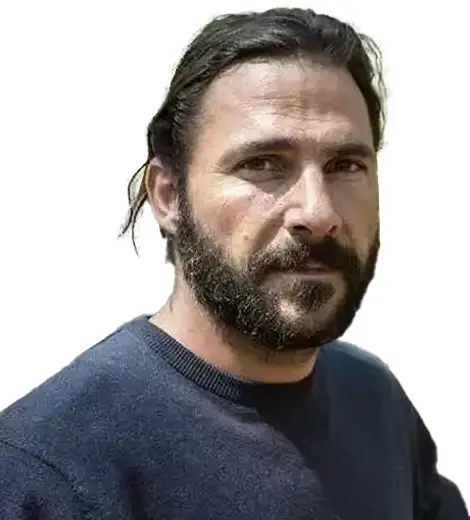 Quick Wiki
Full Name

Hazen Audel

Occupation

Former Jungle Guide, Formal High School Teacher, Survival Instructor

Nationality

American

Birthplace

Spokane, Washington, D.C., USA

Birth Date

Jan 25, 1974

Age

49 Years, 8 Months

Ethnicity

Kootenai-Salish Native American (Also holds Greek ancestry)

Zodiac Sign

Aquarius

Did You Know?

He had hard times studying as a child because of his dyslexia.

High School

Lewis and Clark High School

University

Western Washington University, Eastern Washington University & Northwest Indian College

Education

Bachelor of Science in Biology, Also degrees in Botany and Zoology

Relationship Status

Not Disclosed

Wife

Not Disclosed

Height

6 Feet 1 Inch
Quotes
"What I have learned from travelling is that even the most unassuming person can be the one to show you the very most. You have to be very open to appreciating the best of what any person brings to the table."
Survival Instructor, Host of 'Survive the Tribe,' 'Primal Survivor'
Hazen Audel | Biography
Audel helped co-found The Wild Classroom in 2003 for adventure education of teachers and students
After the success of 'Survive the Tribe,' Hazen Audel started hosting the Nat Geo documentary series 'Primal Survivor.' He traveled to some of the most rural locations of the world and survives by learning techniques from indigenous people. The series premiered on 21 January 2016 and is successfully running in its sixth season on Disney+.
---
Hazen Audel is an American survival instructor and television presenter best known for his Primal Survivor television documentary series.
Who is Hazen Audel?
Hazen Audel is a former jungle guide and educator. In 2014, he hosted his first documentary television series, Survive the Tribe, on National Geographic. He then came to prominence as a television presenter of National Geographic Channel's documentary series Primal Survivor. The series has been running successfully since 2016.
According to Audel's recent post on Instagram on 8 March 2022, he was in Kenya. He wrote, "Yes, this was a real life evening in Kenya. We were setting up camp here to explore the area for a place to do some filming."
He also described on the post that one of the crew members had to leave to get supplies and was stalked by a hyena. The crew member was supposed to return that night, but his motorcycle broke down a few miles from camp. As he pushed his bike back to the camp, he realized a hyena had followed him. 
The hyena was getting closer, preparing for an inevitable attack. As a result, the member climbed up one of the only trees nearby and spent the night in the branches above while the hyena waited all night in the nearby bushes.
Early Life and Education
Hazen Audel was born on 25 January 1974 in Spokane, Washington, to a Kootenai and Salish Native American family. He also has Greek ancestry.
Audel was fascinated by bugs and snakes from his childhood. He said, "As a kid, I always had tin cans full of bugs and snakes and frogs, and they'd get loose in the house. My mom and dad always supported my love and passion for nature and let me be me." 
Audel revealed that he had dyslexia when he was younger and came from a hardworking family that couldn't aid him in school in an interview with the responsible travel. As a result, he contended with reading and arithmetic, and he was also socially uncomfortable. He was teased at school and was frequently taken out of class for private study in the library.
Subsequently, his parents recruited a librarian to assist Audel. He wanted to please her, so he would stay up late at night sketching images for her library. She even advised him to become an artist and draw pictures when he grew up.
His love for nature led him to study biology after graduating from Lewis and Clark High School. He earned his Bachelor of Science in Biology from Western Washington University, Bellingham, Washington. Audel also studied Botany and Zoology at Eastern Washington University and Northwest Indian College.
He continued his education and graduated with a Master's degree in Biology, Ethnobotany, Tropical Ecology, and Art from the University of Hawaii at Manoa, Honolulu, Hawaii. He also obtained a Master's degree in Teaching.
Audel has been traveling away from home on his own since he was 19 years old. He has undergone several life-altering experiences. Yet, when he returned home, he was always unsure about how to adjust to life in the United States. The problem was maintaining the principles he gained from the cultures he interacts with and not losing sight of them when he returns home to a world of continual distractions.
First Adventure Trip
A nature lover since an early age, Audel embarked on his first adventure trip after graduating from high school. Nineteen-year-old Audel sold his bikes and aquariums and mowed lawns to save money to buy a ticket to Ecuador. He wanted to go to the jungle, so he went the farthest he could go by road and dropped off at the end of the road. Audel then journeyed to the rainforest and set up camp alongside a remote river. He tried catching fish for him to survive. 
Audel planned to stay in the jungle for about three weeks until his 50-pound bag of rice and fishing ran dry. But he stayed for over eight months after the native indigenous people noticed him and invited him to live with them. They also taught him the techniques and locations for fishing. He returned to the same village for several years and continued to learn about the self-sustained lifestyle of those indigenous people. The lifestyle he learned in the jungle became his way of living for the rest of his life.
Travel Influencer And Adventure Education
After gaining experience from his first adventure trip, Audel began working as a jungle guide in 1993. Then, in 1998, he went for a remote stint in the rainforest of Irian Jaya, Indonesia, and carried out independent biology and ethnobotany research that unwittingly tested his survival skills. 
Later, he started teaching Art and Biology at Ferris High School. He also made frequent visits to Ecuador and other remote jungles of the world during his teaching career. In addition, he taught as a high school teacher for 11 years. 
During that time, Audel helped co-found The Wild Classroom in 2003 with his fellow biologist and independent filmmaker, Rob Nelson. The Wild Classroom is a non-profit online web series founded on adventure education for teachers and students through natural history educational videos and inspiring them to follow a lifestyle based on nature and science. 
According to Audel, they initially called their videos the Wild Classroom, which later became Untamed Science.
Audel left teaching in 2012 after he got an opportunity to run a television show for National Geographic.
His Initial Television Shows
In July 2014, Audel appeared in his first television show, Survive the Tribe, which aired on National Geographic Channel for six episodes. He presented the show from the world's most inhospitable locations, including Kenyan bush, Ecuadorian Amazon, Kalahari Desert, and frozen Arctic Canada. 
Audel told the Spokesman website in 2014 that the show allowed him to live his wildest dreams. He said he lived in the dirt with the San Bushmen of the Kalahari for two weeks and was incredibly happy at the time. "I was dehydrated, sunburned and stressed inside and out, but if I were a millionaire I'd be spending my money to do this," he claimed. 
In 2019, Audel hosted another six-part documentary series Ultimate Survival WWII, exploring the world to relive some of the most extraordinary wilderness survival stories from World War II.
Also Read About - Dave Canterbury- NetWorth,Knife, & 'Dual Survivor'
Notable Fame From 'Primal Survivor'
After Survive the Tribe, Audel started hosting National Geographic's documentary series Primal Survivor. He traveled to some of the most rural locations of the world and survives by learning techniques from indigenous people. The series premiered on 21 January 2016 and successfully runs in its sixth season on Disney+.
Audel has spent over two decades embracing life with indigenous groups and navigating extreme terrains. But, in his National Geographic Channel show Primal Survivor, he faces his most difficult challenge yet. Audel returns to some of the world's most remote locations to take on solo challenges that will test his knowledge, endurance, and skills.
In a 2016 interview with Entertainment Focus, Audel talked about the show and said, "This is a unique show. There's no other show like it. With or without me, it's the one show that I would want to watch. I really think that it makes TV viewing valuable again."
He also explained that It was a difficult show to put together, and they were going to some of the most remote locations. He added, "In a lot of these places, these people have never really been highlighted or showcased ever before, and they live these very, very incredible lives."
When asked about how Audel prepared mentally and physically for the series, he said that the show represents him doing what he had always wanted to do. He further explained, "Being around wild animals and wild places, and I'm with wild people that are there to show me even more about these things that I'm fascinated by. That, alone, has been probably the biggest thing to prepare me for something like this."
Audel continued by saying that other things that prepared him for the series are his personal experiences living in very demanding, hot, tropical jungles and remote deserts and some of the coldest places on the planet. He mentioned that having experience has toughened his heart to take on more adventures like that.
In the first season of Primal Survivor, Audel traveled to Nepal to join the Loba nomads in the Kingdom of Mustang, who herded and lived off yaks along the Himalayas' melting snowline at a dizzying 14,000 feet! In an interview with Daily Mail in 2018, he explained, "There is so little oxygen at this altitude with no trees for fuel, so we had to get creative. Our only source of 'kindling' to make a fire and keep warm was yak dung."
Additional Works
Audel is also a skilled artist. He has crafted sculptures, jewelry, and architectural artwork.
Audel Would Like To Have Someone To Come Home To 
Audel told Dailymail in July 2014 that his last relationship lasted for six years. He said, "I loved being crazy in love. The problem was, it was crazy - it had an uncanny resemblance to Fatal Attraction!" 
He later shared that he needs a woman who loves camping, enjoys getting dirty and is a good person for herself and others.
Audel says he'd like to have someone to come home to one day, and in exchange, he'd swap remote wildernesses for 'sand and palm tree type places' for the right girl. Of course, I enjoy traveling, but if I know it won't be a disaster, I'd love to share my adventures with the girl of my dreams.
He also said, "Of course, I enjoy travel, but if I know it wouldn't be the sort of trip that would be a recipe for disaster, then I'd love to share my experiences with the girl of my dreams." 
However, not much information is known about Audel's current relationship status or whether he has a wife.