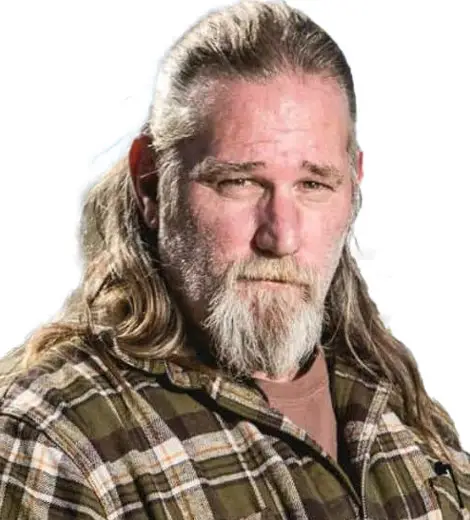 Quick Wiki
Full Name

Dave Canterbury

Occupation

Survival Expert and Instructor , Military Veteran, Business Owner

Nationality

American

Birth Date

Sep 19, 1963

Age

60 Years, 2 Months
Survival Expert & Military Veteran
Dave Canterbury | Biography 2021
Co-founder of Self-Reliance Outfitters & Co-owner of The Pathfinder School
Survival expert Dave Canterbury got involved in a resume discrepancy controversy when Discovery decided not to extend his contract for the third season of Dual Survivors and ultimately fired him in September 2011. As it turned out, Canterbury had lied about many of his military credentials and survival trainings. Later, he revealed through an apology video on YouTube that he was not called back for various reasons, including fabricating facts on his resume that he had provided to the producers. He apologized for misleading his supporters and the public with false information and promised to work hard to make amends for his actions. "I did I didn't do it to hurt anyone; I didn't do it to make things difficult for anyone of my family. I actually did it to number one better my family and number two to be able to bring the skills that I teach to a mass audience. There was nothing sinister in my plan, and I thought you know it wasn't a big deal at the time. I was naive to television, naive to the entertainment industry."
---
Dave Canterbury is an American wilderness survival expert who co-owns The Pathfinder's School and authored New York Times bestselling book 'Bushcraft 101.' He was also a co-host of 'Dual Survivors.' 
Who Happened to Dave Canterbury from 'Dual Survivor'?
Dave Canterbury is the co-owner of The Pathfinder's School and the author of the New York Times bestselling book 'Bushcraft 101.' He got involved in a resume discrepancy controversy when Discovery decided not to extend his contract for the third season of Dual Survivors and ultimately fired him in September 2011. 
As it turned out, Canterbury had lied about being a military team leader-trainer of the Special Reaction Team's (SRT). He had claimed that he had 20 years of experience in survival skills that included airborne, survivor, ranger, and scout training in the military. He had also claimed that he trained soldiers in America, Central America, and Korea before getting involved in various outdoor jobs as a commercial fisherman, a diver in the Florida Salt waters, a hunting guide, and also an operator of a reptile farm.
According to NewCountry991, he was, in fact, active as a factory worker in Ohio before he auditioned to be a military half of Dual Survivors. According to the magazine, he only spent around six years in the military and was deployed once in Korea. 
In addition, the military imposter analysis site, MilitaryPhonies, reported that Canterbury's military records didn't show any survival training. The site also elaborated some of his false claims against his records, including:
Canterbury had lied about having worked in the airborne and scout unit. Instead, he was a military police and had only attended 4th Infantry Division's sniper/counter-sniper class for two weeks.
He was never an srt instructor and coordinator. 
His military records lacked working in diverse countries. 
Early Life
Canterbury was born on 19 September 1963 in the United States of America. He enlisted in the military when he was 17 years old in 1981. He worked in the military from 3 December 1981 to 25 November 1987. His last role in the military was as a military police sergeant. 
The Pathfinders and Self Reliance Outfitters
In 2013, USA Today named Caterbury's school as one of the 'Top 12 Survival Schools' in America. According to his bio on Self Reliance Outfitters, the school has accumulated over 1,500 students worldwide. As per the bio, he could also expand his student list by taking students from governmental authorities such as West Virginia Emergency Medical Services, Michigan Department of Natural Resources, United States law enforcement agencies, and the military.
Canterbury also co-founded Self Reliance Outfitters, which offers survival gears, sustainable to the environment. He has co-hosted two seasons of Discovery Channel's Dual Survivors and authored several survival guides which New York Times bestsellers were, 'Bushcraft 101', 'Advanced Bushcraft,' 'The Bushcraft Guide to Trapping, Gathering, and Cooking in the Wild' as well as 'Bushcraft Illustrated.'
On Development of Pathfinders
According to Canterbury, he believed that he had enough knowledge from the military and working outdoors in order to establish a foundation to teach others what he had learned. He said in an interview that he was working in outdoors when he speculated some ideas to survive in the wilderness in case someone gets stranded or lost while hunting or camping. He thought that those ideas could be evolved into sets of survival techniques essential in dangerous conditions. 
He eventually brainstormed a concept based on different surviving circumstances and compiled his survival philosophy, what he calls the 5C's of Survivability. According to him, the five processes have been employed cross-culturally for survival since ancient times. Canterbury worked with his concept for several years and implemented it in 2007 by establishing The Pathfinder's School.
In 2007, he established The Pathfinder School, in which people could learn and share wilderness skills. He even began giving tips on his YouTube channel to let people know about basic guides to the wilderness.
So, he co-founded The Pathfinder Training School in Southeast Ohio and initiated working as the Supervising Instructor. He set the company's mission to teach people how to be self-sufficient in the outdoors by providing basic to advanced self-reliance training and survival equipment. It aspired to provide both practical knowledge and materials to ensure that it could withstand the test of time, from emergency readiness to long-term.
In an interview with Outdoorhub, Canterbury related an experience about working as a fisherman when he was caught in a severe storm on the south coast. He said that the incident taught him a great value of the need to know the surviving techniques. "When I was stuck in a heavy storm out in the south coast, fishing a couple miles from shore. One thing I've learned is basically not to get caught in that situation. Pay attention to your surroundings, pay attention to weather, understand what's happening, and predict what Mother Nature may do so you don't get caught in situations like that." He said. "It taught me a very valuable lesson in paying attention–to be proactive in things rather than being reactive. By the time you're reactive in a situation, it's nearly always too late."
Later, Canterbury created and posted over 300 instructional videos on the school's website showcasing means and methods on surviving in the wilderness sustainably. He also extended the virtual arena of his school by adding some portion of his content on YouTube. He eluded that entering YouTube was his choice to make sure that his viewers, even if they don't want or can't go to his school, can retain the availed basic knowledge to survive.
"My goal is to spread 'tribal' or 'frontier' knowledge: how folks survive day in and day out in wilderness environments. I'm spreading that knowledge because I think it's important for people to have those skills in this day and age. History always repeats itself, and its useful to understand those skills in case they want to go hunt possum for fun or for a living," he added.
Named as 'Top 12 Survival School'
Canterbury has stretched the school's subjective knowledge by adjoining the surviving skills for different regions and continents, which he called Pathfinder's School Worldwide. He later added Scandinavia and Australia into the instructive curriculum and started seasonal training sessions and camps for people who could hone their skills quickly.
Eventually, the school progressed to be named as one of the 'Top 12 Survival Schools' in America. It accumulated over 1,500 students worldwide. He expanded his student base to government agencies such as West Virginia Emergency Medical Services, Michigan Department of Natural Resources, law enforcement institutions, and the military.
Canterbury also launched Self-Reliance Outfitters, which provides survival gears, sustainable to the environment. The brand offers different kinds of weapons, cooking materials, raw materials with other products, which can be pointless in daily life but important in the wilderness. He highly suggests his students and teachers carry a knife and an ax as essential weapons in time of need.
He also points out that among hundreds of weapons, Blind Horse Knives and 12-gauge shotgun are his preferred weapons to carry during hunting or other times in the wild.
'Dual Survivors'
Canterbury starred on two seasons of Discovery Channel's Dual Survivors from 2010 to 2011, alongside survival instructor Cody Lundin. The show was about two hosts who come from different backgrounds and different schools of survival knowledge and join together in a journey around some of the most perilous terrains in the world. They illustrated appropriate abilities and innovative thinking to stay alive during dangerous conditions.
The show's producers had initially contacted Canterbury after being impressed by his YouTube content. He was signed on for two seasons, which he completed, but he was not renewed for any additional seasons. The viewers of the show made different speculations about his absence.
Later, he revealed through an apology video on YouTube that he was not called back for various reasons, including fabricating facts on his resume that he had provided to the producers. He had written that he was an SRT's sniper (Marksman) during his time in the military but later eluded from the claim. He apologized for misleading his supporters and the public with false information and promised to work hard to make amends for his actions.
"I did I didn't do it to hurt anyone; I didn't do it to make things difficult for anyone of my family. I actually did it to number one better my family and number two to be able to bring the skills that I teach to a mass audience. There was nothing sinister in my plan, and I thought you know it wasn't a big deal at the time. I was naive to television, naive to the entertainment industry." He added. "It's a great disappointment to me and disappointment in myself. I have tried to move past it and work through it as best I can."
He then went on to request forgiveness from his audience and mentioned that he had asked forgiveness from God and his close ones. "I don't think there's anyone alive that can say I've never made a mistake, I've never told a lie, I've never done anything wrong. If you could say that you'd be Jesus Christ, and the fact of the matter is none of us are perfect. All of us sin. I have asked forgiveness from God from Jesus. I have asked forgiveness from my family and now I'm asking for forgiveness from my subscribers and my friends. As far as my outdoor experience goes, I've been working in the outdoors and doing things in harsh environments pretty much on and off ever since I left the military in 1988 so for better than 20 years."
He continued: "I have on-and-off worked in harsh environments outdoor environments, doing multiple things and multiple jobs concerning the outdoors that gives me a lot of outdoors experience. The reason I started the Pathfinder school to begin with was to help pass on some of the things that I had learned and to learn along the way with the people on YouTube and that's why my motto has always been, let's learn together because I learned things for my subscribers every day and I passed those skills and passed those learnings on through my Youtube channel."
Eventually, Canterbury was replaced by Joseph Tati. The show was evidently canceled after its ninth season. Later after Dual Survivor, Canterbury was cast on another survival show called Dirty Rotten Survival, produced by the National Geographic Channel in 2015 and Hunt Channel TV's Pathfinder Outdoor Journal in 2014.
Books
Canterbury has penned numerous books and articles that survival guides have praised. He co-authored 'Bushcraft First Aid' while authored the New York Times bestselling book 'Bushcraft 101', 'Advanced Bushcraft,' 'The Bushcraft Guide to Trapping, Gathering, and Cooking in the Wild,' as well as 'Bushcraft Illustrated.'
He has published his writing in magazines such as Self Reliance Illustrated, New Pioneer, American Frontiersman, and Trapper's World.
Education
According to Canterbury's bio on Undemy. Canterbury has graduated from Frontier Christian University with a bachelor's degree in Wilderness Ministry. The bio also states that he has got certified in Wilderness First Aid/CPR and Advanced Search & Rescue. In addition, it mentions that he has also been qualified by The Fur Takers of America as an Expert Trapper and received basic and intermediate qualifying training from the International School of Herbal Arts and Sciences.
Personal Life
Canterbury is married to Iris Canterbury, whose birthday lies on 24 May. The pair got married in 2010. On a Facebook post on 24 June 2012, he revealed about their decade-long relationship." Today I would like to wish my beautiful wife Iris Canterbury a Happy Anniversary, she has put up with me for 10 years now and we have been married for 2 years today. I love you with all my heart Iris!."
The pair met on 10 August 2002, as per Dave. On 10 August 2011, he wrote, "Today is the 9 year anniversary of the day I met my Awesome wife and soulmte Iris. She is everything in the world."
In one of his previous posts in 2012, he had also praised Iris for being a "great mother and grandmother" similar to his natural mother— who he lost to breast cancer—and stepmother, Sonja Canterbury. He also shared that his wife reminded him of her two mothers.
"I lost my natural Mother to Breast Cancer many years ago, she was the kind of women much like my wife Iris that would do anything for her children and she did things for me many times that caused her to do without, and as devistating as that is and even though I miss her every day I was very lucky in that I had another Mother. Although I would never call her my Step Mother because she has always loved me as her natural son, and I love her like a Natural Mother." He added, "Even today she ,Sonja Canterbury, is here for me every day and works untirelessly behind the scenes of not only the Pathfinder School but also the National Pathfinder Youth Orginization. She is a mother every son would be lucky to have. I could not be more proud to call her Mom." 
His company, Self Reliance Outfitters' website, states that his wife, father, mother, brother, cousins, and other life-long friends have consistently been involved in his vision and operation of The Pathfinder's School.
Did You Know?
According to Celebritynetworth, Canterbury has an estimated net worth of $300 thousand. 
According to his Instagram bio, he acts as a brand ambassador for numerous companies, including adventure knife brand Morkaniv, tactical gear and combat clothing brand Helikon, water purifiers brand Grayl, clothing manufacturing and selling brand Minus 33.