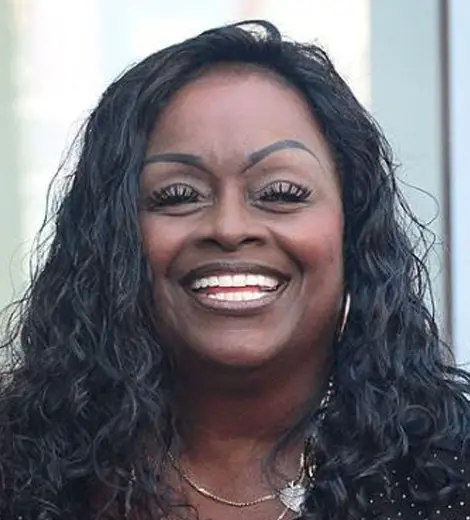 Quick Wiki
Full Name

Glodean Beverly James

Nickname

Glodean White

Occupation

Recording Artist

Nationality

American

Birthplace

Long Beach, California, USA

Birth Date

Oct 16, 1946

Age

76 Years, 7 Months

Zodiac Sign

Libra

Religious Affiliation

Christian

Sister

Linda James

Relationship Status

Widowed

Husband

Late Husband Barry White

Wedding Date

July 1974

Net Worth

Not Disclosed
Wife Of Late 'Grammy Awarded' Singer Barry White
Glodean White | Biography
Member of 1960s Band Love Unlimited
White got married to Barry White, as his second wife in July 1974. She first met him during one of their recording sessions for Andrea Sprewell. At that time, Barry was working as a record producer. White's group worked for him for a long time and assisted him on many albums. And, even after the group broke up, White continued to provide background vocals for Barry. The couple recorded their first duet album 'Barry & Glodean', in 1981.
---
White is an American R&B singer. She is best known as the wife of 'Grammy Award' winning late singer Barry White.
Glodean White's Short Bio
Glodean White, also known as Glodean Beverly White, is a singer and member of the female trio band Love Unlimited, formed in 1969. The band consisted of Glodean's sister Linda James and Diane Taylor, their late cousin. They primarily helped singer Barry White on his musical concerts and served as background vocalists for his albums.
Besides, White and her Love Unlimited band were successful in the USA and also in the UK. To date, they have launched albums like From a Girl's Point of View We Give to You (1972), In Heat (1974), He's All I've Got (1977), Love is Back (1979), etc. Moreover, the trio has released singles like 'Is it Really True Boy-Is It Really Me,' 'Oh Love, Well We Finally Made It,' 'I Belong to You,' 'I Did it For Love,' 'If You Want Me, Say It,' etc.
White and her sisters terminated the Love Unlimited band in the late 1970s. James got married after going separate ways, while Taylor passed away in 1985 because of cancer. However, White continued to provide background vocals to Barry's songs and albums. 
Also Read About - Thelma Riley - Now, Net Worth, Divorce & Ozzy
White Grew Up in San Pedro
In Long Beach, California, USA, Glodean took birth as Glodean Beverly James on 16 October 1946. She grew up with her sister Linda. Although born in Long Beach, her parents raised her in San Pedro, where she and her sister were part of a church choir. Then they met Taylor in the school choir and formed a female singing trio Love Unlimited.
She is Late Singer Barry White's Second Wife
Glodean got married to Barry White as his second wife in July 1974. She first met him during one of their recording sessions for Andrea Sprewell. At that time, Barry was working as a record producer. Glodean's group worked for him for a long time and assisted him on many albums. And even after the group broke up, White continued to provide background vocals for Barry. The couple recorded their first duet album, Barry & Glodean, in 1981.
Glodean and Barry reportedly separated in 1988 and lived apart. However, they were still legally married until Barry's demise in 2003. He had been suffering from kidney disease for a long time and had high blood pressure issues for more than a decade. He took his last breath at Cedars-Sinai Hospital in Los Angeles on 4 July 2003.
From marriage with him, Glodean is the mother of their four children. After Barry's death, she inherited an estate and a Los Angeles complex, which she shared with him. Reportedly the estate consisted of a pool, waterfall, and a landscaped garden.
Her Husband Had A Total Of 9 Children
Glodean's husband, Barry, was married to two women during his lifetime. He married his first wife while he was still a teenager. Although there is not much information about his first marriage date and wife, he mentioned her name in his autobiography as Mary. With Mary, he fathered a total of 4 children.
After separation from Mary, Barry married Glodean in 1974 and welcomed four children with her. In addition, he also had a daughter Denise Donnell with his former girlfriend, Gurtha Allen. She was born in 1962, but she only learned about Barry being her biological father in 1988. Barry later accepted her and helped her change her name to Denise White.
She Reunited With Her Sister To Pay Tribute To Her Late Husband
In the late 1960s and 1970s, Glodean and her sister Linda James had together worked as background vocalists for the late singer Barry White. Later, they found fame on their own rights as the female vocal band, Love Unlimited. Although the group is no longer active, the sister duo has united in singing together again.
In 2020, they released their new Christmas album, A Romantic Evening For the Holidays. As per the December 2020 report on abc7.com, Glodean said that her late ex-husband wanted to do a Christmas album once in his life. But, he passed away before he could do it. Thus, the sisters' duo decided to release an album as a tribute to the late singer.
Glodean also mentioned in her interview that she felt Barry's presence around her and helped her with the notes when she sang the song. She said, "I accomplished something that Barry would have done and didn't get a chance to. While we were doing it and singing, I felt him near me. I just felt him right on my shoulder, just telling me, 'Okay, no, you need to go a little higher, you need to go a little lower. Do that riff. Do that run."
Linda James also talked about the album with abc7. Through the songs, she and Glodean wanted to bring smiles to people's faces and make them happy. She added, "This is Christmastime. We want to make people happy. I'm always happy. So, therefore, I want them to feel the way I feel. So we sing. Glodean and I, we sing together and we look at each other and we smile. We make each other happy."
Danny Koker Found Barry's, Stutz IV Porte
Danny Koker is a renowned TV personality best known for appearing on the hit TV series, Counting Cars (2012-2020). He and his team find lost cars and bikes, restores, and customize them at Count's Kustoms in Las Vegas.
Koker is a long-time friend to Glodean White, late singer Barry's wife. In 2012, she approached him with the task to find a car last owned and driven by Barry. It was a Stutz IV Porte. According to hotcars.com, in 2021, the car's price in 1979 was around $70,000 and was referred to as 'The Car of Kings.'
Koker took on the job to find this very special car and started scouring areas of Las Vegas for it. He and his team eventually find it in a driveway downtown. After a thorough inspection and interrogation with the driveway owner, he confirms it as Barry's car. He then has a short negotiation with the owner and pays $8,500 to take it away.
Finally, after restoring the damaged parts, changing the paintings, and little customization, Koker handed the car over to Glodean White.
Glodean White Today
Glodean's 2022 whereabouts are currently unavailable on authentic media sites. However, as per the 25 August 2020 report on eurweb.com, she is actively working with her IndiGlo Music Group to produce the best music. She serves as the CEO, while her son Kevin White is the President of the music group.
Net Worth
As of 2021, there is no authentic report about Glodean White's exact net worth. However, she inherited her late husband Barry's properties worth around $20 million.
Later many legal issues arose in the matter of her inheritance against Barry's girlfriend and his children from another wife. Yet, her settlements and estimated worth have not been formally disclosed after the settlement.
Her Step-Son Sued Her For His Share of Barry's Estate
After Barry White's demise in 2003, his wife Glodean White was made the sole executor and owner of his millions worth of estate and trust. However, she was not the only person to claim rights to Barry's property. He had nine children, out of which only four were with Glodean.
In May 2017, Barry's eldest son, Daryl White, from his first wife Mary, sued Glodean for a fair share of his father's trust. Reportedly, she had previously asked him not to worry about the property and promised to distribute his rightful share every month. However, he stopped receiving those payments in September 2015, forcing him to file a lawsuit against her.
In the lawsuit, Daryl wrote, "Glodean White, both individually and acting as a trustee, has breached her promise that Daryl White would receive his share of the estate of Barry White." 
He also mentioned the missing payments from his stepmother almost got him destitute and close to living on the streets.
Daryl requested the court to bring out full accounting of Barry White's 2003 assets and its revenue to date. He then asked the court to order Glodean to provide for his entitled share in the trust and payments for his attorney's fees.
There is no authentic report about the settlements made following the court case. Thus, we do not have any verified information about the amount Daryl received during the payment.
Did You Know?
Glodean White was one of the very few singers in the 1970s to adopt the long and decorative nails fashion. At that time, only limited salons in the USA offered nails art.
Glodean's late husband, Barry White, was the receiver of three Soul Train Music Awards for his contribution to R&B music.