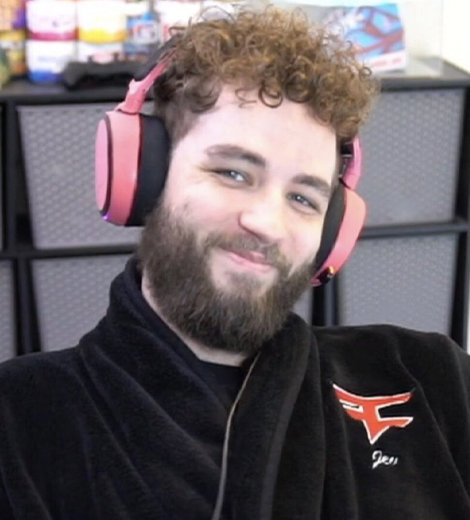 Quick Wiki
Full Name

Jason Eugene

Nickname

FaZe Jev

Occupation

YouTuber, Gamer

Nationality

American

Birthplace

New Jersey, USA

Birth Date

Oct 18, 1993

Age

30 Years, 1 Months

Zodiac Sign

Libra

Did You Know?

His mother had him when she was very young and his father left him. So he grew up with his grandparents.

Relationship Status

Married

Girlfriend

Alexis (Turned Wife)

Wife

Alexis

Wedding Date

July 2020

Family Business

Both are gamers and live streaming content creators.

Height

5 Feet 6 Inches

Net Worth

$1 Million (2020)
American YouTuber & Gamer
FaZe Jev | Biography
Member of Online Game Group FaZe Clan
Besides being a famous YouTuber, Jev is an online pro gamer prominently known as a member of the renowned gaming team, FaZe Clan. In addition, he is widely recognized for sniping in the famous game series Call Of Duty. He began playing online games during his time in high school and soon became proficient in the shooter game Call Of Duty (COD). He usually played it with his online friends, and as he says, he was always the best among all.
---
FaZe Jev is a famous American YouTuber and gamer known for his rage tv live streaming in the internet gaming world. He represents the entertainment and gaming organization, FaZe Clan.
What is FaZe Jev's 2022 Net Worth?
Faze Jev is the gaming name for the famous American YouTuber Jason Eugene. Unfortunately, any authentic sources have not revealed his 2022 net worth. However, his net worth was estimated to be approximately $1 million in early 2020. The main contributor to his massive and increasing wealth is his gaming career, YouTube videos, and social media presence.
Jev has a YouTube channel named after himself. He initially joined the YouTube community on 18 October 2009 with the name pocketLWEWT. However, he later changed it to FaZe Jev and began making gaming-related videos and memes. His first video, 'Modern Warfare 3,' uploaded over a decade ago, currently has 273 thousand views.
According to the available data on socialblade.com, Jev has uploaded 2,714 videos on his channel. He has over 4.92 million subscribers, with close to 2 billion overall video views. His YouTube income is estimated to be around $51 thousand to $831 thousand annually.
Also Read About - Faze Sway - Net Worth, Real Name & Girlfriend
Jev Is A Pro Gamer
Besides being a famous YouTuber, Jev is an online pro gamer prominently known as a member of the renowned gaming team, FaZe Clan. In addition, he is widely recognized for sniping in the famous game series Call Of Duty. He began playing online games during his time in high school and soon became proficient in the shooter game Call Of Duty (COD). He usually played it with his online friends, and as he says, he was always the best among all.
Jev then played his first online COD tournament while he was in the third year of high school. Later after graduation, he completely left his study plans and focused entirely on pursuing a gaming career. He plays games such as Mortal Kombat 11, COD, Counter-Strike, Black Ops 4, Halo, etc.
Faze Jev Is A Member Of the Famous FaZe Clan
FaZe Clan is an American entertainment and esports organization based in Los Angeles, California. It was initially founded by a group of owners as FaZe Sniping on 30 May 2010 and later changed its name to FaZe Clan.
The organization has numerous competitive players worldwide across different online games. Jev is one of them who primarily specializes in COD and Counter-Strike: Advanced Warfare. He has mainly gained fame and praise in these games for his sniping skills.
FaZe Jev Grew Up Without His Dad
Born in New Jersey on 18 October 1993, Jev was raised by his grandparents. His mother had him while she was very young, and apparently, his father walked out on him and his mother. Thus, he did not have his biological father beside him while growing up.
Although he never knew his dad, he wished his fans and followers a happy father's day with a video on his YouTube channel. He uploaded the commentary video on occasion to let people know his story. However, he proclaimed that he did not do it to garner pity from his followers. Instead, he wanted people at the same level as him to know that they can overcome any obstacles and achieve great things in life.
Jev explained how his grandparents filled his mother and father's shoes in the video. He extended his gratitude to them for making him the person he is today. Moreover, he said that he has always seen his grandfather as his father. He also thanked his grandparents for never letting him experience the feeling of a difficult childhood. 
At the end of the video, Jev advised all his fans and followers watching his videos always to appreciate the efforts of parents/ parental figures in raising them.
Jev Is Also Active On Twitch
As of March 2022, Jev has over 283 thousand subscribers on his Twitch account. He goes by his nickname Jev on this platform. For all our readers not acquainted with Twitch, it is a live video streaming platform. It offers live broadcasting of creative content, music, competitive video games, etc. It was first introduced in 2011 and is currently one of the largest internet traffic sources in the USA.
There is no authentic information about when he joined Twitch. However, in November 2021, he had more than 320 thousand combined views from all his live streams. He is most popular on the platform for playing Halo and COD with his online friends. Moreover, his entertaining 'Ragetage' live streams have helped him earn high popularity in the gaming world.
Jev Has More Than Half A Million Followers on Instagram
The American pro gamer is available on Instagram as @mrjeverson. As of now, he has made only 22 posts on the handle. However, he is followed by approximately 505 thousand people on his account. He mostly posts content related to gaming on Instagram.
Jev Is On Twitter As @FaZeJev
Of all the social media handles, Jev is most popular on Twitter. He joined it in April 2011, and as of now, he features around 1.5 million followers on his account @FaZeJev.
To date, Jev has made a total of 1.8k tweets on it. He primarily uploads his gaming videos on his channel and updates his life events through it. 
Jev Married in 2020
Jev has been married to his longtime sweetheart, Alexis, for over a year now. There is no information on the internet about how and when they first met. However, he has mentioned that their relationship goes back a long time on several occasions. They began dating even before Jev had started his YouTube channel. 
Jev first publicly announced his relationship status with his girlfriend via a YouTube video in June 2016. Four years from that, he engaged with her in July 2020. He disclosed the news to his fans and supporters via his Twitter handle @FaZeJev. He wrote, "I got engaged." 
Although the pair have not revealed their exact wedding date, they married the same year as their engagement. Jev also broke his marriage news through Twitter on 11 November 2020.
Jev's Wife Alexis Is Also A Gamer
Alexis is professionally known as AbstractSweater. Like her husband, she is also a gamer and YouTuber. She has a YouTube channel named @AbstractSweater which she started on 17 April 2016. As of now, she has amassed over 41 thousand subscribers on her channel.
Alexis mainly uploads videos related to gaming, DIY, and live streams. With just 23 uploads to date, she has around 1.2 million combined views. Furthermore, as per her bio on her YouTube channel, she is a Twitch streamer and mostly live streams video games on it. Her Twitch account currently has over 62k subscribers in it.
According to socialblade.com, Alexis makes an estimated earning of approximately $12 to $185 from video views on her YouTube channel.
Alexis's Social Media
Although Alexis does not have as many fans as her husband Jev on social media, she has a considerable number of followers. As of March 2022, 23 thousand people follow her on her Instagram handle @abstractsweater. 
Alexis has uploaded several pictures with Jev on her Instagram. Moreover, it also has a shot of the couple before their marriage. She posted it on 19 January 2019, i.e., more than a year before their wedding.
Fans Outraged At Jev After He Revealed About His Girlfriend.
In June 2016, Jev uploaded a video on his YouTube channel where he first announced his relationship status and revealed about his girlfriend, Alexis. Following the announcement, people were outraged at him and threw angry and rude comments in his and his girlfriend's direction.
In his following video titled 'My Girlfriend,' Jev talked about all the rude comments from thousands of people. He said he was a little shocked and a little confused by the reactions he received. While also by the people's tweet about him crushing his entire female fan base with the girlfriend revelation. 
However, Jev personally felt that the matter was not such a big deal. He acknowledged that 15% of his total subscribers were females, which was a huge number. But, he felt that having a romantic partner should not hurt and bother anyone. He said in the video, "In my video yesterday, I just casually mentioned I got a girlfriend. And yesterday was just filled with a bunch of really angry fangirls and some fanboys."
Jev also talked about Alexi's continuous support and encouragement throughout his journey. She helped him get through many difficult situations, and nobody has yet done as much as she has for him. 
In his words, "Behind the scenes and everything, this girl helped me through so much. I can't even begin to explain the amount of things this girl has done for me and the amount of things she's dealt with me and how much she made me a better person. And just made me look at so many things in so many different and better ways."