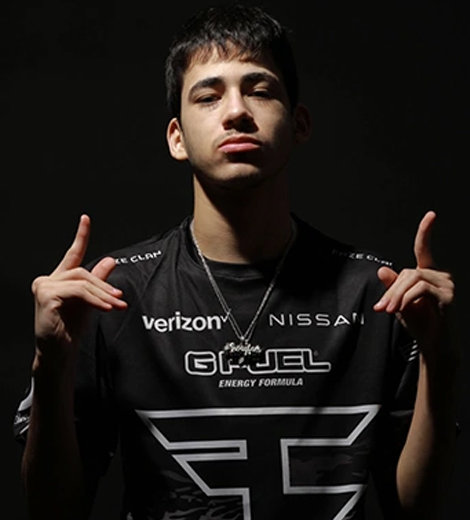 Quick Wiki
Full Name

FaZe Sway

Occupation

Professional Gamer

Nationality

American

Birthplace

Puerto Rico, USA

Birth Date

Jan 27, 2004

Age

19 Years, 10 Months
Online Video "Fortnite" Gamer
Faze Sway
FaZe Sway was posting videos anonymously before joining the FaZe
Sway's gaming career took off after he was featured in the FaZe Clan, the world's most prominent esports organization, in mid-March 2019.
---
Faze Sway is a professional online video "Fortnite" gamer who rose to prominence under his Sway Gamertag
Who is FaZe Sway?
FaZe Sway is a professional gamer and YouTuber from the United States specializing in Fortnite: Battle Royale. He is known for his high-ground retakes and building inside Fortnite. 
Sway used to be a member of the gaming team Chronic until joining FaZe in February 2019. He frequently plays Fortnite with fellow FaZe members.
Sway flourished his career as an online gamer through his YouTube channel, presently named FaZe Sway. He had created the channel in June 2013. But, he did not upload anything on YouTube until March 2017. His Youtube account, which has over 3 million subscribers as of November 2021, is mostly dedicated to Fortnite gameplays and montages. 'FaZe Sway versus Ghost Aydan' was his first million-view Fortnite video. 
Sway's gaming career took off after he was featured in the FaZe Clan, the world's most prominent esports organization, in mid-March 2019. Sway was posting videos anonymously before joining the FaZe. It was only after he joined Faze, Sway showed his face.
Age and Real Name 
FaZe Sway, real name, Josue Sway, was born on 27 January 2004 in Puerto Rica, USA. Later, his family moved to Mexico. He is 17 as of November 2021.
Net Worth
Sway's exact net worth is not disclosed yet. According to the Social Blade website, his estimated monthly earning is between 569 to 9.1K dollars and while his yearly income is between 6.8k to 109k dollars.
Girlfriend 
The gaming Youtube channel Sukie had posted a video on 15 March 2020 that put forth a story between FaZe Sway and his ex-girlfriend Lina. According to that video, Lina and Sway had been in a relationship for a long time, "since they were in diapers," quoted Sukie. But, unfortunately, the duo broke up. 
Their breakup was initially not disclosed by either party. However, fans started speculations on the matter as Sway was not mentioning Lina in his Twitter account for long, and neither was posting pictures together. To clarify the contagious rumor, Lina decided to open up. 
"You guys kept asking about it and were confused so here is me speaking on it," she wrote on her Twitter account and attached a link to the post that directed the audience to long writing she wrote to explain the rumor.
"Yes, me and Sway broke up it's been 2 months since the breakup, I'm going to be truthful I am hurt he was my first love my first everything and has taught me so much in life that I never thought I would accomplish", Lina started off her writing by agreeing to the rumor. 
"It is personal on why we broke up and I (please be respectful) don't want to speak on it," she added. Thereafter, she went mentioning her memories with Sway and added, "And please to whoever his new girl will take good care of him because he was once my little baby and I want him to be okay and feel safe and not worried nor scared."
Height 
FaZe Sway stands at the height of 5 feet and one inch.