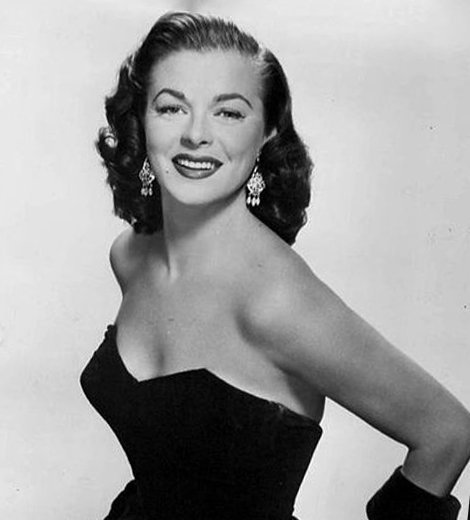 Quick Wiki
Full Name

Lona Fay Spain

Nickname

Fay Spain

Occupation

Actress

Nationality

American

Birthplace

Phoenix, Arizona, USA

Birth Date

October 06, 1932

Zodiac Sign

Libra

First On-screen Debut

Series 'Big Town' in 1955

First Titular Role

Movie 'Dragstrip Girl' in 1957

Did You Know?

Fay Spain's cause of death was Cancer.

Death Date

1983-05-08

Age At Death

50 Years Old
American Actress in the 1974 film 'The Godfather: Part II'
Fay Spain | Biography
Debuted in the 1957 Action Drama Film 'Dragstrip Girl'
As a result of the column, she received a call from Columbia Pictures. However, after meeting with her, the company did not offer her a contract, stating that she was not photogenic enough for Hollywood. However, she would later prove them wrong when she was named '1956 WAMPAS Baby Stars' in October 1955. 
---
Fay Spain was an American actress best known for her role as Mrs. Marcia Roth in the 1974 epic crime drama film The Godfather: Part II.
Fay Spain Short Bio
Actress Fay Spain was born Lona Fay Spain in Phoenix, Arizona, on 6 October 1932 to Arminta Frances Cochran and R.C. Spain. Before starting her acting career, Spain worked in a tie shop where one of the gossip columnists, Walter Winchell's legmen, met her and was impressed enough to mention her in Winchell's column. 
As a result of the column, she received a call from Columbia Pictures. However, after meeting with her, the company did not offer her a contract, stating that she was not photogenic enough for Hollywood. However, she would later prove them wrong when she was named '1956 WAMPAS Baby Stars' in October 1955. 
After the recognition, she got her first acting gig in the television series Big Town within a month. In 1956, she guest-starred on television series like The NBC Comedy Hour, Warner Brothers Presents, and Cheyenne before appearing as a B-Movie actress contestant in the comedy quiz series You Bet Your Life. She later guest-starred in numerous television series, including Cheyenne in 1956, Dragnet in 1956, Perry Mason in 1958, The Fugitive in 1965, and Gunsmoke between 1957 and 1967. 
Additionally, Spain appeared in two episodes of the CBS war comedy sitcom Hogan's Hero. She portrayed two different characters in each episode. She first appeared as Myra in an episode titled 'How to Catch a Papa Bear' in 1968. The second episode she appeared in was a 1969 episode titled 'At Last - Schultz Knows Something,' in which she portrayed the role of Carla.
She made her big-screen debut in the 1957 action drama film Dragstrip Girl, alongside Steven Terrell and John Ashley. In Dragstrip Girl, she starred as Louise Blake, a girl who loves hot cars and rich guys racing cars. In 1957, she also appeared in three other movies: The Abductors, Teenage Doll, and The Crooked Circle. 
In 1958, she played Darlin' Jill in the comedy-drama film God's Little Acre, adapted from Erskine Caldwell's best-selling 1933 novel of the same name. Her other film credits included Al Capone (1959), The Private Lives of Adam and Eve (1960), Hercules and the Captive Women (1961), Black Gold (1962), Thunder Island (1963), Flight to Fury (1964), and The Godfather: Part II (1974).
Furthermore, she appeared in a couple of television movies, such as The Ten Commandments (1959) and Johnny Guitar (1959).
The last acting credit Spain appeared in was an uncredited role as Marcia Roth in the 1977 television mini-series The Godfather Saga, per her IMDb.
Also Read About - Lance Barber - Wife, Age & 'Young Sheldon'
'The Godfather: Part II' was Fay Spain's most noteworthy film
The Godfather: Part II was Spain's last film, in which she had a bit part as a mafioso matriarch. However, it became the most recognizable film of her lifetime. She portrayed the role of Mrs. Marcia Roth, the wife of Hyman Roth (played by Lee Strasberg). 
Hyman was an investor and long-time Corleone business partner. He was a former enforcer in the Corleone crime family and a business partner of Vito Corleone (played by Robert De Niro). He later became a partner of Vito's son Michael Corleone (played by Al Pacino).
Marcia lived with Hyman at his home in Miami, Florida but her whereabouts remain unknown after Hyman was deported and then assassinated by Corleone caporegime Rocco Lampone (played by Tom Rosqui).
Released in 1974, The Godfather: Part II chronicles the early life and career of Vito Corleone in 1920s New York City and follows Michael Corleone in the 1950s as he attempts to expand the family business and tighten his grip on the family crime syndicate. The film was directed by Francis Ford Coppola and co-written by Coppola with author Mario Puzo. The film was loosely based on Puzo's 1969 novel The Godfather and was both a sequel and prequel to the 1972 film The Godfather.
The film won six Oscars for categories such as 'Best Picture,' 'Best Actor in a Supporting Role,' 'Best Director,' 'Best Writing, Screenplay Adapted From Other Material,' "Best Art Direction-Set Decoration,' and 'Best Music, Original Dramatic Score.'
How many spouses did Fay Spain have?
Spain had been married four times, so she had four spouses in her lifetime. She was first married to screenwriter and actor John Falvo from 27 January 1952 until their divorce on 6 January 1958. They had one son named Jock, born in 1954.
According to a November 1958 news, Spain was working as a full-fledged dealer at the crap tables at the age of 17, when she was even too young to be allowed as a customer in Reno gambling casinos.
She told AP Newspaper that she and her husband were not acting satisfactorily in the East, so they relocated to the West and started working as a dealer. "I lied about my age and got a job as a dealer—and made big money, much more than my husband, who was a shill," she said. 
For six months, the couple worked there and saved sufficient money to enter the Hollywood industry. However, the two eventually divorced in 1958.
Falvo was born John Gerard Lazaro in Pittsburgh, Pennsylvania, on 30 November 1928. He was known for writing credits in films like Hawaiian Eye, Checkmate, Black Saddle, and Johnny Ringo. After parting ways with Spain, Falvo married actress Nancy Hadley on 6 February 1959 and welcomed three children together. However, they also got divorced in December 1971. On 4 April 1990, he died of lung cancer in Los Angeles, California.
After divorcing Falvo, Spain married Los Angeles-based abstract painter, illustrator, and art instructor John Altoon on 30 January 1959 in Hollywood Unitarian Church. The couple spent their honeymoon in Reno, Nevada. They had a remodeled home in the San Fernando Valley of California. Their marriage also ended with a divorce on 1 March 1962.
Born in 1925, Altoon made a strong impression on the Los Angeles art community of the 1950s and 1960s. He was a member of a contemporary art gallery, Ferus Gallery. He frequently used his dreams and fantasies to create paintings, illustrations, and prints of undisguised satires, personal nightmares, and unlikely sexual situations. He also contributed art for several record album covers. He died in 1969.
Spain was married to his third husband Imo Ughini from 1965 to 1966 and fourth husband Philip Fulmer Westbrook Jr. from 1968 until she died in 1983.
What did Fay Spain Die From?
Fay Spain's cause of death was Lymphatic cancer. She died in Los Angeles at age 50 on 8 May 1983. Her body was buried at West Klickitat Cemetery District No. 1 in White Salmon, Klickitat County, Washington.