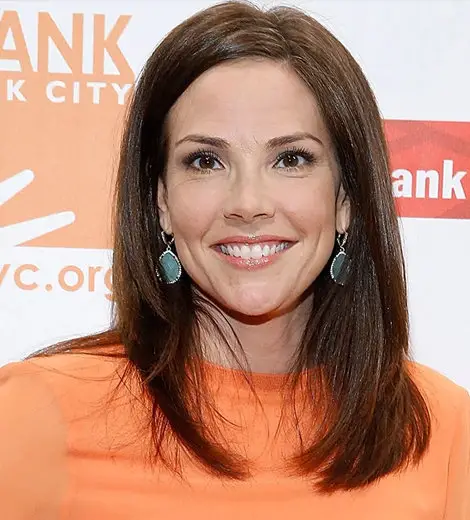 Quick Wiki
Full Name

Erica Hill

Occupation

Journalist, Anchor

Nationality

American

Birthplace

Connecticut, USA

Birth Date

Jul 20, 1976

Age

47 Years, 4 Months
CNN Correspondent
Erica Hill | Biography
At TechTV, Erica Hill was highly noted for her live reporting of the 11 September 2001 terrorist attacks
In June 2016, Hill re-joined HLN, a spin-off of CNN, as the daytime news anchor and also contributed to CNN. Eventually, she moved from HLN to CNN in 2018. 
---
Erica Hill is a CNN correspondent. 
Who is Erica Hill?
Hill is an American journalist who serves as a primary substitute anchor and correspondent at CNN. She has worked as a news anchor in multiple media houses, including CNN, NBC, MSNBC, and CBS News. For her work in journalism, Hill was awarded the 'Peabody Award' and 'Gracie Award' in 2013. 
Early Life and Education
Hill was born on 20 July 1976, in Clinton, Connecticut, to Steven Holmes and Cheryl Hill. Her father has served with the 14th Armored Cavalry in Fulda, Germany, during the Vietnam era. 
She graduated with summa cum laude from the Boston University, Massachusetts, in 1998 with a Bachelor of Arts degree in Journalism. Hill is 45 years as of 2021. 
TechTV
In 1998, Hill began her career in journalism as a production assistant for PC Week Radio, an online news program for PC Week magazine. Between 2000 and 2003, she worked at TechTV as a part of the TechTV News program, which was later renamed as TechLive. 
At TechTV, Hill served as a reporter between 2000 and 2001 and became a co-anchor and correspondent from 2001 to 2003. She was highly noted for her live reporting of the 11 September 2001 terrorist attacks. 
CNN's HLN
After a successful run with TechTV, Hill joined the CNN Headline News Channel (HLN) in 2003 as a general news anchor for different programs. In 2004, she joined CNN Newsource as a national correspondent. 
From 2005 to 2006, Hill co-anchored Prime News Tonight and then moved on to become the anchor of Prime News with Erica Hill between 2006 and 2008. She then began providing news updates for Anderson Cooper 360° in April 2005, became a full-time member of the show in 2008. Between November 2009 and January 2010, Hill co-anchored CNN Tonight. 
CBS News
Hill worked in CBS News between 2008 and 2012. At CBS, she began as a co-anchor for The Early Show on Saturdays between 2008 and 2010. She was promoted to an anchor for the weekday edition of the show for the next two years until 2012. From January 2012 to September 2012, she co-anchored a new morning show, CBS This Morning, along with Charlie Rose and Gayle King. By the end of 2012, Hill was replaced by Norah O'Donnell. She then became a special correspondent for CBS News and contributed news to all the CBC broadcasts for a brief period.  
NBC News
Hill also had a successful career in NBC News. She started working for them in 2012 as a co-anchor for Weekend Today. Though she was welcomed well for her work, Hill quit the program on 3 April 2016 to spend more time with her family. However, she continued to do daily news reporting to MSNBC and on NBC Nightly News. 
HLN and CNN
In June 2016, Hill re-joined HLN, a spin-off of CNN, as the daytime news anchor and also contributed to CNN. Eventually, she moved from HLN to CNN in 2018. 
Hill's career encompasses a wide range of coverage on international and domestic stories. Her coverage includes the shooting of former Representative Gabrielle Giffords in Tucson, Arizona; the death of Osama Bin Laden; the growing refugee crisis in Dabaad, Kenya; the aftermath of the 2010 earthquake in Haiti; and the famine in East Africa. 
Net Worth
According to Celebrity Net Worth, Erica Hill has a net worth of $6 million, earned through her career as a journalist. 
Personal Life
Erica Hill is married to David Yount, a lawyer. The couple tied the knot on 15 October 2005. They have two songs – the eldest son, Weston Robert Yount, born on 25 November 2006, and the youngest, Sawyer Steven Yount, born on 23 March 2010. The family currently lives in New York.