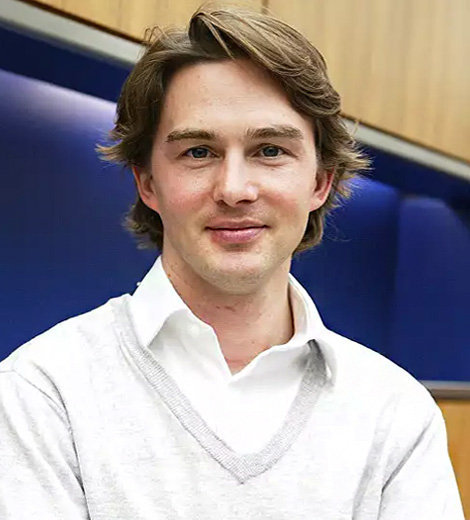 Quick Wiki
Full Name

Daniel Giersch

Occupation

Businessman

Nationality

German

Birthplace

Schleswig-Holstein, Germany

Birth Date

May 24, 1974

Age

49 Years, 6 Months

Zodiac Sign

Gemini

Relationship Status

Divorced

Net Worth

Millionaire

Ex-Spouse

Kelly Rutherford

Children

Two
Former Husband of Actress Kelly Rutherford
Daniel Giersch | Biography
Multimillionaire Entrepreneur, Businessman & TV Personality
Giersch married his now ex-wife Kelly Rutherford on 18 August 2006. The pair have not shared any details of their love and dating life before marriage. However, they divorced after around four years of relationship.
---
Daniel Giersch is a successful German entrepreneur. He is best known to the worldwide public as the ex-husband of Gossip Girl actress Kelly Rutherford.
Who is Daniel Giersch?
Daniel Giersch is a multimillionaire entrepreneur, businessman, and TV personality. 
He was born in Schleswig-Holstein, Germany, on 24 May 1974 and currently lives with his two children in Monaco.
Giersch's worldwide fame is primarily from his association with the famous American actress Kelly Rutherford. He is Kelly's ex-husband.
Besides gaining fame as a celebrity husband, Giersch became a topic on the internet when he won a legal battle against Google in 2007. Reportedly, he prevented Google from using Gmail in Germany and providing e-mail service.
He Was Married to His Ex-Wife For Four Years
Giersch married his now ex-wife Kelly Rutherford on 18 August 2006. The pair have not shared any details of their love and dating life before marriage. However, they divorced after around four years of relationship.
From their marriage, the pair welcomed two children into their lives. Their firstborn son Hermes Gustaf took birth on 18 October 2006. Later, on 8 June 2009, their daughter Helena Grace Rutherford Giersch was born.
Also Read About - Florence Welch - Age, NetWorth, Tattoo & Boyfriend
His Ex-Wife Kelly Rutherford is a Veteran Actress
Kelly is an American actress born in Elizabethtown, Kentucky, the USA, on 6 November 1968. She began her acting industry journey at the age of 20 as Michelle, a guest character in the TV series Loving (1988).
Later, in 1989, she landed a career-defining part in the NBC TV series Generations. She portrayed the lead character Sam Whitmore in 246 episodes through the series' until 1991.
In a career spanning over 34 years, Kelly has acted in around five dozen movies and TV shows. Her most notable roles are in The Adventure of Brisco County, Jr. (1993-1994 TV series), Amberwaves (1994 film), Homefront (1992-1997 TV series), Melrose Place (1996-1999 TV series), The Chaos Factor (2000 film), E-Ring (2005-2006 TV series), Gossip Girl (2007-2012 TV series), etc.
She has been married twice and divorced twice to date. She married her first husband, Carlos Tarajano, on 30 June 2001. However, they stayed together only for a brief while before getting divorced in January 2002. Kelly then tied knots to Giersch in October 2006, only to part ways in June 2009.
Legal Battle with Kelly Rutherford for Children's Custody
Giersch and his famous wife Kelly Rutherford were once in a legal battle for custody of their two young children. After a long legal pursuit, the US court ordered them in joint custody. However, as Giersch had his visa revoked, the court again ordered his children to live in Monaco with him.
In 2012, Giersch took his then two-year-old daughter Helena and five-year-old son Hermes to Monaco. As a result, Kelly moved back and forth from the US to Monaco to be with her children.
But again, after three years, i.e., in 2015, the legal custody battle took a turn. Kelly brought her children with her to the USA from Monaco and was due to send them back by 6 August 2015. However, on 7 August 2015, she released a statement about having no plans to return them to Monaco with their father.
After Kelly's statement, Giersch accused her of abducting his children. He also made a statement and warned her of the consequences of her false actions. He said, "Child abduction is a crime, and everyone involved in kidnapping or abducting the children will face the appropriate legal consequences. Anyone associating themselves with Kelly and her abduction is violating the law."
He Put His Multi-million Dollar Cannes Castle on Sale in 2018
The vast nine-bedroom mansion in Mougins, dubbed "one of the world's most secure residences," was built for their children, but they never settled there.
According to The Times, Giersch, a German entrepreneur residing in Monaco, had put the home on the market for £11.25 million. Following a long custody fight between the former couple, he put the Cannes house on the market in 2018.
According to the publication, Reinhard Ortell, a Swiss lawyer, sold the house on behalf of the trust fund Giersch established for his children.
"It is sad to see how much money has been burnt in this case," Reinhard Ortell told The Times in 2018. "Only people with so much money can afford this kind of drama."