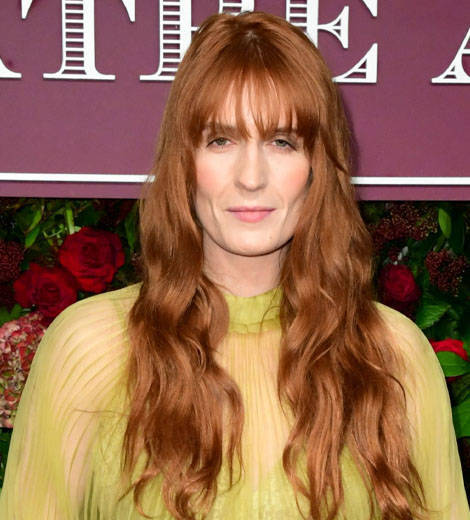 Florence Welch Biography 2021
Florence Welch is a British singer, best known for being the vocalist in the band Florence and the Machine.
---
Florence Welch is a British singer, best known as the vocalist of the band Florence and the Machine.
Who is Florence Welch?
Florence is the vocalist of the infamous band Florence and the Machine, which musical accolades include Brit Award winner album Lungs and its single 'Happy Slap' (Kiss With A Fist). She has contributed famous soundtracks in movies such as Twilight, The Snow-White, and Huntsman. She has also acted in series such as Gossip Girls and Game of Thrones.
Early Life and Family
Florence Leontine Mary Welch was born on 28 August 1986, in Camberwell, England, to Nick Russell Welch and Evelyn Kathleen Welch. Father Nick worked as an advertising executive and used to be a musical performer in his 20s. He later would turn into an "occasional" journalist and a campsite manager. Her mother, Evelyn Welch, immigrated to the country from New York City. She works as a Professor of Renaissance Studies in the Department of History of Arts & Humanities at Kings College, London. Florence's grandfather, Colin Welch, former editor of Daily Telegraph and former parliamentary sketchwriter of Dailymail, died a year after he suffered from a stroke in 1995. According to Nick, he and Evelyn would make their children visit their ill grandfather from time to time. 
Nick has remarked about the decision and the whole story in his 2011 article titled "My daughter, the fabulous Florence Welch."
"I didn't really think properly about how this might have affected an impressionable 10-year-old, and then I came across an article in which Florence poignantly described visiting her grandfather and seeing him "lying there, quite still, like a moth". That certainly made me think, and continues to make me think, about the effects of one's decisions as a parent," Nick wrote.
Florence's parents had an amicable divorce when she was in her early teens. Later, both of her parents remarried and headed their own lives. Florence has four step-siblings and two siblings all together.
"So far, her connections with her family have remained reasonably unchanged. She still lives with her mother, sister, brother, stepfather, two half-brothers, and half-sister. This Brady Bunch arrangement was made after our divorce and, despite initial ructions, has proved highly successful," Florence's father Nick revealed.
In his article, Nick expanded that the extended family bonded together strongly with Welch. "So far, her connections with her family have remained reasonably unchanged. She still lives with her mother, sister, brother, stepfather, two half-brothers, and half-sister. This Brady Bunch arrangement was made after our divorce and, despite initial ructions, has proved highly successful," Nick wrote.
"Amazingly, this large group generally gets on pretty well and provides a certain ballast for Flo as she hurtles towards the stratosphere. It has a mass that perhaps enables it to absorb all the excitements of her life in way that a smaller family unit might find more difficult. Having a prominent and noisy sibling could potentially be annoying for the others, but Flo maintains a close relationship with them all and especially with her younger sister Grace," he added.
Florence studied at Alleyn's School in Dulwich and briefly went to Camberwell College of Arts. She would drop out of college to pursue a career in music. She is a niece of satirist Craig Brown. After her parents' divorce, she lived for a time with her mother before moving to a house on a "small street in the shadow of a Victorian gasworks for its proximity to her mother's home.
Out of the Spotlight
Florence comes from an affluent and well-connected family, which consisted of many family members with musical or artistic backgrounds. In her younger days, her Scottish paternal grandmother, Cybil Welch, encouraged her to perform, and eventually, she sang at the family gatherings and joined church choirs. Her father would also take his two daughters (Grace and her) to violin lessons. 
And she was exposed to the history and renaissance painting from her early days through her mother. She has described her childhood as grounding with supportive parents yet with moments of dysfunction. In one of her interviews, she said, "My childhood was just people shouting, 'Shut up, please!' in the house, all the time. My mum would be trying to write another book on renaissance history and there would be me upstairs belting out show tunes. 'Florence!'"
She also recounted her complicated relationship and creative differences with her academic mother, "My mother is a very intelligent, logical and highly academic woman. I was this unwieldy, freewheeling ball of emotion who wasn't good at Math or spelling and just liked singing and dancing. This wasn't my mother's field of expertise. So, I guess there was an early sense of not being quite understood. Where did this strange creature come from? You know, I laugh about it but it has been quite a painful thing. Music has been my source of self-preservation."
Medical Struggles
She has had medical struggles since her early years. She was diagnosed with dyslexia and dyscalculia at an early age. Both of the conditions are learning difficulties that made it harder for her to spend her school days like a regular student. She also has had counting problems in her jobs because of the conditions. In one of her early experiences when she was a barmaid, she felt a "sting of shame" when her manager exposed her inability to count change. Subsequently, she learned the shape of each coin in her hand and applied a geometric value to help her count.
After her parents got divorced, she started drinking. Those problems with alcohol stayed with her even after she had her breakthrough. She eventually stopped, and her album High as Hope was her first sober and emotionally uplifting album. In one of her interviews, she also opened up about her eating disorder and said that she put together the song 'Hunger' to express her struggles. 
Career        
Although she wrote her first song, 'My Boy Builds Coffin' after singing at her grandfather's funeral, her first band was a mysterious group called the Toxic Cockroaches, in which she spent her late-teenage years.
Then she joined the Camberwell School of Art, where she sang for a band called Ashok. When she was 19, she and her bandmates signed a contract with an old-school manager, despite being consulted by her father not to. Eventually, her father contacted a music lawyer to check on the contract, to which she ultimately resigned. 
Later on, in the December of 2006, Florence was drunk when she spotted the duo of Queens Of Noize at the Soho Revue Bar in London. She then cornered Mairead Nash in the washroom and sang Etta James' "Something's Got a Hold on Me" to her. A week later, the Queens of Noize invited Welch back to open for their club night.
Florence did her first gig with her friend Isabella Summers, which could be defined as an early partnership that would shape the future of Florence and the Machine. In 2007, she recorded with her band Ashok, which release the Plans. The album consisted of the earliest version of her later released song 'Kiss with a Fist.' Soon after the album's release, Florence left the band.
Florence and the Machine
In 2008, Florence and her new band Florence and the Machine released the lead single, 'Kiss with a Fist,' for its debut album Lungs. 
As per Welch, the band got its name out of a "private joke that got out of hand." 
"I made music with my friend, who we called Isabella Machine, to which I was Florence Robot. When I was about an hour away from my first gig, I still didn't have a name, so I thought 'Okay, I'll be Florence Robot/Isa Machine', before realizing that name was so long it'd drive me mad," she revealed. 
'Lungs'
In 2009, the band released its debut album Lungs, with Florence on the vocals, Isabella Summers on synthesizers, Chris Hayden on drums, Tom Moth on harp, Rob Ackroyd on guitar, Rusty Bradshaw on piano, and Mark Saunders on bass. The album peaked at No. 1 in the United Kingdom and No. 2 in Ireland. Lungs, alongside La Roux, became the face of British music in 2009. Several weeks later, it was released for downloads in the United States. It later made it to No. 17 on the 'Billboard Heatseekers Album Chart.'
About the discography of the album, Florence has said that she intended to make something that was beautiful and dark at the same time – also, she wanted to make something epic and massive, something that had an intensity to it.
Lungs sold over million copies and was behind Michael Jackson's The Essential, holding the second position on the charts for weeks after its release.
After the success of Lungs, Florence and the Machine was nominated for the 'British Awards' 2009 and 2010. It was awarded the 'Critics Choice' in the year 2009 and won the 'Mastercard British Album' award in 2010 at Brit Awards.
'Ceremonial'
In 2011, Florence and the Machine released their second album, Ceremonial, which Florence wanted to be the better version of Lungs. The album made it to No. 1 of the UK Charts and No. 6 of the US Billboard Charts, selling over 90,000 copies in its first week. 
The subsequent success of Ceremonials nominated the band for the 'Annual Grammy Awards.' It was nominated under the category 'Best Pop Vocal Album' and 'Best Pop Duo/Vocal Performance.' And Florence was nominated under the category of 'Best New Artist.'
Florence released the third album, How Big, How Blue, How Beautiful, in the year 2015. Their album made it to No. 1 on UK Album Charts and the US Billboard 200. It garnered five nominations for the 'Annual Grammy Awards.' Florence performed at the Glastonbury Festival, making it into the last slot after a sudden accident of Dave Grohl canceled his appearance.
'The Odyssey'
In 2015, Florence and the Machine released a collection of visuals arts molded into a 47-minute title, The Odyssey art film, directed by Vincent Haycock. The project was compiled together with the "videos released in 2016 of songs" from the album How Big, How Blue, How Beautiful.
The film records Welch's journey through the lens of her life struggles, including conflicts in love life. With the accompanying visual work, the album became much more objective and relatable—it allowed fans of the band to relate more with Florence and see the world through her eyes.
"This is the finale of a very personal project that came from a conversation me and Vince had in the Chateau Marmont about a year and a half ago while I was writing How Big How Blue How Beautiful. I was talking to him about the record and the car crash of a relationship breakup I was going through. The highs and the lows of love and performance, how out of control I felt, the purgatory of heartbreak, and how I was trying to change and trying to be free. And we decided we would re-tell this story in full," Welch wrote in her website.
She also said in an interview that the short showcased her personal "heartbreak" in a way that it assisted her to "understand and exorcise" the feelings post-separation with her boyfriend (James Nesbitt) of 1 year.
To create a common connection across the chapters, contemporary dance with similar modern movements was a significant part of the film. The video was choreographed by Ryan Heffington, who also assisted in creating movements that reflected Florence's emotional state. Each gesture had its own narrative language that described these various emotions.
Additionally, for the shooting of Odyssey, Florence Welch stripped down. It took a lot of courage for singer Florence Welch to get nude for the film, but it didn't seem a big deal once she did. 
Later, she remarked that stripping off for the film was liberating, and she felt confident in her decision to do that.
"Yes, it really was. As a young woman, growing up and suddenly becoming famous, you do feel uncomfortable in yourself. You have concerns about your body. And with this is the album it was just like: 'Fuck it, it doesn't matter,'" Welch shared. 
'Hunger'
In 2018, the band's fourth album, High as Hope, was released, but the band's drummer Christopher Hayden announced he was leaving the same year. 
This album was filled with revelations about her love and personal life that she'd never disclosed before. For Welch, the album signified a new level of transparency and confidence. 
'Hunger,' the album's first single, was about her eating disorder, and there were other songs about self-perseverance on the album. It was a worldwide success, selling over one million copies.
Hunger's first line — "At 17, I began to starve myself" — refers to an eating disorder Welch battled as a teenager. She felt that her relationship with food would never return to normal and that the damage had already been done. The fixation faded after a while, and she no longer kept worrying about it.
Welch thought she would never be vocal about it, but after several years, she told her mother about it and disclosed it in her album. She considered removing the entire portion from the song, but it instead gave her clarity in life.
She says High As Hope is one of her favorite albums because the songs have made her understand herself. Welch states, "Sometimes the songs have more clarity in them than I do about my life." 
During the recording of High as Hope, she got a tattoo saying "Always Lonely." She recalls that it was a particularly lonely period in her life back then. She'd just broken up with her boyfriend, James Nesbitt, and was in New York. Welch was attempting to do what was best for all of them while still getting things done, but she says she felt strangely lonely. 
However, Welch states that the album "could've been a break up record," but it was instead about "trying to understand" herself.   
"Without the structure of touring, you have to face your own chaos. I was playing gigs non-stop since I was 21. When I was left to my own devices, I realised I was fucking everything up," Welch states. "I was in and out of a relationship, in and out of drinking too much. It was like constantly picking yourself up and then dropping yourself, picking yourself up and dropping yourself. And that was exhausting."
Welch adds, "[The album is] definitely not about trying to be vindictive. It's about being honest. This could've been a break up record [referring to Welch's off-and-on relationship with events organiser James Nesbitt]. But it was much more about trying to understand myself." 
She shares, "I was in this purgatory with this man. That push and pull thing where you are just stuck and you're like, 'Why do we keep doing this to each other?'" 
She later revealed that Taylor Swift offered her advice, "you must sing about what's happening in your life," while she was making the album.
'Useless Magic'
On 5 July 2018, through Penguin's Fig Tree imprint, she released her first book, 'Useless Magic.' Welch's lyrics, poetry, and artwork from her sketchbooks were included in the novel. Previously in November 2017, she had posted the cover art for Useless Magic and a picture from the preface, in which she reflected on the influence of music.
"Songs can be incredibly prophetic, like subconscious warnings or messages to myself, but I often don't know what I'm trying to say till years later. Or a prediction comes true and I couldn't do anything to stop it, so it seems like a kind of useless magic," she wrote. 
Sobriety
Welch's has shaped her identity after conquering her excessive drinking habits. She had the understanding and exhaustion at one point that she needed to stop or she would die.
At the age of 27, Welch became sober—a few months after her mother gave a speech to her peers at her birthday party to try to keep her safe and out of the notorious "27 club". Initially, she found it strange to let go of her habit, and she even grieved for it for a time. 
In 2020, Welch spread a message of hope to those who were going through difficult times. On 2 February 2020, she revealed on Instagram that she tattooed the number three on her left ring finger when she was three years sober. The finger had broken during a drunken battle. She quoted the painting of a red heart on her Instagram, "I send love to anyone on day 1. I love you. I'm with you."
Tattoos 
As someone who values art and craft, Welch has 13 tattoos on her body, each with a special significance for her. Florence has the word "Grace" and a heart tattooed on her left middle finger. In July 2013, she got a tattoo from famous tattoo artist Minka Sicklinger to mark the date her sister gave birth to her baby.
Also, she has tattoos on the backs of both ankles that read "too fast for freedom," which is a line from her song 'Delilah,' from the album How Big, How Blue, How Beautiful.
She got another tattoo in 2018, following the release of the studio album High As Hope. This time, she went with a blocky print for the "Always Lonely" inscription on her left arm. She gave an explanation for her recent tattoo, stating,
"I thought that I would just cement it. Because maybe if I just had it on there, I could own it somehow, make it a part of myself, or embrace that part that I find difficult."
Personal Life and Boyfriend
During her time in the spotlight, Welch has been in many relationships. Her first reported relationship was in 2008 with literary editor Stuart Hammond. After three years of dating, the pair decided to call it quits. Their decision to split up was mutual. She claimed that the reason for the break up was due to a lack of time and effort.
"We were both really sad, but kind of just not able to have the time to fix it. It's not a sense of someone dumping someone else," Welch revealed. 
After a year, she started dating James Nesbitt, an event manager. She and James started dating in 2012, a few months after she broke up with her ex-boyfriend Stuart Hammond. But, the latter couple also split up in the spring of 2013. Their relationship was symbolized in the musical film, The Odyssey, with a scene of a sudden "car crash" when she was driving alongside her boyfriend.  
In 2016, Felix White of The Maccabees was her boyfriend. The Florence and the Machine frontwoman is said to have channeled her heartbreak into the song 'The End Of Love' of the forthcoming album 'High as Hope,' which was released on 29 June 2019. 
Her dating history also involves a relationship with fashion photographer Jesse Jenkins (reported mostly in 2015),  
Net worth
Florence Welch's net worth, according to Celebritynetworth.com, is $28 million.