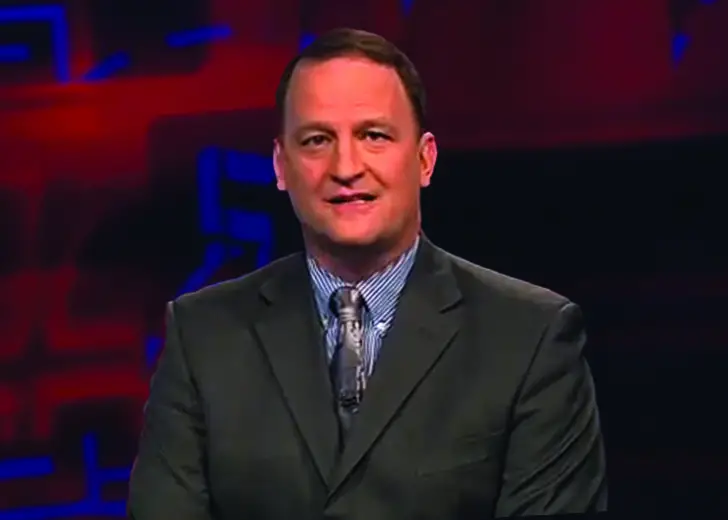 Quick Wiki
Full Name

Daniel John Dakich

Nickname

Dan Dakich

Birth Date

Aug 17, 1962

Age

61 Years, 3 Months

Nationality

American

Birthplace

Gary, Indiana, USA

Zodiac Sign

Leo

Occupation

Sportscaster

Relationship Status

Married

Wife

Leigh Ross

Wedding Date

2015

Net Worth

Undisclosed

Ex-Spouse

Jackie White

Past Relationship Status

Divorced
American Basketball Sportscaster
Dan Dakich | Biography
Former basktball player
Daniel John Dakich is a basketball sportscaster. 
---
Who is Dan Dakich?
Born in Gary, Indiana, United States, on 17 August 1962, Daniel John Dakich is an American basketball sportscaster. 
Dakich studied at Merrillville, Indiana's Andrean High School. From 1981 through 1985, he played basketball for Indiana under coach Bob Knight. During both his junior and senior years, he served as team captain. After graduating from Merrillville, Indiana's Andrean High School, he went on to earn a degree in communications from Indiana University (IU) Bloomington in 1985.
In the 1984 NCAA Tournament's East Regional Semifinal, Indiana beat top-ranked North Carolina largely due to Dakich's defensive performance against Michael Jordan.
In Indiana's 72-68 victory, Dakich restricted Jordan to 13 points, but Jordan spent most of the second half off the ground due to foul problems. Both players eventually fouled out in Jordan's final collegiate game.
Dakich worked as Bob Knight's graduate assistant coach at Indiana from 1985 to 1987 before becoming an assistant coach there from 1987 to 1997. Throughout his twelve-year tenure as an assistant coach, he contributed to Indiana's team winning 74% (283-101) of its games. 
The Hoosiers advanced to the NCAA Tournament in each of his 12 seasons on the coaching staff. They also won a national championship in 1986–1987.
He was the head coach at Bowling Green State University from 1997 to 2007, when he amassed a record of 156-140 (.527). Keith McLeod, a former guard for the Indiana Pacers, was one of the players he tutored that inked a professional contract. 
BGSU never advanced to the NCAA Tournament when Dakich was the head coach. In four of his last five years with BGSU, Dakich lost seasons and eventually quit as head coach in 2007.
After Kelvin Sampson's departure from Indiana University due to NCAA recruiting violations at the end of the 2008 campaign, Dakich filled in as interim head coach. 
The Hoosiers lost the game in the first round of the Big 10 and NCAA tournaments while Dakich was in charge, finishing with a record of 0-2 in postseason action. When the season was over, IU chose to employ Tom Crean instead of extending the job offer to Dakich.
Besides Dakich's basketball career, he also has his show called The Dan Dakich Show.
Also Read: Roy Williams - Age, Salary, Net Worth & UNC
Wife
Dakich married his first wife, Jackie White, in 1990, with whom he has two kids. They have a son named Andrew, a basketball player, and a daughter named Laura.
Following their divorce in 2012, Dakich married Leigh Ross, softball coach at Syracuse University, in 2015. The couple initially met at Bowling Green, and their relationship quickly developed.