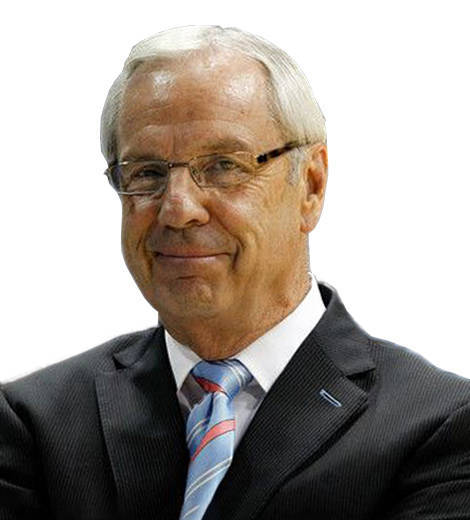 Quick Information
Full Name

Roy Allen Williams

Occupation

Professional Basketball Coach (Retired)

Nationality

American

Birthplace

Marion, North Carolina,

Born Year And Birthday

1950-8-1
Quotes
"I was dumbfounded. We didn't have the fire ... it was the most disappointing thing that we've had to happen all season. But other than that (stretch), I was happy with the effort. ... But if I ever have a team to quit, I'll walk out of here and quit coaching."
"There's no possible way you're going to drop a brick and have it fall on your toe. You're going to look at that brick all the way in. I think it's helped."
"I've seen a lot of teams, including Kansas last year, go far after they struggled in their first games. You have to get by and get lucky sometimes. We have to play better Saturday. We have no hope, no chance if we don't play better Saturday."
American Basketball Coach
Roy Williams | Biography 2021
In his 18 years of career at Tar Heels (University of North Carolina), Roy Williams led the team to win three NCAA championships at UNC in 2005, 2009, and 2017. He announced his retirement from coaching on 1 April 2021 at the age of 70 with 903 wins during a 33-year career as college basketball head coach.
---
Quick Information
Full Name

Roy Allen Williams

Occupation

Professional Basketball Coach (Retired)

Nationality

American

Birthplace

Marion, North Carolina,

Birth Date

1950-8-1
Roy Williams is an American retired college basketball coach who was a former head coach of the University of North Carolina and the University of Kansas.
Who is Roy Williams?
In his 18 years of career with the North Carolina Tar Heels' men basketball team (University of North Carolina), he led the team to win three NCAA championships at UNC in 2005, 2009, and 2017. Previously, he had led the Kansas Jayhawks to 418 victories with four Final Four appearances during 15 seasons at Kansas.
Williams announced his retirement from coaching on 1 April 2021 at the age of 70 with 903 wins during a 33-year career as college basketball head coach. In February 2021, he had become the fastest coach in NCAA history to win 900 games. He was inducted into the 'Basketball Hall of Fame' in 2007.
Early Life and Career
Roy Allen Williams was born on 1 August 1950. In South Asheville, he grew up in Biltmore in a family that consisted of his older sister and mother. His mother, Lallage Williams, an ex-wife of an alcoholic, raised her two children through all the means she could do to provide for her family. For several years, the children would witness the hardships her mother faced every day to make ends meet.
After Lallage and the fighter of the kids separated, she took on added responsibility as a maid and a laundress despite already being occupied by her role in a factory.
"For several years there, I really felt my mom had to battle every day to make things go, so that on Friday she could pay this bill and that and then have enough left for food," Roy remembered his humble beginnings in an interview. "Some of my worst memories are coming home in sixth or seventh grade and finding her ironing. Ten cents for a shirt, 10 cents for a pair of pants. And this after she had worked all day. You don't think that was hard to see? I knew that a lot of moms didn't have to do that, and I didn't want to watch her, so I'd just leave."
As a child, Jackson used to go to basketball courts at Biltmore Elementary School every day. His friends used to get Coca-Cola from the vending machine, but he couldn't because he wouldn't have 10 cents. However, he used to console himself. "I said to myself back then, 'Someday I'm going to have all the Coca-Cola I want,'" he says.
Later, he went to TC Roberson High School in Asheville, North Carolina. He played basketball for coach Buddy Baldwin and found in Baldwin the father figure he lacked. Baldwin taught him how to play the game and gave him a sense of purpose and a belief in himself.
In 1967 and 1968, he was named in all-country and all-conference teams. He was also named all-western North Carolina in 1968 and served as a captain in the North Carolina Blue-White All-Star Game.
Later, he went on to play on Carolina's freshman team in 1968-69 under Daen Smith at the University of North Carolina, Chapel Hills. During his sophomore at North Carolina University, he would sit on the stands to note Smith's coaching. In addition to that, he would keep a record of data and stats of Smith's games and would work in summer camps for him.
Early Coaching Career
Williams began his coaching career at the age of 23 after Owen High's principal in Swannanoa, N.C. hired him as basketball coach in 1973. He coached there for five years.
Later, he was invited by Dean Smith to join the Tar Heels' as a part-time assistant. He dreamt of working at UNC, Chapel Hill, because of which he left the head coach's title and started working for Dean Smith at Chapel Hill. During the football and basketball seasons, one of his jobs was to deliver videotapes of Smith's weekly television shows to stations in Greensboro and Asheville. He served as an assistant coach to Smith from 1978 to 1988 for ten years.
When the sporting season was off, he had to find another source of income. So, he started selling calendars that pictured members of the Tar Heels basketball team.
Head Coach of University of Kansas
At the request of Smith, Kansas athletic director Bob Fedrick hired Williams in 1988 to fill the vacant post of basketball coach at Kansan Jayhawks. Fedrick had already met Williams in July 1988 at the Atlanta airport, and he realized that Williams would be the right fit for the post. As such, Williams started his career as head coach at KU on 25 November 1988. He coached at Kansas for 15 years, and during this time, he led the Jayhawks to 418 victories with four Final Four appearances in the national championship game and nine conference championships.
In 2000, Williams was offered the head coach's position at the UNC, but he turned down the job to stay at Kansas. But he left Kansas University in 2003 after a loss to Syracuse in the national title game.
Returned to University of North Carolina
After spurning the UNC job years earlier, Williams rejoined the UNC on 15 April 2003, signing an eight-year contract. The year, he helped the team reach the NCAA tournament.
In November 2003, he got his first win as the head coach of the Tar Heels when UNC defeated Old Dominion 90-64. In April 2005, William's Tar Heels beat Illinois 75-70 in the NCAA championship, winning its first national title in 12 years. By 9 December 2006, Williams became the fastest coach to win 500 games in NCAA history.
Williams won the second national championship on 6 April 2009, after UNC beat Michigan State 98-72. On 4 April 2017, UNC beat Gonzaga 71-65 to win Williams' third national title. As such, he led the Tar Heels to three national championships.
In February 2021, he became the fastest coach in NCAA history to win 900 games. He needed 1,161 games to get to 900, faster than previous leaders such as Duke's Mike Krzyzewski, who needed 1,183 games, and Syracuse's Jim Boeheim, who needed 1,251 games to get to 900.
Furthermore, Williams was elected into the Naismith Memorial Basketball Hall of fame on 7 September 2007.
Retirement
After a 33-years career, Williams ended his tenure at UNC at age 70. On 1 April 2021, he announced his retirement. With 903 wins, he became the third-victorious coach in Division 1 history, and he owned the sixth-highest winning percentage (.774) in NCAA history.
Personal Life
In 1973, Williams married Wanda Jones right after getting his master's degree from UNC. The couple together had two children Scott and Kimberly.
Net worth
According to Celebrity Net Worth, Williams has a net worth of $12 million. According to USA Today, Williams earned $4.1 million from his contract with the University Of California's Tar Heel and added some from the marketing and media rights. International Business Time Reports that Williams earned an annual salary of $2.3 million at UNC.
Did You Know?
Another famous persona from the American sports industry shares the same first and last name as Roy Williams. American athlete Roy Lee Williams played nine seasons altogether for Dallas Cowboys and Cincinnati Bengals in NFL as a safety after retirement in 2011.
Fact-checking and Ethical Concerns
We assure our audience that we will remove any contents that are not accurate or according to formal reports and queries if they are justified. We commit to cover sensible issues responsibly through the principles of neutrality.
To report about any issues in our articles, please feel free to Contact Us. Our dedicated Editorial team verifies each of the articles published on the Biographyhost.