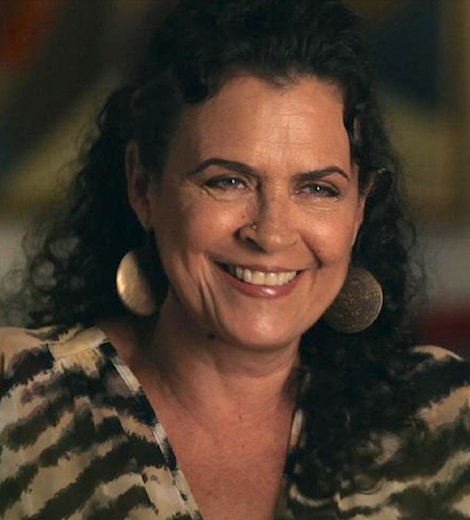 Quick Wiki
Full Name

Cynthia Jean Cameron Breakspeare

Occupation

Singer, Beauty Pageant Contestant, Entrepreneur

Nationality

Canadian-Jamaican

Birthplace

Toronto, Canada

Birth Date

Oct 24, 1954

Age

68 Years, 7 Months

Nickname

Cindy Breakspeare

Ethnicity

Jamaican

Zodiac Sign

Scorpio

Did You Know?

She was in a relationship with Star Bob Marley.

Relationship Status

Married

Husband

Rupert Bent II

Net Worth

Not Disclosed
Winner of Miss World 1976
Cindy Breakspeare | Biography
Wife of Musician Rupert Bent II
After Breakspeare came out the winner of some pageants, she came across an opportunity to enter the Miss World contest. But, during that time, her country Jamaica was in the middle of an international movement against racial discrimination. They were particularly against South Africa's move of sending white and black delegates separately. With Jamaica in the front, it led various countries to back away from the competition. However, Breakspeare participated in the contest and won.
---
Cindy Breakspeare is a Canadian-Jamaican jazz singer and musician. She holds the title of Miss World 1976.
Cindy Breakspeare Bio
Cynthia Jean Cameron Breakspeare is a singer, musician, actress, and entrepreneur. She holds Canadian-Jamaican ethnicity; she was born to Jamaican father Louis Breakspeare and Canadian mother Marguerite Cochrane on 24 October 1954. Her birth name is Cynthia Jean Cameron Breakspeare.
Born in Toronto, Canada, Cindy moved to Jamaica with her parents at five years of age. There, she enrolled in Immaculate Conception High School, from where she graduated in 1973. Unfortunately, she could not go on with her higher education as her family did not have enough money to assist her. Breakspeare then began working as a health and fitness instructor at the famous Spartan Health Club.
In one of her old interviews with Yendi Philips on the talk show Odyssey With Yendi, Breakspeare revealed that her stint on beauty pageants began while working at the Spartan Health Club. Initially, she decided to take the stage to make her life interesting. But then, she ended up winning several titles.
Miss Universe Bikini 1975
At 21 years of age, Breakspeare won her maiden title at one of Jamaica's biggest beauty contests. She won the Body Beautiful title at Miss Jamaica 1975. One of the contest prizes was the direct entry into another beauty pageant, Miss Universe Bikini.
Breakspeare ended up winning the 'Miss Universe Bikini' organized in England the same year. She began her romance with the legendary reggae singer Bob Marley at the same time around. 
Miss World Journey
After winning several titles on national and international platforms, Breakspeare continued her beauty pageant journey. Eventually, she came across an opportunity to enter the Miss World contest.
Late British Bodybuilding legend Oscar Heidenstam saw her on-stage potential and urged her to compete for the Miss World title in 1976. He also asked the then-owner of Spartan Health Club (the same club where Breakspeare was the first instructor) to get her into the competition.
Breakspeare agreed to participate and began working on her way to it. She also talked about her preparation days in her interview with Yendi Philips. She mentioned that the late singer and her former boyfriend Bob Marley also supported and motivated her on the journey to Miss World title. She said, "I really enjoyed the whole process of working out to be fit and looking optimally fit. I was excited about it and Bob was into it too so that was further motivation."
But, during that time, her country Jamaica was in the middle of an international movement against racial discrimination. They were particularly against South Africa's move of sending white and black delegates separately.
Jamaica in the front led various countries to back away from the competition. It also raised questions on Breakspeare's chances to get on the stage. However, Miss World organizers did not object to her participation in a condition that Jamaica lets her wear the Miss Jamaica sash on the stage. 
Breakspeare then got into the contest with the help of funds from private sectors and eventually won the 'Miss World 1976' title. Doing so, she became the only second Jamaican lady to be crowned at that time. As of now, one more name has been added to the list, and she is one of the three title winners.
In her 2019 interview with Ron Fanfair, Breakspeare reminisced her memory of 1976 and called herself lucky for coming on top. Her exact words were, "I guess I was very lucky I came out on top because I don't know what returning to Jamaica would have been like." She added on her overwhelming experience of representing a small African country and said, "I was still young and representing a tiny country. I had done some traveling, but not extensively. My plan was to go along for the ride and give it the best shot I could. When I was announced the winner, I just couldn't believe it."
In her later life, she would pursue a career as a recording artist and entrepreneur. She opened Ital Craf, a Rastafarian craft store in Jamaica.
Third Beautiful Miss World Of All Time
Having worked as a health and fitness instructor in her early 20s, Breakspeare believes in a healthy lifestyle. She believes that a healthy diet can achieve a fit body and physical well-being. Nonetheless, she is ranked as the Top 3 most beautiful Miss World of All Time. 
Her Former Husband is the President of the Senate.
Cindy Breakspeare has been part of two marriages to date. She married her first husband, Tom Tavares-Finson, in 1981 and gave birth to two children, son Christian and daughter Leah Tavares-Finson. However, they officially divorced in 1995 after 14 years of being tied in marital life.
Tom Tavares is an alum of Jamaica College in Jamaica, McMaster University in Canada, and The University of London in England. He completed his tertiary studies at McMaster University and later went on to study commonwealth at the University of London. His academic achievement has helped him occupy several prestigious positions in the Jamaican government.
Tom Tavares-Finson has been a current senator and President of the Jamaican Senate since March 2016. He is currently a member of the Advocates Association and Bar Association of Jamaica and represents the Honorable Society of the Middle Temple. Moreover, he is passionate about the arts and is an avid collector. In 2020, Tom Tavares was elected Chairman of the National Gallery and re-elected as the President of the Senate.
Her Present Husband is A Musician
After separation from Finson, Breakspeare tied knots with her current musician husband, Rupert Bent II, in 1999. He is a musician. Breakspeare is a stepmother to his son Rupert Bent III and daughter Jana Bent from his previous marriage with Eunice Bent. Apart from that, no further detail is available on Rupert and their married life.
Also Read About - Jeremy Jauncey - Wiki, Age, Girlfriend & Parents
Cindy Breakspeare and Bob Marley
The 1976 Miss World also gained high popularity for her relationship with the Jamaican singer and musician Bob Marley. The couple began dating around 1975. During that time, Bob Marley was already married and also had children. However, the couple stayed in a relationship and only parted due to Bob's demise in 1981.
Breakspeare first met Bob Marley while living at her apartment at 56 Hope Rd. At that time, Bob and his band 'The Wailers' rehearsed in her neighborhood. Eventually, they started chatting, and soon the chats turned into long conversations leading to a romantic relationship. Bob also supported her in taking part in the Miss World Pageant. She would later recall, "He supported me in going to Miss World, which has an extensive profile. Bob was not a household name then in England, but that changed after I won Miss World and the press got wind of our relationship."
In six years of relationship, the couple became parents to their only child together, Damian Marley. Damian, like his father Bob, is a singer and rapper. His birth name is Damian Robert Nesta Marley.
Recently, on Breakspeare's 67th Birthday, famous Jamaican businessman and retailer Wayne Chen brought to light her relationship with Bob Marley. On 24 October 2021, he posted a romantic picture of the couple on his Twitter. However, numerous people saw the tweet as inappropriate, whereas many commented in support of monogamy.
Furthermore, Breakspeare remembered Bob on his very recent birth anniversary on 6 February 2022. She shared an old picture with Bob and her eldest son Damian on this day on her Instagram handle @cindybreakspeare. As of now, Bob Marley would've been 77 years old if he was still alive.
Via the Instagram post, Breakspeare referred to Bob as a national icon and generational hero of Jamaica. She also showed her disappointment towards Jamaica for not honoring his contributions to music.
She wrote, "HAPPY 77th BIRTHDAY BOB!!! A GLOBAL ICON, A CULTURAL PHENOMENON, A MAN WHO'S LYRICS WILL REMAIN ON THE LIPS OF GENERATIONS TO COME, & THE FATHER OF MY ELDEST SON DAMIAN. THE INSPIRATION of A LIFETIME & A JAMAICAN WHO SHOULD HAVE BEEN NAMED A NATIONAL HERO YEARS AGO!!! WHY IS A PROPHET NEVER HONORED IN HIS OWN LAND??? WAKE UP JAMAICA!!!!! IT IS MORE THAN TIME."
Cindy Breakspeare Talked About Bob Marley's Funeral
In February 2014, the University of the West Indies organized the Annual Bob Marley Lecture. One of the speakers in the lecture was 1976 Miss World and his former girlfriend, Cindy Breakspeare.
In her presentation, she opened up about her relationship with Bob, his fight with cancer, and his funeral. When several media and famous personalities criticized the pair's relationship, Bob always thought their affair to be a conscious move. He lived by his own rule and did not like to be judged by other people.
Breakspeare, in her lecture, said that Bob collapsed on the road while jogging in September 1981. It was only a few days after he had completed his Pittsburg show on 23 September 1981. Following the incident, both Breakspeare and Rita (Bob Marley's first wife) traveled together for his treatment in Sloan Kettering in New York.
On discharge from the hospital, Bob's women, Rita and Breakspeare, started taking care of him, living in the same apartment. According to her, there was no place for jealousy and ego, and they served him until his last breath in 1981. Bob succumbed to his toe, lungs, and brain cancer.
However, during Bob's funeral in National Arena, Breakspeare was treated as just another woman in his life. She did not have a place on the front row where friends and families were seated. She said, "I sat in the back with Cat and Donna Coore. There was no seat in the front row for us. I was definitely the other woman."