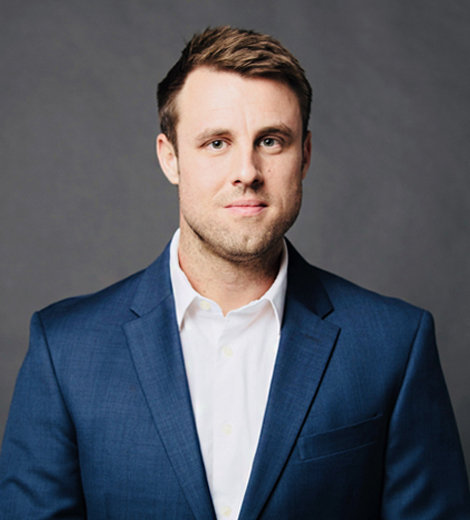 Quick Wiki
Full Name

Chris Mayers

Occupation

Actor, Writer & Graphics Designer

Nationality

American

Birthplace

(Not Disclosed)

Birth Date

(Not Disclosed)

First On-screen Debut

Played Danny Lynch in the short film 'Madly Unto Eternity'

Did You Know?

He is also a professional improv actor.

Family background

Not Disclosed

Net Worth

Not Disclosed

Relationship Status

Not Disclosed

University

Savannah College of Art and Design, Georgia & The Atlantic Theater in New York City
Gynecologist Barry on 'Creepshow'
Chris Mayers | Biography
Also on 'Ozark' & 'Doom Patrol'
Mayers began performing on stage at a very young age of 12. Later in 2012, he made his official acting debut as Danny Lynch in the short film 'Madly Unto Eternity'. He played the role of Tall Killer in another short film, 'The Cowboy Killer', the same year.
---
Chris Mayers is a renowned American actor and writer. He has mainly gained fame for his cameo in the streaming series Creepshow (2021).
Who is Chris Mayers?
Chris Mayers is an Atlanta-based comedian, actor, improviser, and writer. He holds more than 40 acting credits in TV series and movies. In the latest, he had a minor role in the 2022 TV series Women of the Movement.
Mayers began performing on stage at a very young age of 12. Later in 2012, he made his official acting debut as Danny Lynch in the short film Madly Unto Eternity. He played the role of Tall Killer in another short film, The Cowboy Killer, the same year.
After several minor role appearances in TV series, documentaries, short films, and TV movies, Mayers earned his first significant screen time in The Resident TV series. He portrayed the recurring character Dr. Steven Butler in a total of 4 episodes in 2018.
Mayers most notable appearances are in Ozark (2018 TV series), Your Worst Nightmare (2019 docu-series), Doom Patrol (2019 TV series).
It was followed by, The Worst Couple (2018-2019 TV series), The Glorias (2020 film), Bad Candy (2020 film), Shift Drinks (2019-2020 TV series), then Dwight in Shining Armor (2020 TV series), Creepshow (2021 TV series), What's Your Problem? (2021 TV series), among others.
As of 2022, Mayer is filming for his upcoming movie, The Battle of Bushy Run. He landed the role of Lt. Francis Gordon in the film.
Also Read About - Rachel Hendrix - 'October Baby,' Age, Wedding
He keeps his family & personal information private
Despite being a famous actor, Chris Mayers maintains a low-key life. He was born and raised in South Carolina. But other than that, he has not disclosed information about his personal life in the media, including his birth date, family, and siblings, as of 2022.
Nevertheless, he started becoming interested in acting at the age of 12. After which he studied theater at the Savannah College of Art and Design, Georgia, and also at The Atlantic Theater in New York City, for education. 
Furthermore, he has trained as an improv artist and stage actor for years.
He is also an improvisational performer
Alongside his formal education, Mayers studied improv at the Second City, Dad's Garage, Highwire Comedy Co. with famous personalities including Matt Stanton, Ian Covell, Amanda Rountree, Josh Lewis, and David Storck. 
In college, he was also a finalist in the College Improv Tournament and won the South Regional of the College Improv Tournament. 
Furthermore, he performs improv and sketch at Village Theatre and Dad's Garage on a regular basis. In addition to that, he enacts improvised Shakespear plays with The Unscripted Shakespeare Ensemble, followed by improvised Twilight Zone episodes with The Tipsy Zone and improvised musicals with Overly Dramatic Crescendo throughout Atlanta.
He also appeared on series 'Creepshow'
Creepshow is a horror anthology series that was released on the American streaming network Shudder on 26 September 2019. Shudder has aired three seasons of the series, with 17 episodes through October 2021. In addition, the series also aired two special episodes in between the first and the season.
Each episode of the series is a two hours long horror story. It is primarily based on the stories from the famous comic book 'Creepshow.' And over the years, several famous actors like Hannah Fierman, Kara Kimmer, Carey Jones, followed by Mayers, have appeared on the show.
Furthermore, Mayers appeared as Barry in the segment Stranger Sings of episode 4 of season 3 in October 2021. He also announced his role in the show via an Instagram post on 5 November 2021. According to the post, his character Barry in the show is a professional gynecologist.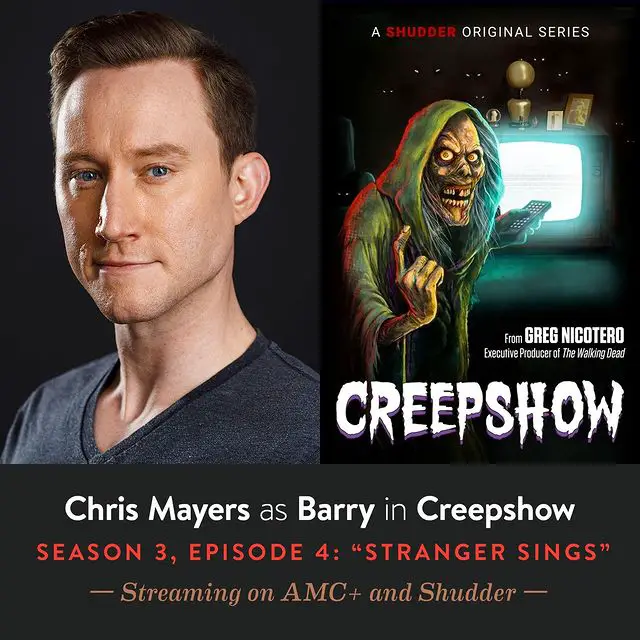 Other Credits
Besides being an actor, Mayers also holds several credits as a writer and graphic designer. His writing credits include his works for the 2017 short film Love By Midnight and the 2018 short film You Wanna Pizza Me?.
Similarly, he has worked as a graphic designer for the 2019 short film Swiped.