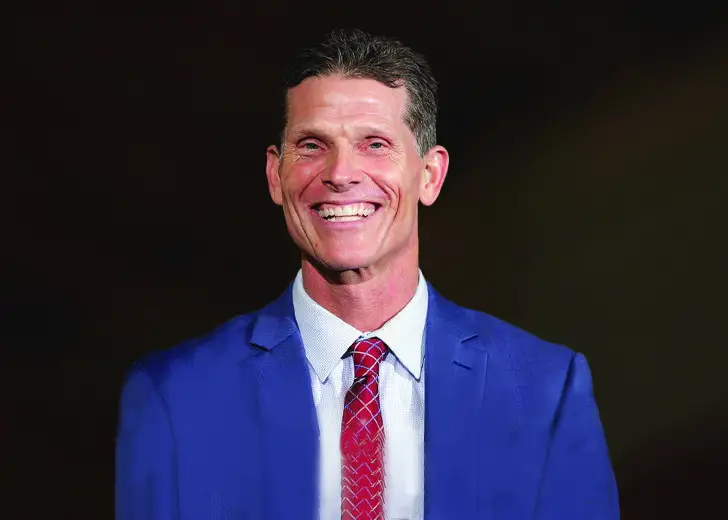 Quick Wiki
Full Name

Brent Venables

Birth Date

Dec 18, 1970

Age

52 Years, 11 Months

Nationality

American

Birthplace

Salina, KS, USA

Zodiac Sign

Sagittarius

Occupation

Football Coach

Relationship Status

Married

Wife

Julie Venables

Net Worth

Undisclosed

Son

Two

Daughter

Two
American Football Coach
Brent Venables | Biography
Former linebacker for Kansas State University's collegiate football team
Brent Venables is an American football coach. He is currently serving as the head coach at the University of Oklahoma. 
---
Who is Brent Venables?
Brent Venables is an American football coach born on 18 December 1970 in Salina, KS. 
From 1991 to 1992, he was a linebacker for Kansas State University's collegiate football team. In addition, he served numerous assistant coaching jobs at Kansas State University, the University of Oklahoma, and Clemson University before his time at Oklahoma. 
He played linebacker at Garden City Community College from 1989 to 1990, then for Kansas State University from 1991 to 1992 under head coach Bill Snyder.
Venables started his coaching career at the University of Oklahoma in 1999. He previously worked with head coach Bob Stoops at Kansas State as assistant head coach, defensive coordinator, and linebackers coach for the Sooners.
Venables was one of five contenders for the 2006 'Broyles Award' given to the best assistant coach in the country. He then accepted the position of defensive coordinator at Clemson in January 2012. 
His salary was anticipated to be between $750,000 and $1 million during that time. In December 2016, he received the 'Broyles Award' as the top assistant coach in the country. 
Venables took over as the University of Oklahoma's head coach on 5 December 2021, after Lincoln Riley, who took off to become the head coach at the University of Southern California (USC).

He and His Wife Share A Family of Six
Venables has been married to his wife, Julie, for a long time now. The two share four children, boys Jake and Tyler, both of whom played football at Clemson, and daughters Laney and Addie.
His son Tyler was born on 22 February 2002 and attended Clemson University in January 2020. He was a political science major and finished a micro internship at LyonJay in Greenville in the spring of 2022.
Before attending Clemson, Tyler played under Jeff Fruster at Daniel High School in Central, South Carolina, where he amassed 6,927 career throwing yards. In his three years as a quarterback, he scored 73 touchdown passes and 38 touchdowns on the ground.
In 214 snaps across 12 games in 2020, he was credited with 28 tackles and three pass breakups. He also made his collegiate debut at Wake Forest. 
Tyler played 262 snaps in 12 games and recorded 33 tackles, 1.5 for loss, one sack, three pass breakups, and one interception in 2021.
However, Tyler had to decide whether to follow his father, Brent Venables, who was appointed football coach at Oklahoma on 6 December 2022, or to remain at Clemson.
Tyler spoke about the situation and said, "I was thinking it would be pretty cool to transfer over there, continue to play for him. It was always my dream growing up as a kid–why wouldn't you want to play for your dad at the collegiate level?"
He continued, "I got to play for my dad for two solid years. Now I think it's time that I dig in and stand on my own two feet."
Also Read: Roy Williams - Age, Salary, Net Worth & UNC
His Salary in 2022
In 2021, Venables and Oklahoma University reached a $63.5 million settlement. It's one of the biggest contracts ever offered to a first-time head coach in college football, if not the biggest.
The new six-year contract for Venables includes an automatic $100,000 annual rise and an average annual salary of $7 million ($6.4 million beginning in 2022). In addition, he receives incentive bonuses and a $600,000 annual retirement contribution.