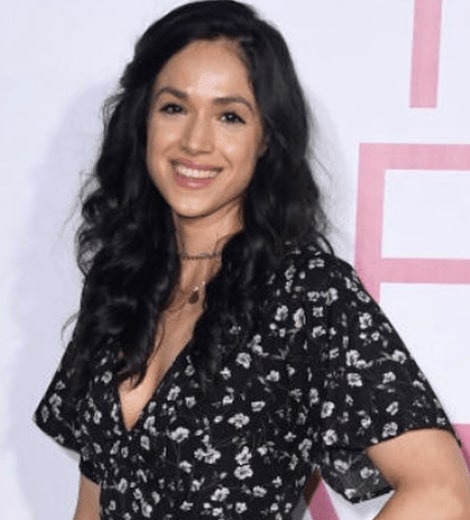 Quick Wiki
Full Name

Ariana Guerra

Occupation

Actress

Nationality

Mexican-American

Birth Date

January 1994 (Exact birthdate and age not disclosed)

Ethnicity

Hispanic, Latino

Birthplace

McAllen, Texas
Cast of 2020 TV Series 'Helstrom'
Ariana Guerra | Biography
Made her acting debut in 2016
Guerra played the lead role of Diana in Blumhouse's 2021 psychological horror movie 'Madres.' The movie shows the story of Diana and Beto (played by Tenoch Huerta), a Mexican-American couple who moves to a migrant farming town in the 1970s, California. Diana, who is pregnant, experiences strange symptoms and scary visions that appear to be linked to a local curse. 
---
Ariana Guerra is an actress well known for her appearance on Helstrom (2020 TV series), Candy Jar (2018 movie), and Five Feet Apart (2019 movie).
Short Bio
Ariana Guerra is a Mexican-American actress who debuted her film career as Kelly Pittman in the 2016 movie Accidentally Engaged. The same year, Guerra starred in the TV series Crunch Time and the movie Trippin' to the Altar. 
In 2017, she portrayed the role of Maya in the film Mind and Machine, for which Guerra was nominated for 'Best Actress' at the North Hollywood Cinefest.
The following year, Guerra was featured in the Netflix Original films Candy Jar (as Dana) and Dumplin (as Pageant AD), both starring Jennifer Aniston. 
She also appeared on the network shows Nashville and Dynasty and on the Netflix TV show Insatiable in 2018. Her upcoming work is in the 2022 TV series Promised Land, as Rosa Sanchez. The plot of the show follows the generation fable about the battle of power between two Latinx families in California's Sonoma Valley.
Besides that, Guerra also attends a masterclass with the renowned casting director Bruce Newberg and studies in Anthony Meindel's acting workshop in Atlanta studio. 
She previously graduated from the University of Texas in Austin and has also attended The New York Conservatory to study dramatic arts.
'Helstrom'
Helstrom is a Marvel comics superhero TV series that aired on 16 October 2020 on Hulu. The show has one season with ten episodes as of January 2022. 
Helstrom follows the story of siblings Ana, played by Sydney Lemmon, and Daimon Helstrom, also known as the son of Satan, played by Tom Austen. The siblings are the children of a mysterious serial killer Satanist. The series focuses on the siblings' battle against demons and demonic possessions.
In the series, Guerra played the role of Vatican nun Gabriella Rossetti, who assists the Helstroms in their battle against the dark forces. 
In an interview with Screen Rant in October 2020, Guerra mentioned that she would go to church almost every day to better understand her role as Gabriella. She added, "I went to confession once. I did the rituals and the practices just to kind of get an understanding of the life that Gabriela lives day in and day out. I read the Bible." Guerra further said that the role was a really interesting experience and a lot of stress.
A month later, she told Nightmarish Conjurings that she tried to relate with the modern-day nuns for the portrayal of Rossetti. She shared, "Basically, I tried to do as much research into Catholicism, in becoming a nun, and what that looks like for a modern day nun which was very surprising. There were a lot of things that I, as a human, have so much more respect, for any person that's willing to have a lifestyle where they give their life to God."
She further explained that she shifted the focus of her character from the faith or the religion to the relationship with other characters once they started filming. 
'Madres'
Guerra played the lead role of Diana in Blumhouse's 2021 psychological horror movie Madres. The film aimed to raise knowledge about a social justice issue influenced by Jordan Peele's 2017 hit film Get Out.
Madres shows the story of husband and wife duo Beto (played by Tenoch Huerta) and Diana, a Mexican-American couple who moves to a migrant farming town in the 1970s, California. Diana, who is pregnant, experiences strange symptoms and scary visions that appear to be linked to a local curse.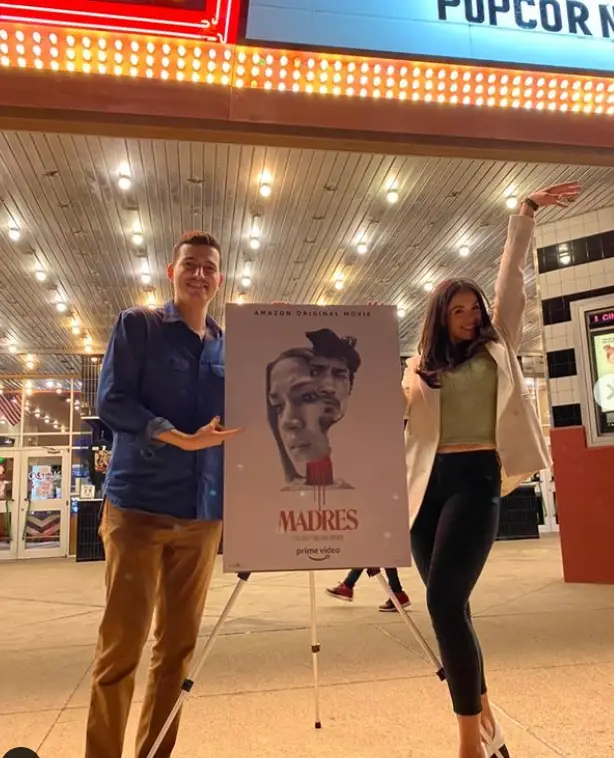 In an October 2021 interview with Screen Rant, Guerra mentioned she had to do a lot of research on motherhood for her role in the movie. She read articles that discussed problems that women deal with pre-pregnancy, during pregnancy, and post-pregnancy. She particularly opened up on the lack of conversations about the mother's mental condition and related that the contents on motherhood were mostly glamorized versus what she found while talking with her friends, family, and other women.
She explained, "When I talked to my friends or when I talked to family members about this, people who had just had a baby, people who were pregnant, they were like, "I f**king hate this, everything is difficult." Like to the point where, you know, some of this stuff my friends would share with me they hadn't even shared with their partners, because it's almost like that space doesn't exist for women who have children or women who are going through pregnancy."
Similarly, talking about her character Diana in a 2021 interview with Deadline, she said, "Diana is a Chicana from Los Angeles and she's a journalist. When we meet her, she's pregnant with her first child. And although I'm not a mom, as a Latina, I understood Diana's experiences."
Guerra has also said that it was the diverse Latino experiences the movie offered that resonated with her the most. "It wasn't like a very superficial kind of like, let's check off the quota for a story of Latino culture. It had this novel discussion that I don't think is really talked about, and I'm so excited for the stories that are to come because of a project like this, where you have the discussion of identity within the Latino community because it is so diverse," she related.
She added," And you see that with Diana and the comparison with her husband, Beto, who is Mexican. And that sort of range that you have really does kind of illustrate that we're so similar in many ways, but also our experiences are very different.
Pictures with Mystery Man, Julian Martinez
On 3 February 2020, Guerra posted a photo with a guy named Julian Martinez on her Instagram and mentioned that she loves him, writing "Hello, February. I'm mutha. f**ing debt-free. And love (julianmtz325).
The two of them also appeared together in previous posts on her Instagram. These frequent features on her Instagram have made many speculate Martinez is her boyfriend.
However, the pair have not officially shed light on their relationship.
Did You Know? 
Guerra is an activist for social justice and Black Lives Matter.
Her hobbies include basketball, softball, volleyball, boxing, yoga, cross country, softball, Cross-fit, UT-Austin rowing.