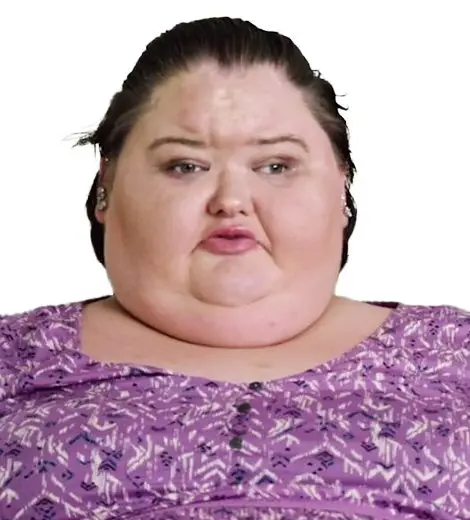 Quick Wiki
Full Name

Amy Slaton

Occupation

YouTube Personality

Nationality

American

Birthplace

Kentucky, USA

Birth Date

Oct 28, 1987

Age

36 Years, 1 Months
Cast of TLC's reality show '1000-lb Sisters,' YouTube Personality
Amy Slaton | Biography
Amy lost 100 lbs in season 2 of the show '1000-lb Sisters'
Amy Slaton, along with her sister Tammy became a cast of the weight-loss journey reality show '1000-lb Sisters.' Premiered on January 2020, season 1 of the series portrayed her weight-loss journey, and Amy Slaton lost enough weight to go in for the weight reduction surgery. As her sister did not lose that much, Amy went in for the surgery alone. In season 2, Amy lost 100 pounds.
---
Amy Slaton rose to fame after her appearance in the TLC's weight-loss journey reality show 1000-lb Sisters.
Who is Amy Slaton?
Amy Stalon, also known as TwilightQueen, is a YouTube vlogger who concentrates on beauty tutorials, family vlogs, and viral challenges. Following the birth of her child Gage, her YouTube channel Amy Slaton-Halterman is filled with vlogs about her child. The channel has over 450 thousand followers.
Besides being a YouTube personality, she is also known for her role in the reality weight-loss journey program 1000-lb Sisters (2020-2021).
Early Life and Education
Slaton was born on 28 October 1987 in Dixon, Kentucky. She received her high school education at Kentucky's Union High School. 
Slaton stated in a 2021 interview with Soap Dirt that she had an impoverished and neglected childhood. She was taught not to exhibit emotion, so she never had shared her true feelings with her sister Tammy. Amy and Tammy both wanted their mother to inquire about their well-being. But, their mother seemed to be uninterested in what goes on in their life. Growing up, the sisters didn't receive a lot of attention or warm embraces. 
In the same interview, Slaton stated that her mother doesn't know how to express her care. 
Career
Amy was active on YouTube and produced her videos on the platform before participating in the TV show 1000-lb Sisters (2020-2021). She co-starred with her sister Tammy in the series.
Youtube
Amy started a YouTube channel in 2011. She posts a wide range of videos, from beauty tutorials to viral challenges in her channel, Amy Slaton-Halterman, formerly named Slaton Sisters. Additionally, she also shares vlogs and gives a glimpse into her family life through her channel. The channel commenced its first upload with the video titled 'New Slaton sister vlog' in 2014. The decade-old YouTube channel has garnered a large number of subscribers and viewers. She has over 457,000 subscribers and over 48 million views on her channel, as of August 2021/
Though the channel is now named after Amy and mostly features her son, Gage, it was Amy's video with her sister Tammy that first catapulted the two to public/viral reputation. Their video in which they accepted the "Chubby Bunny" challenge had received more than two million views. The goal of the challenge was to cram as many marshmallows as possible into the mouth without either chewing or swallowing them and simultaneously trying to pronounce chubby bunny. Tammy won the competition with a staggering 29 marshmallows, while Amy came in second with a respectable 21.
Similarly, Amy's makeup-oriented video titled 'The power of makeup' which was posted in 2016 also contributes to her viral reputation. The video has garnered more than 7 million views as of August 2021. In the video, Amy is seen covering half of her face with makeup in the video to showcase how makeup changes people both within and out.
Additionally, it was Amy's YouTube fandom that brought the sisters to the world of reality TV. According to The Courier-Journal, her fans had reportedly approached the TLC network and directed their attention to the Slaton sisters. 
'1000-lb Sisters'
1000-lb Sisters premiered on 1 January 2020 and has run for two seasons featuring the Slaton sister's weight-loss journey.
The series chronicles the Slaton sister's weight loss journey, including doctor's appointments, healthy eating challenges, and as well their choice to consider bariatric surgery in order to assist them to maintain their weight loss. The struggle of two overweight sisters and their canceled surgical appointment is detailed in 1000-lb Sisters. The show as well depicts the sisters cranky behavior in correspondence to the gap in their palatability and their unwillingness to survive off salads.
Weight Loss
Amy was around 400lbs at the beginning of the show. Season 1 of 1000-lb Sisters saw Amy losing enough weight to go for a weight reduction surgery. Tammy, her sister, on the other hand, did not lose much, and so Amy had to do the surgery alone. In season 2, Amy lost 100 pounds and weighed around 270 lbs. The filming for the 3rd season is in process.
Amy's desire to reduce weight was significantly motivated by her wish to become a mother. After she got pregnant she put her weight-loss efforts on hold to focus on her baby's well-being. She ate everything of her choice and also went on with her cravings during that time. She even went to the hospital due to her cravings for a Chinese dish. It had resulted in her suffering from a horrendous gas. 
Later, Amy re-started her weight-loss attempts as soon as she gave birth to her child, and was able to drop to 270 pounds. In April 2021, she even shared some comparative photos on social media, proudly displaying her accomplishment from a size 5XL to a size XL.
'1000-lb Sisters' Season 3
The popularity of 1000-lb Sisters surged after season 2, prompting fans to start a petition to get the program renewed for a third season.
"There's an overwhelmingly huge fan base for Amy & Tammy Slaton on 1000-Lb Sisters and we want to secure seasons 3 & 4 to be renewed ASAP. We also would like to see a bigger budget for the show. This is a lot of people's favorite show on television and we are concerned about renewal," the petition on Change.org stated.
Thereafter, the executives of 1000-lb Sisters, renewed the reality TV show for a third season in March 2021. The show will probably air the next year in 2022 as per Tammy's TikTok video.
What to expect in season 3?
Amy had weight-loss surgery in season one and declared her pregnancy as well as childbirth in season two. On the other hand, Tammy was still trying to lose weight when Amy was pregnant. She had actually gained weight by the conclusion of season two.
Season 3 is expected to be about Amy adjusting to motherhood. For Tammy's part of the story, she was apparently considering enrolling into a weight-loss clinic in season 2 in order to make more progress. Although it has not been verified whether she made the decision or not, season three might pick her share of narrative from her given decision.
Sister
Tammy Slaton is a well-known figure on Instagram and TikTok, but her YouTube channel is where she got her start. Tammy and Amy used to produce YouTube videos for millions of viewers before they got their own reality program,1000-lb Sisters. Tammy was originally featured in Amy's videos, but in 2018, she introduced her own channel. She has over 5.7 million views on her YouTube channel. Despite a massive fan following on all social media platforms, she is banned from the network for posting explicit content.
Tammy is striving to drop enough weight to be eligible for bariatric surgery on 1000-lb Sisters. She states that this procedure is important to her because she has battled a number of diseases over the last ten years. However, she gained weight at the conclusion of season 2 of 1000-lb Sisters due to her inability to accept the dietary modification. In addition, she was infected with COVID-19 and had to be admitted to the hospital and that interfered in her weight loss journey. She was put on supplementary oxygen when she returned home from the hospital. Even though she had gained more than 20 pounds, her doctor praised her for acknowledging her bad eating habits and not her supporting conditions including COVID-19.
"I just wasn't doing what I needed to do. I mean, sometimes I try to eat healthier, and then other days I'm like, 'What the heck's the point?'" she had shared with her doctor.
"You could've blamed [that] you couldn't get out of bed. You could've blamed that you had COVID. And you could've blamed that you were in the hospital. And you didn't," the doctor replied.
Rumors of Jealousy over Amy's Pregnancy
Tammy was taken aback by the news that her sister, Amy, and her husband, Halterman, were expecting their first child in the second season of 1000-lb Sisters. Tammy then told Amy, "I mean, don't get me wrong, I want y'all to have kids, but it's too soon" in that clip. However, Amy didn't respond with a counter-argument. Given the circumstances, some fans assumed Tammy was envious of her sister Amy when she became pregnant with Gage. Tammy debunked such allegations in a TikTok video.
"Why do y'all think that I'm jealous of Amy?" she said in her TikTok video which was later deleted. "Why? Why? There's nothing to be jealous of. She's married, she lost weight. Big flipping deal. I'm going to get my surgery. I'm going to lose weight in my time. I'm going to get married in my time. I'm going to have children…never, but it'd be in my time. Nobody's the same. I'm just a little slower than Amy, so what? I am not jealous of her. I am proud of her. I love her. She got what she wanted. I will eventually. Stop saying I'm jealous of somebody that I'm not," she addressed the rumor through her video.
Former Boyfriend Aand Relationship
Tammy dated Phillip Redmond when she was at the height of her popularity as a social media and television celebrity, but the two are no longer together. Tammy had previously dated Jerry Sykes, but unfortunately, he turned out to be married. On 1000-lb Sisters, she stated that she is a pansexual.
Husband
Amy is married to her high-school boyfriend and long-term lover, Michael Halterman. The couple tied knots on 15 March 2019 in Nashville, Tennessee. The couple has a son, Gage, born on 10 November 2020.
Halterman has built his presence as a significant element of the weight-loss reality TV program 1000-lb Sisters, even though the show largely centers on sisters Amy and Tammy Slaton. He won over the hearts of the audience by demonstrating that he is a kind spouse and a wonderful brother-in-law. Fans were moved by Mike's willingness to devote so much of his time to Tammy's care as she was unable to do it herself due to her health condition.
According to Halterman's Facebook page, he serves as a mill operator alongside shooting with Amy and Tammy. On 1000-lb Sisters, he was seen reaffirming his vows to Amy in season two.
Son 
Amy started her weight-loss journey because she wanted to start a family, but she needed to reduce weight in order to do so. Amy dropped enough weight to be considered for bariatric surgery, which involves rearranging the digestive tract to aid weight reduction. 
Amy's doctor advised that she delay starting a family for two years to allow her body to acclimatize to the operation, but Amy and Michael couldn't wait to start their family. As a result, she became pregnant shortly after her operation. She gave birth to her son Gage in November 2020 without any serious difficulties. She had a successful delivery, despite the fact that she had to undergo a C-section and Gage's sugar levels were low when he was delivered. Amy described her son's birth as fortunate since it went so well, keeping aside the potential for difficulties with Gage's birth.
Amy has stated that she would like at least one more child, and her fans have jumped on every suggestion that Amy and her husband Mike are expecting another child.
PregnancyRumors 
Amy's fans are guessing that she is expecting her second parity. Following an Instagram photo Amy posted in April 2021, many believed that she was pregnant. Amy's post included photographs of her weight reduction journey; manifesting before and after sequence. Aside from congratulating Amy on her accomplishments, several of her fans noticed that she had a baby bump. This rumor turned out to be untrue in the end. Fans are, however, once again speculating that Amy is expecting another child. On 11 August 2021, Amy shared a photo of herself and her son Gage on Instagram with the caption, "#twins nightmare before Christmas outfits." Fans speculated that the caption had a double meaning and that Amy was expecting twins.
"She's definitely pregnant, I can tell. No, I'm not being mean," a fan had commented on her post.
"Are you pregnant again?" an individual had asked. "The baby boy needs a bro or sis!"
But, a few were sure she wasn't pregnant. Amy hasn't spoken about the matter.