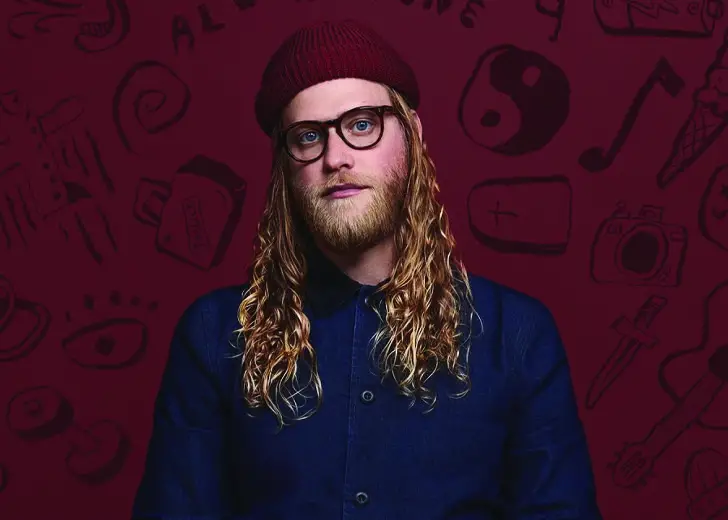 Quick Wiki
Full Name

Allen Stone

Birth Date

Mar 13, 1987

Age

36 Years, 8 Months

Nationality

American

Birthplace

Chewelah, Washington

Occupation

R&B and Soul Musician and Singer

Relationship Status

Married

Wife

Tara Lawson

Net Worth

500 Thousand Dollars

Son

Roody Rocket Stone
R&B and Soul Singer and Musician
Allen Stone | Biography
First Finalist of American Song Contest
Allen Stone is a renowned contemporary R&B and soul musician and singer. He is best known among music lovers for his music albums like Last to Speak (2010), Allen Stone (2011), etc.
---
Allen Stone is an American singer and songwriter. He has recently gained worldwide fame as the first finalist of season 1 of the NBC reality show, American Song Contest.
Who is Allen Stone?
Allen Stone is a renowned contemporary R&B and soul musician and singer. He is best known among music lovers for his music albums like Last to Speak (2010), Allen Stone (2011), etc. Moreover, he is currently the finalist in the American reality TV show American Song Contest.
Stone was born on 13 March 1987 in Chewelah, Washington D.C. He has not shared his parents' names yet. However, he disclosed that his mother worked as an obstetrician and his father was a local church preacher.
As for academic qualifications, Stone completed his high school education at a local high school in Chewelah. After that, he relocated from Chewelah to Spokane to pursue a college education at a Community College. However, Stone studied there only for a year and transferred to Moody Bible Institute. Later, after one semester, he completely dropped his education and moved to Seattle to pursue a music career.
Also Read: American Song Contest - Prize, Jury, Time, Finale
Stone's Music Journey
Born to a pastor father and growing up on gospel, Stone developed a love and interest in music and singing from an early age. At only three years of age, he started singing Christian songs at his father's church. Later, he also led youth worship groups in his early teenage years.
However, it wasn't until he was in his mid-teens that he learned about soul music. He began making collections of the 1960s and 1970s classic music albums and started listening to them. It was then he heard Stevie Wanders' songs and immediately got blown away. Thus, he decided to make his own name in soul music and dropped out of college to pursue a music career in Seattle.
Soon after moving to Seattle, Stone put together a band and started performing with them. He wrote his own songs and lyrics and played with his group. One time, while singing at a club, they caught the eyes of the famous artist manager B.J. Olin. Since then, Olin has remained Stone's manager. Stone also talked about his first encounter with B.J. Olin in an interview with SFGATE in August 2012. He said,
"He was out to watch the band I was opening for and saw me play. I guess he thought he saw some future in it."
As of now, Stone has already released a total of five albums. He launched his first record, Last to Speak, in 2010, followed by his self-titled album Allen Stone in 2011. Later in 2016, he collaborated with ATO Records and released his third album, Radius. Similarly, his fourth album, Building Balance, came out in November 2019, followed by Apart in November 2021.
'American Song Contest'
The renowned soul singer is currently appearing on NBC as one of the contestants in the reality series American Song Contest. It is a songwriting and singing competition featuring 56 participants representing 50 US States, Washington D.C., and five US territories.
The show began airing on NBC on 21 March 2022 at 8 pm every Monday night. The 56 participants performed their individual original songs in the first five weeks of the show. Out of them, 22 contestants, including Allen Stone, have advanced to the semi-final stage. Below is the list of 22 semi-finalists of the show.
Allen Stone - Washington D.C
Jordan Smith - Kentucky
 Riker Lynch - Colorado
 Mari - New Hampshire
Ni/Co - Alabama
Ryan Charles - Wyoming
Hueston - Rhode Island
Jonah Prill - Montana
Ada LeAnn - Michigan
Jared Lee - Massachusetts
AleXa - Oklahoma
Tenelle - American Samoa
Sweet Taboo - California
Michael Bolton - Connecticut
Stela Cole - Georgia
Broderick Jones - Kansas
Enisa - New York
John Morgan - North Carolina
Chloe Fredericks - North Dakota
Christian Pagan - Puerto Rico
Tyler Braden - Tennessee
Grant Knoche - Texas
The 22 contestants mentioned above were again divided into two groups of 11 and placed in semi-final 1 and semi-final 2 groups. The semi-final rounds have already kicked off, and aired the semi-final 1 episode on 25 April 2022. At the end of the episode, Stone received the highest votes from the 56-member jury. He then advanced straight through to the grand finale. Moreover, he became the first finalist of season 1 of the reality show.
Prior to the American Song Contest, Stone had also performed on the stage of the long-running singing reality show, American Idol. However, he was not a contestant on the show; rather, he appeared as the guest singer in the 16th season in 2016. On the stage of American Idol, Stone performed alongside contestants Dennis Lorenzo and Marcio Donaldson.
Stone and His Wife Welcomed A Son.
The R&B musician and singer Stone is married to his wife, Tara Lawson. The pair have not yet revealed their wedding date.
Stone and his wife Tara are parents to their only son, Roody Rocket Stone. They welcomed Roody on 21 March 2019.