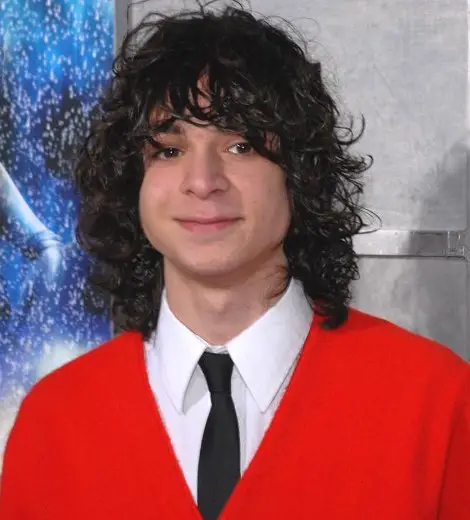 Quick Wiki
Full Name

Adam G. Sevani

Occupation

Dancer, Actor

Nationality

American

Birthplace

California, USA

Birth Date

Jun 29, 1992

Age

30 Years, 11 Months

Zodiac Sign

Cancer

First Titular Role

Step Up

Mother

Edita Manucharian

Father

Gagik Sevani-Manucharian

Relationship Status

Undisclosed

Height

5 feet and 7 inches

Net Worth

$1.5 Million
Robert "Moose" Alexander III in the 'Step Up' Film Series
Adam G Sevani | Biography
Adam G. Sevani's last dance tour was his master classes in various cities of Australia in March 2018
After receiving positive comments from the critics, for his role in the 2008 dance drama movie 'Step Up 2: The Streets,' Adam reprised his character Moose in the franchise 'Step Up' movie franchise,' 'Step Up 3D' in 2010, 'Step Up Revolution' in 2012, and 'Step Up: All In' in 2014.
---
Adam G Sevani is a professional dancer and film actor. He is well-renowned for portraying Robert Moose in the dance drama film series, Step Up.
What is Adam Sevani's Net Worth?
Adam G Sevani is an American actor and professional dancer who has a net worth of $1.5 million as of 2022. He has been a dancer his whole life and has appeared in several music videos and performed with various dance groups.
However, a big break in his career landed in 2008 in the form of a dance film, Step Up 2: The Streets. The film became a big success, and Adam earned high praise from the critics for his role. Thus, he reprised Moose in the Step Up movie franchise, Step Up 3D in 2010, Step Up Revolution in 2012, and Step Up: All In in 2014. Moreover, Adam has also starred alongside famous singer Miley Cyrus in the 2012 romantic comedy LOL.
Adam Sevani is also credited with choreography for NLT's music video for Karma and being a backup dancer for Kevin Federline's performance at the 2006 'Teen Choice Awards.'
They also made the names for a widely publicized YouTube dance contest with Miley Cyrus after forming a dance crew with Jon Chu and several California area dancers. This encounter culminated in a dance battle between the two teams at the 2008 'Teen Choice Awards.'
Sevani's most well-known career turn was in the Step Up trilogy as a supporting character. In 2008, he earned the 'Young Hollywood Award' for 'Best Scene Stealer' for his performance in this role. 
Then in 2010, he gave a less recognized turn after co-starring with Miley Cyrus, Demi Moore, and Ashley Greene in an American remake of the 2008 French film LOL (Laughing Out Loud).
How Old is Adam Sevani?
Adam Sevani, original name, Adam Manucharian, was born on 29 June 1992 in California to his father, Gagik Sevani-Manucharian, and his mother, Edita Manucharian. He has an elder brother named Vahe Sevani, who was a part of the Boy Band NLT, for which he later choreographed.
What is Adam Sevani Doing Now?
Adam Sevani's last known movie appearance was in the 2014 film Step Up: All In, and his last dance tour was his master classes in various cities in Australia in March 2018. Since then, he has not appeared in the limelight.
However, as of 2021, Adam has become a social media star with a massive fan following on his handles. He has over a million followers on his Instagram account @adamsevani, 44.6k subscribers on YouTube, and around 34k fans follow him on Facebook as of March 2022. 
On 17 January 2022, Sevani shared a post on Instagram in which he has described himself as a "Fyre Influencer."
Fyre Festival is a luxury music festival hailed as one of the largest and most immersive music festivals in 2017. The festival debuted in 2017 and aimed to connect "consumers, celebrities, and brands through live experiences." 
It offered a luxurious escape on Exuma's private island, live music from top artists, and hanging out with celebrities. Fyre Festival's co-founder, Billy McFarland, invested 400 Instagram influencers for an organized influencer marketing campaign to get people's attention about the festival and boost ticket sales. 
Fyre amounted to 300 million people in just 48 hours, with the help of Kendall Jenner, Bella Hadid, and other supermodels, who helped sell out tickets. The festival was supposed to occur every year for the next five years. 
However, the event was a colossal flop and has been labeled a sham. Attendees were stranded on a half-deserted island, some were locked in the airport, and others were forced to stay in hurricane huts with little food. 
The "private jet" that was supposed to transport the guests turned out to be an old, rebranded airplane. The luxury lodgings were rain-soaked tents, and the gourmet cuisine was a cheese sandwich.
Even though "luxury" tickets cost thousands of dollars, the event was sold out. Many tickets were snapped up by social media influencers eager to document their exclusive experience, many in exchange for free lodging.
Kendall Jenner reportedly received $250,000 for a single Instagram post announcing the start of ticket sales and providing her followers with a discount code. However, she later took down the post after knowing it was a scam.
One of the models involved in the promotions, Bella Hadid, also later apologized to her followers and stated that she "trusted" the event would be "amazing and memorable." 
Later, Billy McFarland, the event's co-founder, was ultimately sentenced to six years in prison in 2018. The situation lasted long after Fyre was destroyed. 
People have since accused the influencers of perpetuating fraud, and they are now facing subpoenas as examinations into the failed event continue.
Besides, in a short video released by Suspicious Antwerp on YouTube in 2019, a glimpse of Sevani's life in 2019 and how he pursued dancing, some projects, and enjoyed life was shown.
His Parents Owned a Dancing Studio
Before fame from movies, he worked as a full-time dancer in music videos. Sevani started dancing at the age of three because his father was a choreographer. Then he honed his dancing abilities at his parents' dance studio, Synthesis Dance Center. 
Sevani was a member of the FlyKidz, a singing/dancing group and children's television show on the CBS network when he was younger. In addition, he was seen dancing in the live shows for Carnival alongside fellow Step Up 2 actor/choreographer Robert James Hoffman III.
His other notable works include 'Breathe, Stretch, Shake' in 2004, 'Switch' in 2005, 'Church' in 2007, among many others. In 2006, he appeared as Kevin Federline's backup dancer for his performance at 'Teen Choice Awards.'
Adam also formed a dance crew alongside famous American film director Jon M. Chu. The duo assembled several dancers from around California and named the group Adam/Chu Dance Crew.
Does Adam G Sevani Has a Wife, Girlfriend, Or Is Single?
Adam Sevani maintains a low-key profile about his relationship details, girlfriend, or wife. His social media handles do not feature anybody we can relate to his personal life. 
However, in 2012, Adam Sevani tweeted a fun post on his official Twitter account @TheAdamSevani. He wrote, "Call me gay, I don't care. But I actually watched the Pretty Little Liars summer finale tonight.. These girls are.. damn ;) haha"
Following the tweet, some rumors were surrounding his sexuality. However, it was just a tweet about watching a little girls' program. But again, Adam has never clarified the gay speculation.
He has also made news with some familiar names like Miley Cyrus, Montana Tucker, and Alyson Stoner in the past. But, the news only turned out to be speculation by the public and fans, as none of them confirmed their relationship.
Sevani was seen riding his bike with Miley Cyrus in 2008. At the time, the two were rumored to be dating. However, the rumored romance was short-lived, as Miley began dating Liam Hemsworth the following year. As a result, it's unknown whether Adam and Miley were dating.
Sevani was then rumored to be dating Montana Tucker in the same year. However, it was all speculation with no solid evidence to back it up.
Besides that, he was also rumored to have dated Alyson Stoner at one point. However, neither of them ever confirmed the rumors.
Who Is Moose from 'Step Up: All In?'
Step Up is a romantic dance film franchise that comprises five films and a television show. 
In February 2008, Sevani was featured in Step Up 2: The Streets, the second installment of the Step Up film series produced by Touchstone Pictures.
Step Up 2: The Streets revolves around a group of students who form a dance troupe and compete on the streets. Critics, including The New York Times, praised Sevani's performance as Robert "Moose" Alexander III.
The film received mostly negative reviews and grossed more than $150 million worldwide. However, Sevani won the 'Best Scene Stealer' award at the 2008 Young Hollywood Awards for his role in the film.
Sevani was then confirmed to reprise his role as Moose in the third installment of the Step Up trilogy, Step Up: 3D, in May 2009. The movie was filmed in New York City on a $30 million budget. 
Step Up 3D follows Moose and his best friend Camille Alyson Stoner as they relocate to New York to begin their university careers until Sevani's character becomes involved in the underground dance scene. 
Critics gave mixed reviews when it was released in August 2010. However, with over $159 million at the worldwide box office as of August 2012, it was the highest-grossing installment of the trilogy. Moreover, Sevani also made a cameo appearance in Step Up: Revolution, the fourth installment of the trilogy, in July 2012.
After two years, in 2014, Sevani reprised the same role, Moose, in Step Up: All In, the fifth chapter of the Step Up film series.
The movie follows Sean, played by Ryan Guzman, who brings his dance crew, The Mob, to Los Angeles, hoping to make it big. But they haven't had much luck, and the Mob eventually decides it's time to return to Miami, while Sean chooses to stay. 
He learns about a dance competition in Las Vegas, the winner of which will receive a three-year contract. Sean needs a new crew, so he turns to fellow dancer Moose, played by Sevani, for assistance. Moose introduces Sean to Andie, played by Briana Evigan, a friend and dancer who has been out of the game for some years but is now ready to return. 
As LMNTRIX, they form a group of friends and travel to Las Vegas. Later, when they arrive, they discover the Mob has also come, which is very upsetting for Sean.
The other cast members of Step Up: All In including Alyson Stoner as Camille, Misha Gabriel as Eddy, Izabella Miko as Alexxa Brava, Stephen "tWitch" Boss as Jason Hardlerson, Stephen "Stevo" Jones as Jasper, Chadd "Madd Chadd" Smith as Vladd, Parris Goebel as Violet, David "Kid David" Shreibman as Chad, and more.
According to Deccan Chronicles (2019), Sevani said he "practically grew up with his other cast members." He continued, "we ate together, stayed together, danced together. There are so many memories that it is hard to recollect one or two amazing ones as everything was just great. In short, every moment on the shoot is a great memory for life!"
Height
He stands at the height of 5 feet and 7 inches.